The Skinning Contest #1 was a free-for-all osu! skinning contest hosted by skinship, one of the largest skinning communities on osu!. It was the first official osu! skinning contest, and the first iteration of Skinning Contests hosted by skinship.
Announcement
2021-03-08
Submission phase
2021-03-08/2021-04-08
Voting phase
2021-04-29/2021-05-13
Results
2021-05-27
6 months of osu!supporter, unique profile badge
4 months of osu!supporter, unique profile badge
2 months of osu!supporter, unique profile badge



The Skinning Contest #1 was run by various community members.
Master-TigerKun
Contest planning
Matt2e2
Contest planning, graphic design
Roan
Contest planning
RockRoller
Contest planning, submission screening, showcase preparations
tetsui
Contest planning, showcase preparations
vvivi
Contest planning
watterino
Video editor, showcase preparations
For the full results, see the contest page.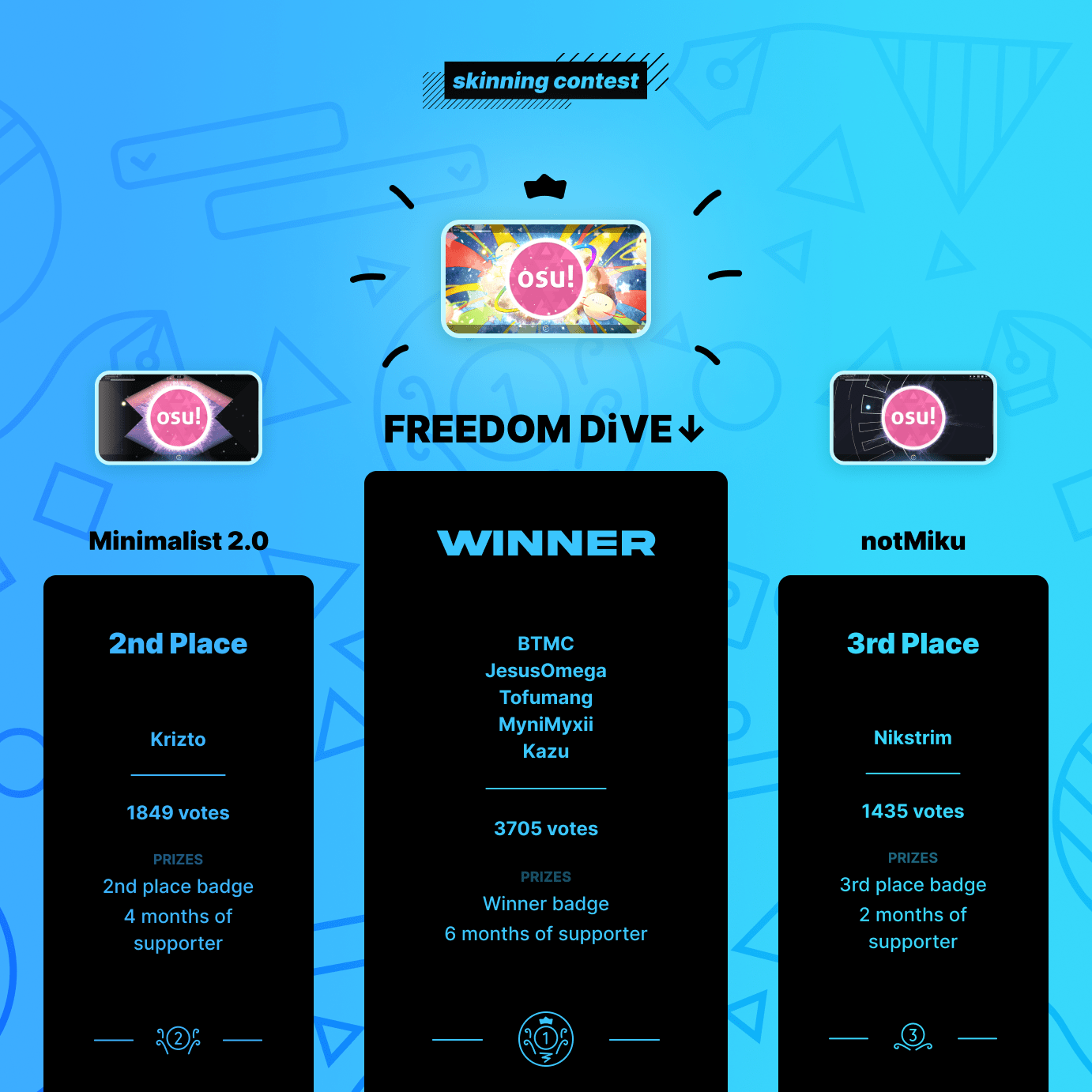 Skinning Contest #1 podium
Submissions must not contain inappropriate, malicious, or epileptic content, and should adhere to the

osu! community rules

.

All assets need to be created by yourself, or used with permission and proper credit to the authors. This includes, but is not limited to:

The majority of the in-game menu interface and at least one game mode have to be skinned. In other words, in addition to the gameplay elements, the following segments shouldn't be left default:

Ranking Panel

Song Selection (excluding the mode selection)

Mod Icons

Pause and Fail Menu

Main Menu is optional, but highly encouraged

Submissions must be new creations, only skins posted within the submission period will be accepted.

Each submission must be accompanied by a forum thread in order to participate in the contest.

Submissions must be made in time. Latecomers will not be accepted.