Requested page is not yet translated to the selected language (español). Showing English version.
This page does not meet the standards of the osu! wiki and needs to be cleaned up or rewritten. If you are able to help out, please consider updating the article!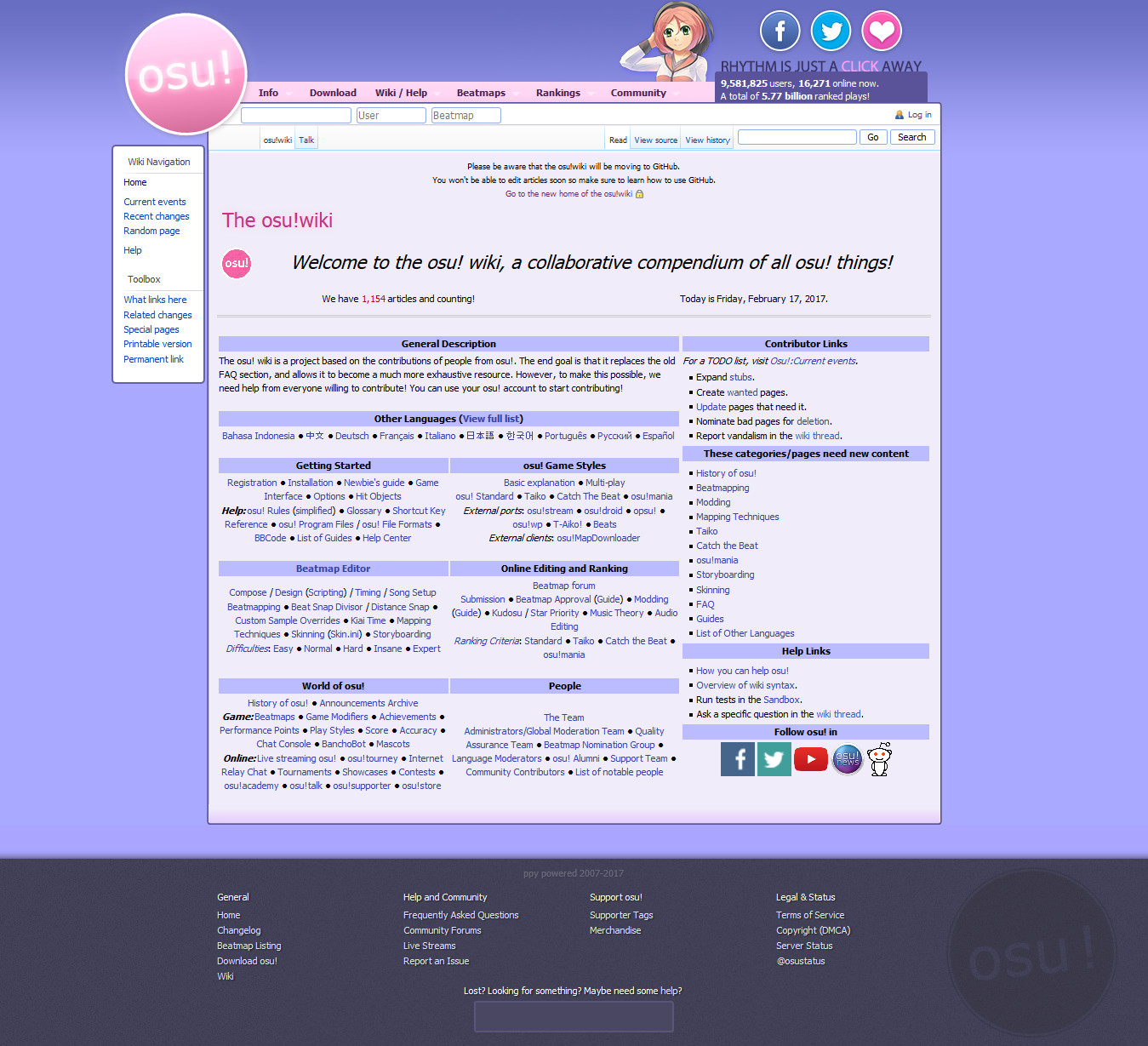 Full page screenshot of the osu! wiki in MediaWiki, taken on 2017-02-17
2011-12-05T08:13Z
First edit of the osu! wiki by Ephemeral.
2011-12-06
osu! wiki is now live!.
2012-11
The osu! wiki now has 3 admins (Dellirium, Repflez). Previously, only peppy was the admin.
2013-01-27T06:12Z
peppy integrated the osu! wiki with the main site design. Link to peppy's post.
2014
The osu! wiki becomes an actual information centre of osu!, replacing most of the web copies such as The Team and Rules. Also, the osu! wiki now has 5 admins (Loctav, deadbeat).
2015
The osu! wiki received major translation updates from other languages. Dellirium has been replaced by Shiro as one of the admins of the osu! wiki.
2016-02-22
The osu! wiki now has 8 admins (Ukami and Galkan).
2016-04-01
One more admin joined the osu! wiki (Nathanael).
2016-08-30
The osu! wiki running on MediaWiki is being deprecated in favour of the GitHub repository version. The current osu! wiki will stay until the GitHub version is ready to be deployed with all the pages and images ported.
2017-06
The osu! wiki running on MediaWiki is officially deprecated. The link now points to the new osu-web interface using the osu! wiki resources made in the GitHub repository. A temporary backup of the osu! wiki without the MediaWiki functionality can be found here.