Greetings gamers!
Have you ever felt the need to chat with your friends without opening the osu! client? You might've ran into your typical IRC clients used by basically everyone like mIRC and HexChat just to realize that they look old and bloated as hell.
Then you look around for some osu! specific client and you find irc4osu (which has been dead since 2016). You suddenly lose all hope...
...this is where my client steps in.
chat4osu! is a project I have been working for several years already (casually). I've been moving from framework to framework, refactoring code from scratch until I finally decided on what I call chat4osu!. I specifically didn't include IRC in the name because the migration to the new APIv2 with OAuth is planned and I'm fully devoted to it.
But I thought to myself, just another IRC client wouldn't cut it. That's when the reffing features got implemented. I'm fully aware of Script-chan, but that just takes away the reffing experience and does everything for you. So I just went with features that help you out, like displaying players + slots and the current map. The whole range of features is listed below, and if you're missing something, feel free to leave a comment or open an issue on the GitLab page. I'm pretty active!
Also keep in mind that this project is in it's beta stages. If you find any issues, make sure to report them. Joining the discord would also work!
General
-
Windows and Linux supported
- simplistic design inspired by Discord
- player listing for individual channels
- clickable links using the link format [
https://blabla
example]
- links and usernames open your preferred browser
- your credentials are saved until you decide to log out
- your previous channels are all saved even after closing the client
- save chatlog with /savelog, /save or /log
- powered by Electron (framework used for Slack, Discord, etc)
- auto-update to make your lazy life easier
- future-proof for APIv2 + OAuth
- open source!!
Referee features for multiplayer lobbies
- detect teams + taken slots
- detect current map + mods
- detect win condition + team mode
- send quick 1-click commands
--> refresh = !mp settings
--> start in 10s = !mp start 10
--> abort = !mp abort
Planned
see the GitLab backlog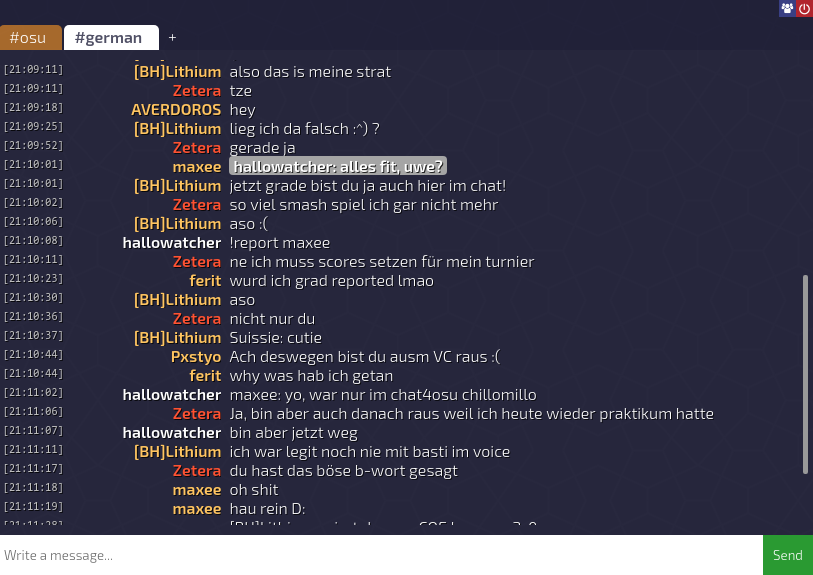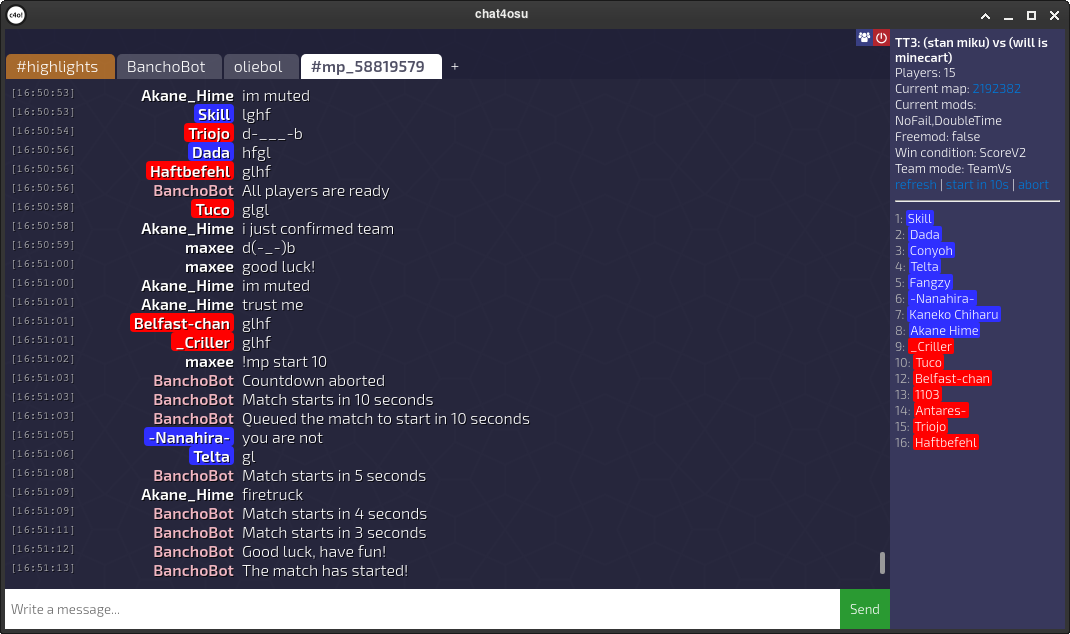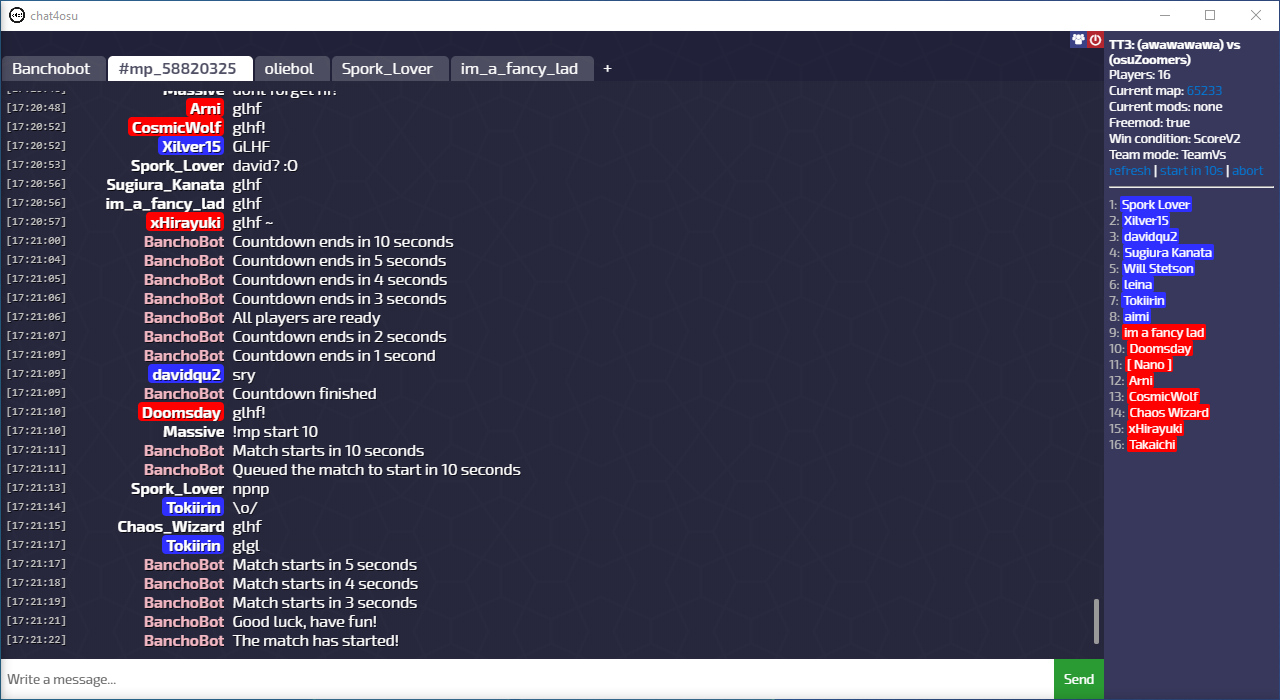 Download for Windows
Download for Linux
Source code
Report a bug
Discord
* Donate
* note that this project is not official. It is solely a project I made for fun in my free time and your donation is optional
0.6
Official linux AppImage release! You can find it in the original post
A new settings panel with a notification sound option which is on by default
A sweet new changelog page to see the changes more clearly
Lots of framework updates for security and stability (Angular 9, Electron 9, etc...)
Updated the login page to include the c4o logo
Fixed a bug where having too many tabs open would prevent middle click close
Fixed a bug where typing the wrong password would keep trying to reconnect
Some general font updates for better readability
0.5
Redesigned tabs (new tab colors)
Huge redesign to the chat
Seconds are now included in /savelog command
Initial loading page is now seamless with the app (no white screen)
Different colored usernames for operators (chat moderators) and BanchoBot
Red/Blue colored usernames in TeamVS lobbies
Whenever you are mentioned in a chat you have opened, a new "#highlighted" tab opens with information on this highlight
0.4
Middle click closing of tabs (currently does not work if tabs are scrollable)
Minor redesign
Unread tab color
Rearranging tabs now possible (hurrayy)
Reconnect on network error (because fuck bancho)
Fix join command (previously did not work)
0.3
Added /savelog command (also works with /save and /log)
Added a changelog for every update
Improved link checking and fixed a few bugs with it (thanks @oliebol)
Channels from last session will be reopened (feature request from @oliebol)
Fix error when doing !mp close and closing the tab
Window can now be resized even smaller for multitasking purposes
0.2
Initial public release