This page contains an outdated translation of the original content. Please check the
English version
for the most accurate information (and consider updating the translation if you are able to help out)!
Diğer kullanımlar için, bakınız: Mod (anlam ayrımı).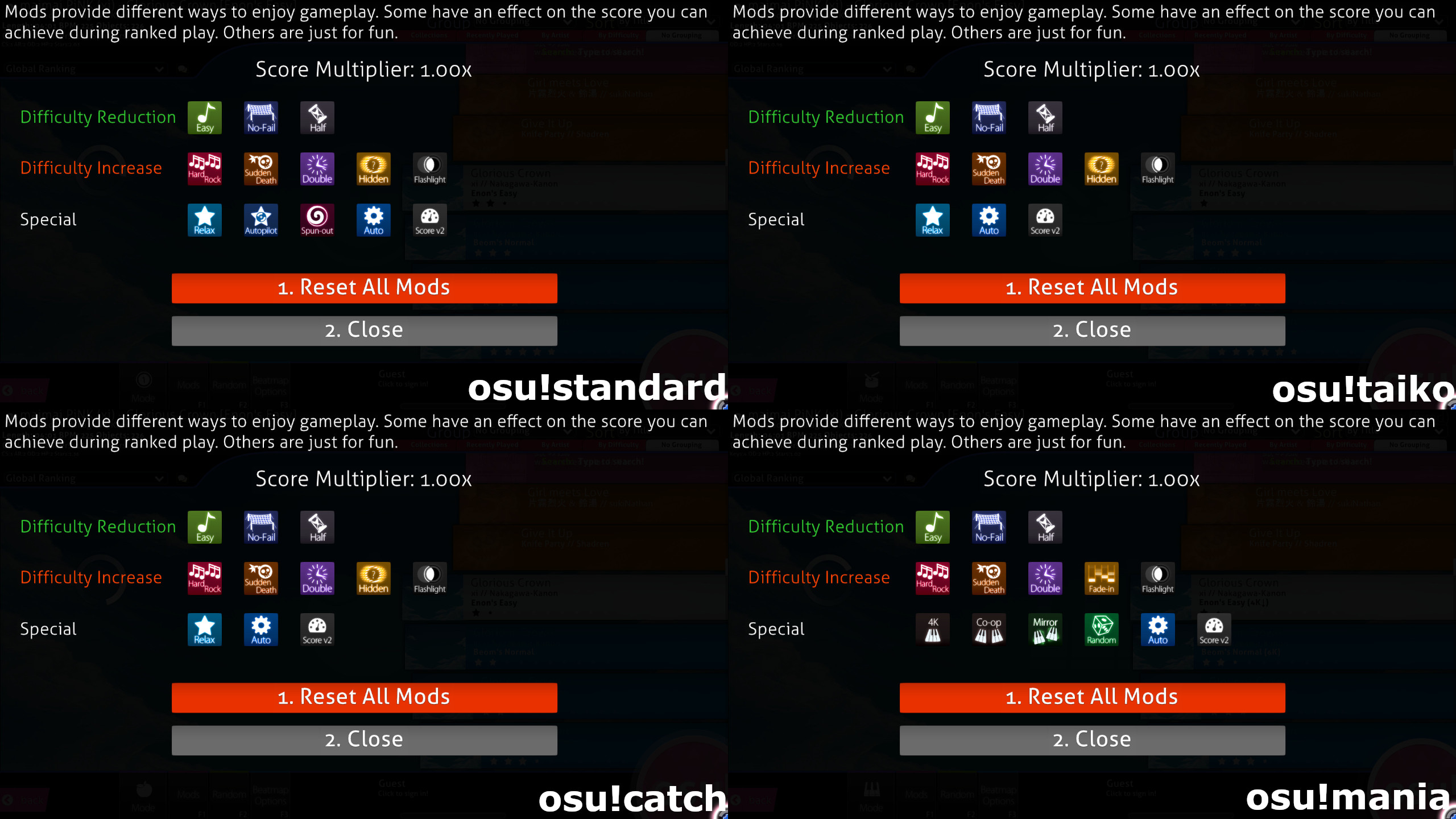 osu! (sol üst), osu!taiko (sağ üst), osu!catch (sol alt), ve osu!mania (sağ alt) arasındaki mod seçim ekranlarının karşılaştırmaları
Oyun modifikasyonları (ya da kısaca "modları"), bir beatmapin elementlerini ve ayarlarını değiştiren, oyuncuların Mod Seçim Ekranı (yukarıda) üzerinden etkinleştirebildiği opsiyonel eklentilerdir. Modlar, beatmapleri kolaylaştırabilir, zorlaştırabilir, veya düpedüz eğlenceli bir hale getirebilir.
Oyuncular, Mod Seçim Ekranı'na, şarkı seçme ekranının sol köşesinde yer alan Mods butonuna basarak, ya da klavyelerindeki F1 tuşuna basarak ulaşabilirler. Ayrıca, Mod Seçim Ekranı'nda belirli modları seçmenize olanak sağlayan klavye kısayolları da bulunur. Bu kısayollar Seçenekler içerisinden değiştirilebilir.
Seçim ekranında modlar üç farklı kategoriye ayrılmıştır: Zorluk Azaltma, Zorluk Arttırma, ve Özel. Aynı zamanda, bunlar Skor Çarpanı'nı arttırabilir, azaltabilir, veya sıfırlayabilir. Birden fazla mod aynı anda seçildiğinde, modların çarpanları birbiriyle çarpılacaktır (örn., 1.06x * 1.12x = 1.1872x).
Ayrıca bakınız: Özet (Oyun Modifikasyonları)
Aşağıda belirtilen her modun yanında uyumlu olduğu oyun modlarının ikonu (




) bulunacaktır.
Not: Bu modlar eskiden kullanılabiliyordu, fakat artık mevcut değil.