Artist:
Rhapsody
Circle Size:

Approach Rate:

Title:
Emerald Sword
HP Drain:

Star Difficulty:

(4.57)
Creator:
Reikin
Accuracy:

Length:
3:52 (3:18 drain)
Source:
Genre:
Rock (English)
BPM:
180
Tags:
User Rating:
Success Rate:
Points of Failure:


(graph is accumulative, based on % at fail/retry)

18.3% (113551 of 618895 plays)

Submitted:
Ranked:
Sep 23, 2008
Apr 10, 2009
Rating Spread:

Favourited 490 times in total

Users that love this map: DNZL, HineX, Yakanomura, Saturn, antony11, 123hi, Toxicoow, ShaggoN, WubWoofWolf, UFO Donut, JamesLeao, foxxx83, AntoniusSilvius, yosiyosi, whitefire, Kumiho, taogevip, lolistan, supervanship, tmao0911 and many more!
Options:
This Beatmap's Thread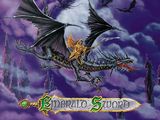 Some of you may recognise this because you've heard of Rhapsody before, others may know this as a hard stepfile from Stepmania. If you're part of the latter group, I've tried to maintain the intensity of the stepfile in osu without overstepping the ranking guidelines. If you're part of the former, I hope that this map does justice to the song. If you don't know it at all, well, just know that Extreme is not for the fainthearted...
Mesita is in the lead! ()
Score
15,197,735 (98.30%)
Max Combo
1026
300 / 100 / 50
497 / 13 / 0
Misses
0
Geki (Elite Beat!)
90
Katu (Beat!)
10
Mods
HD,FL
Top 50 Scoreboard
| | Rank | Score | Accuracy | Player | Max Combo | 300 / 100 / 50 | Geki | Katu | Misses | Mods | |
| --- | --- | --- | --- | --- | --- | --- | --- | --- | --- | --- | --- |
| #1 | | 15,197,735 | 98.30% | Mesita | 1026 | 497&nbsp&nbsp/ 13 / 0 | 90 | 10 | 0 | HD,FL | Report |
| #2 | | 14,441,406 | 98.43% | Toy | 1029 | 498&nbsp&nbsp/ 12 / 0 | 91 | 9 | 0 | HD,HR | Report |
| #3 | | 14,084,551 | 96.86% | onlyforyou | 1029 | 486&nbsp&nbsp/ 24 / 0 | 82 | 18 | 0 | HD,HR | Report |
| #4 | | 13,820,796 | 100.00% | Sangni | 1029 | 510&nbsp&nbsp/ 0 / 0 | 100 | 0 | 0 | HD | Report |
| #5 | | 13,785,732 | 99.87% | Rucker | 1029 | 509&nbsp&nbsp/ 1 / 0 | 99 | 1 | 0 | HD | Report |
| #6 | | 13,669,996 | 98.95% | Wilchq | 1029 | 502&nbsp&nbsp/ 8 / 0 | 93 | 7 | 0 | HD | Report |
| #7 | | 13,647,504 | 99.22% | KRZY | 1027 | 504&nbsp&nbsp/ 6 / 0 | 95 | 5 | 0 | HD | Report |
| #8 | | 13,633,065 | 98.82% | 5231_Kinoko | 1028 | 501&nbsp&nbsp/ 9 / 0 | 94 | 6 | 0 | HD,SD | Report |
| #9 | | 13,623,794 | 98.43% | deyo | 1028 | 498&nbsp&nbsp/ 12 / 0 | 91 | 9 | 0 | HD | Report |
| #10 | | 13,613,102 | 98.95% | KanbeKotori | 1029 | 502&nbsp&nbsp/ 8 / 0 | 94 | 6 | 0 | HD | Report |
| #11 | | 13,509,509 | 96.41% | Forseen | 1000 | 483&nbsp&nbsp/ 26 / 0 | 80 | 19 | 1 | HD,HR | Report |
| #12 | | 13,043,724 | 100.00% | Uan | 1029 | 510&nbsp&nbsp/ 0 / 0 | 100 | 0 | 0 | None | Report |
| #13 | | 13,042,124 | 100.00% | Chaoslitz | 1029 | 510&nbsp&nbsp/ 0 / 0 | 100 | 0 | 0 | None | Report |
| #14 | | 13,021,920 | 99.74% | Okinotori | 1029 | 508&nbsp&nbsp/ 2 / 0 | 98 | 2 | 0 | None | Report |
| #15 | | 13,016,804 | 99.87% | meitan | 1029 | 509&nbsp&nbsp/ 1 / 0 | 99 | 1 | 0 | None | Report |
| #16 | | 13,012,952 | 99.74% | Napoleona | 1029 | 508&nbsp&nbsp/ 2 / 0 | 98 | 2 | 0 | None | Report |
| #17 | | 13,005,344 | 99.61% | Rorry | 1029 | 507&nbsp&nbsp/ 3 / 0 | 97 | 3 | 0 | None | Report |
| #18 | | 12,997,716 | 99.74% | TKoTW | 1029 | 508&nbsp&nbsp/ 2 / 0 | 98 | 2 | 0 | None | Report |
| #19 | | 12,997,066 | 99.61% | WubWoofWolf | 1028 | 507&nbsp&nbsp/ 3 / 0 | 97 | 3 | 0 | None | Report |
| #20 | | 12,996,124 | 99.61% | mison | 1029 | 507&nbsp&nbsp/ 3 / 0 | 97 | 3 | 0 | None | Report |
| #21 | | 12,994,382 | 99.48% | Vendemmia | 1028 | 506&nbsp&nbsp/ 4 / 0 | 96 | 4 | 0 | None | Report |
| #22 | | 12,992,918 | 99.44% | ShaggoN | 1029 | 506&nbsp&nbsp/ 3 / 1 | 98 | 1 | 0 | None | Report |
| #23 | | 12,989,136 | 99.35% | M A I D | 1029 | 505&nbsp&nbsp/ 5 / 0 | 98 | 2 | 0 | None | Report |
| #24 | | 12,987,240 | 99.48% | Remilia-Scarlet | 1029 | 506&nbsp&nbsp/ 4 / 0 | 96 | 4 | 0 | None | Report |
| #25 | | 12,983,408 | 99.22% | Gomo Pslvarh | 1029 | 504&nbsp&nbsp/ 6 / 0 | 95 | 5 | 0 | None | Report |
| #26 | | 12,983,376 | 99.61% | Andrea | 1029 | 507&nbsp&nbsp/ 3 / 0 | 97 | 3 | 0 | None | Report |
| #27 | | 12,970,662 | 99.48% | KBT | 1028 | 506&nbsp&nbsp/ 4 / 0 | 96 | 4 | 0 | None | Report |
| #28 | | 12,962,416 | 98.95% | Restia | 1029 | 502&nbsp&nbsp/ 8 / 0 | 95 | 5 | 0 | None | Report |
| #29 | | 12,927,924 | 99.22% | Thick Dust | 1029 | 504&nbsp&nbsp/ 6 / 0 | 94 | 6 | 0 | None | Report |
| #30 | | 12,925,582 | 99.35% | putigame | 1028 | 505&nbsp&nbsp/ 5 / 0 | 95 | 5 | 0 | None | Report |
| #31 | | 12,921,268 | 99.08% | waruo | 1029 | 503&nbsp&nbsp/ 7 / 0 | 94 | 6 | 0 | None | Report |
| #32 | | 12,919,696 | 98.56% | rustbell | 1029 | 499&nbsp&nbsp/ 11 / 0 | 93 | 7 | 0 | None | Report |
| #33 | | 12,918,312 | 98.95% | murasaki_sk | 1029 | 502&nbsp&nbsp/ 8 / 0 | 94 | 6 | 0 | None | Report |
| #34 | | 12,914,644 | 99.22% | hvick225 | 1029 | 504&nbsp&nbsp/ 6 / 0 | 94 | 6 | 0 | None | Report |
| #35 | | 12,911,572 | 99.22% | ZeonPlay | 1029 | 504&nbsp&nbsp/ 6 / 0 | 94 | 6 | 0 | None | Report |
| #36 | | 12,906,922 | 98.82% | Rost94 | 1028 | 501&nbsp&nbsp/ 9 / 0 | 91 | 9 | 0 | None | Report |
| #37 | | 12,906,320 | 98.82% | pekolove | 1029 | 501&nbsp&nbsp/ 9 / 0 | 95 | 5 | 0 | None | Report |
| #38 | | 12,899,562 | 98.82% | Rizzo | 1028 | 501&nbsp&nbsp/ 9 / 0 | 93 | 7 | 0 | None | Report |
| #39 | | 12,897,136 | 98.69% | Ariazi | 1029 | 500&nbsp&nbsp/ 10 / 0 | 93 | 7 | 0 | None | Report |
| #40 | | 12,892,062 | 98.56% | Uryuwei | 1028 | 499&nbsp&nbsp/ 11 / 0 | 90 | 10 | 0 | None | Report |
| #41 | | 12,890,442 | 98.95% | Doomsday | 1028 | 502&nbsp&nbsp/ 8 / 0 | 93 | 7 | 0 | None | Report |
| #42 | | 12,888,484 | 98.95% | azuraer | 1029 | 502&nbsp&nbsp/ 8 / 0 | 93 | 7 | 0 | None | Report |
| #43 | | 12,869,166 | 98.66% | SakiZ | 1029 | 500&nbsp&nbsp/ 9 / 1 | 91 | 8 | 0 | None | Report |
| #44 | | 12,869,092 | 98.95% | Ana_Coppola | 1027 | 502&nbsp&nbsp/ 8 / 0 | 92 | 8 | 0 | None | Report |
| #45 | | 12,867,460 | 98.56% | Sora | 1029 | 499&nbsp&nbsp/ 11 / 0 | 92 | 8 | 0 | SD | Report |
| #46 | | 12,861,072 | 98.82% | WiMpN | 1029 | 501&nbsp&nbsp/ 9 / 0 | 94 | 6 | 0 | None | Report |
| #47 | | 12,857,052 | 98.43% | CXu | 1029 | 498&nbsp&nbsp/ 12 / 0 | 89 | 11 | 0 | None | Report |
| #48 | | 12,854,772 | 98.82% | Dsan | 1029 | 501&nbsp&nbsp/ 9 / 0 | 91 | 9 | 0 | None | Report |
| #49 | | 12,844,164 | 98.69% | Kert | 1029 | 500&nbsp&nbsp/ 10 / 0 | 93 | 7 | 0 | None | Report |
| #50 | | 12,838,902 | 98.82% | Karubona-ra | 1028 | 501&nbsp&nbsp/ 9 / 0 | 91 | 9 | 0 | None | Report |