Beatmap Listing » TAG meets "eimy" - Kono aozora no shita de
Artist:
TAG meets "eimy"
Key Amount:

Approach Rate:

Title:
Kono aozora no shita de
HP Drain:

Star Difficulty:

(4.67)
Creator:
Cirno
Accuracy:

Length:
1:49 (1:48 drain)
Source:
REFLEC BEAT limelight
Genre:
Unspecified (Other)
BPM:
165
Tags:
User Rating:
Success Rate:
Points of Failure:


(graph is accumulative, based on % at fail/retry)

36.0% (81 of 225 plays)

Submitted:
Loved:
Apr 7, 2013
Feb 11, 2018
Rating Spread:

Favourited 21 times in total

Users that love this map: flatps, spica, tkdgml041, jyu, lukinhox, Doorknob, tangjinxi, PyaKura, richardfeder, - Nya Pass -, shamwoohoo, jeekepy, TNOK, joyiteru, toir, Corulla, tsusai, coldloops, vlhd22052003, san_moon and many more!
Options:
Modding / Discussion
This map is in a LOVED state.
As such, it will not award any pp and leaderboards may be reset by the beatmap creator.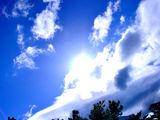 BEGINNER / NOVICE / ADVANCED / EXHAUST
4 / 6 / 9 / 12
To anyone who might want to make arguments out of my playing skill:
collapsed text
I can't pass EXHAUST.
I broke the "pass all diffs" guideline so here I'm refering to the guidelines itself:
Quote:
Does what I'm about to do make sense? Is it more fun to play like this compared to sticking to the guidelines? If you answer yes to both these questions, then it is probably okay.
Yes.
What I did made sense. If you can pick out patterns that say otherwise, I'll happily make changes.
Yes.
Without a high difficulty the mapset is much less fun to high level players, and less fitting the song. If you can prove otherwise, I'll happily make changes.
Paralit is in the lead! ()
Score
996,613 (99.92%)
Max Combo
1625
MAX / 300 / 200
1508 / 113 / 4
100 / 50 / Misses
0 / 0 / 0
Mods
None
Top 50 Scoreboard
Rank
Score
Accuracy
Player
Max Combo
MAX
300
200
100
50
Miss
Mods
#1
996,613
99.92%
Paralit
1625
1508
113
4
0
0
0
None
Report
#2
994,484
99.88%
Alcemist
1625
1428
191
6
0
0
0
None
Report
#3
994,243
99.94%
Rain-
1625
1374
248
3
0
0
0
None
Report
#4
993,860
99.84%
lxLucasxl
1625
1425
192
8
0
0
0
None
Report
#5
990,010
99.84%
DaraDara
1414
1470
149
5
0
0
1
None
Report
#6
986,722
99.56%
Wilben_Chan
1625
1398
210
13
3
1
0
None
Report
#7
984,238
99.53%
greatvictory
1551
1412
196
14
0
0
3
None
Report
#8
984,166
99.43%
a4a01
1625
1322
276
26
1
0
0
None
Report
#9
983,075
99.69%
Rinake
1265
1288
324
12
0
0
1
None
Report
#10
972,654
98.96%
Sieben7
1605
1252
328
41
2
1
1
None
Report
#11
948,008
98.68%
Warm heart
593
1266
307
44
3
1
4
None
Report
#12
943,224
98.22%
DawnX
1093
1253
302
60
3
0
7
None
Report
#13
926,849
98.40%
kayanori
1179
1192
370
53
5
0
5
None
Report
#14
901,363
97.04%
Hiraa-
899
1018
476
122
4
1
4
None
Report
#15
900,122
96.68%
erika77
767
1055
432
121
10
0
7
None
Report
#16
893,866
96.78%
Fprankster
1625
831
641
149
4
0
0
None
Report
#17
887,513
96.79%
Chamelforito
465
1144
361
96
10
3
11
None
Report
#18
887,310
96.58%
sakuya42
501
1096
412
87
10
1
19
None
Report
#19
878,189
96.39%
MESSl
560
1013
461
133
11
0
7
None
Report
#20
876,060
96.63%
masaya
820
1045
443
117
12
1
7
HD
Report
#21
873,873
96.56%
Kyousuke-
522
1115
396
81
12
1
20
None
Report
#22
873,794
96.70%
Asesingta
679
1161
345
92
12
0
15
None
Report
#23
866,754
95.88%
joyiteru
500
1025
434
141
15
0
10
None
Report
#24
862,340
95.88%
Corulla
549
919
539
145
8
4
10
None
Report
#25
861,025
95.79%
Lenfried-
1411
860
567
192
5
0
1
None
Report
#26
859,843
96.35%
Tripletth
902
1055
435
105
17
0
13
None
Report
#27
858,535
96.43%
spensll
392
1129
370
93
17
2
14
None
Report
#28
857,403
95.97%
n9011
511
1012
475
101
14
3
20
HD
Report
#29
857,155
96.59%
Deus
629
988
499
120
8
0
10
None
Report
#30
850,011
96.84%
Yetified
324
1142
371
85
12
0
15
None
Report
#31
841,392
95.68%
bsc0626
951
957
492
149
18
3
6
None
Report
#32
840,789
95.96%
lidhen
514
983
470
153
13
0
6
None
Report
#33
836,822
95.96%
coldloops
557
1033
435
130
13
2
12
None
Report
#34
834,316
95.14%
farlar
731
924
510
159
16
4
12
None
Report
#35
830,753
96.18%
C Eru
359
1042
440
115
12
2
14
None
Report
#36
819,710
95.30%
katiexie
372
961
492
139
7
4
22
None
Report
#37
818,711
96.23%
Verald
254
1144
356
90
7
8
20
None
Report
#38
806,390
95.20%
Loebad434
410
1025
427
132
19
4
18
HD
Report
#39
806,111
95.16%
Kyzoid
351
971
475
139
21
4
15
None
Report
#40
797,877
94.84%
nanimoshiranai
371
963
466
160
14
5
17
None
Report
#41
790,530
94.59%
ririkun
314
899
524
158
26
1
17
None
Report
#42
787,198
94.65%
OrdLyn
321
1044
395
133
29
4
20
None
Report
#43
784,856
95.37%
thelinkfan1
356
973
485
129
16
3
19
None
Report
#44
757,318
94.49%
afrono
308
883
524
183
17
5
13
None
Report
#45
736,546
93.45%
Tsalnor
224
990
409
160
35
7
24
None
Report
#46
728,985
92.06%
Kkunji
344
822
527
200
39
4
33
None
Report
#47
726,767
92.90%
Hlimak
157
937
464
148
27
6
43
None
Report
#48
695,715
90.82%
GrilledCheeese
493
878
432
219
58
3
35
None
Report
#49
692,416
92.77%
abraker
200
924
452
181
29
7
32
None
Report
#50
682,111
90.80%
Archanemy
191
790
514
228
56
5
32
None
Report