Beatmap Listing » Uzuki Shimamura (CV: Ayaka Ohashi) - M@STERPIECE
Artist:
Uzuki Shimamura (CV: Ayaka Ohashi)
Circle Size:

Approach Rate:

Title:
M@STERPIECE
HP Drain:

Star Difficulty:

(3.92)
Creator:
Nitrous
Accuracy:

Length:
5:37 (5:36 drain)
Source:
THE IDOLM@STER MOVIE 輝きの向こう側へ!
Genre:
Anime (Japanese)
BPM:
128
Tags:
1111 brights and magics one for all im@s masterpiece 765pro allstars marathon _meep_ -aqua newton- jeiryagtama xinely xlolicore- starrstyx
User Rating:
Success Rate:
Points of Failure:


(graph is accumulative, based on % at fail/retry)

10.4% (4500 of 43272 plays)

Submitted:
Ranked:
Dec 13, 2017
Jan 11, 2018
Rating Spread:

Favourited 80 times in total

Users that love this map: mokomoko-, winnie52087, TwilightSparkle, matsubokkuri, lpp3950, PLpoko, DOCTER_KILLE, wolfkeeper, john571, Dowkon, AlbertS, MoeAsuka, Tomori Maru, - AlKaid -, Joalse, ismijalpa, _Meep_, Yufina, tong16482, Ilias and many more!
Options:
Modding / Discussion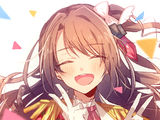 as a part of Live Mapping Project's 1st Birthday Project!
We, a small community create what we call "our masterpiece" regardless of place in the community or our skill. Dedication of the members of this small community trying to pursue ranking of anime and idol songs, and that was the group's original purpose. It's not about polluting the game of what they call "bad taste"... It's all about pushing what they want. This is Live Mapping Project's intentions, big but innocent.
This was an original promise to everyone in that group. I failed once to fulfill it. Now its time to really fulfill it.
The iDOLM@STER Movie's Insert Song by
765PRO ALLSTARS - M@STERPIECE
covered by Uzuki of iDOLM@STER Cinderella Girls.
Lead and Storyboard: Nitrous

Participants:



Rohulk is in the lead! ()
Score
45,911,452 (99.81%)
Max Combo
1567
300 / 100 / 50
1049 / 3 / 0
Misses
0
Geki (Elite Beat!)
249
Katu (Beat!)
3
Mods
HD,DT
Top 50 Scoreboard
| | Rank | Score | Accuracy | Player | Max Combo | 300 / 100 / 50 | Geki | Katu | Misses | Mods | |
| --- | --- | --- | --- | --- | --- | --- | --- | --- | --- | --- | --- |
| #1 | | 45,911,452 | 99.81% | Rohulk | 1567 | 1049&nbsp&nbsp/ 3 / 0 | 249 | 3 | 0 | HD,DT | Report |
| #2 | | 45,899,208 | 99.75% | B e N i | 1568 | 1048&nbsp&nbsp/ 4 / 0 | 248 | 4 | 0 | HD,DT | Report |
| #3 | | 45,860,048 | 99.81% | Rizer | 1567 | 1049&nbsp&nbsp/ 3 / 0 | 249 | 3 | 0 | HD,DT | Report |
| #4 | | 45,664,300 | 99.62% | gusrua123 | 1564 | 1046&nbsp&nbsp/ 6 / 0 | 246 | 6 | 0 | HD,DT | Report |
| #5 | | 45,621,603 | 99.49% | GSBlank | 1564 | 1044&nbsp&nbsp/ 8 / 0 | 245 | 7 | 0 | HD,DT | Report |
| #6 | | 45,604,150 | 99.29% | Mood Breaker | 1565 | 1041&nbsp&nbsp/ 10 / 1 | 242 | 9 | 0 | HD,DT | Report |
| #7 | | 45,564,599 | 99.35% | Firebool | 1566 | 1042&nbsp&nbsp/ 9 / 1 | 243 | 8 | 0 | HD,DT | Report |
| #8 | | 45,500,509 | 98.91% | My Rabbit Chino | 1565 | 1035&nbsp&nbsp/ 16 / 1 | 240 | 11 | 0 | HD,DT | Report |
| #9 | | 45,388,854 | 99.00% | [-Lockon-] | 1563 | 1037&nbsp&nbsp/ 12 / 3 | 239 | 10 | 0 | HD,DT | Report |
| #10 | | 45,382,866 | 98.49% | Yufina | 1568 | 1029&nbsp&nbsp/ 20 / 3 | 237 | 14 | 0 | HD,DT | Report |
| #11 | | 45,375,741 | 98.72% | Happy New Year | 1566 | 1032&nbsp&nbsp/ 19 / 1 | 238 | 13 | 0 | HD,DT | Report |
| #12 | | 45,367,978 | 98.65% | ktgster | 1567 | 1031&nbsp&nbsp/ 20 / 1 | 236 | 15 | 0 | HD,DT | Report |
| #13 | | 45,198,032 | 98.30% | Jugment | 1564 | 1026&nbsp&nbsp/ 23 / 3 | 231 | 18 | 0 | HD,DT | Report |
| #14 | | 45,129,275 | 97.70% | GHAngeloid | 1566 | 1017&nbsp&nbsp/ 30 / 5 | 230 | 17 | 0 | HD,DT | Report |
| #15 | | 44,225,606 | 96.06% | Kikyou | 1566 | 990&nbsp&nbsp/ 61 / 1 | 211 | 40 | 0 | HD,DT | Report |
| #16 | | 43,206,834 | 99.56% | Link135 | 1568 | 1045&nbsp&nbsp/ 7 / 0 | 245 | 7 | 0 | DT | Report |
| #17 | | 43,145,388 | 99.24% | Neta | 1566 | 1040&nbsp&nbsp/ 12 / 0 | 243 | 9 | 0 | DT | Report |
| #18 | | 43,050,780 | 98.80% | hvick810 | 1568 | 1033&nbsp&nbsp/ 19 / 0 | 236 | 16 | 0 | HD,HR,SD | Report |
| #19 | | 42,900,125 | 98.54% | DeadZoNeD | 1567 | 1030&nbsp&nbsp/ 18 / 4 | 237 | 12 | 0 | DT,SD | Report |
| #20 | | 42,885,014 | 98.83% | Noobsicle | 1567 | 1034&nbsp&nbsp/ 16 / 2 | 240 | 10 | 0 | DT | Report |
| #21 | | 42,883,059 | 98.73% | Esplectioned | 1565 | 1032&nbsp&nbsp/ 20 / 0 | 236 | 16 | 0 | DT | Report |
| #22 | | 42,732,173 | 98.97% | BNY963 | 1559 | 1036&nbsp&nbsp/ 15 / 1 | 237 | 14 | 0 | DT | Report |
| #23 | | 42,696,556 | 98.81% | Titus | 1508 | 1034&nbsp&nbsp/ 15 / 3 | 236 | 13 | 0 | HD,DT | Report |
| #24 | | 41,019,742 | 99.81% | Cappy | 1567 | 1049&nbsp&nbsp/ 3 / 0 | 249 | 3 | 0 | HD | Report |
| #25 | | 41,007,315 | 99.49% | www | 1568 | 1044&nbsp&nbsp/ 8 / 0 | 247 | 5 | 0 | HD | Report |
| #26 | | 40,813,837 | 99.43% | Black Magic | 1565 | 1043&nbsp&nbsp/ 9 / 0 | 245 | 7 | 0 | HD | Report |
| #27 | | 40,717,351 | 98.73% | -Stick | 1567 | 1032&nbsp&nbsp/ 20 / 0 | 235 | 17 | 0 | HD | Report |
| #28 | | 40,710,867 | 98.92% | [Lucky] | 1568 | 1035&nbsp&nbsp/ 17 / 0 | 236 | 16 | 0 | HD | Report |
| #29 | | 40,670,922 | 99.30% | crippletoytl | 1510 | 1041&nbsp&nbsp/ 11 / 0 | 243 | 9 | 0 | DT | Report |
| #30 | | 40,559,408 | 99.05% | mokomoko- | 1563 | 1037&nbsp&nbsp/ 15 / 0 | 237 | 15 | 0 | HD | Report |
| #31 | | 39,621,544 | 96.75% | Ntmmchu | 1565 | 1001&nbsp&nbsp/ 50 / 1 | 216 | 35 | 0 | HD | Report |
| #32 | | 39,433,790 | 96.32% | Just Jeff | 1562 | 995&nbsp&nbsp/ 53 / 4 | 215 | 34 | 0 | HD | Report |
| #33 | | 38,809,256 | 100.00% | Andrea | 1568 | 1052&nbsp&nbsp/ 0 / 0 | 252 | 0 | 0 | None | Report |
| #34 | | 38,809,156 | 100.00% | anikiii | 1568 | 1052&nbsp&nbsp/ 0 / 0 | 252 | 0 | 0 | None | Report |
| #35 | | 38,806,856 | 100.00% | Subbie | 1568 | 1052&nbsp&nbsp/ 0 / 0 | 252 | 0 | 0 | None | Report |
| #36 | | 38,735,500 | 99.75% | Nussegge | 1568 | 1048&nbsp&nbsp/ 4 / 0 | 249 | 3 | 0 | None | Report |
| #37 | | 38,727,204 | 99.68% | Kengo | 1568 | 1047&nbsp&nbsp/ 5 / 0 | 247 | 5 | 0 | None | Report |
| #38 | | 38,696,350 | 99.68% | TyrantsEye2014 | 1567 | 1047&nbsp&nbsp/ 5 / 0 | 247 | 5 | 0 | None | Report |
| #39 | | 38,684,786 | 99.81% | Potsosu | 1567 | 1049&nbsp&nbsp/ 3 / 0 | 249 | 3 | 0 | None | Report |
| #40 | | 38,655,944 | 99.18% | ShigeRunic | 1568 | 1039&nbsp&nbsp/ 13 / 0 | 244 | 8 | 0 | None | Report |
| #41 | | 38,638,412 | 99.62% | Kotori-Chan | 1568 | 1046&nbsp&nbsp/ 6 / 0 | 249 | 3 | 0 | None | Report |
| #42 | | 38,622,084 | 99.56% | Lilily | 1566 | 1045&nbsp&nbsp/ 7 / 0 | 246 | 6 | 0 | None | Report |
| #43 | | 38,593,068 | 99.62% | CoLouRed GlaZeE | 1568 | 1046&nbsp&nbsp/ 6 / 0 | 247 | 5 | 0 | None | Report |
| #44 | | 38,567,878 | 99.41% | Lulu- | 1566 | 1043&nbsp&nbsp/ 8 / 1 | 244 | 7 | 0 | None | Report |
| #45 | | 38,559,256 | 99.62% | l1mi | 1564 | 1046&nbsp&nbsp/ 6 / 0 | 246 | 6 | 0 | None | Report |
| #46 | | 38,485,624 | 98.80% | Arx Alveria | 1566 | 1033&nbsp&nbsp/ 19 / 0 | 237 | 15 | 0 | None | Report |
| #47 | | 38,390,842 | 99.05% | [Soju_Desu] | 1567 | 1037&nbsp&nbsp/ 15 / 0 | 243 | 9 | 0 | None | Report |
| #48 | | 38,387,984 | 98.99% | -C O N T R A L- | 1566 | 1036&nbsp&nbsp/ 16 / 0 | 239 | 13 | 0 | None | Report |
| #49 | | 38,303,348 | 98.42% | Gethon | 1566 | 1027&nbsp&nbsp/ 25 / 0 | 235 | 17 | 0 | None | Report |
| #50 | | 38,293,772 | 98.54% | juan736 | 1564 | 1029&nbsp&nbsp/ 23 / 0 | 231 | 21 | 0 | None | Report |