Artist:
Memme
Circle Size:

Approach Rate:

Title:
Sky of the Ocean
HP Drain:

Star Difficulty:

(7.00)
Creator:
Syph
Accuracy:

Length:
2:30 (2:24 drain)
Source:
O2Jam U
Genre:
Video Game (Chinese)
BPM:
230
Tags:
parkmemme m2u cheesecake [c_u_r_i] -tochi snownino_ emilia xlolicore- hikaru_rose moecho moeri derandom_otaku
User Rating:
Success Rate:
Points of Failure:


(graph is accumulative, based on % at fail/retry)

17.7% (207 of 1170 plays)

Submitted:
Qualified:
Sep 15, 2017
Jan 12, 2018
Rating Spread:

Favourited 26 times in total

Users that love this map: Jacob, Atu, NickyW093, Gabrielhideki, Arsene, HaloMaster96, lexasia, -Paimon-, -Touka-, Totoriott, Getus Rektus, Xoll, TerribleGamer, Sarah Katsuki, Fruscho, KnightC0re, Xangsane14, Starz15, yandere asesino, Hanbut and many more!
Options:
Modding / Discussion
This map is in a QUALIFIED state.
Beware that the leaderboard will be reset before it is ranked!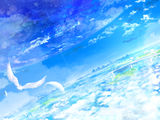 Normal -
Cheesecake
Advanced -
[C u r i]
Hard -
-Tochi
Insane -
Emilia
Another -
SnowNiNo_
Extra -
xLolicore-
,
DeRandom Otaku
,
Hikaru Rose
, Moecho
Air of the Sea - me (diff name by
Gumi Rin
lol thanks)
There's .'s on the end of the diff names because the set is broken btw don't ask lol
Old thread which has basically all mods:
t/484788
Deleted difficulties:
Settia's Extra
hshs is in the lead! ()
Score
19,017,360 (98.97%)
Max Combo
973
300 / 100 / 50
640 / 10 / 0
Misses
0
Geki (Elite Beat!)
188
Katu (Beat!)
9
Mods
None
Top 50 Scoreboard
| | Rank | Score | Accuracy | Player | Max Combo | 300 / 100 / 50 | Geki | Katu | Misses | Mods | |
| --- | --- | --- | --- | --- | --- | --- | --- | --- | --- | --- | --- |
| #1 | | 19,017,360 | 98.97% | hshs | 973 | 640&nbsp&nbsp/ 10 / 0 | 188 | 9 | 0 | None | Report |
| #2 | | 13,031,820 | 99.23% | Legestrophe | 790 | 643&nbsp&nbsp/ 6 / 0 | 192 | 4 | 1 | None | Report |
| #3 | | 12,876,483 | 96.87% | FlyingTuna | 776 | 621&nbsp&nbsp/ 26 / 0 | 175 | 19 | 3 | HD | Report |
| #4 | | 12,778,450 | 97.72% | AtHeoN | 787 | 629&nbsp&nbsp/ 18 / 1 | 179 | 15 | 2 | None | Report |
| #5 | | 12,681,920 | 97.59% | Astana | 783 | 627&nbsp&nbsp/ 22 / 0 | 177 | 19 | 1 | None | Report |
| #6 | | 12,664,400 | 98.41% | Jace | 783 | 635&nbsp&nbsp/ 14 / 0 | 184 | 12 | 1 | None | Report |
| #7 | | 12,402,290 | 97.74% | MINEMINE | 778 | 629&nbsp&nbsp/ 19 / 0 | 179 | 16 | 2 | None | Report |
| #8 | | 12,389,850 | 97.69% | Apraxia | 787 | 629&nbsp&nbsp/ 18 / 0 | 180 | 14 | 3 | None | Report |
| #9 | | 12,201,503 | 97.59% | Cappu | 762 | 630&nbsp&nbsp/ 13 / 0 | 181 | 10 | 7 | HD | Report |
| #10 | | 11,870,105 | 97.28% | Nadir | 752 | 625&nbsp&nbsp/ 22 / 0 | 178 | 16 | 3 | HD | Report |
| #11 | | 11,403,060 | 96.77% | Spark-desu | 753 | 620&nbsp&nbsp/ 27 / 0 | 170 | 24 | 3 | None | Report |
| #12 | | 11,351,470 | 97.03% | Kaine | 752 | 623&nbsp&nbsp/ 23 / 0 | 179 | 16 | 4 | None | Report |
| #13 | | 10,663,050 | 97.05% | HappyStick | 660 | 622&nbsp&nbsp/ 26 / 1 | 179 | 16 | 1 | None | Report |
| #14 | | 10,590,980 | 98.36% | Art | 653 | 634&nbsp&nbsp/ 16 / 0 | 183 | 14 | 0 | None | Report |
| #15 | | 10,536,580 | 97.36% | Gumi Rin | 647 | 625&nbsp&nbsp/ 23 / 1 | 178 | 17 | 1 | None | Report |
| #16 | | 9,860,030 | 96.13% | DeadZoNeD | 694 | 614&nbsp&nbsp/ 32 / 1 | 170 | 23 | 3 | None | Report |
| #17 | | 9,660,670 | 98.82% | Flore | 654 | 639&nbsp&nbsp/ 10 / 0 | 186 | 10 | 1 | None | Report |
| #18 | | 9,416,908 | 96.69% | GHAngeloid | 639 | 620&nbsp&nbsp/ 25 / 1 | 178 | 17 | 4 | HD | Report |
| #19 | | 8,769,270 | 91.08% | Last Note | 650 | 564&nbsp&nbsp/ 84 / 0 | 146 | 49 | 2 | None | Report |
| #20 | | 8,131,190 | 93.69% | Prophet | 616 | 590&nbsp&nbsp/ 57 / 0 | 148 | 46 | 3 | None | Report |
| #21 | | 7,561,210 | 96.90% | Umbre | 557 | 623&nbsp&nbsp/ 20 / 1 | 175 | 17 | 6 | None | Report |
| #22 | | 7,531,430 | 95.54% | Oreon | 582 | 609&nbsp&nbsp/ 36 / 0 | 171 | 22 | 5 | None | Report |
| #23 | | 7,331,230 | 96.62% | Juandissimo | 550 | 620&nbsp&nbsp/ 24 / 0 | 178 | 16 | 6 | None | Report |
| #24 | | 7,122,320 | 97.38% | Skill | 545 | 626&nbsp&nbsp/ 21 / 0 | 177 | 17 | 3 | None | Report |
| #25 | | 7,070,130 | 96.72% | xaxreid | 545 | 621&nbsp&nbsp/ 23 / 0 | 177 | 15 | 6 | None | Report |
| #26 | | 6,645,190 | 95.90% | Betbuc | 536 | 614&nbsp&nbsp/ 28 / 0 | 169 | 20 | 8 | None | Report |
| #27 | | 6,571,690 | 97.49% | norara4159 | 437 | 626&nbsp&nbsp/ 23 / 0 | 176 | 20 | 1 | None | Report |
| #28 | | 6,496,030 | 97.23% | -NeBu- | 457 | 626&nbsp&nbsp/ 18 / 0 | 178 | 14 | 6 | None | Report |
| #29 | | 6,285,260 | 94.82% | Qu1z | 527 | 604&nbsp&nbsp/ 37 / 0 | 165 | 23 | 9 | None | Report |
| #30 | | 6,266,900 | 97.79% | Woffel | 481 | 630&nbsp&nbsp/ 17 / 0 | 180 | 14 | 3 | None | Report |
| #31 | | 6,255,850 | 97.59% | _Shield | 332 | 628&nbsp&nbsp/ 19 / 0 | 182 | 13 | 3 | None | Report |
| #32 | | 6,203,940 | 94.62% | RankoNim | 521 | 601&nbsp&nbsp/ 42 / 0 | 160 | 31 | 7 | None | Report |
| #33 | | 6,129,630 | 96.77% | fartownik | 449 | 622&nbsp&nbsp/ 20 / 2 | 176 | 17 | 6 | None | Report |
| #34 | | 6,030,050 | 95.18% | -AndzeN Desu- | 453 | 606&nbsp&nbsp/ 37 / 2 | 170 | 20 | 5 | None | Report |
| #35 | | 5,884,395 | 97.31% | Wucki | 331 | 625&nbsp&nbsp/ 22 / 1 | 181 | 13 | 2 | HD | Report |
| #36 | | 5,551,598 | 87.03% | LOL[2001] | 487 | 530&nbsp&nbsp/ 105 / 4 | 136 | 52 | 11 | HD | Report |
| #37 | | 5,365,970 | 98.72% | Korilak | 345 | 640&nbsp&nbsp/ 5 / 0 | 188 | 5 | 5 | None | Report |
| #38 | | 5,261,030 | 90.21% | mrbonk | 363 | 559&nbsp&nbsp/ 79 / 6 | 143 | 45 | 6 | None | Report |
| #39 | | 5,250,960 | 96.92% | _Twent | 451 | 622&nbsp&nbsp/ 24 / 0 | 174 | 20 | 4 | None | Report |
| #40 | | 4,935,440 | 94.77% | Niel | 407 | 601&nbsp&nbsp/ 45 / 0 | 162 | 31 | 4 | None | Report |
| #41 | | 4,933,498 | 94.51% | Aragami | 413 | 601&nbsp&nbsp/ 40 / 0 | 160 | 30 | 9 | HD | Report |
| #42 | | 4,811,860 | 96.51% | smh | 324 | 618&nbsp&nbsp/ 28 / 0 | 170 | 23 | 4 | None | Report |
| #43 | | 4,649,610 | 94.77% | ThePro365 | 315 | 606&nbsp&nbsp/ 29 / 2 | 173 | 16 | 13 | None | Report |
| #44 | | 4,532,270 | 93.85% | Ezipie | 324 | 596&nbsp&nbsp/ 41 / 2 | 157 | 30 | 11 | None | Report |
| #45 | | 4,458,950 | 93.21% | ChiSuki | 411 | 588&nbsp&nbsp/ 53 / 1 | 148 | 40 | 8 | None | Report |
| #46 | | 4,391,390 | 96.92% | hisuiironosora | 317 | 622&nbsp&nbsp/ 24 / 0 | 177 | 16 | 4 | None | Report |
| #47 | | 4,362,110 | 98.21% | sonic_gamer96 | 310 | 635&nbsp&nbsp/ 10 / 0 | 183 | 9 | 5 | None | Report |
| #48 | | 4,290,430 | 93.18% | adi77715 | 332 | 590&nbsp&nbsp/ 46 / 2 | 162 | 22 | 12 | None | Report |
| #49 | | 4,260,040 | 97.59% | a humble duck | 404 | 630&nbsp&nbsp/ 13 / 0 | 179 | 11 | 7 | None | Report |
| #50 | | 4,250,510 | 89.49% | Fys | 404 | 554&nbsp&nbsp/ 81 / 4 | 131 | 55 | 11 | None | Report |