Beatmap Listing » Brandon Blume - Legacy of Grabbag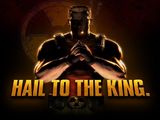 HAIL TO THE KING, BABY!
WARNING : EPILEPTIC STORYBOARD, MAYBE 16+ BECAUSE OF BLOOD! MATURE LANGAGE ON HITSOUNDS!!!! REDOWNLOAD IF DOWNLOADED BEFORE 05/12/2017 FOR A SURPRISE!
414 : 100%
Original video :
https://www.youtube.com/watch?v=uu9vDTs0ciE
The beatmap become harder after Zero Hour's Theme!!!
Slider velocity faster at the last part of the song (after Duke Nukem President for people who play with SB)
This map is a bit my SB practice so the SB may be "strange" or "WTF is that??"
Thanks to :
Hareimu (big help)
Professor Gila (Mod)
LiousPL (Mod)
Sinnoh (Mod)
Rew0825 (Mod)
AJamez (Mod)
koliron (Mod)
-Luminate (Mod)
Rougoku (Mod & stars, thanks a lot :D)
Divine Cake (Mod and advices)