Beatmap Listing » Brandon Blume - Legacy of Grabbag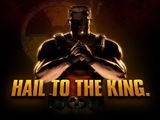 HAIL TO THE KING, BABY!
WARNING : EPILEPTIC STORYBOARD, MAYBE 16+ BECAUSE OF BLOOD! MATURE LANGAGE ON HITSOUNDS!!!! REDOWNLOAD IF DOWNLOADED BEFORE 25/09/2017 FOR DUKE VOICE!
414 : 100%
The beatmap become harder after Zero Hour's Theme!!!
Slider velocity faster at the last part of the song (after Duke Nukem President)
This map is a bit my SB practice so the SB may be "strange" or "WTF is that??"
Wanna Participate on one of the Collabs? Just tell it ;)
Thanks to :
Hareimu (big help)
Professor Gila (Mod)
LiousPL (Mod)
Sinnoh (Mod)
Rew0825 (Mod)