Artist:
Function Phantom
Circle Size:

Approach Rate:

Title:
Algebra
HP Drain:

Star Difficulty:

(8.90)
Creator:
S a n d
Accuracy:

Length:
4:22 (4:21 drain)
Source:
Genre:
Video Game (Instrumental)
BPM:
150
Tags:
User Rating:
Success Rate:
Points of Failure:


(graph is accumulative, based on % at fail/retry)

11.4% (284 of 2492 plays)

Submitted:
Loved:
Aug 14, 2017
Aug 23, 2017
Rating Spread:

Favourited 45 times in total

Users that love this map: ExGon, Curisu, -[ ix Ishida xi ]-, Gezoda, Jerry, Don Omar, qoot8123, xMrtn-, Ikkun, Yumeno Himiko, [ Drop ], Nishizumi, Kuo Kyoka, What1sBroken, LimePunch, suffix wizard, steven1, Flandre4950, AffliLonash, Blackener and many more!
Options:
Modding / Discussion
This map is in a LOVED state.
As such, it will not award any pp and leaderboards may be reset by the beatmap creator.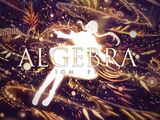 As

pi

re

3rd Place

Wi

nn

er



Special Thanks:


seanhappy8520 - Final math questions <3
Unmei Muma - Ideas discussion <3
1RoHa_ is in the lead! ()
Score
2,102,372 (100.00%)
Max Combo
1673
300 / 100 / 50
1673 / 0 / 0
Misses
0
Geki (Elite Beat!)
8
Katu (Beat!)
0
Mods
None
Top 50 Scoreboard
| | Rank | Score | Accuracy | Player | Max Combo | 300 / 100 / 50 | Geki | Katu | Misses | Mods | |
| --- | --- | --- | --- | --- | --- | --- | --- | --- | --- | --- | --- |
| #1 | | 2,102,372 | 100.00% | 1RoHa_ | 1673 | 1673&nbsp&nbsp/ 0 / 0 | 8 | 0 | 0 | None | Report |
| #2 | | 2,078,992 | 99.52% | Osamix | 1673 | 1657&nbsp&nbsp/ 16 / 0 | 12 | 0 | 0 | None | Report |
| #3 | | 2,078,246 | 99.22% | Fu3ya_ | 1673 | 1647&nbsp&nbsp/ 26 / 0 | 43 | 0 | 0 | None | Report |
| #4 | | 2,077,512 | 99.46% | janitoreihil | 1673 | 1655&nbsp&nbsp/ 18 / 0 | 52 | 0 | 0 | None | Report |
| #5 | | 2,071,982 | 99.28% | kiyozi11 | 1673 | 1649&nbsp&nbsp/ 24 / 0 | 6 | 0 | 0 | None | Report |
| #6 | | 2,013,616 | 98.77% | Ikkun | 1615 | 1633&nbsp&nbsp/ 39 / 0 | 7 | 0 | 1 | None | Report |
| #7 | | 1,940,946 | 98.98% | _Rise | 994 | 1647&nbsp&nbsp/ 18 / 0 | 24 | 0 | 8 | None | Report |
| #8 | | 1,911,880 | 97.94% | MetalStream | 720 | 1615&nbsp&nbsp/ 47 / 0 | 44 | 0 | 11 | None | Report |
| #9 | | 1,906,768 | 96.20% | Atlantiris | 967 | 1550&nbsp&nbsp/ 119 / 0 | 4 | 0 | 4 | None | Report |
| #10 | | 1,891,334 | 97.94% | ekumea1123 | 974 | 1611&nbsp&nbsp/ 55 / 0 | 38 | 0 | 7 | None | Report |
| #11 | | 1,840,880 | 96.23% | Tem | 902 | 1557&nbsp&nbsp/ 106 / 0 | 21 | 1 | 10 | None | Report |
| #12 | | 1,830,398 | 97.04% | pmriva | 554 | 1592&nbsp&nbsp/ 63 / 0 | 22 | 0 | 18 | None | Report |
| #13 | | 1,804,898 | 96.17% | Gezoda | 968 | 1574&nbsp&nbsp/ 70 / 0 | 34 | 0 | 29 | None | Report |
| #14 | | 1,802,258 | 98.27% | kane K hiku | 798 | 1625&nbsp&nbsp/ 38 / 0 | 44 | 2 | 10 | None | Report |
| #15 | | 1,758,470 | 98.00% | asuasu_yura | 430 | 1625&nbsp&nbsp/ 29 / 0 | 18 | 0 | 19 | None | Report |
| #16 | | 1,745,978 | 98.18% | ZethZ161 | 981 | 1626&nbsp&nbsp/ 33 / 0 | 15 | 0 | 14 | None | Report |
| #17 | | 1,684,260 | 92.98% | sakakuxx | 761 | 1471&nbsp&nbsp/ 169 / 0 | 41 | 3 | 33 | None | Report |
| #18 | | 1,654,040 | 94.62% | jakads | 494 | 1530&nbsp&nbsp/ 106 / 0 | 63 | 1 | 37 | None | Report |
| #19 | | 1,642,670 | 95.76% | H1gumo | 567 | 1562&nbsp&nbsp/ 80 / 0 | 10 | 0 | 31 | None | Report |
| #20 | | 1,580,938 | 91.15% | Horiiizon | 770 | 1402&nbsp&nbsp/ 246 / 0 | 50 | 5 | 25 | None | Report |
| #21 | | 1,579,870 | 95.13% | LimePunch | 335 | 1536&nbsp&nbsp/ 111 / 0 | 32 | 0 | 26 | None | Report |
| #22 | | 1,561,184 | 93.34% | Oswald | 983 | 1485&nbsp&nbsp/ 153 / 0 | 1 | 0 | 35 | None | Report |
| #23 | | 1,548,198 | 94.41% | rhyrhy | 366 | 1514&nbsp&nbsp/ 131 / 0 | 2 | 1 | 28 | None | Report |
| #24 | | 1,501,070 | 94.26% | - Yuuka Niya - | 423 | 1509&nbsp&nbsp/ 136 / 0 | 16 | 1 | 28 | None | Report |
| #25 | | 1,464,148 | 91.42% | suyuyu | 301 | 1433&nbsp&nbsp/ 193 / 0 | 48 | 1 | 47 | None | Report |
| #26 | | 1,463,202 | 92.77% | Don Omar | 297 | 1474&nbsp&nbsp/ 156 / 0 | 29 | 1 | 43 | None | Report |
| #27 | | 1,462,998 | 90.91% | Mihaugoku | 410 | 1432&nbsp&nbsp/ 178 / 0 | 48 | 3 | 63 | None | Report |
| #28 | | 1,443,288 | 93.31% | Rabar0209 | 345 | 1501&nbsp&nbsp/ 120 / 0 | 27 | 0 | 52 | None | Report |
| #29 | | 1,435,844 | 91.90% | KyouRekii87 | 382 | 1446&nbsp&nbsp/ 183 / 0 | 42 | 0 | 44 | None | Report |
| #30 | | 1,420,166 | 92.32% | Fantazy | 299 | 1488&nbsp&nbsp/ 113 / 0 | 17 | 0 | 72 | None | Report |
| #31 | | 1,408,102 | 93.01% | Myckoll | 491 | 1483&nbsp&nbsp/ 146 / 0 | 19 | 2 | 44 | None | Report |
| #32 | | 1,399,396 | 92.77% | Carolyn | 361 | 1465&nbsp&nbsp/ 174 / 0 | 2 | 0 | 34 | None | Report |
| #33 | | 1,395,018 | 90.94% | 404 AccNotFound | 358 | 1415&nbsp&nbsp/ 213 / 0 | 46 | 2 | 45 | None | Report |
| #34 | | 1,356,724 | 92.11% | FunnyS | 273 | 1480&nbsp&nbsp/ 122 / 0 | 4 | 0 | 71 | None | Report |
| #35 | | 1,355,710 | 90.50% | ILOVEMARISA | 392 | 1405&nbsp&nbsp/ 218 / 0 | 3 | 0 | 50 | None | Report |
| #36 | | 1,353,962 | 90.44% | -[ ix Ishida xi ]- | 284 | 1440&nbsp&nbsp/ 146 / 0 | 53 | 3 | 87 | None | Report |
| #37 | | 1,319,460 | 93.31% | tala-ko | 290 | 1510&nbsp&nbsp/ 102 / 0 | 12 | 0 | 61 | None | Report |
| #38 | | 1,304,542 | 90.50% | lamkwokhot | 302 | 1445&nbsp&nbsp/ 138 / 0 | 11 | 0 | 90 | None | Report |
| #39 | | 1,302,836 | 89.78% | Ppus | 213 | 1409&nbsp&nbsp/ 186 / 0 | 14 | 1 | 78 | None | Report |
| #40 | | 1,295,292 | 91.03% | Vulkin | 316 | 1429&nbsp&nbsp/ 188 / 0 | 31 | 2 | 56 | None | Report |
| #41 | | 1,278,010 | 87.81% | superSSS | 270 | 1323&nbsp&nbsp/ 292 / 0 | 14 | 1 | 58 | None | Report |
| #42 | | 1,275,752 | 91.27% | Jerry | 299 | 1442&nbsp&nbsp/ 170 / 0 | 24 | 1 | 61 | None | Report |
| #43 | | 1,251,684 | 89.33% | CreepyDuck | 327 | 1404&nbsp&nbsp/ 181 / 0 | 15 | 0 | 88 | None | Report |
| #44 | | 1,249,620 | 91.90% | cheese salad | 202 | 1454&nbsp&nbsp/ 167 / 0 | 10 | 0 | 52 | None | Report |
| #45 | | 1,215,702 | 88.43% | Khoiii | 248 | 1362&nbsp&nbsp/ 235 / 0 | 6 | 0 | 76 | None | Report |
| #46 | | 1,207,504 | 91.33% | GOLAITHCHAN | 264 | 1455&nbsp&nbsp/ 146 / 0 | 0 | 0 | 72 | None | Report |
| #47 | | 1,197,376 | 90.14% | Zetera | 215 | 1410&nbsp&nbsp/ 196 / 0 | 44 | 1 | 67 | None | Report |
| #48 | | 1,192,264 | 91.39% | isobe | 178 | 1448&nbsp&nbsp/ 162 / 0 | 35 | 2 | 63 | None | Report |
| #49 | | 1,172,056 | 91.36% | Xoretra | 194 | 1456&nbsp&nbsp/ 145 / 0 | 19 | 0 | 72 | None | Report |
| #50 | | 1,147,038 | 93.63% | Xin Leviathan | 195 | 1517&nbsp&nbsp/ 99 / 0 | 1 | 0 | 57 | None | Report |