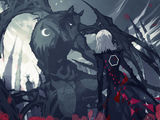 Gimmick explanation
Each NC represent a 2/3 gap, if not in a repeated measure, a fancy triangle, or if right next to previous object.

The high AR also helps with telling gimmick and normal NCs apart.
Thanks
Background from
Nanomortis
.
Thanks digidrake for testplay!
Thankns skylewl for testplay!
Thanks wa_ for cropping bg.