Beatmap Listing » ClariS - Hitorigoto -TV MIX-
Artist:
ClariS
Circle Size:

Approach Rate:

Title:
Hitorigoto -TV MIX-
HP Drain:

Star Difficulty:

(5.25)
Creator:
Tofu1222
Accuracy:

Length:
1:29 (1:28 drain)
Source:
エロマンガ先生
Genre:
Anime (Japanese)
BPM:
165
Tags:
eromanga sensei ero manga eromanga-sensei opening tv size eromangasensei suzuki_1112 1112deng kanor level9 ryuusei aika rsak moeri moecho [kamiya] victorica_db [emiria]
User Rating:
Success Rate:
Points of Failure:


(graph is accumulative, based on % at fail/retry)

17.4% (27171 of 155889 plays)

Submitted:
Ranked:
Apr 22, 2017
Sep 25, 2017
Rating Spread:

Favourited 246 times in total

Users that love this map: RedONI, PokemasterBrian, Xathos, Jamker, soker1, Nerokg, AdmiralKazzimox, LANST, Gumi-Desu, 1164530434, Lookshana, Chakkichan, kanor, Suzuki_1112, legoboomette, scionae-, zxc0985699511, MegioArisa, SnowWh1te, Mitsuna- and many more!
Options:
Modding / Discussion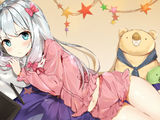 #4 Ranked
<<prev | next>>
"I Am Always Looking For Your Smile."
Sagiri is the most kawaii imouto
Check Out エロマンガ先生 ED (TV Ver.) in osu!mania by - Ly0572 -!
Thanks for everyone's contribution to this mapset
osu! (All Diff Hitsounded by Moecho/Moeri; Combo Color by
Suzuki_1112
):
Easy by
Ryuusei Aika
Normal by Moecho
Hard by
Kamiya
Light Insane by
Suzuki_1112
Insane by Shad0w1and
You are able to download Shad0w1and's Insane
here
Insane by
Level9
Insane by
kanor
Extra by Suzuki_1112
(I felt really sorry that this diff has to be removed)
You are able to download 1112's Extra
here
Manga by Moecho
osu!mania (All Diffs Hitsounded by
1164530434
):
Easy Done by Me
Normal Done by Me
Hard Done by
Emiria
Manga Done by Me
Awesome BNs

Bubbled by juankristal

Qualified by Chaoslitz
Awesome Modders & Starshooters
Mod Count
osu!:
RsAk's Easy: 12
Moecho's Normal: 13
Kamiya's Hard: 15
1112's Light Insane: 16
Shad0w1and's Insane: 5
Lv9's Insane: 12
kanor's Insane: 13
1112's Extra: 14
Moecho's Manga: 13
osu!mania:
Easy: 9
Normal: 10
Emiria's Hard: 8
Manga: 12
1112's Thanks to everyone
中文:
首先先很感谢各位gder还有modder
以及还有一班闲得胃痛的观众点开我这个碎碎念感谢话的box
那么我来说说为什么我这张图是一张hybrid图吧
我还很清楚记得距离现在九月份的五个月前,当时很火的一部动漫"黄漫老师"正在播出
于是tofu打算做一个mania version,正在群里找guest diff
我看到了,于是跟他开玩笑说:"如果你给我做一个std的extra还有insane的话我肯定愿意送你gd。"
没想到他居然一口答应了,我跟他说:"我是开玩笑的啊"
他说没关系。
于是,因为我的一句玩笑变成了今天的hybrid set,给tofu做了两个并不成熟的extra和insane gd
后来,开始有更多人加进这个set里面了。流星哀歌,四萌,lv9,kanor,维多,以及对std部分最大贡献的爱佳都进来了
于是就成为了这个set的一个大家庭。
每个人的gd都做得很有自己的风格,很有趣,像是lv9的cs5
强制把你变成强双的
图,kanor的单点1/4,以及爱佳那特有的风格,还有听起来很好听的音效
把这个set点缀得五彩缤纷
这期间,我们一直很努力的去让这张图变得更加好玩以及好看
下面让我来吹吹爱佳
爱佳简直就是我师傅,我的insane质量令人担忧,是她帮我做好排列,教我排列
是她告诉我音效的运用
她告诉我节奏在哪个地方要变得强烈,哪个地方用那些梗会把节奏有升华的感觉
把我那并不成器的insane改成今天那副整洁的模样
爱佳对我的帮助实在是太大了。如果没有爱佳对我的图进行指导,我依然会为我的diff在这个set里而担忧
我怕会拖下大家的后退
所以你们知道为什么我每次看见爱佳都吹她一波
当然,也感谢tofu
tofu在我提出一句玩笑以后把它当真了,而且真的实现了
这几个月以来一直都没有放弃为这张图投放心思,使他成为第一张hybrid set
以及还有kanor我要感谢的
要不是前三个月你没有提醒我是一个怎么样的人我到现在可能还是一副ky样子
当然,要感谢的人实在是太多了,我不知道如何用更多的语言去表达我想感谢的人
总之,真的非常感谢在这个thread里留言支持以及摸图的人!谢谢!
English:
First of all, I am really thankful to all GDers and Modders, as well as those of you who click to see this box.
Let me talk about why this is a hybrid mapset then.
I clearly remember that around five months ago from now (2017.9), when the popular anime 'Eromanga Sensei' was on air, Tofu (Tofu1222) was gonna make one mania version of the opening, finding guest diffs in the group.
I saw it and joked that, if you can let me do Extra and Insane in std version I will definitely accept it.
I didnt expect that he agreed at once, even though I said again, I was joking lol.
He said it's ok.
And because of that joke, we have got this huge hybrid mapset, with two GDs (Extra and Insane, though Extra has been sadly deleted).
Since then, more and more people have been joining in this huge project, like Ryuusei Aika, Kamiya, Level9, kanor, Emiria, and Moecho, the one who made greatest contribution to the std part of this mapset.
And we formed a big family-like group here.
Everyone's GD has his or her own style and quite fun, Like Level9's diff with a CS of 5, 1/4 single click in kanor's diff, and Moecho's special style, as well as agreeable hitsound samples.
During these months, we have been putting all effort into making this map fun to play and nice to look.
Let me talk about Moecho then.
She is literally my teacher, because my insane diff was in bad quality, and it was her who helped me make good arrangements of this diff and teach me about patterns.
It was her who told me how to deal with hitsounds.
She told me which part of the rhythms has greater strength and with which pattern I can get a sense of sublimation in expressing rhythms.
She turned my insane diff into the current nice look.
She helped me so much that I would have been worrying about my diff today if she had not directed me.
I feared that I might fall behind.
Of course thanks to Tofu.
He made my joke come true now.
He has not given up about this mapset, and made his first hybrid set here.
Thanks to kanor as well.
If you had not reminded me who I was, I might be as disagreeable as in the past.
Anyway, there are so many I wanna wish my thanks to, but I don't know how to express more words for them.
All in all, I am really thankful for all of you who left messages here, who supported this mapset here, who modded and nominated this mapsets here.
Thanks a lot for your help!
Arnold24x24 is in the lead! ()
Score
6,265,338 (99.81%)
Max Combo
485
300 / 100 / 50
352 / 1 / 0
Misses
0
Geki (Elite Beat!)
115
Katu (Beat!)
1
Mods
HD,DT
Top 50 Scoreboard
| | Rank | Score | Accuracy | Player | Max Combo | 300 / 100 / 50 | Geki | Katu | Misses | Mods | |
| --- | --- | --- | --- | --- | --- | --- | --- | --- | --- | --- | --- |
| #1 | | 6,265,338 | 99.81% | Arnold24x24 | 485 | 352&nbsp&nbsp/ 1 / 0 | 115 | 1 | 0 | HD,DT | Report |
| #2 | | 6,262,317 | 99.24% | Afrodafro | 485 | 349&nbsp&nbsp/ 4 / 0 | 112 | 4 | 0 | HD,DT | Report |
| #3 | | 6,259,098 | 99.43% | uyghti | 485 | 350&nbsp&nbsp/ 3 / 0 | 113 | 3 | 0 | HD,DT | Report |
| #4 | | 6,253,131 | 98.87% | Auji | 485 | 347&nbsp&nbsp/ 6 / 0 | 111 | 5 | 0 | HD,DT | Report |
| #5 | | 6,250,692 | 99.43% | Spare | 485 | 350&nbsp&nbsp/ 3 / 0 | 113 | 3 | 0 | HD,DT | Report |
| #6 | | 6,241,421 | 99.24% | Risiing | 485 | 349&nbsp&nbsp/ 4 / 0 | 113 | 3 | 0 | HD,DT | Report |
| #7 | | 6,237,083 | 98.87% | talala | 484 | 347&nbsp&nbsp/ 6 / 0 | 111 | 5 | 0 | HD,DT | Report |
| #8 | | 6,227,973 | 99.06% | Karthy | 485 | 348&nbsp&nbsp/ 5 / 0 | 111 | 5 | 0 | HD,DT | Report |
| #9 | | 6,227,145 | 98.68% | DuNai | 485 | 346&nbsp&nbsp/ 7 / 0 | 112 | 4 | 0 | HD,NC | Report |
| #10 | | 6,221,032 | 98.49% | fruit punch | 484 | 345&nbsp&nbsp/ 8 / 0 | 108 | 8 | 0 | HD,DT | Report |
| #11 | | 6,217,973 | 99.15% | filsdelama | 481 | 349&nbsp&nbsp/ 3 / 0 | 113 | 2 | 1 | HD,DT | Report |
| #12 | | 6,217,743 | 98.68% | kutafix | 485 | 346&nbsp&nbsp/ 7 / 0 | 110 | 6 | 0 | HD,DT | Report |
| #13 | | 6,216,867 | 98.30% | [-Lockon-] | 485 | 344&nbsp&nbsp/ 9 / 0 | 109 | 7 | 0 | HD,DT | Report |
| #14 | | 6,211,884 | 99.24% | obtio | 485 | 349&nbsp&nbsp/ 4 / 0 | 113 | 3 | 0 | HD,DT | Report |
| #15 | | 6,210,541 | 98.11% | Alumetri | 485 | 343&nbsp&nbsp/ 10 / 0 | 111 | 5 | 0 | HD,DT | Report |
| #16 | | 6,208,362 | 98.68% | -Hebel- | 484 | 346&nbsp&nbsp/ 7 / 0 | 109 | 7 | 0 | HD,DT | Report |
| #17 | | 6,205,796 | 99.06% | Mathi | 485 | 348&nbsp&nbsp/ 5 / 0 | 111 | 5 | 0 | HD,DT | Report |
| #18 | | 6,205,643 | 98.87% | Xilver | 485 | 347&nbsp&nbsp/ 6 / 0 | 111 | 5 | 0 | HD,DT | Report |
| #19 | | 6,204,075 | 98.87% | Red_Pixel | 485 | 347&nbsp&nbsp/ 6 / 0 | 110 | 6 | 0 | HD,DT | Report |
| #20 | | 6,202,641 | 98.68% | jot_bab | 485 | 346&nbsp&nbsp/ 7 / 0 | 109 | 7 | 0 | HD,DT | Report |
| #21 | | 6,202,166 | 98.68% | Vamhi- | 485 | 346&nbsp&nbsp/ 7 / 0 | 110 | 6 | 0 | HD,DT | Report |
| #22 | | 6,201,007 | 98.30% | LanJay | 485 | 344&nbsp&nbsp/ 9 / 0 | 108 | 8 | 0 | HD,DT | Report |
| #23 | | 6,199,650 | 98.68% | [RanYakumo] | 485 | 346&nbsp&nbsp/ 7 / 0 | 112 | 4 | 0 | HD,DT | Report |
| #24 | | 6,196,326 | 98.68% | ItsKevZii | 485 | 346&nbsp&nbsp/ 7 / 0 | 110 | 6 | 0 | HD,DT | Report |
| #25 | | 6,194,733 | 98.68% | - Phantasma - | 484 | 346&nbsp&nbsp/ 7 / 0 | 110 | 6 | 0 | HD,DT | Report |
| #26 | | 6,187,436 | 98.49% | GfMRT | 485 | 345&nbsp&nbsp/ 8 / 0 | 108 | 8 | 0 | HD,DT | Report |
| #27 | | 6,178,650 | 98.49% | - Nikliu - | 484 | 345&nbsp&nbsp/ 8 / 0 | 109 | 7 | 0 | HD,DT | Report |
| #28 | | 6,177,995 | 98.68% | MoeYandere | 485 | 346&nbsp&nbsp/ 7 / 0 | 111 | 5 | 0 | HD,DT | Report |
| #29 | | 6,177,576 | 98.87% | filsdelmao | 485 | 347&nbsp&nbsp/ 6 / 0 | 110 | 6 | 0 | HD,NC | Report |
| #30 | | 6,173,996 | 98.49% | Chamosiala | 485 | 345&nbsp&nbsp/ 8 / 0 | 109 | 7 | 0 | HD,DT | Report |
| #31 | | 6,167,497 | 97.73% | WakaiYuki | 485 | 341&nbsp&nbsp/ 12 / 0 | 108 | 8 | 0 | HD,DT | Report |
| #32 | | 6,165,932 | 98.68% | Korilak | 484 | 346&nbsp&nbsp/ 7 / 0 | 110 | 6 | 0 | HD,DT | Report |
| #33 | | 6,165,458 | 98.68% | 1miss | 485 | 346&nbsp&nbsp/ 7 / 0 | 110 | 6 | 0 | HD,DT | Report |
| #34 | | 6,164,684 | 97.54% | Monko2k | 485 | 340&nbsp&nbsp/ 13 / 0 | 106 | 10 | 0 | HD,NC | Report |
| #35 | | 6,157,277 | 97.54% | Totoki | 485 | 340&nbsp&nbsp/ 13 / 0 | 107 | 9 | 0 | HD,DT | Report |
| #36 | | 6,141,035 | 97.54% | Resia | 485 | 340&nbsp&nbsp/ 13 / 0 | 105 | 11 | 0 | HD,DT | Report |
| #37 | | 6,130,836 | 97.73% | Colt | 485 | 341&nbsp&nbsp/ 12 / 0 | 106 | 10 | 0 | HD,NC | Report |
| #38 | | 6,093,047 | 96.18% | he rack | 485 | 333&nbsp&nbsp/ 19 / 1 | 99 | 16 | 0 | HD,DT | Report |
| #39 | | 6,083,792 | 96.22% | Skydiver | 485 | 333&nbsp&nbsp/ 20 / 0 | 99 | 17 | 0 | HD,DT | Report |
| #40 | | 6,076,824 | 96.36% | Moffo | 481 | 334&nbsp&nbsp/ 18 / 1 | 101 | 14 | 0 | HD,DT | Report |
| #41 | | 6,073,990 | 96.79% | _RyuK | 485 | 336&nbsp&nbsp/ 17 / 0 | 104 | 12 | 0 | HD,DT | Report |
| #42 | | 6,067,450 | 95.66% | ikaNyai | 484 | 330&nbsp&nbsp/ 23 / 0 | 99 | 17 | 0 | HD,DT | Report |
| #43 | | 6,002,722 | 97.83% | Always 1miss | 474 | 342&nbsp&nbsp/ 10 / 0 | 106 | 9 | 1 | HD,DT | Report |
| #44 | | 5,964,376 | 98.77% | Umbre | 472 | 347&nbsp&nbsp/ 5 / 0 | 111 | 4 | 1 | HD,DT | Report |
| #45 | | 5,949,362 | 100.00% | adoragirl | 485 | 353&nbsp&nbsp/ 0 / 0 | 116 | 0 | 0 | HD,HR | Report |
| #46 | | 5,934,600 | 99.81% | Maggy | 485 | 352&nbsp&nbsp/ 1 / 0 | 115 | 1 | 0 | HD,HR | Report |
| #47 | | 5,923,259 | 99.24% | [ AeonLust ] | 485 | 349&nbsp&nbsp/ 4 / 0 | 113 | 3 | 0 | HD,HR | Report |
| #48 | | 5,915,606 | 94.33% | Aden | 484 | 323&nbsp&nbsp/ 30 / 0 | 94 | 22 | 0 | HD,DT | Report |
| #49 | | 5,912,647 | 99.62% | SoraRoxas01 | 485 | 351&nbsp&nbsp/ 2 / 0 | 114 | 2 | 0 | DT | Report |
| #50 | | 5,912,631 | 99.01% | mcy3 | 468 | 348&nbsp&nbsp/ 4 / 1 | 111 | 4 | 0 | HD,DT | Report |