Artist:
Raujika
Circle Size:

Approach Rate:

Title:
Grim
HP Drain:

Star Difficulty:

(4.61)
Creator:
JauiPlaY
Accuracy:

Length:
3:31 (2:35 drain)
Source:
Genre:
Other (Instrumental)
BPM:
96
Tags:
spboxer3 lks vivicat beren -baby strawberry-
User Rating:
Success Rate:
Points of Failure:


(graph is accumulative, based on % at fail/retry)

12.0% (71396 of 593078 plays)

Submitted:
Ranked:
Sep 7, 2012
Jan 24, 2013
Rating Spread:

Favourited 491 times in total

Users that love this map: Karedis, zepher, heintsi, 0suplayer, dousi, hickyloveyoumu, sawyer602, Nanakase Gizumo, GlamourGirlll, Nikuziru, abcd703128, sMiku, ShigeRunic, AngelNote, pomw26372185, Phungy, Unizer, sinanaii, Temee, drinkmuffin and many more!
Options:
Modding / Discussion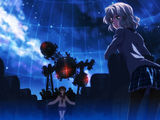 22nd map.
It's like a winter star melody.
And I'm getting really addicted to it.
Freestyle diff names inside.
Special thanks to sp3, lks, vivicat, beren and little strawberry.
This one would not be completed without you. Seriously.
Rafis is in the lead! ()
Score
16,139,759 (100.00%)
Max Combo
950
300 / 100 / 50
599 / 0 / 0
Misses
0
Geki (Elite Beat!)
130
Katu (Beat!)
0
Mods
HD,DT
Top 50 Scoreboard
| | Rank | Score | Accuracy | Player | Max Combo | 300 / 100 / 50 | Geki | Katu | Misses | Mods | |
| --- | --- | --- | --- | --- | --- | --- | --- | --- | --- | --- | --- |
| #1 | | 16,139,759 | 100.00% | Rafis | 950 | 599&nbsp&nbsp/ 0 / 0 | 130 | 0 | 0 | HD,DT | Report |
| #2 | | 16,128,721 | 99.78% | Adamqs | 950 | 597&nbsp&nbsp/ 2 / 0 | 128 | 2 | 0 | HD,DT | Report |
| #3 | | 16,111,104 | 99.89% | Toy | 950 | 598&nbsp&nbsp/ 1 / 0 | 129 | 1 | 0 | HD,DT | Report |
| #4 | | 15,616,358 | 96.86% | Cookiezi | 944 | 571&nbsp&nbsp/ 27 / 1 | 114 | 15 | 0 | HD,DT | Report |
| #5 | | 15,285,597 | 100.00% | thelewa | 950 | 599&nbsp&nbsp/ 0 / 0 | 130 | 0 | 0 | HD,HR | Report |
| #6 | | 15,285,597 | 100.00% | Sinch | 950 | 599&nbsp&nbsp/ 0 / 0 | 130 | 0 | 0 | HD,HR | Report |
| #7 | | 15,285,597 | 100.00% | Mirage | 950 | 599&nbsp&nbsp/ 0 / 0 | 130 | 0 | 0 | HD,HR | Report |
| #8 | | 15,285,597 | 100.00% | Synchrostar | 950 | 599&nbsp&nbsp/ 0 / 0 | 130 | 0 | 0 | HD,HR | Report |
| #9 | | 15,285,597 | 100.00% | -cr1mmy- | 950 | 599&nbsp&nbsp/ 0 / 0 | 130 | 0 | 0 | HD,HR | Report |
| #10 | | 15,285,597 | 100.00% | Climate | 950 | 599&nbsp&nbsp/ 0 / 0 | 130 | 0 | 0 | HD,HR | Report |
| #11 | | 15,285,597 | 100.00% | deathmarc4 | 950 | 599&nbsp&nbsp/ 0 / 0 | 130 | 0 | 0 | HD,HR | Report |
| #12 | | 15,285,597 | 100.00% | xsrsbsns | 950 | 599&nbsp&nbsp/ 0 / 0 | 130 | 0 | 0 | HD,HR | Report |
| #13 | | 15,285,597 | 100.00% | ncuh | 950 | 599&nbsp&nbsp/ 0 / 0 | 130 | 0 | 0 | HD,HR | Report |
| #14 | | 15,285,597 | 100.00% | Worne | 950 | 599&nbsp&nbsp/ 0 / 0 | 130 | 0 | 0 | HD,HR | Report |
| #15 | | 15,285,597 | 100.00% | Summer | 950 | 599&nbsp&nbsp/ 0 / 0 | 130 | 0 | 0 | HD,HR | Report |
| #16 | | 15,285,597 | 100.00% | Mad Carrot | 950 | 599&nbsp&nbsp/ 0 / 0 | 130 | 0 | 0 | HD,HR | Report |
| #17 | | 15,281,693 | 99.89% | Volcanism | 950 | 598&nbsp&nbsp/ 1 / 0 | 129 | 1 | 0 | HD,HR | Report |
| #18 | | 15,276,187 | 99.67% | eLy | 950 | 596&nbsp&nbsp/ 3 / 0 | 128 | 2 | 0 | HD,HR | Report |
| #19 | | 15,275,941 | 99.89% | Silleth | 950 | 598&nbsp&nbsp/ 1 / 0 | 129 | 1 | 0 | HD,HR | Report |
| #20 | | 15,268,462 | 99.89% | nomen | 950 | 598&nbsp&nbsp/ 1 / 0 | 129 | 1 | 0 | HD,HR | Report |
| #21 | | 15,267,168 | 99.89% | Golden-Lin | 950 | 598&nbsp&nbsp/ 1 / 0 | 129 | 1 | 0 | HD,HR | Report |
| #22 | | 15,261,631 | 99.89% | Wilchq | 950 | 598&nbsp&nbsp/ 1 / 0 | 129 | 1 | 0 | HD,HR | Report |
| #23 | | 15,261,595 | 99.89% | nadesico | 950 | 598&nbsp&nbsp/ 1 / 0 | 129 | 1 | 0 | HD,HR | Report |
| #24 | | 15,261,307 | 99.89% | bubby963 | 950 | 598&nbsp&nbsp/ 1 / 0 | 129 | 1 | 0 | HD,HR | Report |
| #25 | | 15,258,518 | 99.78% | EnEMy | 950 | 597&nbsp&nbsp/ 2 / 0 | 128 | 2 | 0 | HD,HR | Report |
| #26 | | 15,257,188 | 99.78% | pooptartsonas | 950 | 597&nbsp&nbsp/ 2 / 0 | 128 | 2 | 0 | HD,HR | Report |
| #27 | | 15,256,089 | 99.67% | Naxurin | 950 | 596&nbsp&nbsp/ 3 / 0 | 127 | 3 | 0 | HD,HR | Report |
| #28 | | 15,254,707 | 99.78% | Glitter Goose | 950 | 597&nbsp&nbsp/ 2 / 0 | 128 | 2 | 0 | HD,HR | Report |
| #29 | | 15,253,433 | 99.89% | steini | 950 | 598&nbsp&nbsp/ 1 / 0 | 129 | 1 | 0 | HD,HR | Report |
| #30 | | 15,251,174 | 99.89% | HAUHAU | 949 | 598&nbsp&nbsp/ 1 / 0 | 129 | 1 | 0 | HD,HR | Report |
| #31 | | 15,249,458 | 99.78% | KiroKusA | 950 | 597&nbsp&nbsp/ 2 / 0 | 128 | 2 | 0 | HD,HR | Report |
| #32 | | 15,247,892 | 99.67% | Neet_o | 950 | 596&nbsp&nbsp/ 3 / 0 | 127 | 3 | 0 | HD,HR | Report |
| #33 | | 15,246,402 | 99.78% | Irixo | 950 | 597&nbsp&nbsp/ 2 / 0 | 128 | 2 | 0 | HD,HR | Report |
| #34 | | 15,244,712 | 99.78% | schlafen | 950 | 597&nbsp&nbsp/ 2 / 0 | 128 | 2 | 0 | HD,HR | Report |
| #35 | | 15,244,352 | 99.78% | Maozis | 950 | 597&nbsp&nbsp/ 2 / 0 | 128 | 2 | 0 | HD,HR | Report |
| #36 | | 15,241,727 | 99.78% | Stift | 950 | 597&nbsp&nbsp/ 2 / 0 | 128 | 2 | 0 | HD,HR | Report |
| #37 | | 15,239,965 | 99.78% | Ball | 950 | 597&nbsp&nbsp/ 2 / 0 | 128 | 2 | 0 | HD,HR | Report |
| #38 | | 15,238,527 | 99.78% | [ Lili ] | 950 | 597&nbsp&nbsp/ 2 / 0 | 128 | 2 | 0 | HD,HR | Report |
| #39 | | 15,235,954 | 99.67% | Kipley | 950 | 596&nbsp&nbsp/ 3 / 0 | 127 | 3 | 0 | HD,HR | Report |
| #40 | | 15,235,004 | 99.78% | fartownik | 950 | 597&nbsp&nbsp/ 2 / 0 | 128 | 2 | 0 | HD,HR | Report |
| #41 | | 15,234,500 | 99.78% | Kijoszi | 950 | 597&nbsp&nbsp/ 2 / 0 | 128 | 2 | 0 | HD,HR | Report |
| #42 | | 15,233,365 | 99.67% | Dungeon | 950 | 596&nbsp&nbsp/ 3 / 0 | 127 | 3 | 0 | HD,HR | Report |
| #43 | | 15,230,503 | 99.55% | Gokuri | 949 | 595&nbsp&nbsp/ 4 / 0 | 126 | 4 | 0 | HD,HR | Report |
| #44 | | 15,228,183 | 99.44% | HesuTeia | 950 | 594&nbsp&nbsp/ 5 / 0 | 127 | 3 | 0 | HD,HR | Report |
| #45 | | 15,228,170 | 99.78% | cannedfruit | 949 | 597&nbsp&nbsp/ 2 / 0 | 128 | 2 | 0 | HD,HR | Report |
| #46 | | 15,227,309 | 99.78% | Pandarix | 950 | 597&nbsp&nbsp/ 2 / 0 | 129 | 1 | 0 | HD,HR | Report |
| #47 | | 15,227,021 | 99.78% | kriers | 950 | 597&nbsp&nbsp/ 2 / 0 | 128 | 2 | 0 | HD,HR | Report |
| #48 | | 15,224,988 | 99.67% | BNY963 | 950 | 596&nbsp&nbsp/ 3 / 0 | 127 | 3 | 0 | HD,HR | Report |
| #49 | | 15,224,449 | 99.67% | Osama | 950 | 596&nbsp&nbsp/ 3 / 0 | 127 | 3 | 0 | HD,HR | Report |
| #50 | | 15,224,387 | 99.78% | cc5838p | 949 | 597&nbsp&nbsp/ 2 / 0 | 128 | 2 | 0 | HD,HR | Report |