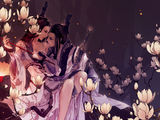 Please play with map hitsounds enabled!
redoing kiais right now, theyre old and i guess people arent happy with the aesthetics
looking for random chinese hitsounds to throw in the kiais tell me if you have any please
also looking for a storyboard, maybe i'll learn and do it myself but id like an actual good storyboard, like yf bmp petals or something
The song is about
Pan Jinlian (潘金蓮)
, from the novel
Jin Ping Mei (金瓶梅)
. Lyrics (no english) can be found
here
.
metadata from 09kami's
map
timing by
ellyu
base hitsounds by
- yoshimaro -
special hitsounds by me
thank you!