Artist:
a*ru
Circle Size:

Approach Rate:

Title:
Kizuato
HP Drain:

Star Difficulty:

(5.33)
Creator:
Halfslashed
Accuracy:

Length:
3:22 (3:11 drain)
Source:
東方妖々夢 ~ Perfect Cherry Blossom.
Genre:
Video Game (Japanese)
BPM:
173
Tags:
alice's emotion th7 touhou youyomu ayumi nomiya redalice scar ブクレシュティの人形師 the doll maker of bucuresti overdrive alice margatroid アリス・マーガトロイド pcb
User Rating:
Success Rate:
Points of Failure:


(graph is accumulative, based on % at fail/retry)

4.2% (2931 of 70481 plays)

Submitted:
Ranked:
Feb 8, 2017
Jun 13, 2017
Rating Spread:

Favourited 130 times in total

Users that love this map: Arx Alveria, MOLA_22, blednak, EN0sh, psh3023, WEIRD FACE, CET 6, Leper, Trance, Old K, Mysterious, Superfinemike, PrincessLuna403, Luneyuun, Swell, kuur0, KremeCheez, GasaiiYunox, Zukarido, smoobey and many more!
Options:
Modding / Discussion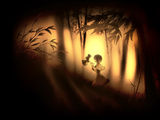 Third finished and submitted.
Arrangement of The Doll Maker of Bucuresti from Touhou 7.
Timing & mp3 from
https://osu.ppy.sh/s/108820
.
Metadata:
http://c83.redalice.net/
http://www16.big.or.jp/~zun/html/th07.html
BG:
http://www.pixiv.net/member_illust.php?mode=medium&illust_id=11691356
Warning: Non-standard SV's used in highest diff (0.30x).
Thanks
Mun
for making some of the hitsounds.
Thanks for checking + confirming the metadata
IamKwaN
!
Wilchq is in the lead! ()
Score
31,017,882 (99.92%)
Max Combo
1085
300 / 100 / 50
823 / 1 / 0
Misses
0
Geki (Elite Beat!)
141
Katu (Beat!)
1
Mods
HD,HR
Top 50 Scoreboard
| | Rank | Score | Accuracy | Player | Max Combo | 300 / 100 / 50 | Geki | Katu | Misses | Mods | |
| --- | --- | --- | --- | --- | --- | --- | --- | --- | --- | --- | --- |
| #1 | | 31,017,882 | 99.92% | Wilchq | 1085 | 823&nbsp&nbsp/ 1 / 0 | 141 | 1 | 0 | HD,HR | Report |
| #2 | | 30,924,082 | 99.68% | kablaze | 1085 | 820&nbsp&nbsp/ 4 / 0 | 139 | 3 | 0 | HD,HR | Report |
| #3 | | 30,867,456 | 99.60% | Tetla | 1085 | 819&nbsp&nbsp/ 5 / 0 | 137 | 5 | 0 | HD,HR | Report |
| #4 | | 30,706,811 | 98.95% | VRainbow | 1084 | 811&nbsp&nbsp/ 13 / 0 | 132 | 10 | 0 | HD,HR | Report |
| #5 | | 30,650,944 | 98.62% | RyuuBei | 1085 | 807&nbsp&nbsp/ 17 / 0 | 130 | 12 | 0 | HD,HR | Report |
| #6 | | 30,563,218 | 98.87% | Astar | 1084 | 810&nbsp&nbsp/ 14 / 0 | 128 | 14 | 0 | HD,HR | Report |
| #7 | | 30,443,557 | 98.34% | Shigure chan | 1085 | 804&nbsp&nbsp/ 18 / 2 | 128 | 13 | 0 | HD,HR | Report |
| #8 | | 30,406,480 | 98.22% | Far_Q | 1085 | 802&nbsp&nbsp/ 22 / 0 | 126 | 16 | 0 | HD,HR | Report |
| #9 | | 30,071,632 | 97.33% | HappyStick | 1084 | 791&nbsp&nbsp/ 33 / 0 | 113 | 29 | 0 | HD,HR | Report |
| #10 | | 30,058,066 | 97.17% | 3D Printer | 1084 | 789&nbsp&nbsp/ 35 / 0 | 118 | 24 | 0 | HD,HR | Report |
| #11 | | 29,457,982 | 94.98% | gusrua123 | 1082 | 762&nbsp&nbsp/ 62 / 0 | 104 | 38 | 0 | HD,HR | Report |
| #12 | | 29,403,508 | 95.11% | First Love | 1084 | 764&nbsp&nbsp/ 58 / 2 | 98 | 42 | 0 | HD,HR | Report |
| #13 | | 29,228,031 | 99.82% | WagnerWarrior | 1085 | 822&nbsp&nbsp/ 1 / 1 | 140 | 1 | 0 | HD | Report |
| #14 | | 29,224,402 | 99.76% | favela | 1085 | 821&nbsp&nbsp/ 3 / 0 | 139 | 3 | 0 | HR | Report |
| #15 | | 29,223,719 | 99.84% | helix | 1085 | 822&nbsp&nbsp/ 2 / 0 | 141 | 1 | 0 | HD | Report |
| #16 | | 29,211,523 | 99.76% | adoragirl | 1085 | 821&nbsp&nbsp/ 3 / 0 | 140 | 2 | 0 | HD | Report |
| #17 | | 29,199,177 | 99.58% | Cappy | 1085 | 819&nbsp&nbsp/ 4 / 1 | 137 | 4 | 0 | HD | Report |
| #18 | | 29,158,861 | 99.68% | Niii-san | 1085 | 820&nbsp&nbsp/ 4 / 0 | 138 | 4 | 0 | HD | Report |
| #19 | | 29,151,057 | 99.49% | Raindrop | 1085 | 818&nbsp&nbsp/ 5 / 1 | 136 | 5 | 0 | HD | Report |
| #20 | | 29,138,390 | 99.35% | Deramok | 1085 | 816&nbsp&nbsp/ 8 / 0 | 135 | 7 | 0 | HD | Report |
| #21 | | 29,129,945 | 99.49% | Rika_Desu | 1084 | 818&nbsp&nbsp/ 5 / 1 | 137 | 4 | 0 | HD | Report |
| #22 | | 29,122,687 | 99.43% | DigiDrake | 1085 | 817&nbsp&nbsp/ 7 / 0 | 136 | 6 | 0 | HR | Report |
| #23 | | 29,117,294 | 99.60% | Jabba | 1085 | 819&nbsp&nbsp/ 5 / 0 | 138 | 4 | 0 | HD | Report |
| #24 | | 29,105,494 | 99.60% | Exarch | 1085 | 819&nbsp&nbsp/ 5 / 0 | 138 | 4 | 0 | HD | Report |
| #25 | | 29,081,913 | 99.51% | TCN | 1084 | 818&nbsp&nbsp/ 6 / 0 | 136 | 6 | 0 | HD | Report |
| #26 | | 29,074,867 | 99.25% | WEIRD FACE | 1085 | 815&nbsp&nbsp/ 8 / 1 | 135 | 6 | 0 | HD | Report |
| #27 | | 29,071,292 | 99.58% | Malolat | 1085 | 819&nbsp&nbsp/ 4 / 1 | 138 | 3 | 0 | HD | Report |
| #28 | | 29,070,160 | 99.25% | Lupa | 1085 | 815&nbsp&nbsp/ 8 / 1 | 133 | 8 | 0 | HD | Report |
| #29 | | 29,060,626 | 99.43% | Sly | 1085 | 817&nbsp&nbsp/ 7 / 0 | 138 | 4 | 0 | HD | Report |
| #30 | | 29,048,626 | 98.93% | [Jelly] | 1085 | 811&nbsp&nbsp/ 12 / 1 | 130 | 11 | 0 | HD | Report |
| #31 | | 29,031,649 | 99.27% | seegii | 1084 | 815&nbsp&nbsp/ 9 / 0 | 134 | 8 | 0 | HD | Report |
| #32 | | 29,020,928 | 99.01% | cormic566 | 1084 | 812&nbsp&nbsp/ 11 / 1 | 133 | 8 | 0 | HD | Report |
| #33 | | 28,998,905 | 98.79% | B1oody | 1085 | 809&nbsp&nbsp/ 15 / 0 | 129 | 13 | 0 | HD | Report |
| #34 | | 28,992,067 | 99.17% | emu1337 | 1084 | 814&nbsp&nbsp/ 9 / 1 | 132 | 9 | 0 | HD | Report |
| #35 | | 28,974,478 | 99.19% | ReaL motion | 1084 | 814&nbsp&nbsp/ 10 / 0 | 133 | 9 | 0 | HR | Report |
| #36 | | 28,942,134 | 98.95% | Asunamaru | 1085 | 811&nbsp&nbsp/ 13 / 0 | 130 | 12 | 0 | HR | Report |
| #37 | | 28,938,062 | 98.87% | krabbypatty | 1082 | 810&nbsp&nbsp/ 14 / 0 | 130 | 12 | 0 | HD | Report |
| #38 | | 28,936,450 | 99.01% | Naxess | 1085 | 812&nbsp&nbsp/ 11 / 1 | 131 | 10 | 0 | HD | Report |
| #39 | | 28,935,497 | 99.03% | Koltay | 1085 | 812&nbsp&nbsp/ 12 / 0 | 132 | 10 | 0 | HD | Report |
| #40 | | 28,923,481 | 98.95% | Spork Lover | 1085 | 811&nbsp&nbsp/ 13 / 0 | 139 | 3 | 0 | HD | Report |
| #41 | | 28,889,902 | 98.91% | AstroFP | 1085 | 811&nbsp&nbsp/ 11 / 2 | 131 | 9 | 0 | HD | Report |
| #42 | | 28,876,566 | 98.52% | waefwerf | 1084 | 806&nbsp&nbsp/ 17 / 1 | 128 | 13 | 0 | HD | Report |
| #43 | | 28,866,154 | 98.62% | xasuma | 1083 | 807&nbsp&nbsp/ 17 / 0 | 128 | 14 | 0 | HD | Report |
| #44 | | 28,853,989 | 98.87% | Yufina | 1084 | 810&nbsp&nbsp/ 14 / 0 | 131 | 11 | 0 | HD | Report |
| #45 | | 28,848,526 | 98.87% | Coppola | 1084 | 810&nbsp&nbsp/ 14 / 0 | 135 | 7 | 0 | HD | Report |
| #46 | | 28,836,644 | 98.87% | Ldd-D | 1085 | 810&nbsp&nbsp/ 14 / 0 | 132 | 10 | 0 | HD | Report |
| #47 | | 28,804,210 | 98.46% | Wynner | 1085 | 805&nbsp&nbsp/ 19 / 0 | 129 | 13 | 0 | HD | Report |
| #48 | | 28,802,557 | 98.60% | ktgster | 1084 | 807&nbsp&nbsp/ 16 / 1 | 129 | 12 | 0 | HD | Report |
| #49 | | 28,742,987 | 98.44% | mrzomb | 1085 | 805&nbsp&nbsp/ 18 / 1 | 132 | 9 | 0 | HD | Report |
| #50 | | 28,699,028 | 98.38% | Seen_LOSO | 1085 | 804&nbsp&nbsp/ 20 / 0 | 130 | 12 | 0 | HD | Report |