Artist:
toby fox
Circle Size:

Approach Rate:

Title:
Snowdin Town
HP Drain:

Star Difficulty:

(3.23)
Creator:
ByBy
Accuracy:

Length:
1:14 (1:14 drain)
Source:
UNDERTALE
Genre:
Video Game (Instrumental)
BPM:
101
Tags:
chiptune radiation soundtrack indie
User Rating:
Success Rate:
Points of Failure:


(graph is accumulative, based on % at fail/retry)

23.8% (19368 of 81216 plays)

Submitted:
Ranked:
Dec 24, 2016
Sep 22, 2017
Rating Spread:

Favourited 108 times in total

Users that love this map: megurineluka4, toushir0612, Le Capiroto, Xenok, my dick tell me, konata77, WesKeR-R4, smash hit, Juliana4, Ivan_I, FlowerBon, WilliamWhite, Goten1, MashaSG, BreadIsHot, yudzuki, Godlyy, Alex3i2, C_lilium, Basterr and many more!
Options:
Modding / Discussion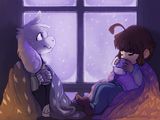 The sight of such a friendly town
fills you with determination.
mp3,hitsounds and timing were taken from Gero's set:
https://osu.ppy.sh/s/528293
many thanks to him!
Bubbled - Nozhomi
Popped - Okorin
Rebubbled - Nozhomi
Qualified - Natsu(?
Vararaup is in the lead! ()
Score
1,483,363 (96.69%)
Max Combo
257
300 / 100 / 50
172 / 9 / 0
Misses
0
Geki (Elite Beat!)
35
Katu (Beat!)
9
Mods
HD,DT,FL
Top 50 Scoreboard
| | Rank | Score | Accuracy | Player | Max Combo | 300 / 100 / 50 | Geki | Katu | Misses | Mods | |
| --- | --- | --- | --- | --- | --- | --- | --- | --- | --- | --- | --- |
| #1 | | 1,483,363 | 96.69% | Vararaup | 257 | 172&nbsp&nbsp/ 9 / 0 | 35 | 9 | 0 | HD,DT,FL | Report |
| #2 | | 1,435,618 | 99.26% | aefrogdog | 257 | 179&nbsp&nbsp/ 2 / 0 | 42 | 2 | 0 | NC,FL | Report |
| #3 | | 1,391,044 | 95.58% | Jeby | 257 | 169&nbsp&nbsp/ 12 / 0 | 34 | 10 | 0 | HD,HR,DT | Report |
| #4 | | 1,375,724 | 100.00% | Fiireburner | 257 | 181&nbsp&nbsp/ 0 / 0 | 44 | 0 | 0 | HD,DT | Report |
| #5 | | 1,374,524 | 100.00% | Toy | 257 | 181&nbsp&nbsp/ 0 / 0 | 44 | 0 | 0 | HD,DT | Report |
| #6 | | 1,374,424 | 100.00% | -Touka- | 257 | 181&nbsp&nbsp/ 0 / 0 | 44 | 0 | 0 | HD,DT | Report |
| #7 | | 1,373,236 | 99.63% | [ Splash ] | 257 | 180&nbsp&nbsp/ 1 / 0 | 43 | 1 | 0 | HD,DT | Report |
| #8 | | 1,372,124 | 100.00% | roju | 257 | 181&nbsp&nbsp/ 0 / 0 | 44 | 0 | 0 | HD,DT | Report |
| #9 | | 1,372,024 | 100.00% | Jairod | 257 | 181&nbsp&nbsp/ 0 / 0 | 44 | 0 | 0 | HD,DT | Report |
| #10 | | 1,370,794 | 99.26% | Dynamic | 257 | 179&nbsp&nbsp/ 2 / 0 | 42 | 2 | 0 | HD,DT | Report |
| #11 | | 1,370,069 | 99.63% | Vladushkaaa | 257 | 180&nbsp&nbsp/ 1 / 0 | 43 | 1 | 0 | HD,DT | Report |
| #12 | | 1,369,724 | 100.00% | Torsohh | 257 | 181&nbsp&nbsp/ 0 / 0 | 44 | 0 | 0 | HD,DT | Report |
| #13 | | 1,369,624 | 100.00% | [ Helium ] | 257 | 181&nbsp&nbsp/ 0 / 0 | 44 | 0 | 0 | HD,DT,SD | Report |
| #14 | | 1,368,572 | 99.63% | SoloTek | 257 | 180&nbsp&nbsp/ 1 / 0 | 43 | 1 | 0 | HD,DT | Report |
| #15 | | 1,368,368 | 99.63% | SweetWarrior | 257 | 180&nbsp&nbsp/ 1 / 0 | 43 | 1 | 0 | HD,DT | Report |
| #16 | | 1,367,502 | 99.63% | _Ankay | 257 | 180&nbsp&nbsp/ 1 / 0 | 43 | 1 | 0 | HD,DT | Report |
| #17 | | 1,367,194 | 99.26% | Nozhomi | 257 | 179&nbsp&nbsp/ 2 / 0 | 42 | 2 | 0 | HD,DT | Report |
| #18 | | 1,366,452 | 99.63% | xasuma | 257 | 180&nbsp&nbsp/ 1 / 0 | 43 | 1 | 0 | HD,DT | Report |
| #19 | | 1,366,302 | 99.63% | Copimus | 257 | 180&nbsp&nbsp/ 1 / 0 | 43 | 1 | 0 | HD,DT | Report |
| #20 | | 1,366,214 | 99.26% | iZacs98 | 257 | 179&nbsp&nbsp/ 2 / 0 | 42 | 2 | 0 | HD,DT | Report |
| #21 | | 1,365,925 | 99.26% | King Hong | 257 | 179&nbsp&nbsp/ 2 / 0 | 42 | 2 | 0 | HD,DT | Report |
| #22 | | 1,364,846 | 99.26% | Fenrir | 257 | 179&nbsp&nbsp/ 2 / 0 | 42 | 2 | 0 | HD,DT | Report |
| #23 | | 1,364,687 | 99.26% | Golrin | 257 | 179&nbsp&nbsp/ 2 / 0 | 42 | 2 | 0 | HD,DT | Report |
| #24 | | 1,363,640 | 99.63% | -Fusein- | 257 | 180&nbsp&nbsp/ 1 / 0 | 43 | 1 | 0 | HD,DT | Report |
| #25 | | 1,363,060 | 99.26% | Turbo_BBA | 257 | 179&nbsp&nbsp/ 2 / 0 | 42 | 2 | 0 | HD,DT | Report |
| #26 | | 1,361,115 | 98.90% | FadedAway | 257 | 178&nbsp&nbsp/ 3 / 0 | 41 | 3 | 0 | HD,DT | Report |
| #27 | | 1,361,095 | 98.53% | Nashr | 257 | 177&nbsp&nbsp/ 4 / 0 | 40 | 4 | 0 | HD,DT | Report |
| #28 | | 1,360,960 | 98.90% | Mittenss | 257 | 178&nbsp&nbsp/ 3 / 0 | 41 | 3 | 0 | HD,DT | Report |
| #29 | | 1,360,850 | 99.26% | 57doki | 257 | 179&nbsp&nbsp/ 2 / 0 | 42 | 2 | 0 | HD,DT | Report |
| #30 | | 1,360,596 | 98.90% | borowik | 257 | 178&nbsp&nbsp/ 3 / 0 | 41 | 3 | 0 | HD,DT | Report |
| #31 | | 1,359,903 | 97.79% | BoshyMan741 | 257 | 175&nbsp&nbsp/ 6 / 0 | 39 | 5 | 0 | HD,DT | Report |
| #32 | | 1,359,828 | 98.53% | oAlakazam | 257 | 177&nbsp&nbsp/ 4 / 0 | 40 | 4 | 0 | HD,DT | Report |
| #33 | | 1,359,648 | 98.90% | vitodwiputra | 257 | 178&nbsp&nbsp/ 3 / 0 | 42 | 2 | 0 | HD,DT | Report |
| #34 | | 1,359,604 | 98.53% | Freg | 257 | 177&nbsp&nbsp/ 4 / 0 | 41 | 3 | 0 | HD,DT | Report |
| #35 | | 1,359,512 | 98.90% | [HDHR] | 257 | 178&nbsp&nbsp/ 3 / 0 | 41 | 3 | 0 | HD,DT | Report |
| #36 | | 1,359,354 | 99.26% | Inflamez- | 257 | 179&nbsp&nbsp/ 2 / 0 | 42 | 2 | 0 | HD,DT | Report |
| #37 | | 1,359,341 | 98.53% | Duskyui | 257 | 177&nbsp&nbsp/ 4 / 0 | 40 | 4 | 0 | HD,DT | Report |
| #38 | | 1,359,300 | 99.26% | ProAtBeingAKid | 257 | 179&nbsp&nbsp/ 2 / 0 | 42 | 2 | 0 | HD,DT | Report |
| #39 | | 1,358,098 | 98.90% | HydroCannon13 | 257 | 178&nbsp&nbsp/ 3 / 0 | 41 | 3 | 0 | HD,DT | Report |
| #40 | | 1,358,010 | 99.26% | OneRing | 257 | 179&nbsp&nbsp/ 2 / 0 | 42 | 2 | 0 | HD,DT | Report |
| #41 | | 1,357,673 | 98.90% | shinobuaqt | 257 | 178&nbsp&nbsp/ 3 / 0 | 41 | 3 | 0 | HD,DT,SD | Report |
| #42 | | 1,357,419 | 98.53% | Felter | 257 | 177&nbsp&nbsp/ 4 / 0 | 41 | 3 | 0 | HD,DT | Report |
| #43 | | 1,357,353 | 98.90% | - Christian - | 257 | 178&nbsp&nbsp/ 3 / 0 | 41 | 3 | 0 | HD,DT | Report |
| #44 | | 1,356,613 | 98.53% | Morimiya Aono | 257 | 177&nbsp&nbsp/ 4 / 0 | 40 | 4 | 0 | HD,DT | Report |
| #45 | | 1,356,432 | 98.53% | ImNoob | 257 | 177&nbsp&nbsp/ 4 / 0 | 40 | 4 | 0 | HD,DT | Report |
| #46 | | 1,356,360 | 98.16% | ImMyyrh | 257 | 176&nbsp&nbsp/ 5 / 0 | 39 | 5 | 0 | HD,DT | Report |
| #47 | | 1,356,355 | 98.53% | vigne | 257 | 177&nbsp&nbsp/ 4 / 0 | 40 | 4 | 0 | HD,NC | Report |
| #48 | | 1,355,486 | 98.90% | Vitash1 | 257 | 178&nbsp&nbsp/ 3 / 0 | 41 | 3 | 0 | HD,DT | Report |
| #49 | | 1,355,291 | 98.53% | EnderoftheEnd | 257 | 177&nbsp&nbsp/ 4 / 0 | 40 | 4 | 0 | HD,DT | Report |
| #50 | | 1,355,278 | 98.90% | Nitroz | 257 | 178&nbsp&nbsp/ 3 / 0 | 41 | 3 | 0 | HD,DT | Report |