Artist:
u's
Circle Size:

Approach Rate:

Title:
LOVELESS WORLD
HP Drain:

Star Difficulty:

(6.01)
Creator:
Sakurauchi Riko
Accuracy:

Length:
5:05 (5:03 drain)
Source:
ラブライブ! School idol project
Genre:
Anime (Japanese)
BPM:
157
Tags:
love live! muse kosaka honoka 高坂穂乃果 nitta emi 新田恵海 minami kotori 南ことり uchida aya 内田彩 sonoda umi 園田海未 suzuko mimori
User Rating:
Success Rate:
Points of Failure:


(graph is accumulative, based on % at fail/retry)

4.1% (126 of 3087 plays)

Submitted:
Ranked:
Oct 13, 2016
Jan 23, 2018
Rating Spread:

Favourited 55 times in total

Users that love this map: RAMPAGE88, C0redeZ, Risiing, Duftende Pizza, mick2903, - Masaru -, Joalse, Browsco, MBmasher, Maxlo, SoyAuro, DeBarmy, viet8426, IceKalt, Cigol, Sakurauchi Riko, STCMXN_JPY, newton-, _Yiiiii, sky_chocolate and many more!
Options:
Modding / Discussion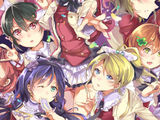 Please enjoy! 3rd remapped version.
#5 for ranked Beatmap!
Unbound by Fate
by me
Hitsounds
by
Toshino Kyoko
MP3 and Timing from
Hanjamon's Taiko map
.
collapsed text
This will be my last ranked map (like 98% sure that this is it because nobody seem to care about my maps and I lost every piece of motivation). In addition to that, this is the best map I've ever made - the peak of my mapping... let's call it "career". So if you somehow care enough to open this spoilerbox, please appreciate this map as much as the map deserves in your opinion. I put lots of hours and effort into this map, please try to enjoy the map - I'd really appreciate it!! :)
Sheba is in the lead! ()
Score
85,653,600 (98.42%)
Max Combo
1942
300 / 100 / 50
1633 / 31 / 2
Misses
4
Geki (Elite Beat!)
328
Katu (Beat!)
21
Mods
None
Top 50 Scoreboard
| | Rank | Score | Accuracy | Player | Max Combo | 300 / 100 / 50 | Geki | Katu | Misses | Mods | |
| --- | --- | --- | --- | --- | --- | --- | --- | --- | --- | --- | --- |
| #1 | | 85,653,600 | 98.42% | Sheba | 1942 | 1633&nbsp&nbsp/ 31 / 2 | 328 | 21 | 4 | None | Report |
| #2 | | 76,810,260 | 95.44% | likejaxirl | 1874 | 1560&nbsp&nbsp/ 100 / 3 | 289 | 62 | 7 | None | Report |
| #3 | | 69,854,900 | 98.06% | Elegant Loli | 1666 | 1624&nbsp&nbsp/ 41 / 0 | 327 | 24 | 5 | None | Report |
| #4 | | 64,856,160 | 97.10% | Lilily | 1665 | 1600&nbsp&nbsp/ 64 / 1 | 312 | 36 | 5 | None | Report |
| #5 | | 63,107,540 | 95.21% | vitail | 1666 | 1556&nbsp&nbsp/ 98 / 8 | 279 | 66 | 8 | None | Report |
| #6 | | 62,685,640 | 97.13% | traps | 1642 | 1600&nbsp&nbsp/ 66 / 0 | 304 | 46 | 4 | None | Report |
| #7 | | 56,529,390 | 95.13% | imagaK | 1220 | 1549&nbsp&nbsp/ 118 / 2 | 295 | 55 | 1 | None | Report |
| #8 | | 48,925,580 | 95.15% | Sarasa | 1434 | 1556&nbsp&nbsp/ 96 / 6 | 290 | 54 | 12 | None | Report |
| #9 | | 41,236,950 | 97.10% | emu1337 | 1246 | 1605&nbsp&nbsp/ 47 / 5 | 316 | 30 | 13 | None | Report |
| #10 | | 39,780,050 | 96.42% | Raindrop | 1101 | 1587&nbsp&nbsp/ 68 / 3 | 309 | 36 | 12 | None | Report |
| #11 | | 38,401,130 | 96.65% | Legendz | 1180 | 1593&nbsp&nbsp/ 59 / 8 | 307 | 36 | 10 | None | Report |
| #12 | | 37,265,840 | 81.86% | Hioda | 1252 | 1230&nbsp&nbsp/ 390 / 42 | 172 | 144 | 8 | None | Report |
| #13 | | 35,784,740 | 94.73% | CornLord7117 | 1223 | 1546&nbsp&nbsp/ 107 / 2 | 281 | 59 | 15 | None | Report |
| #14 | | 32,649,800 | 96.21% | Riley | 896 | 1582&nbsp&nbsp/ 73 / 2 | 299 | 44 | 13 | None | Report |
| #15 | | 30,390,810 | 94.72% | nop | 1126 | 1552&nbsp&nbsp/ 84 / 11 | 283 | 53 | 23 | None | Report |
| #16 | | 30,079,935 | 92.46% | Maxe191 | 1653 | 1493&nbsp&nbsp/ 144 / 18 | 272 | 66 | 15 | EZ | Report |
| #17 | | 27,300,350 | 97.11% | L1NKED | 872 | 1601&nbsp&nbsp/ 61 / 2 | 310 | 37 | 6 | None | Report |
| #18 | | 26,527,470 | 96.94% | Agozz | 705 | 1599&nbsp&nbsp/ 59 / 1 | 312 | 32 | 11 | None | Report |
| #19 | | 25,012,876 | 79.94% | Maxium | 911 | 1183&nbsp&nbsp/ 432 / 48 | 129 | 182 | 7 | HD | Report |
| #20 | | 24,558,510 | 82.09% | Leotic | 1049 | 1261&nbsp&nbsp/ 290 / 79 | 206 | 91 | 40 | None | Report |
| #21 | | 24,059,440 | 89.02% | Zygody | 705 | 1407&nbsp&nbsp/ 231 / 16 | 231 | 109 | 16 | None | Report |
| #22 | | 23,648,354 | 88.78% | Minorsonek | 814 | 1397&nbsp&nbsp/ 246 / 22 | 219 | 119 | 5 | HD | Report |
| #23 | | 21,968,570 | 91.87% | Jiquee | 656 | 1478&nbsp&nbsp/ 161 / 15 | 253 | 82 | 16 | None | Report |
| #24 | | 21,869,562 | 95.22% | Vertarix | 650 | 1558&nbsp&nbsp/ 96 / 1 | 288 | 54 | 15 | HD | Report |
| #25 | | 20,559,790 | 94.11% | Gumi-Desu | 772 | 1529&nbsp&nbsp/ 126 / 4 | 267 | 78 | 11 | None | Report |
| #26 | | 19,322,350 | 86.61% | Vexine | 661 | 1349&nbsp&nbsp/ 281 / 22 | 219 | 108 | 18 | None | Report |
| #27 | | 17,895,970 | 89.84% | Leeb | 718 | 1430&nbsp&nbsp/ 204 / 14 | 255 | 79 | 22 | None | Report |
| #28 | | 17,774,850 | 92.93% | Aswababa | 627 | 1508&nbsp&nbsp/ 126 / 12 | 269 | 63 | 24 | None | Report |
| #29 | | 17,728,930 | 90.34% | T r i s t a n | 635 | 1435&nbsp&nbsp/ 218 / 6 | 251 | 89 | 11 | None | Report |
| #30 | | 16,198,230 | 81.42% | Xanzure | 697 | 1221&nbsp&nbsp/ 397 / 38 | 171 | 150 | 14 | None | Report |
| #31 | | 15,596,350 | 89.08% | Cyrame | 746 | 1409&nbsp&nbsp/ 232 / 8 | 246 | 88 | 21 | None | Report |
| #32 | | 14,107,750 | 84.53% | Honeymask | 687 | 1312&nbsp&nbsp/ 277 / 44 | 203 | 107 | 37 | None | Report |
| #33 | | 13,733,100 | 86.15% | sp00kem | 543 | 1337&nbsp&nbsp/ 298 / 14 | 212 | 120 | 21 | None | Report |
| #34 | | 12,774,860 | 76.61% | [- Nomecy -] | 513 | 1106&nbsp&nbsp/ 491 / 58 | 109 | 193 | 15 | None | Report |
| #35 | | 12,343,800 | 85.54% | CryMan | 463 | 1339&nbsp&nbsp/ 241 / 55 | 219 | 96 | 35 | None | Report |
| #36 | | 10,896,970 | 89.66% | nobodD | 445 | 1425&nbsp&nbsp/ 205 / 24 | 240 | 91 | 16 | None | Report |
| #37 | | 10,853,600 | 92.22% | Asredon | 484 | 1498&nbsp&nbsp/ 114 / 24 | 275 | 54 | 34 | None | Report |
| #38 | | 10,835,090 | 85.84% | PhysiCaaL | 440 | 1341&nbsp&nbsp/ 263 / 29 | 192 | 131 | 37 | None | Report |
| #39 | | 10,339,930 | 78.80% | Rad | 463 | 1162&nbsp&nbsp/ 444 / 36 | 138 | 177 | 28 | None | Report |
| #40 | | 10,070,440 | 88.19% | Terton | 422 | 1397&nbsp&nbsp/ 220 / 15 | 227 | 96 | 38 | None | Report |
| #41 | | 9,957,355 | 89.97% | S T R | 563 | 1435&nbsp&nbsp/ 196 / 13 | 242 | 92 | 26 | NF | Report |
| #42 | | 9,863,580 | 78.94% | Bleu_Skie | 616 | 1185&nbsp&nbsp/ 355 / 90 | 163 | 128 | 40 | None | Report |
| #43 | | 9,696,814 | 81.40% | Femtoooo | 490 | 1234&nbsp&nbsp/ 349 / 54 | 170 | 139 | 33 | HD | Report |
| #44 | | 9,648,890 | 91.77% | agusch | 415 | 1487&nbsp&nbsp/ 133 / 7 | 256 | 69 | 43 | None | Report |
| #45 | | 9,316,435 | 89.17% | My Queen Hifumi | 406 | 1423&nbsp&nbsp/ 184 / 29 | 249 | 75 | 34 | HD | Report |
| #46 | | 8,740,885 | 92.75% | RaZn | 609 | 1501&nbsp&nbsp/ 139 / 10 | 262 | 75 | 20 | NF | Report |
| #47 | | 8,688,870 | 83.20% | WRXJoey | 388 | 1291&nbsp&nbsp/ 250 / 91 | 208 | 90 | 38 | None | Report |
| #48 | | 8,469,810 | 76.81% | q1ffaay | 504 | 1118&nbsp&nbsp/ 471 / 46 | 137 | 161 | 35 | None | Report |
| #49 | | 8,219,950 | 79.24% | EsperControl | 364 | 1177&nbsp&nbsp/ 418 / 42 | 164 | 146 | 33 | None | Report |
| #50 | | 8,123,650 | 83.61% | Bu-Smile | 419 | 1285&nbsp&nbsp/ 315 / 38 | 179 | 143 | 32 | None | Report |