Beatmap Listing » LEAF XCEED Music Division - Guitar vs Piano
Artist:
LEAF XCEED Music Division
Circle Size:

Approach Rate:

Title:
Guitar vs Piano
HP Drain:

Star Difficulty:

(6.79)
Creator:
Shiro
Accuracy:

Length:
4:12 (4:09 drain)
Source:
Genre:
Electronic (Instrumental)
BPM:
200
Tags:
odaril gvp goukisan
User Rating:
Success Rate:
Points of Failure:


(graph is accumulative, based on % at fail/retry)

5.0% (243 of 4833 plays)

Submitted:
Loved:
Oct 8, 2016
Feb 11, 2018
Rating Spread:

Favourited 82 times in total

Users that love this map: Animus_Vox, _index, Cpt Kransch, buny, Hino07, esoragoto, jokom31, Mash, Sheba, sabergod, -Brimstone-, alexrb22, Lucas TW, eth0, Cocaine dog, Hump day, DT-sama, Athrun, Villdjack, Rumon and many more!
Options:
Modding / Discussion
This map is in a LOVED state.
As such, it will not award any pp and leaderboards may be reset by the beatmap creator.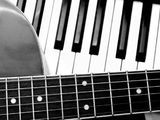 28th map. Hitsounds are by me bla bla.
Original song by goukisan
http://www.newgrounds.com/audio/listen/15233
Remix by Leaf XCEED. Release post:
https://rtnario.wordpress.com/2010/04/3 ... ver-xceed/
Played as warm-up at the osu! world cup! (3:50)
Still a WIP. Mods are more than welcome but please
do so on the new website.
Not sure I'm going to try ranking this. I don't see myself mapping a full spread to it.
501.84pp for SS, 736.95pp for HDHR SS.
obligatory player reaction box
Fedora Goose is in the lead! ()
Score
54,632,100 (99.31%)
Max Combo
1620
300 / 100 / 50
1429 / 9 / 0
Misses
4
Geki (Elite Beat!)
206
Katu (Beat!)
7
Mods
HD
Top 50 Scoreboard
| | Rank | Score | Accuracy | Player | Max Combo | 300 / 100 / 50 | Geki | Katu | Misses | Mods | |
| --- | --- | --- | --- | --- | --- | --- | --- | --- | --- | --- | --- |
| #1 | | 54,632,100 | 99.31% | Fedora Goose | 1620 | 1429&nbsp&nbsp/ 9 / 0 | 206 | 7 | 4 | HD | Report |
| #2 | | 48,974,566 | 98.38% | Dustice | 1583 | 1408&nbsp&nbsp/ 32 / 0 | 194 | 18 | 2 | None | Report |
| #3 | | 48,138,348 | 97.40% | Neliel | 1578 | 1391&nbsp&nbsp/ 39 / 3 | 192 | 19 | 9 | None | Report |
| #4 | | 35,475,852 | 97.56% | Reegi | 1334 | 1393&nbsp&nbsp/ 40 / 3 | 193 | 17 | 6 | None | Report |
| #5 | | 28,683,008 | 99.21% | Sheba | 870 | 1426&nbsp&nbsp/ 14 / 0 | 202 | 10 | 2 | None | Report |
| #6 | | 28,168,558 | 97.16% | SoraRoxas01 | 1092 | 1384&nbsp&nbsp/ 51 / 0 | 192 | 19 | 7 | None | Report |
| #7 | | 25,473,104 | 97.97% | _index | 1037 | 1401&nbsp&nbsp/ 35 / 0 | 192 | 18 | 6 | None | Report |
| #8 | | 25,305,952 | 96.68% | MINEMINE | 1071 | 1379&nbsp&nbsp/ 44 / 3 | 186 | 21 | 16 | None | Report |
| #9 | | 24,241,128 | 98.45% | Shigure chan | 859 | 1411&nbsp&nbsp/ 26 / 0 | 192 | 19 | 5 | None | Report |
| #10 | | 23,880,754 | 96.91% | GSBlank | 890 | 1381&nbsp&nbsp/ 49 / 1 | 184 | 26 | 11 | None | Report |
| #11 | | 23,085,294 | 97.94% | Wucki | 1022 | 1405&nbsp&nbsp/ 20 / 4 | 195 | 13 | 13 | None | Report |
| #12 | | 22,723,584 | 90.93% | Prophet | 1036 | 1250&nbsp&nbsp/ 183 / 1 | 140 | 67 | 8 | None | Report |
| #13 | | 22,542,946 | 98.54% | Mlaw22 | 854 | 1413&nbsp&nbsp/ 24 / 0 | 196 | 13 | 5 | None | Report |
| #14 | | 21,046,558 | 95.90% | Citrica | 921 | 1358&nbsp&nbsp/ 74 / 1 | 171 | 37 | 9 | None | Report |
| #15 | | 20,997,798 | 96.24% | waaiiru | 947 | 1364&nbsp&nbsp/ 70 / 3 | 178 | 30 | 5 | None | Report |
| #16 | | 20,747,972 | 95.82% | Nakocchi | 887 | 1359&nbsp&nbsp/ 65 / 6 | 174 | 32 | 12 | None | Report |
| #17 | | 18,899,284 | 97.21% | Bartek22830 | 890 | 1388&nbsp&nbsp/ 41 / 1 | 184 | 21 | 12 | None | Report |
| #18 | | 18,528,350 | 99.14% | Alien | 811 | 1428&nbsp&nbsp/ 5 / 0 | 207 | 3 | 9 | None | Report |
| #19 | | 18,409,604 | 96.75% | thaibuy | 871 | 1380&nbsp&nbsp/ 42 / 7 | 182 | 21 | 13 | None | Report |
| #20 | | 17,907,508 | 97.56% | _Twent | 785 | 1396&nbsp&nbsp/ 31 / 3 | 190 | 17 | 12 | None | Report |
| #21 | | 17,643,431 | 98.08% | PCBetaphish | 714 | 1404&nbsp&nbsp/ 31 / 0 | 192 | 17 | 7 | HD | Report |
| #22 | | 17,271,672 | 96.21% | GamesElmo | 734 | 1366&nbsp&nbsp/ 64 / 0 | 182 | 25 | 12 | None | Report |
| #23 | | 17,205,250 | 99.49% | TinyLoliGirl | 696 | 1433&nbsp&nbsp/ 5 / 0 | 206 | 4 | 4 | None | Report |
| #24 | | 16,968,006 | 95.12% | ThatRandomguy | 859 | 1345&nbsp&nbsp/ 80 / 0 | 171 | 31 | 17 | None | Report |
| #25 | | 16,744,760 | 90.35% | jhoo902 | 876 | 1257&nbsp&nbsp/ 118 / 39 | 143 | 55 | 28 | None | Report |
| #26 | | 15,999,822 | 98.44% | Riley | 727 | 1412&nbsp&nbsp/ 22 / 1 | 194 | 15 | 7 | None | Report |
| #27 | | 14,871,950 | 95.89% | ncuh | 727 | 1360&nbsp&nbsp/ 68 / 0 | 176 | 29 | 14 | None | Report |
| #28 | | 14,690,236 | 95.70% | robo50211 | 693 | 1358&nbsp&nbsp/ 59 / 14 | 185 | 21 | 11 | None | Report |
| #29 | | 14,277,850 | 97.90% | -raizen- | 592 | 1399&nbsp&nbsp/ 38 / 0 | 190 | 20 | 5 | None | Report |
| #30 | | 14,127,410 | 93.98% | Zanik | 641 | 1321&nbsp&nbsp/ 100 / 5 | 163 | 36 | 16 | None | Report |
| #31 | | 13,871,538 | 96.74% | nr_pm | 727 | 1376&nbsp&nbsp/ 57 / 0 | 178 | 29 | 9 | None | Report |
| #32 | | 13,760,266 | 95.84% | L1NKED | 721 | 1360&nbsp&nbsp/ 66 / 0 | 183 | 21 | 16 | None | Report |
| #33 | | 13,362,284 | 92.59% | Cyrame | 720 | 1294&nbsp&nbsp/ 119 / 9 | 166 | 33 | 20 | None | Report |
| #34 | | 12,570,780 | 93.12% | cubathorium | 690 | 1306&nbsp&nbsp/ 102 / 17 | 139 | 56 | 17 | None | Report |
| #35 | | 12,475,098 | 92.24% | outohere | 693 | 1285&nbsp&nbsp/ 133 / 5 | 150 | 51 | 19 | None | Report |
| #36 | | 12,383,536 | 93.83% | Knalli | 691 | 1323&nbsp&nbsp/ 83 / 14 | 166 | 34 | 22 | HD | Report |
| #37 | | 11,480,244 | 91.87% | Hibikom | 706 | 1277&nbsp&nbsp/ 141 / 5 | 133 | 65 | 19 | None | Report |
| #38 | | 10,840,016 | 95.11% | YesTak | 656 | 1349&nbsp&nbsp/ 61 / 13 | 170 | 26 | 19 | None | Report |
| #39 | | 10,821,712 | 94.09% | Yentis | 657 | 1330&nbsp&nbsp/ 77 / 7 | 165 | 30 | 28 | None | Report |
| #40 | | 10,527,409 | 91.39% | Spinner | 1280 | 1263&nbsp&nbsp/ 152 / 25 | 166 | 38 | 2 | HT | Report |
| #41 | | 9,894,026 | 93.33% | Aurhight | 474 | 1314&nbsp&nbsp/ 92 / 7 | 148 | 51 | 29 | None | Report |
| #42 | | 9,798,084 | 94.51% | JRSiwiecki | 464 | 1338&nbsp&nbsp/ 74 / 1 | 164 | 35 | 29 | None | Report |
| #43 | | 9,278,694 | 95.03% | Pieisthetruth | 614 | 1353&nbsp&nbsp/ 48 / 8 | 173 | 19 | 33 | None | Report |
| #44 | | 8,581,594 | 96.54% | My Angel Yoshi | 385 | 1376&nbsp&nbsp/ 47 / 3 | 186 | 13 | 16 | None | Report |
| #45 | | 8,337,216 | 89.77% | [ Saltycakess ] | 412 | 1240&nbsp&nbsp/ 155 / 17 | 127 | 62 | 30 | HD | Report |
| #46 | | 7,417,320 | 87.17% | SiNteZ | 456 | 1181&nbsp&nbsp/ 221 / 14 | 112 | 79 | 26 | None | Report |
| #47 | | 7,358,426 | 89.46% | Lauguti | 450 | 1228&nbsp&nbsp/ 181 / 10 | 134 | 60 | 23 | None | Report |
| #48 | | 7,300,250 | 93.80% | Bubba TK | 403 | 1321&nbsp&nbsp/ 93 / 4 | 161 | 34 | 24 | None | Report |
| #49 | | 6,745,028 | 95.32% | _Kyori | 329 | 1359&nbsp&nbsp/ 42 / 9 | 170 | 24 | 32 | None | Report |
| #50 | | 6,505,066 | 90.81% | yaboytanner | 424 | 1262&nbsp&nbsp/ 141 / 3 | 127 | 65 | 36 | None | Report |