Beatmap Listing » Annabel - syncretism animesize ver.
Artist:
Annabel
Circle Size:

Approach Rate:

Title:
syncretism animesize ver.
HP Drain:

Star Difficulty:

(3.31)
Creator:
RoseusJaeger
Accuracy:

Length:
1:25 (1:25 drain)
Source:
Hybrid Child
Genre:
Anime (Japanese)
BPM:
155
Tags:
yaoi bl boys love ending theme ed studio deen ova paranoid grapes
User Rating:
Success Rate:
Points of Failure:


(graph is accumulative, based on % at fail/retry)

15.3% (1354 of 8844 plays)

Submitted:
Ranked:
Sep 27, 2016
Jun 20, 2017
Rating Spread:

Favourited 40 times in total

Users that love this map: mishuvond, NeoDuck, Miim, XiaTaeen[GBB-T], axowe741159, Maruchan_15, ljjmk94, Derre26, moonsword2000, Maria Rose Mare, krin2002, Vilo_13, Anahy3721, Ebb-and-Flow, Kai Renka, Jessica-san, YumiSakuraVocal, lucianaresva, Ring and Ling, muharramwahyu and many more!
Options:
Modding / Discussion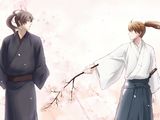 Credits
- Thanks to F D Flourite's
set
of this beat map for timing, hitsounds, audio track and image (their BG) for banner.
- Thanks to Almaz for the pretty banner. Keep up the good work on gfx!
- Thank you to Paranoid Grapes for helping me complete the mapset with his Salad. You help me when I'm at my laziest.
- Thank you to anyone who plays this map and enjoys it, since this one was originally made out of love and I hope that love spreads through our community even in dark times.
Modders, Thank you
-Tyrell
-MMBan
-Jusenkyo
-Sinnoh
-F D Flourite
-murutattack
-tsuneko
-Chara
-Nicotine-
-LiousPL
-Nokashi
- - Magic Meat -
-lulu lemon
-JBHyperion
-Sc4v4ng3r
-Trynna
- -Sh1n1-
-Benny-
_Asriel is in the lead! ()
Score
5,531,002 (100.00%)
Max Combo
390
300 / 100 / 50
389 / 1 / 232
Misses
0
Geki (Elite Beat!)
54
Droplet misses
0
Mods
HD,HR,PF
Top 50 Scoreboard
| | Rank | Score | Accuracy | Player | Max Combo | 300 / 100 / 50 | Geki | Droplet Miss | Misses | Mods | |
| --- | --- | --- | --- | --- | --- | --- | --- | --- | --- | --- | --- |
| #1 | | 5,531,002 | 100.00% | _Asriel | 390 | 389&nbsp&nbsp/ 1 / 232 | 54 | 0 | 0 | HD,HR,PF | Report |
| #2 | | 5,525,502 | 100.00% | T s u m i | 390 | 389&nbsp&nbsp/ 1 / 232 | 54 | 0 | 0 | HD,HR | Report |
| #3 | | 5,525,502 | 100.00% | Nana Tsubasa | 390 | 389&nbsp&nbsp/ 1 / 232 | 54 | 0 | 0 | HD,HR | Report |
| #4 | | 5,230,815 | 100.00% | Ponchiwi | 390 | 389&nbsp&nbsp/ 1 / 232 | 54 | 0 | 0 | HD,DT,PF | Report |
| #5 | | 5,225,305 | 99.84% | Jusenkyo | 390 | 389&nbsp&nbsp/ 1 / 231 | 54 | 1 | 0 | HD,DT | Report |
| #6 | | 5,225,285 | 99.52% | Adagaki-sama | 390 | 389&nbsp&nbsp/ 1 / 229 | 54 | 3 | 0 | HD,DT | Report |
| #7 | | 5,225,245 | 98.87% | monstratorfull | 390 | 389&nbsp&nbsp/ 1 / 225 | 54 | 7 | 0 | HD,DT,SD | Report |
| #8 | | 5,224,155 | 99.04% | LechuCzechu | 390 | 389&nbsp&nbsp/ 1 / 226 | 54 | 6 | 0 | HD,DT | Report |
| #9 | | 5,222,005 | 99.84% | Badis | 390 | 389&nbsp&nbsp/ 1 / 231 | 54 | 1 | 0 | HD,DT | Report |
| #10 | | 5,221,965 | 99.20% | Snow-s-m | 390 | 389&nbsp&nbsp/ 1 / 227 | 54 | 5 | 0 | HD,DT | Report |
| #11 | | 5,220,805 | 98.23% | Roido | 390 | 389&nbsp&nbsp/ 1 / 221 | 54 | 11 | 0 | HD,DT | Report |
| #12 | | 5,217,535 | 98.71% | Le grand casque | 390 | 389&nbsp&nbsp/ 1 / 224 | 54 | 8 | 0 | HD,DT | Report |
| #13 | | 5,216,485 | 99.52% | Vinci007 | 390 | 389&nbsp&nbsp/ 1 / 229 | 54 | 3 | 0 | HD,DT | Report |
| #14 | | 5,214,255 | 99.04% | Jafett | 390 | 389&nbsp&nbsp/ 1 / 226 | 54 | 6 | 0 | HD,DT | Report |
| #15 | | 4,953,766 | 100.00% | mjj741 | 390 | 389&nbsp&nbsp/ 1 / 232 | 54 | 0 | 0 | HD | Report |
| #16 | | 4,952,666 | 100.00% | ZX123456 | 390 | 389&nbsp&nbsp/ 1 / 232 | 54 | 0 | 0 | HD,PF | Report |
| #17 | | 4,949,366 | 100.00% | Megpoid | 390 | 389&nbsp&nbsp/ 1 / 232 | 54 | 0 | 0 | HD | Report |
| #18 | | 4,949,336 | 99.52% | Mile | 390 | 389&nbsp&nbsp/ 1 / 229 | 54 | 3 | 0 | HD | Report |
| #19 | | 4,948,266 | 100.00% | noraRcat | 390 | 389&nbsp&nbsp/ 1 / 232 | 54 | 0 | 0 | HD | Report |
| #20 | | 4,948,266 | 100.00% | Sooty | 390 | 389&nbsp&nbsp/ 1 / 232 | 54 | 0 | 0 | HD,PF | Report |
| #21 | | 4,948,266 | 100.00% | Alcrena | 390 | 389&nbsp&nbsp/ 1 / 232 | 54 | 0 | 0 | HD,PF | Report |
| #22 | | 4,948,186 | 98.71% | Plantifant | 390 | 389&nbsp&nbsp/ 1 / 224 | 54 | 8 | 0 | HD | Report |
| #23 | | 4,947,166 | 100.00% | kuroneko2525 | 390 | 389&nbsp&nbsp/ 1 / 232 | 54 | 0 | 0 | HD,PF | Report |
| #24 | | 4,947,156 | 99.84% | FruktoLove | 390 | 389&nbsp&nbsp/ 1 / 231 | 54 | 1 | 0 | HD | Report |
| #25 | | 4,947,146 | 99.68% | pandaBear | 390 | 389&nbsp&nbsp/ 1 / 230 | 54 | 2 | 0 | HD | Report |
| #26 | | 4,947,126 | 99.36% | AFitch | 390 | 389&nbsp&nbsp/ 1 / 228 | 54 | 4 | 0 | HD | Report |
| #27 | | 4,946,066 | 100.00% | chickennando | 390 | 389&nbsp&nbsp/ 1 / 232 | 54 | 0 | 0 | HD | Report |
| #28 | | 4,944,966 | 100.00% | Canis Minoris | 390 | 389&nbsp&nbsp/ 1 / 232 | 54 | 0 | 0 | HD,PF | Report |
| #29 | | 4,944,966 | 100.00% | GaMma765 | 390 | 389&nbsp&nbsp/ 1 / 232 | 54 | 0 | 0 | HD,PF | Report |
| #30 | | 4,944,966 | 100.00% | Nocturnus | 390 | 389&nbsp&nbsp/ 1 / 232 | 54 | 0 | 0 | HD | Report |
| #31 | | 4,944,966 | 100.00% | P i k u | 390 | 389&nbsp&nbsp/ 1 / 232 | 54 | 0 | 0 | HD,SD | Report |
| #32 | | 4,944,966 | 100.00% | 473147315371 | 390 | 389&nbsp&nbsp/ 1 / 232 | 54 | 0 | 0 | HD,PF | Report |
| #33 | | 4,944,966 | 100.00% | Predominador | 390 | 389&nbsp&nbsp/ 1 / 232 | 54 | 0 | 0 | HD | Report |
| #34 | | 4,943,866 | 100.00% | -Hex- | 390 | 389&nbsp&nbsp/ 1 / 232 | 54 | 0 | 0 | HD | Report |
| #35 | | 4,943,866 | 100.00% | Zak | 390 | 389&nbsp&nbsp/ 1 / 232 | 54 | 0 | 0 | HD,PF | Report |
| #36 | | 4,943,866 | 100.00% | DennySega24 | 390 | 389&nbsp&nbsp/ 1 / 232 | 54 | 0 | 0 | HD,PF | Report |
| #37 | | 4,943,866 | 100.00% | gold801 | 390 | 389&nbsp&nbsp/ 1 / 232 | 54 | 0 | 0 | HD,PF | Report |
| #38 | | 4,943,836 | 99.52% | [A]bsolute | 390 | 389&nbsp&nbsp/ 1 / 229 | 54 | 3 | 0 | HD | Report |
| #39 | | 4,942,766 | 100.00% | qwe890812 | 390 | 389&nbsp&nbsp/ 1 / 232 | 54 | 0 | 0 | HD,PF | Report |
| #40 | | 4,941,666 | 100.00% | [Stream] | 390 | 389&nbsp&nbsp/ 1 / 232 | 54 | 0 | 0 | HD | Report |
| #41 | | 4,941,666 | 100.00% | Magg | 390 | 389&nbsp&nbsp/ 1 / 232 | 54 | 0 | 0 | HD | Report |
| #42 | | 4,941,666 | 100.00% | Oswald | 390 | 389&nbsp&nbsp/ 1 / 232 | 54 | 0 | 0 | HD | Report |
| #43 | | 4,941,666 | 100.00% | Intensity | 390 | 389&nbsp&nbsp/ 1 / 232 | 54 | 0 | 0 | HD,PF | Report |
| #44 | | 4,941,656 | 99.84% | Chatie | 390 | 389&nbsp&nbsp/ 1 / 231 | 54 | 1 | 0 | HD | Report |
| #45 | | 4,941,656 | 99.84% | Aishiii | 390 | 389&nbsp&nbsp/ 1 / 231 | 54 | 1 | 0 | HD | Report |
| #46 | | 4,941,646 | 99.68% | -Mitsu | 390 | 389&nbsp&nbsp/ 1 / 230 | 54 | 2 | 0 | HD | Report |
| #47 | | 4,940,566 | 100.00% | ringsore | 390 | 389&nbsp&nbsp/ 1 / 232 | 54 | 0 | 0 | HD | Report |
| #48 | | 4,940,476 | 98.55% | krasavcheg | 390 | 389&nbsp&nbsp/ 1 / 223 | 54 | 9 | 0 | HD | Report |
| #49 | | 4,939,466 | 100.00% | benderalu | 390 | 389&nbsp&nbsp/ 1 / 232 | 54 | 0 | 0 | HD | Report |
| #50 | | 4,939,456 | 99.84% | -Gemini- | 390 | 389&nbsp&nbsp/ 1 / 231 | 54 | 1 | 0 | HD,SD | Report |