Artist:
Whispered
Circle Size:

Approach Rate:

Title:
Tsukiakari
HP Drain:

Star Difficulty:

(6.98)
Creator:
MrKOSIEJ
Accuracy:

Length:
7:26 (6:06 drain)
Source:
Genre:
Unspecified (Other)
BPM:
120
Tags:
kosiej mrk raiden hard rock metal death melodic eastern folk metsutan songs of the void 月明
User Rating:
Success Rate:
Points of Failure:


(graph is accumulative, based on % at fail/retry)

5.3% (770 of 14511 plays)

Submitted:
Loved:
Jun 1, 2016
May 26, 2017
Rating Spread:

Favourited 43 times in total

Users that love this map: LZD, Wullgar, Wishkey, Chaotic Neutral, Syfou, CircleChu, Ackane-, FeriOP, c00kiezecky, DmitryScaletta, FroozNe, The Yatagarasu, Wheelcakes, _demo, Nimfagryuf, Itasha_S13, Invertable, FaceContr0L, Garian, Anata yori umai and many more!
Options:
Modding / Discussion
This map is in a LOVED state.
As such, it will not award any pp and leaderboards may be reset by the beatmap creator.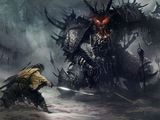 May the future month bring something better
Map:
Finished
Hitsounds:
Finished
Storyboard:
Finished
Raiden GD:
Finished
LOVED :3
Please Redownload if you downloaded before 24.08.2016
A new guest diff has been added and the quality of the audio was reduced to 192 kb/s
************************

Mlaw22 is in the lead! ()
Score
93,251,280 (99.08%)
Max Combo
1971
300 / 100 / 50
1858 / 23 / 0
Misses
2
Geki (Elite Beat!)
424
Katu (Beat!)
18
Mods
None
Top 50 Scoreboard
| | Rank | Score | Accuracy | Player | Max Combo | 300 / 100 / 50 | Geki | Katu | Misses | Mods | |
| --- | --- | --- | --- | --- | --- | --- | --- | --- | --- | --- | --- |
| #1 | | 93,251,280 | 99.08% | Mlaw22 | 1971 | 1858&nbsp&nbsp/ 23 / 0 | 424 | 18 | 2 | None | Report |
| #2 | | 68,554,900 | 96.00% | waaiiru | 1655 | 1773&nbsp&nbsp/ 103 / 2 | 389 | 49 | 5 | None | Report |
| #3 | | 67,117,370 | 97.01% | waywern2012 | 1620 | 1804&nbsp&nbsp/ 64 / 8 | 398 | 40 | 7 | None | Report |
| #4 | | 66,481,279 | 97.30% | WubWoofWolf | 1620 | 1811&nbsp&nbsp/ 61 / 5 | 405 | 33 | 6 | HD | Report |
| #5 | | 61,633,870 | 95.54% | -raizen- | 1602 | 1763&nbsp&nbsp/ 102 / 12 | 385 | 52 | 6 | None | Report |
| #6 | | 61,068,177 | 94.93% | Topoi | 1299 | 1746&nbsp&nbsp/ 123 / 3 | 382 | 55 | 11 | HD | Report |
| #7 | | 59,673,220 | 98.10% | Dsan | 1291 | 1832&nbsp&nbsp/ 44 / 3 | 409 | 31 | 4 | None | Report |
| #8 | | 54,602,690 | 96.91% | Kixs Student | 1492 | 1798&nbsp&nbsp/ 80 / 1 | 393 | 47 | 4 | None | Report |
| #9 | | 54,163,270 | 95.51% | FllareA | 1233 | 1759&nbsp&nbsp/ 118 / 1 | 377 | 62 | 5 | None | Report |
| #10 | | 49,931,590 | 97.52% | Emula | 1426 | 1817&nbsp&nbsp/ 58 / 0 | 402 | 35 | 8 | None | Report |
| #11 | | 49,818,209 | 96.34% | Macho | 1361 | 1784&nbsp&nbsp/ 89 / 2 | 394 | 43 | 8 | HD | Report |
| #12 | | 49,425,560 | 97.52% | Exarch | 1020 | 1814&nbsp&nbsp/ 67 / 0 | 406 | 36 | 2 | None | Report |
| #13 | | 48,940,620 | 95.97% | Elscar | 1344 | 1773&nbsp&nbsp/ 102 / 1 | 391 | 47 | 7 | None | Report |
| #14 | | 47,963,870 | 96.50% | Fedora Goose | 1266 | 1789&nbsp&nbsp/ 80 / 9 | 395 | 44 | 5 | None | Report |
| #15 | | 45,494,850 | 93.53% | Tiny Hippo | 1362 | 1707&nbsp&nbsp/ 155 / 15 | 366 | 68 | 6 | None | Report |
| #16 | | 45,443,164 | 96.54% | pyon | 1237 | 1792&nbsp&nbsp/ 75 / 5 | 396 | 39 | 11 | HD | Report |
| #17 | | 45,142,740 | 96.80% | Orbi | 1300 | 1798&nbsp&nbsp/ 71 / 6 | 404 | 34 | 8 | None | Report |
| #18 | | 40,374,200 | 92.95% | thaibuy | 1300 | 1700&nbsp&nbsp/ 147 / 8 | 372 | 62 | 28 | None | Report |
| #19 | | 39,013,950 | 97.48% | Shirone | 1064 | 1815&nbsp&nbsp/ 60 / 3 | 404 | 35 | 5 | None | Report |
| #20 | | 37,879,270 | 94.15% | mrzomb | 1219 | 1726&nbsp&nbsp/ 137 / 7 | 377 | 54 | 13 | None | Report |
| #21 | | 37,148,960 | 95.47% | koksu0123 | 1089 | 1757&nbsp&nbsp/ 122 / 0 | 382 | 60 | 4 | None | Report |
| #22 | | 35,319,850 | 96.46% | ABERON | 1093 | 1789&nbsp&nbsp/ 81 / 2 | 399 | 34 | 11 | None | Report |
| #23 | | 34,892,620 | 97.06% | Karthy | 826 | 1805&nbsp&nbsp/ 68 / 0 | 400 | 37 | 10 | None | Report |
| #24 | | 34,291,040 | 95.74% | Badcat | 1186 | 1770&nbsp&nbsp/ 96 / 5 | 383 | 48 | 12 | None | Report |
| #25 | | 32,597,840 | 96.40% | QbaDoo | 909 | 1792&nbsp&nbsp/ 69 / 1 | 391 | 39 | 21 | None | Report |
| #26 | | 32,457,380 | 93.19% | Shunpown | 1121 | 1706&nbsp&nbsp/ 144 / 5 | 347 | 72 | 28 | None | Report |
| #27 | | 32,177,320 | 92.97% | Mya | 786 | 1687&nbsp&nbsp/ 191 / 0 | 342 | 97 | 5 | None | Report |
| #28 | | 31,512,800 | 95.86% | Avernus | 1052 | 1771&nbsp&nbsp/ 99 / 6 | 389 | 46 | 7 | None | Report |
| #29 | | 31,187,140 | 96.10% | Tobirama Senju | 801 | 1780&nbsp&nbsp/ 87 / 3 | 388 | 48 | 13 | None | Report |
| #30 | | 29,892,960 | 95.59% | _HaTe_ | 1064 | 1765&nbsp&nbsp/ 105 / 0 | 386 | 48 | 13 | None | Report |
| #31 | | 29,015,340 | 95.54% | Garian | 1082 | 1772&nbsp&nbsp/ 76 / 10 | 390 | 38 | 25 | None | Report |
| #32 | | 28,625,620 | 95.31% | Noshii | 987 | 1757&nbsp&nbsp/ 112 / 2 | 371 | 64 | 12 | None | Report |
| #33 | | 28,386,300 | 96.55% | Ackane- | 785 | 1791&nbsp&nbsp/ 81 / 0 | 386 | 47 | 11 | None | Report |
| #34 | | 27,476,500 | 91.50% | Doughy | 985 | 1652&nbsp&nbsp/ 211 / 4 | 339 | 91 | 16 | None | Report |
| #35 | | 26,302,920 | 95.40% | Xantaria | 1019 | 1761&nbsp&nbsp/ 106 / 0 | 369 | 61 | 16 | None | Report |
| #36 | | 25,705,350 | 93.44% | Mio- | 969 | 1708&nbsp&nbsp/ 154 / 1 | 353 | 76 | 20 | None | Report |
| #37 | | 25,296,330 | 95.61% | Reegi | 919 | 1766&nbsp&nbsp/ 99 / 8 | 382 | 52 | 10 | None | Report |
| #38 | | 25,072,480 | 93.81% | Arctic Wolf | 866 | 1724&nbsp&nbsp/ 126 / 3 | 367 | 58 | 30 | None | Report |
| #39 | | 24,921,460 | 88.47% | Dragonmob | 894 | 1565&nbsp&nbsp/ 300 / 5 | 297 | 131 | 13 | None | Report |
| #40 | | 24,849,260 | 96.35% | FeriOP | 728 | 1788&nbsp&nbsp/ 77 / 4 | 400 | 33 | 14 | None | Report |
| #41 | | 24,846,300 | 93.45% | Ryuti | 938 | 1718&nbsp&nbsp/ 119 / 12 | 378 | 42 | 34 | None | Report |
| #42 | | 24,574,770 | 93.88% | Passara | 687 | 1722&nbsp&nbsp/ 137 / 1 | 357 | 67 | 23 | None | Report |
| #43 | | 24,328,530 | 93.80% | Kypxian | 763 | 1723&nbsp&nbsp/ 126 / 7 | 357 | 69 | 27 | None | Report |
| #44 | | 23,869,430 | 93.61% | NicoSan | 984 | 1712&nbsp&nbsp/ 152 / 0 | 374 | 57 | 19 | None | Report |
| #45 | | 23,829,730 | 96.10% | Wario | 648 | 1780&nbsp&nbsp/ 87 / 3 | 395 | 40 | 13 | None | Report |
| #46 | | 23,035,070 | 93.03% | Temprrr | 895 | 1699&nbsp&nbsp/ 156 / 5 | 344 | 81 | 23 | None | Report |
| #47 | | 22,914,910 | 94.46% | pvpcrab | 952 | 1739&nbsp&nbsp/ 116 / 6 | 379 | 45 | 22 | None | Report |
| #48 | | 22,567,390 | 93.62% | Flamouye | 941 | 1716&nbsp&nbsp/ 139 / 3 | 350 | 71 | 25 | None | Report |
| #49 | | 22,328,380 | 94.39% | DenObscure | 780 | 1736&nbsp&nbsp/ 122 / 4 | 382 | 49 | 21 | None | Report |
| #50 | | 22,131,150 | 96.14% | sovel | 599 | 1787&nbsp&nbsp/ 67 / 6 | 398 | 30 | 23 | None | Report |