Beatmap Listing » Yuuhei Catharsis - KanColle Compilation
Artist:
Yuuhei Catharsis
Circle Size:

Approach Rate:

Title:
KanColle Compilation
HP Drain:

Star Difficulty:

(5.45)
Creator:
-Mo-
Accuracy:

Length:
13:56 (7:31 drain)
Source:
艦隊これくしょん~艦これ~
Genre:
Unspecified (Other)
BPM:
128
Tags:
senya yuzuki risa amamiya miya kantai 柚木梨沙 森永真由美 天宮みや 艦隊これくしょん 艦これ lots more
User Rating:
Success Rate:
Points of Failure:


(graph is accumulative, based on % at fail/retry)

Not yet played!
Submitted:
Updated:
Mar 4, 2016
Dec 6, 2016
Rating Spread:

Favourited 12 times in total

Users that love this map: spd001, Protagonists, Morinaga, Santtu, Scuderia-, ShiroNyaNya, AntM, kentanghalal, Lily68, Phantasmagoria, Accuarious, LittleBird-
Options:
Modding / Discussion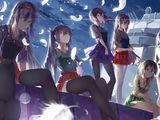 Mentorship:
This difficulty has sections of the map deleted, which are marked by the bookmarks. See if you can map something appropriate in these blank spots.
Looking at the other difficulties is cheating. Take a look only when you've had a go.
Heavily Incomplete.
MP3 may change. New hitsounds will be added. SB will be editted a lot.
If you're downloading this now,
prepare to redownload this often.
13/24 Songs
Album 2; No.5 Forutune Rest; 128BPM ✓
Album 2; No.2; 沈黙のカナデ; 138BPM ✓
Album 2; No.1; 女神の口づけを; 140BPM ✓
Album 5; No.3; 戦いより大切なモノ; 140BPM
Album 3; No.5; 生まれた意味、生きる理由; 145BPM
Album 3; No.1; 終焉の輝き; 147BPM
Album 2; No.4; ちいさな独占欲; 150BPM
Album 3; No.2; 胸の痛みさえ; 150BPM
Album 4; No.2; 約束のチカラ; 150BPM
Album 4; No.5; 飛龍の月; 150BPM
Album 5; No.6; 似て非なる者; 150BPM
Album 5; No.5; 罪無き憧れから; 154BPM
Album 5; No.1; 疾走する悲しみの中で; 155BPM
Album 2; No.6; 揺れる恋は波の如く; 160BPM ✓
Album 3; No.1; 深海より愛を込めて; 160BPM ✓
Album 3; No.3; Next Stage; 160BPM ✓
Album 3; No.4; キミを乗せて; 160BPM ✓
Album 4; No.3; 君と誰かの優しさに; 160BPM ✓
Album 4; No.4; 掬い; 160BPM ✓
Single 5; No.2; 聯袂のサーチライト; 170BPM ✓
Album 5; No.4; 吹雪の唄; 174BPM ✓
Single 5; No.1; キズナ、ありふれた二人; 180BPM ✓
Album 5; No.2; 亡き仲間へのレクイエム; 180BPM ✓
Album 2; No.3; 暁の水平线に; 181BPM ✓

Proper formatting will come later
Metadata:
http://www.yuuhei-satellite.jp/2958
http://www.yuuhei-satellite.jp/2964
http://www.yuuhei-satellite.jp/2968
http://www.yuuhei-satellite.jp/2961
http://www.yuuhei-satellite.jp/2120