Artist:
*namirin
Circle Size:

Approach Rate:

Title:
Amatsu Kitsune
HP Drain:

Star Difficulty:

(6.71)
Creator:
Meg
Accuracy:

Length:
3:25 (3:12 drain)
Source:
Genre:
Unspecified (Other)
BPM:
190
Tags:
utaite nami 歌ってみた vocaloid 鏡音リン kagamine rin まらしぃ marashii 天狗
User Rating:
Success Rate:
Points of Failure:


(graph is accumulative, based on % at fail/retry)

12.2% (1386 of 11367 plays)

Submitted:
Loved:
Jan 17, 2016
Jan 9, 2018
Rating Spread:

Favourited 181 times in total

Users that love this map: HardcoreLoli, PokemasterBrian, Tamamo no Mae, Celleste, Fuseka, SolarFox, walaowey, muchy, Yamai Kaguya, Felhantin, - Eucliwood -, toMKazaNSky, OuO, n3us, Kyalo, AtHeoN, Rumia-, AngeLREM -, Yaong, Amphibios and many more!
Options:
Modding / Discussion
This map is in a LOVED state.
As such, it will not award any pp and leaderboards may be reset by the beatmap creator.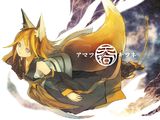 overdone mapping challenge
1E308 is in the lead! ()
Score
32,437,216 (99.67%)
Max Combo
1255
300 / 100 / 50
997 / 5 / 0
Misses
0
Geki (Elite Beat!)
185
Katu (Beat!)
5
Mods
HD
Top 50 Scoreboard
| | Rank | Score | Accuracy | Player | Max Combo | 300 / 100 / 50 | Geki | Katu | Misses | Mods | |
| --- | --- | --- | --- | --- | --- | --- | --- | --- | --- | --- | --- |
| #1 | | 32,437,216 | 99.67% | 1E308 | 1255 | 997&nbsp&nbsp/ 5 / 0 | 185 | 5 | 0 | HD | Report |
| #2 | | 32,288,671 | 99.53% | Koltay | 1253 | 995&nbsp&nbsp/ 7 / 0 | 185 | 5 | 0 | HD | Report |
| #3 | | 30,674,956 | 99.73% | Chitogod | 1256 | 998&nbsp&nbsp/ 4 / 0 | 186 | 4 | 0 | None | Report |
| #4 | | 30,665,834 | 99.47% | Mlaw22 | 1257 | 994&nbsp&nbsp/ 8 / 0 | 183 | 7 | 0 | None | Report |
| #5 | | 30,599,164 | 99.47% | explosionboom | 1256 | 994&nbsp&nbsp/ 8 / 0 | 183 | 7 | 0 | None | Report |
| #6 | | 30,594,180 | 99.53% | Koalazy | 1256 | 995&nbsp&nbsp/ 7 / 0 | 184 | 6 | 0 | None | Report |
| #7 | | 30,569,188 | 99.27% | Doomsday | 1256 | 991&nbsp&nbsp/ 11 / 0 | 179 | 11 | 0 | None | Report |
| #8 | | 30,504,570 | 99.07% | Elegant Loli | 1257 | 988&nbsp&nbsp/ 14 / 0 | 179 | 11 | 0 | None | Report |
| #9 | | 30,457,034 | 99.07% | HappyStick | 1257 | 988&nbsp&nbsp/ 14 / 0 | 179 | 11 | 0 | None | Report |
| #10 | | 30,429,826 | 99.14% | - e - v - b- | 1257 | 989&nbsp&nbsp/ 13 / 0 | 180 | 10 | 0 | None | Report |
| #11 | | 30,390,932 | 98.60% | Elscar | 1256 | 981&nbsp&nbsp/ 21 / 0 | 177 | 13 | 0 | None | Report |
| #12 | | 30,239,900 | 98.45% | MINEMINE | 1257 | 979&nbsp&nbsp/ 22 / 1 | 178 | 11 | 0 | None | Report |
| #13 | | 30,114,334 | 98.14% | KoaLeahq | 1257 | 974&nbsp&nbsp/ 28 / 0 | 176 | 14 | 0 | None | Report |
| #14 | | 29,913,788 | 97.74% | -Anastacia- | 1256 | 968&nbsp&nbsp/ 34 / 0 | 170 | 20 | 0 | None | Report |
| #15 | | 29,493,254 | 99.43% | Wakson | 1234 | 994&nbsp&nbsp/ 7 / 0 | 185 | 4 | 1 | None | Report |
| #16 | | 28,880,028 | 94.54% | jhoo902 | 1256 | 920&nbsp&nbsp/ 82 / 0 | 156 | 34 | 0 | None | Report |
| #17 | | 28,226,464 | 97.82% | - Decadence - | 1207 | 974&nbsp&nbsp/ 18 / 1 | 180 | 7 | 9 | None | Report |
| #18 | | 27,486,056 | 97.94% | Crystal | 1199 | 972&nbsp&nbsp/ 28 / 0 | 172 | 16 | 2 | None | Report |
| #19 | | 27,286,998 | 95.51% | Freddie | 1209 | 936&nbsp&nbsp/ 63 / 0 | 156 | 33 | 3 | None | Report |
| #20 | | 26,971,652 | 98.04% | yaboytanner | 1188 | 973&nbsp&nbsp/ 28 / 0 | 167 | 22 | 1 | None | Report |
| #21 | | 26,401,322 | 97.94% | -raizen- | 1174 | 971&nbsp&nbsp/ 31 / 0 | 177 | 13 | 0 | None | Report |
| #22 | | 25,580,326 | 98.60% | PainSinger | 1152 | 981&nbsp&nbsp/ 21 / 0 | 176 | 14 | 0 | None | Report |
| #23 | | 25,492,644 | 98.24% | Mathi | 1074 | 976&nbsp&nbsp/ 24 / 2 | 170 | 19 | 0 | HD,HR | Report |
| #24 | | 24,976,782 | 95.49% | tikkanen | 1163 | 935&nbsp&nbsp/ 65 / 1 | 157 | 31 | 1 | None | Report |
| #25 | | 24,841,497 | 99.87% | Cookiezi | 1047 | 1000&nbsp&nbsp/ 2 / 0 | 188 | 2 | 0 | HD,HR | Report |
| #26 | | 23,957,166 | 98.24% | SoraRoxas01 | 1117 | 976&nbsp&nbsp/ 25 / 0 | 174 | 15 | 1 | None | Report |
| #27 | | 22,601,286 | 99.57% | RedLeaf | 1060 | 996&nbsp&nbsp/ 5 / 0 | 188 | 1 | 1 | None | Report |
| #28 | | 22,155,694 | 97.47% | Myst1k | 1058 | 965&nbsp&nbsp/ 35 / 0 | 169 | 20 | 2 | None | Report |
| #29 | | 22,104,548 | 97.14% | kolgar | 1064 | 960&nbsp&nbsp/ 40 / 0 | 166 | 22 | 2 | None | Report |
| #30 | | 22,066,427 | 98.07% | GiraffekNuL | 1010 | 973&nbsp&nbsp/ 29 / 0 | 176 | 14 | 0 | HD | Report |
| #31 | | 21,920,918 | 94.74% | PotatoIceCream | 1039 | 929&nbsp&nbsp/ 60 / 2 | 157 | 29 | 11 | HD | Report |
| #32 | | 21,851,902 | 98.24% | Purps | 1047 | 979&nbsp&nbsp/ 16 / 0 | 177 | 11 | 7 | None | Report |
| #33 | | 21,778,550 | 97.07% | Mouse Player | 1054 | 962&nbsp&nbsp/ 32 / 0 | 165 | 22 | 8 | None | Report |
| #34 | | 21,704,254 | 98.30% | Azer | 1009 | 978&nbsp&nbsp/ 21 / 0 | 178 | 11 | 3 | HD | Report |
| #35 | | 21,415,176 | 96.44% | AizenBubble | 1049 | 954&nbsp&nbsp/ 37 / 0 | 158 | 29 | 11 | None | Report |
| #36 | | 21,345,846 | 97.90% | Twintail | 1043 | 976&nbsp&nbsp/ 15 / 0 | 178 | 8 | 11 | None | Report |
| #37 | | 21,312,476 | 99.23% | Herbayse | 1021 | 991&nbsp&nbsp/ 10 / 0 | 180 | 9 | 1 | None | Report |
| #38 | | 20,832,832 | 98.40% | bora w | 1009 | 978&nbsp&nbsp/ 24 / 0 | 170 | 20 | 0 | None | Report |
| #39 | | 20,498,194 | 98.17% | killerzombie453 | 1009 | 976&nbsp&nbsp/ 23 / 0 | 173 | 14 | 3 | None | Report |
| #40 | | 19,724,822 | 95.41% | Leotic | 1012 | 938&nbsp&nbsp/ 54 / 0 | 164 | 23 | 10 | None | Report |
| #41 | | 19,664,674 | 95.13% | Nesinnu | 1009 | 938&nbsp&nbsp/ 45 / 1 | 160 | 23 | 18 | None | Report |
| #42 | | 19,659,844 | 94.78% | Betbuc | 1009 | 929&nbsp&nbsp/ 60 / 4 | 157 | 27 | 9 | None | Report |
| #43 | | 19,534,019 | 93.03% | Skystar | 994 | 905&nbsp&nbsp/ 81 / 1 | 146 | 36 | 15 | HD | Report |
| #44 | | 18,951,092 | 97.24% | vitail | 952 | 961&nbsp&nbsp/ 40 / 0 | 163 | 26 | 1 | None | Report |
| #45 | | 18,892,790 | 97.84% | Oz Wiz | 942 | 970&nbsp&nbsp/ 31 / 0 | 167 | 22 | 1 | None | Report |
| #46 | | 18,596,882 | 97.67% | Niphora | 952 | 968&nbsp&nbsp/ 32 / 0 | 168 | 20 | 2 | None | Report |
| #47 | | 18,401,799 | 97.34% | DuNai | 840 | 964&nbsp&nbsp/ 34 / 0 | 169 | 19 | 4 | HD,HR | Report |
| #48 | | 18,326,904 | 96.34% | Bredzeus | 952 | 951&nbsp&nbsp/ 40 / 6 | 164 | 23 | 5 | None | Report |
| #49 | | 18,132,762 | 96.77% | M I L E S | 952 | 959&nbsp&nbsp/ 31 / 2 | 166 | 20 | 10 | None | Report |
| #50 | | 17,592,856 | 98.57% | Enkidu | 867 | 981&nbsp&nbsp/ 20 / 0 | 178 | 11 | 1 | None | Report |