Artist:
Yunomi
Circle Size:

Approach Rate:

Title:
Mentai Cosmic
HP Drain:

Star Difficulty:

(5.96)
Creator:
Sinch
Accuracy:

Length:
3:44 (3:36 drain)
Source:
Genre:
Unspecified (Other)
BPM:
224
Tags:
一二花 nica nasya sinch rei24
User Rating:
Success Rate:
Points of Failure:


(graph is accumulative, based on % at fail/retry)

6.9% (576 of 8298 plays)

Submitted:
Loved:
Nov 18, 2015
Jan 9, 2018
Rating Spread:

Favourited 209 times in total

Users that love this map: DenierNezzar, -Chronopolis-, Piotrekol, Kargo, lS9lRyan, ShadowSoul, Gotori, Lapis, yorsk, waaiiru, Gildilir, Attack, eLy, Ayakura Mei, Celleste, Dark and Hard, Vettel, PeteX, Livia, Teppichreini and many more!
Options:
Modding / Discussion
This map is in a LOVED state.
As such, it will not award any pp and leaderboards may be reset by the beatmap creator.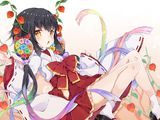 辛 子 明 太 子
★パート分け
Rei24→Sinch→Nasyaのループ
WubWoofWolf is in the lead! ()
Score
37,960,391 (99.45%)
Max Combo
1464
300 / 100 / 50
956 / 8 / 0
Misses
0
Geki (Elite Beat!)
235
Katu (Beat!)
8
Mods
HD,HR
Top 50 Scoreboard
| | Rank | Score | Accuracy | Player | Max Combo | 300 / 100 / 50 | Geki | Katu | Misses | Mods | |
| --- | --- | --- | --- | --- | --- | --- | --- | --- | --- | --- | --- |
| #1 | | 37,960,391 | 99.45% | WubWoofWolf | 1464 | 956&nbsp&nbsp/ 8 / 0 | 235 | 8 | 0 | HD,HR | Report |
| #2 | | 37,145,459 | 97.63% | Topoi | 1464 | 930&nbsp&nbsp/ 33 / 1 | 223 | 19 | 0 | HD,HR | Report |
| #3 | | 35,924,120 | 99.72% | Azer | 1463 | 960&nbsp&nbsp/ 4 / 0 | 240 | 3 | 0 | HD | Report |
| #4 | | 34,017,300 | 99.86% | Noname0 | 1464 | 962&nbsp&nbsp/ 2 / 0 | 241 | 2 | 0 | None | Report |
| #5 | | 33,974,924 | 99.79% | SoraRoxas01 | 1464 | 961&nbsp&nbsp/ 3 / 0 | 240 | 3 | 0 | None | Report |
| #6 | | 33,899,640 | 99.72% | Delis | 1462 | 960&nbsp&nbsp/ 4 / 0 | 240 | 3 | 0 | None | Report |
| #7 | | 33,801,830 | 99.31% | Crystal | 1463 | 954&nbsp&nbsp/ 10 / 0 | 239 | 4 | 0 | None | Report |
| #8 | | 33,740,294 | 99.29% | Cloz1k | 1462 | 954&nbsp&nbsp/ 9 / 1 | 235 | 7 | 0 | None | Report |
| #9 | | 33,689,700 | 99.24% | neko ds | 1460 | 953&nbsp&nbsp/ 11 / 0 | 235 | 8 | 0 | None | Report |
| #10 | | 29,308,966 | 99.45% | Chinox | 1356 | 957&nbsp&nbsp/ 5 / 0 | 237 | 4 | 2 | None | Report |
| #11 | | 28,862,042 | 98.24% | Suicune3 | 1355 | 940&nbsp&nbsp/ 21 / 0 | 227 | 13 | 3 | None | Report |
| #12 | | 27,797,558 | 98.34% | Mousiini | 1329 | 943&nbsp&nbsp/ 15 / 0 | 227 | 10 | 6 | None | Report |
| #13 | | 24,591,708 | 97.74% | kass0920 | 1248 | 933&nbsp&nbsp/ 27 / 1 | 226 | 14 | 3 | None | Report |
| #14 | | 19,802,878 | 98.43% | Lucas TW | 1084 | 942&nbsp&nbsp/ 20 / 1 | 228 | 13 | 1 | None | Report |
| #15 | | 19,742,118 | 98.12% | SeverinoSorixx | 1083 | 941&nbsp&nbsp/ 14 / 1 | 228 | 8 | 8 | None | Report |
| #16 | | 19,230,380 | 97.34% | Epikem | 1071 | 928&nbsp&nbsp/ 31 / 0 | 217 | 21 | 5 | None | Report |
| #17 | | 18,655,594 | 96.25% | Yukitemi | 1074 | 914&nbsp&nbsp/ 41 / 1 | 206 | 29 | 8 | None | Report |
| #18 | | 18,624,710 | 96.72% | nsps | 1072 | 918&nbsp&nbsp/ 42 / 2 | 216 | 23 | 2 | None | Report |
| #19 | | 18,580,193 | 96.44% | [ Sizukana ] | 1048 | 918&nbsp&nbsp/ 33 / 4 | 214 | 18 | 9 | HD | Report |
| #20 | | 17,990,388 | 97.06% | Lil SnOwO | 1047 | 925&nbsp&nbsp/ 30 / 4 | 217 | 17 | 5 | None | Report |
| #21 | | 17,813,504 | 97.42% | Sonico | 1028 | 929&nbsp&nbsp/ 30 / 1 | 214 | 24 | 4 | None | Report |
| #22 | | 17,631,910 | 94.80% | KoJle4KoO | 999 | 894&nbsp&nbsp/ 57 / 5 | 198 | 35 | 8 | HD,HR | Report |
| #23 | | 17,590,823 | 96.84% | -Yukio- | 987 | 921&nbsp&nbsp/ 36 / 3 | 214 | 24 | 4 | HD | Report |
| #24 | | 16,826,748 | 98.51% | MareckiPL | 980 | 946&nbsp&nbsp/ 10 / 2 | 230 | 6 | 6 | None | Report |
| #25 | | 16,820,726 | 98.18% | Flufflee | 978 | 941&nbsp&nbsp/ 16 / 1 | 229 | 9 | 6 | None | Report |
| #26 | | 15,926,906 | 97.30% | Rexastral | 962 | 930&nbsp&nbsp/ 24 / 0 | 218 | 19 | 10 | None | Report |
| #27 | | 15,257,350 | 96.54% | neko assassin | 958 | 921&nbsp&nbsp/ 25 / 8 | 219 | 16 | 10 | None | Report |
| #28 | | 15,181,112 | 99.31% | qqale | 872 | 954&nbsp&nbsp/ 10 / 0 | 235 | 8 | 0 | None | Report |
| #29 | | 14,853,608 | 97.58% | addzero | 845 | 931&nbsp&nbsp/ 28 / 2 | 219 | 21 | 3 | HD | Report |
| #30 | | 14,742,212 | 88.33% | HOLO IS NOT FOX | 979 | 800&nbsp&nbsp/ 151 / 7 | 133 | 103 | 6 | None | Report |
| #31 | | 14,394,073 | 96.08% | Fastz | 845 | 911&nbsp&nbsp/ 44 / 3 | 208 | 27 | 6 | HD,HR | Report |
| #32 | | 14,169,372 | 98.72% | Bubba TK | 765 | 947&nbsp&nbsp/ 14 / 0 | 228 | 12 | 3 | None | Report |
| #33 | | 14,114,200 | 97.82% | ushio friki | 851 | 934&nbsp&nbsp/ 26 / 2 | 220 | 19 | 2 | HD | Report |
| #34 | | 13,498,850 | 97.74% | Kuuzo | 760 | 935&nbsp&nbsp/ 21 / 1 | 221 | 15 | 7 | HD | Report |
| #35 | | 13,306,706 | 99.39% | Betbuc | 653 | 956&nbsp&nbsp/ 6 / 1 | 235 | 6 | 1 | None | Report |
| #36 | | 12,911,638 | 98.25% | Notsuren | 673 | 940&nbsp&nbsp/ 21 / 1 | 220 | 20 | 2 | None | Report |
| #37 | | 12,790,756 | 97.74% | LtLi0n | 637 | 934&nbsp&nbsp/ 24 / 1 | 220 | 18 | 5 | None | Report |
| #38 | | 11,799,520 | 95.85% | Tory | 670 | 906&nbsp&nbsp/ 54 / 0 | 203 | 38 | 4 | None | Report |
| #39 | | 11,276,735 | 98.69% | RndGuy | 584 | 947&nbsp&nbsp/ 13 / 0 | 228 | 11 | 4 | HD | Report |
| #40 | | 11,157,272 | 98.31% | Fuyu | 592 | 943&nbsp&nbsp/ 14 / 0 | 227 | 12 | 7 | None | Report |
| #41 | | 11,025,112 | 97.49% | fooders | 589 | 930&nbsp&nbsp/ 28 / 3 | 222 | 16 | 3 | None | Report |
| #42 | | 11,016,880 | 97.89% | Turbo-Tapczan | 675 | 937&nbsp&nbsp/ 19 / 2 | 221 | 15 | 6 | None | Report |
| #43 | | 10,912,222 | 94.95% | Teleport | 773 | 895&nbsp&nbsp/ 60 / 2 | 191 | 43 | 7 | None | Report |
| #44 | | 10,656,910 | 97.70% | [KOR]Sora | 671 | 934&nbsp&nbsp/ 23 / 1 | 220 | 17 | 6 | None | Report |
| #45 | | 10,352,672 | 98.32% | E a g l e | 638 | 941&nbsp&nbsp/ 20 / 1 | 228 | 13 | 2 | None | Report |
| #46 | | 10,276,676 | 95.70% | youi | 684 | 910&nbsp&nbsp/ 34 / 7 | 214 | 20 | 13 | None | Report |
| #47 | | 10,243,530 | 96.73% | wolterax | 637 | 924&nbsp&nbsp/ 25 / 1 | 214 | 16 | 14 | None | Report |
| #48 | | 10,189,249 | 98.37% | Noxern | 610 | 944&nbsp&nbsp/ 12 / 2 | 228 | 7 | 6 | HD | Report |
| #49 | | 10,017,598 | 95.54% | Kotsune | 751 | 904&nbsp&nbsp/ 50 / 2 | 202 | 32 | 8 | None | Report |
| #50 | | 9,943,990 | 97.89% | C4L4 | 585 | 935&nbsp&nbsp/ 26 / 0 | 222 | 19 | 3 | None | Report |