Artist:
Helblinde
Circle Size:

Approach Rate:

Title:
Grief & Malice
HP Drain:

Star Difficulty:

(6.00)
Creator:
Kyuare
Accuracy:

Length:
3:23 (3:10 drain)
Source:
魔法少女まどか☆マギカ
Genre:
Unspecified (Other)
BPM:
200
Tags:
puella magi madoka magica maho shoujo magical girl
User Rating:
Success Rate:
Points of Failure:


(graph is accumulative, based on % at fail/retry)

6.8% (108 of 1593 plays)

Submitted:
Loved:
Jun 22, 2015
Feb 4, 2018
Rating Spread:

Favourited 43 times in total

Users that love this map: MOLA_22, kuso2519, Badis, Vincs, Syru-, -Scarlet Rose-, xZABR, Its Choke, Aru Akana, Emiru, ElesisManiac, rpp1, Sypro2000, Oku, jakincses, Benny-, Kashou, Mikudesu, Nipurr, Worst-CTBPlayer and many more!
Options:
Modding / Discussion
This map is in a LOVED state.
As such, it will not award any pp and leaderboards may be reset by the beatmap creator.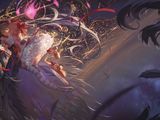 Have fun
Spectator is in the lead! ()
Score
61,264,028 (100.00%)
Max Combo
1384
300 / 100 / 50
1384 / 0 / 275
Misses
0
Geki (Elite Beat!)
286
Droplet misses
0
Mods
HD
Top 50 Scoreboard
| | Rank | Score | Accuracy | Player | Max Combo | 300 / 100 / 50 | Geki | Droplet Miss | Misses | Mods | |
| --- | --- | --- | --- | --- | --- | --- | --- | --- | --- | --- | --- |
| #1 | | 61,264,028 | 100.00% | Spectator | 1384 | 1384&nbsp&nbsp/ 0 / 275 | 286 | 0 | 0 | HD | Report |
| #2 | | 61,261,828 | 100.00% | RAMPAGE88 | 1384 | 1384&nbsp&nbsp/ 0 / 275 | 286 | 0 | 0 | HD | Report |
| #3 | | 61,260,698 | 99.82% | AutoLs | 1384 | 1384&nbsp&nbsp/ 0 / 272 | 286 | 3 | 0 | HD | Report |
| #4 | | 61,260,688 | 99.76% | lechuguin | 1384 | 1384&nbsp&nbsp/ 0 / 271 | 286 | 4 | 0 | HD | Report |
| #5 | | 61,249,668 | 99.64% | Vinci007 | 1384 | 1384&nbsp&nbsp/ 0 / 269 | 286 | 6 | 0 | HD | Report |
| #6 | | 57,824,230 | 100.00% | YERTI | 1384 | 1384&nbsp&nbsp/ 0 / 275 | 286 | 0 | 0 | None | Report |
| #7 | | 57,818,710 | 99.88% | Nelly | 1384 | 1384&nbsp&nbsp/ 0 / 273 | 286 | 2 | 0 | None | Report |
| #8 | | 57,818,710 | 99.88% | Playboy | 1384 | 1384&nbsp&nbsp/ 0 / 273 | 286 | 2 | 0 | None | Report |
| #9 | | 57,818,710 | 99.88% | ItsLingers | 1384 | 1384&nbsp&nbsp/ 0 / 273 | 286 | 2 | 0 | None | Report |
| #10 | | 57,817,630 | 100.00% | DamnEasy | 1384 | 1384&nbsp&nbsp/ 0 / 275 | 286 | 0 | 0 | None | Report |
| #11 | | 57,816,530 | 100.00% | Kustzlov | 1384 | 1384&nbsp&nbsp/ 0 / 275 | 286 | 0 | 0 | None | Report |
| #12 | | 57,816,530 | 100.00% | Noulayfe | 1384 | 1384&nbsp&nbsp/ 0 / 275 | 286 | 0 | 0 | None | Report |
| #13 | | 57,816,520 | 99.94% | - S a k u r a - | 1384 | 1384&nbsp&nbsp/ 0 / 274 | 286 | 1 | 0 | None | Report |
| #14 | | 57,815,420 | 99.94% | Morsay | 1384 | 1384&nbsp&nbsp/ 0 / 274 | 286 | 1 | 0 | None | Report |
| #15 | | 57,815,420 | 99.94% | bastoo0 | 1384 | 1384&nbsp&nbsp/ 0 / 274 | 286 | 1 | 0 | None | Report |
| #16 | | 57,815,410 | 99.88% | Kisetsunotori | 1384 | 1384&nbsp&nbsp/ 0 / 273 | 286 | 2 | 0 | None | Report |
| #17 | | 57,815,410 | 99.88% | ItsJ0el | 1384 | 1384&nbsp&nbsp/ 0 / 273 | 286 | 2 | 0 | None | Report |
| #18 | | 57,814,330 | 100.00% | Razor Sharp | 1384 | 1384&nbsp&nbsp/ 0 / 275 | 286 | 0 | 0 | None | Report |
| #19 | | 57,813,220 | 99.94% | Tikon | 1384 | 1384&nbsp&nbsp/ 0 / 274 | 286 | 1 | 0 | None | Report |
| #20 | | 57,813,180 | 99.70% | Kyuare | 1384 | 1384&nbsp&nbsp/ 0 / 270 | 286 | 5 | 0 | None | Report |
| #21 | | 57,808,770 | 99.64% | Attenox | 1384 | 1384&nbsp&nbsp/ 0 / 269 | 286 | 6 | 0 | None | Report |
| #22 | | 57,807,680 | 99.70% | LeWind | 1384 | 1384&nbsp&nbsp/ 0 / 270 | 286 | 5 | 0 | None | Report |
| #23 | | 57,151,520 | 99.10% | Hino07 | 1376 | 1380&nbsp&nbsp/ 0 / 264 | 284 | 11 | 4 | None | Report |
| #24 | | 56,001,721 | 99.40% | Ddraigon- | 1322 | 1377&nbsp&nbsp/ 0 / 272 | 284 | 3 | 7 | HD | Report |
| #25 | | 53,942,626 | 99.46% | Sousaki | 1257 | 1383&nbsp&nbsp/ 0 / 267 | 285 | 8 | 1 | HR | Report |
| #26 | | 53,232,510 | 99.28% | Danti | 1327 | 1378&nbsp&nbsp/ 0 / 269 | 282 | 6 | 6 | None | Report |
| #27 | | 51,175,360 | 99.64% | Syru- | 1299 | 1383&nbsp&nbsp/ 0 / 270 | 285 | 5 | 1 | None | Report |
| #28 | | 44,523,963 | 99.88% | skvix | 1115 | 1383&nbsp&nbsp/ 0 / 274 | 285 | 1 | 1 | HR | Report |
| #29 | | 42,980,934 | 99.16% | Aqliva | 1109 | 1380&nbsp&nbsp/ 0 / 265 | 283 | 10 | 4 | HR | Report |
| #30 | | 33,035,279 | 99.88% | chickenbible | 857 | 1382&nbsp&nbsp/ 0 / 275 | 284 | 0 | 2 | HR | Report |
| #31 | | 30,133,630 | 99.82% | miguex64 | 827 | 1383&nbsp&nbsp/ 0 / 273 | 285 | 2 | 1 | None | Report |
| #32 | | 29,559,070 | 99.58% | Yuuka Kazami | 791 | 1381&nbsp&nbsp/ 0 / 271 | 284 | 4 | 3 | None | Report |
| #33 | | 29,255,980 | 99.34% | Atsuko-Kagari | 916 | 1376&nbsp&nbsp/ 0 / 272 | 282 | 3 | 8 | None | Report |
| #34 | | 27,399,656 | 99.34% | Tsukiyama | 823 | 1380&nbsp&nbsp/ 0 / 268 | 283 | 7 | 4 | HR | Report |
| #35 | | 27,159,560 | 99.40% | ZZRVI0B | 821 | 1377&nbsp&nbsp/ 0 / 272 | 283 | 3 | 7 | None | Report |
| #36 | | 26,977,510 | 99.88% | Disco-Master | 858 | 1382&nbsp&nbsp/ 0 / 275 | 284 | 0 | 2 | None | Report |
| #37 | | 26,082,641 | 99.16% | Love Lolita | 783 | 1378&nbsp&nbsp/ 0 / 267 | 283 | 8 | 6 | HD | Report |
| #38 | | 23,872,180 | 98.92% | HiMyLolicon | 786 | 1375&nbsp&nbsp/ 0 / 266 | 281 | 9 | 9 | None | Report |
| #39 | | 23,700,990 | 99.28% | Zoggoth | 822 | 1376&nbsp&nbsp/ 0 / 271 | 279 | 4 | 8 | None | Report |
| #40 | | 23,134,980 | 99.28% | dracoV | 746 | 1379&nbsp&nbsp/ 0 / 268 | 281 | 7 | 5 | None | Report |
| #41 | | 22,398,552 | 98.85% | MOLA_22 | 592 | 1375&nbsp&nbsp/ 0 / 265 | 281 | 10 | 9 | HD | Report |
| #42 | | 22,143,070 | 99.52% | joxa12 | 704 | 1382&nbsp&nbsp/ 0 / 269 | 284 | 6 | 2 | None | Report |
| #43 | | 21,300,810 | 99.28% | Sakurano | 731 | 1376&nbsp&nbsp/ 0 / 271 | 281 | 4 | 8 | None | Report |
| #44 | | 21,293,530 | 99.16% | SOSALUCIOSOSA | 589 | 1378&nbsp&nbsp/ 0 / 267 | 281 | 8 | 6 | None | Report |
| #45 | | 20,858,390 | 99.46% | Rockageek | 623 | 1377&nbsp&nbsp/ 0 / 273 | 283 | 2 | 7 | None | Report |
| #46 | | 20,458,870 | 99.46% | -Luminate | 717 | 1377&nbsp&nbsp/ 0 / 273 | 280 | 2 | 7 | None | Report |
| #47 | | 20,314,660 | 99.04% | dukci | 697 | 1378&nbsp&nbsp/ 0 / 265 | 281 | 10 | 6 | HD | Report |
| #48 | | 17,521,070 | 98.98% | Deley- | 548 | 1373&nbsp&nbsp/ 0 / 269 | 279 | 6 | 11 | HD | Report |
| #49 | | 16,526,550 | 99.22% | JumpNoob | 564 | 1379&nbsp&nbsp/ 0 / 267 | 283 | 8 | 5 | None | Report |
| #50 | | 16,515,520 | 99.58% | Sanami | 560 | 1380&nbsp&nbsp/ 0 / 272 | 282 | 3 | 4 | None | Report |