Beatmap Listing » BlackY - FLOWER -SPRING Long VER.-
Artist:
BlackY
Key Amount:

Approach Rate:

Title:
FLOWER -SPRING Long VER.-
HP Drain:

Star Difficulty:

(6.31)
Creator:
Kawawa
Accuracy:

Length:
6:05 (6:00 drain)
Source:
REFLEC BEAT
Genre:
Video Game (Instrumental)
BPM:
170
Tags:
dj yoshitaka piano marathon trance core jubeat knit append beatstream
User Rating:
Success Rate:
Points of Failure:


(graph is accumulative, based on % at fail/retry)

18.0% (1864 of 10362 plays)

Submitted:
Ranked:
Apr 5, 2015
Aug 19, 2017
Rating Spread:

Favourited 47 times in total

Users that love this map: SakaSak, Komeiji, adrien062FanBoy, Starry-, munth, erolgamit123, Kyousuke-, AndyTheBAATMAN, [Shana Lesus], Matiias, SuiopXbaby, sciekspoleczny, Another Lie, Vortex-, DarkDave, Untalfer, gkawodbs21, _P T n k_, Villager-A, IDSxianyu and many more!
Options:
Modding / Discussion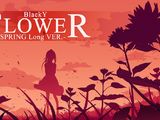 Chart
I thought of a chart that changed visually according to the feel of the title and theme.
so I wanted to express through chart. how It is bloom and fall.

First of all. I seperated the main part as 5 phase!
Each patterning changes, and add some notes on the specfic part.
Normally they have an increasingly difficult structure.

1 Phase :: 01:53:157 -
Simple BMS Patterning. focused on the main melody than drums.
That's how It goes.

2 Phase :: 03:23:510 -
Added the shorter LN on the each jump part.
It's a bit harder, and looks more highlight than 1 phase.

3 Phase :: 03:23:510 -
Half-part became the LNs.
It invokes a lot of changes as visual effect.
but It's relatively easy to play. because It's based on the stream and stair.

4 Phase :: 04:56:686 -
Anchor density and structure is almost same with phase 3.
However, some of them maintaining the same stair. and trill.
It has a different structure, and is somewhat difficult.

5-1 Phase :: 05:19:274 -
Fully done LNs. It is not so difficult to handle than thinking, but I might It will make down your accuracy.
Anyway This visual effect shows the Song's climax.

5-2 Phase :: 05:31:098 -
no more LNs here. Re-do from 1 Phase.



hope you enjoy!
cheewee10 is in the lead! ()
Score
996,991 (99.97%)
Max Combo
7221
MAX / 300 / 200
5850 / 516 / 4
100 / 50 / Misses
1 / 0 / 0
Mods
None
Top 50 Scoreboard
Rank
Score
Accuracy
Player
Max Combo
MAX
300
200
100
50
Miss
Mods
#1
996,991
99.97%
cheewee10
7221
5850
516
4
1
0
0
None
Report
#2
996,890
99.99%
Estonians
7242
5767
602
2
0
0
0
None
Report
#3
993,444
99.92%
wonder5193
7323
5262
1094
15
0
0
0
None
Report
#4
992,037
99.82%
cheetose
7270
5307
1031
31
2
0
0
None
Report
#5
991,367
99.77%
LeeWonJea
5661
5642
693
30
4
1
1
None
Report
#6
990,544
99.80%
myshout
7297
5106
1227
38
0
0
0
None
Report
#7
990,312
99.79%
SDMseven
7245
5065
1268
36
2
0
0
None
Report
#8
988,378
99.79%
LostCool
6459
5043
1292
34
0
1
1
None
Report
#9
987,769
99.69%
inteliser
3539
5449
876
37
5
0
4
None
Report
#10
987,639
99.68%
Rommmy
6733
5130
1184
54
2
0
1
None
Report
#11
986,970
99.68%
stupud man
7257
4791
1521
56
3
0
0
None
Report
#12
986,896
99.68%
Alternater
5472
5113
1201
53
3
0
1
None
Report
#13
985,513
99.55%
Destiny19
7209
4984
1305
78
4
0
0
None
Report
#14
984,340
99.46%
[HyeN]
7378
4940
1331
97
3
0
0
None
Report
#15
984,334
99.54%
[HaRu]
5989
5295
993
80
1
0
2
None
Report
#16
983,891
99.62%
275M1
5229
4881
1420
68
0
1
1
None
Report
#17
982,587
99.61%
[MY]Idiot
4000
4729
1573
65
2
1
1
None
Report
#18
982,086
99.49%
BLVGARI
7254
4708
1570
88
5
0
0
None
Report
#19
981,380
99.53%
gosy777
3943
5643
656
62
2
2
6
None
Report
#20
980,994
99.43%
lxLucasxl
7272
4857
1413
94
6
1
0
None
Report
#21
980,898
99.41%
SSTEVENN
6514
4790
1479
94
6
0
2
None
Report
#22
980,691
99.40%
wlsgur5436
5971
4681
1579
108
2
0
1
None
Report
#23
980,573
99.52%
Dawt
2986
4940
1354
68
3
2
4
None
Report
#24
980,053
99.40%
qx0407
6762
4709
1554
104
2
0
2
None
Report
#25
979,685
99.49%
[Crz]Satori
5656
4756
1527
81
5
0
2
None
Report
#26
979,492
99.51%
Koneko-
5421
5168
1125
66
7
1
4
None
Report
#27
978,556
99.35%
Dipif
6068
4717
1540
108
2
1
3
None
Report
#28
977,860
99.44%
Alcemist
3595
4663
1617
80
6
1
4
None
Report
#29
975,882
99.27%
Undamned
5499
4638
1603
123
4
0
3
None
Report
#30
974,046
99.24%
EOLIA-
3956
4475
1764
124
2
1
5
None
Report
#31
973,435
99.15%
aya
4494
4531
1691
137
10
1
1
None
Report
#32
973,166
99.30%
SillyFangirl
2953
4764
1492
102
7
1
5
None
Report
#33
973,133
99.46%
toez2dj
2525
4853
1440
60
10
3
5
None
Report
#34
971,846
99.34%
Cryolien
5428
4745
1523
89
3
3
8
None
Report
#35
971,605
99.16%
[Crz]Basillisa
7077
4467
1759
134
6
2
3
None
Report
#36
970,953
99.31%
arcwinolivirus
2152
4888
1367
107
3
0
6
None
Report
#37
970,924
99.13%
ChoCu
2739
4653
1569
136
7
4
2
None
Report
#38
970,819
99.12%
Sar7
3000
4683
1540
132
12
0
4
None
Report
#39
970,649
99.32%
COFFEE_MIX
3241
4188
2070
101
6
1
5
None
Report
#40
970,637
99.13%
lino-sama
5492
4203
2024
127
10
3
4
None
Report
#41
969,663
99.20%
DarkDave
3697
4565
1667
131
2
0
6
None
Report
#42
969,489
99.21%
Cailne
3833
4216
2016
130
6
0
3
None
Report
#43
968,109
99.08%
a4a01
4313
4406
1807
146
5
1
6
None
Report
#44
967,777
98.99%
Nyooo
3548
4289
1898
178
3
0
3
None
Report
#45
966,601
98.80%
haram601432
3650
4127
2034
195
11
0
4
None
Report
#46
966,295
98.96%
cieloday05
5124
4615
1581
157
11
2
5
None
Report
#47
966,233
99.14%
Wilben_Chan
2432
4881
1354
116
9
4
7
None
Report
#48
966,182
99.16%
[bouncyball]
4452
4987
1248
120
7
2
7
None
Report
#49
962,926
98.74%
kokonokyo
2990
4924
1235
188
17
3
4
None
Report
#50
962,199
98.99%
2rrrr
5736
4403
1800
150
11
1
6
None
Report