Artist:
LeaF
Circle Size:

Approach Rate:

Title:
Evanescent
HP Drain:

Star Difficulty:

(5.78)
Creator:
Charles445
Accuracy:

Length:
2:05 (1:58 drain)
Source:
BMS
Genre:
Video Game (Instrumental)
BPM:
190
Tags:
mbc6 optie post drum'n'bass dnb bof bms of fighters sen-goku 戦國
User Rating:
Success Rate:
Points of Failure:


(graph is accumulative, based on % at fail/retry)

10.7% (37702 of 352816 plays)

Submitted:
Ranked:
Oct 27, 2014
Nov 13, 2014
Rating Spread:

Favourited 318 times in total

Users that love this map: FFFanatic, Bass, bbj0920, DenierNezzar, Shenanigans, Taikuta, Koalazy, Neato Torpedo, fanzhen0019, Mindwaves, BleachFTW, Koller, SolrosRepica, -Vince, Golfdinger, Saping, Shiawase, Horo, bulli, Ikkun and many more!
Options:
Modding / Discussion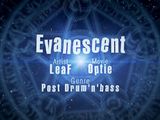 Warning !   This map breaks the rules !
Sight-readability and fun not guaranteed. Feel free to never play this map.
Monthly Beatmapping Contest #6 - Aspire
This is the winning entry to the sixth mapping contest, "Aspire", where traditional game rules could be ignored in order to make a very gimmicky difficulty.
Download with video!
This difficulty is not meant to be taken seriously, and the gimmicky patterns seen in this difficulty are not recommended for use in serious maps.
Cookiezi is in the lead! ()
Score
25,606,786 (95.53%)
Max Combo
1052
300 / 100 / 50
696 / 50 / 0
Misses
0
Geki (Elite Beat!)
201
Katu (Beat!)
30
Mods
HD,HR
Top 50 Scoreboard
| | Rank | Score | Accuracy | Player | Max Combo | 300 / 100 / 50 | Geki | Katu | Misses | Mods | |
| --- | --- | --- | --- | --- | --- | --- | --- | --- | --- | --- | --- |
| #1 | | 25,606,786 | 95.53% | Cookiezi | 1052 | 696&nbsp&nbsp/ 50 / 0 | 201 | 30 | 0 | HD,HR | Report |
| #2 | | 25,295,289 | 99.64% | Rucker | 1057 | 742&nbsp&nbsp/ 4 / 0 | 227 | 4 | 0 | HD | Report |
| #3 | | 24,994,727 | 98.48% | Cinia Pacifica | 1058 | 729&nbsp&nbsp/ 17 / 0 | 220 | 11 | 0 | HD | Report |
| #4 | | 23,984,950 | 99.91% | Chaoslitz | 1059 | 745&nbsp&nbsp/ 1 / 0 | 230 | 1 | 0 | None | Report |
| #5 | | 23,921,740 | 99.73% | SteRRuM | 1058 | 743&nbsp&nbsp/ 3 / 0 | 228 | 3 | 0 | None | Report |
| #6 | | 23,889,690 | 99.64% | hvick225 | 1057 | 742&nbsp&nbsp/ 4 / 0 | 227 | 4 | 0 | None | Report |
| #7 | | 23,882,070 | 99.55% | Gokuri | 1057 | 741&nbsp&nbsp/ 5 / 0 | 226 | 5 | 0 | None | Report |
| #8 | | 23,866,580 | 99.46% | rrtyui | 1058 | 740&nbsp&nbsp/ 6 / 0 | 226 | 5 | 0 | None | Report |
| #9 | | 23,822,960 | 99.46% | talala | 1058 | 740&nbsp&nbsp/ 6 / 0 | 225 | 6 | 0 | None | Report |
| #10 | | 23,785,100 | 99.37% | Xilver | 1056 | 739&nbsp&nbsp/ 7 / 0 | 224 | 7 | 0 | None | Report |
| #11 | | 23,766,840 | 99.11% | Sheba | 1056 | 736&nbsp&nbsp/ 10 / 0 | 222 | 9 | 0 | None | Report |
| #12 | | 23,754,170 | 99.20% | Rafis | 1055 | 737&nbsp&nbsp/ 9 / 0 | 222 | 9 | 0 | None | Report |
| #13 | | 23,744,060 | 99.37% | Risiing | 1054 | 739&nbsp&nbsp/ 7 / 0 | 224 | 7 | 0 | None | Report |
| #14 | | 23,685,940 | 99.29% | Recia | 1052 | 738&nbsp&nbsp/ 8 / 0 | 223 | 8 | 0 | None | Report |
| #15 | | 23,635,250 | 99.20% | - Phantasma - | 1051 | 737&nbsp&nbsp/ 9 / 0 | 223 | 8 | 0 | None | Report |
| #16 | | 23,630,270 | 99.02% | Alumetorz | 1053 | 735&nbsp&nbsp/ 11 / 0 | 222 | 9 | 0 | None | Report |
| #17 | | 23,499,030 | 98.57% | -Trigger | 1051 | 730&nbsp&nbsp/ 16 / 0 | 216 | 15 | 0 | None | Report |
| #18 | | 23,407,620 | 98.30% | -Archangel- | 1052 | 727&nbsp&nbsp/ 19 / 0 | 215 | 16 | 0 | None | Report |
| #19 | | 23,398,290 | 98.48% | Toy | 1047 | 729&nbsp&nbsp/ 17 / 0 | 215 | 16 | 0 | None | Report |
| #20 | | 23,392,400 | 98.21% | moca | 1052 | 726&nbsp&nbsp/ 20 / 0 | 214 | 17 | 0 | None | Report |
| #21 | | 23,368,350 | 98.30% | Doomsday | 1049 | 727&nbsp&nbsp/ 19 / 0 | 215 | 16 | 0 | None | Report |
| #22 | | 23,360,190 | 98.39% | bahamete | 1047 | 728&nbsp&nbsp/ 18 / 0 | 214 | 17 | 0 | None | Report |
| #23 | | 23,299,810 | 98.12% | Crystal- | 1053 | 725&nbsp&nbsp/ 21 / 0 | 217 | 14 | 0 | None | Report |
| #24 | | 23,281,520 | 98.03% | Pring | 1050 | 724&nbsp&nbsp/ 22 / 0 | 212 | 19 | 0 | None | Report |
| #25 | | 23,266,690 | 97.77% | Sinch | 1051 | 721&nbsp&nbsp/ 25 / 0 | 209 | 22 | 0 | None | Report |
| #26 | | 23,194,300 | 97.90% | taku | 1037 | 723&nbsp&nbsp/ 22 / 0 | 213 | 17 | 1 | None | Report |
| #27 | | 23,183,240 | 97.56% | Mrotaku | 1047 | 719&nbsp&nbsp/ 26 / 1 | 211 | 19 | 0 | None | Report |
| #28 | | 23,170,320 | 97.86% | Maiaz | 1046 | 722&nbsp&nbsp/ 24 / 0 | 212 | 19 | 0 | None | Report |
| #29 | | 23,122,270 | 98.17% | he rack | 1034 | 726&nbsp&nbsp/ 19 / 0 | 212 | 18 | 1 | None | Report |
| #30 | | 23,061,170 | 97.56% | HappyStick | 1046 | 719&nbsp&nbsp/ 26 / 1 | 208 | 22 | 0 | None | Report |
| #31 | | 23,040,100 | 97.32% | ExpertBOT | 1046 | 716&nbsp&nbsp/ 30 / 0 | 207 | 24 | 0 | None | Report |
| #32 | | 22,643,690 | 96.51% | Neko Mimi | 1043 | 707&nbsp&nbsp/ 39 / 0 | 196 | 35 | 0 | None | Report |
| #33 | | 22,633,010 | 95.15% | Pray | 1041 | 692&nbsp&nbsp/ 53 / 1 | 198 | 32 | 0 | None | Report |
| #34 | | 22,475,010 | 96.16% | Mazzerin | 1033 | 704&nbsp&nbsp/ 39 / 2 | 200 | 29 | 1 | None | Report |
| #35 | | 22,069,110 | 97.05% | Bye | 1019 | 714&nbsp&nbsp/ 30 / 0 | 210 | 20 | 2 | None | Report |
| #36 | | 21,841,680 | 96.22% | WubWoofWolf | 1019 | 706&nbsp&nbsp/ 34 / 3 | 211 | 17 | 3 | None | Report |
| #37 | | 20,450,792 | 98.88% | rustbell | 939 | 734&nbsp&nbsp/ 11 / 0 | 221 | 9 | 1 | HD | Report |
| #38 | | 20,394,880 | 94.79% | My Angel Haruna | 988 | 688&nbsp&nbsp/ 57 / 1 | 189 | 41 | 0 | None | Report |
| #39 | | 20,286,880 | 97.48% | Ranker | 974 | 718&nbsp&nbsp/ 27 / 1 | 209 | 21 | 0 | None | Report |
| #40 | | 20,112,690 | 98.03% | MrPotato | 960 | 725&nbsp&nbsp/ 18 / 2 | 212 | 17 | 1 | None | Report |
| #41 | | 19,648,830 | 98.19% | Yaong | 956 | 726&nbsp&nbsp/ 19 / 1 | 214 | 16 | 0 | None | Report |
| #42 | | 19,603,210 | 97.68% | Loli_Schwi | 955 | 720&nbsp&nbsp/ 26 / 0 | 210 | 21 | 0 | None | Report |
| #43 | | 19,576,420 | 97.94% | _index | 952 | 723&nbsp&nbsp/ 23 / 0 | 213 | 18 | 0 | None | Report |
| #44 | | 19,539,720 | 97.94% | mniminwoo | 951 | 723&nbsp&nbsp/ 23 / 0 | 211 | 20 | 0 | None | Report |
| #45 | | 19,417,860 | 96.94% | Valentine | 953 | 712&nbsp&nbsp/ 33 / 1 | 201 | 29 | 0 | None | Report |
| #46 | | 19,122,800 | 99.26% | Sonix | 928 | 738&nbsp&nbsp/ 7 / 1 | 223 | 7 | 0 | None | Report |
| #47 | | 18,765,920 | 98.21% | Elysion | 923 | 728&nbsp&nbsp/ 14 / 0 | 218 | 11 | 4 | None | Report |
| #48 | | 18,729,480 | 96.40% | walao | 930 | 708&nbsp&nbsp/ 31 / 5 | 203 | 25 | 2 | None | Report |
| #49 | | 18,665,240 | 96.96% | Kuron-kun | 925 | 714&nbsp&nbsp/ 28 / 0 | 208 | 22 | 4 | None | Report |
| #50 | | 18,648,850 | 96.92% | OskaRRRitoS | 935 | 712&nbsp&nbsp/ 33 / 0 | 209 | 21 | 1 | None | Report |