Beatmap Listing » Fear, and Loathing in Las Vegas - Swing It!!
Artist:
Fear, and Loathing in Las Vegas
Circle Size:

Approach Rate:

Title:
Swing It!!
HP Drain:

Star Difficulty:

(5.33)
Creator:
Guy
Accuracy:

Length:
3:38 (3:36 drain)
Source:
Genre:
Rock (Japanese)
BPM:
189
Tags:
phase 2
User Rating:
Success Rate:
Points of Failure:


(graph is accumulative, based on % at fail/retry)

11.2% (44859 of 398865 plays)

Submitted:
Ranked:
Aug 19, 2014
Dec 27, 2014
Rating Spread:

Favourited 359 times in total

Users that love this map: [ C Y ], Mikkuri, Sh4dowMix, yogev0528, Cong Tuan, litoluna, woqx, Rk0, TaMul, Zggf, Pixy_wow, iyasine, Rizia, sapit, stagna, -Hazel, Umberto46, Necojita, CharlieCC, Redivivus and many more!
Options:
Modding / Discussion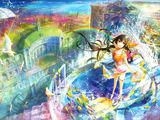 Swing It!!
My

20th

ranked map
\:D/
Easy : done
Normal : done
Hard : done
Insane : done
Extra : done
Yaong Loli is in the lead! ()
Score
50,202,194 (100.00%)
Max Combo
1426
300 / 100 / 50
1041 / 0 / 0
Misses
0
Geki (Elite Beat!)
180
Katu (Beat!)
0
Mods
HD,HR,PF
Top 50 Scoreboard
| | Rank | Score | Accuracy | Player | Max Combo | 300 / 100 / 50 | Geki | Katu | Misses | Mods | |
| --- | --- | --- | --- | --- | --- | --- | --- | --- | --- | --- | --- |
| #1 | | 50,202,194 | 100.00% | Yaong Loli | 1426 | 1041&nbsp&nbsp/ 0 / 0 | 180 | 0 | 0 | HD,HR,PF | Report |
| #2 | | 50,136,961 | 99.87% | B e N i | 1426 | 1039&nbsp&nbsp/ 2 / 0 | 178 | 2 | 0 | HD,HR | Report |
| #3 | | 50,088,964 | 99.81% | Reifos | 1426 | 1038&nbsp&nbsp/ 3 / 0 | 177 | 3 | 0 | HD,HR | Report |
| #4 | | 50,079,806 | 99.84% | Gokuri | 1425 | 1039&nbsp&nbsp/ 1 / 0 | 178 | 1 | 1 | HD,HR | Report |
| #5 | | 49,994,763 | 99.74% | Yaong | 1426 | 1037&nbsp&nbsp/ 4 / 0 | 176 | 4 | 0 | HD,HR | Report |
| #6 | | 49,951,606 | 99.42% | Mercurius | 1426 | 1032&nbsp&nbsp/ 9 / 0 | 171 | 9 | 0 | HD,HR | Report |
| #7 | | 49,942,265 | 99.62% | WubWoofWolf | 1426 | 1035&nbsp&nbsp/ 6 / 0 | 174 | 6 | 0 | HD,HR | Report |
| #8 | | 49,939,571 | 99.23% | My Aim Zogs | 1426 | 1029&nbsp&nbsp/ 12 / 0 | 174 | 6 | 0 | HD,HR | Report |
| #9 | | 49,932,628 | 99.66% | Rohulk | 1426 | 1036&nbsp&nbsp/ 4 / 1 | 177 | 2 | 0 | HD,HR | Report |
| #10 | | 49,923,856 | 99.47% | Beafowl | 1426 | 1033&nbsp&nbsp/ 7 / 1 | 175 | 4 | 0 | HD,HR | Report |
| #11 | | 49,916,700 | 99.62% | Wilchq | 1426 | 1035&nbsp&nbsp/ 6 / 0 | 174 | 6 | 0 | HD,HR | Report |
| #12 | | 49,909,573 | 99.47% | TheKid217 | 1425 | 1033&nbsp&nbsp/ 7 / 1 | 174 | 5 | 0 | HD,HR | Report |
| #13 | | 49,898,944 | 99.42% | Dunois | 1426 | 1032&nbsp&nbsp/ 9 / 0 | 172 | 8 | 0 | HD,HR | Report |
| #14 | | 49,894,235 | 99.42% | HAUHAU | 1426 | 1032&nbsp&nbsp/ 9 / 0 | 172 | 8 | 0 | HD,HR | Report |
| #15 | | 49,888,363 | 99.36% | _RyuK | 1426 | 1031&nbsp&nbsp/ 10 / 0 | 172 | 8 | 0 | HD,HR | Report |
| #16 | | 49,863,552 | 99.42% | _---_ | 1426 | 1032&nbsp&nbsp/ 9 / 0 | 175 | 5 | 0 | HD,HR | Report |
| #17 | | 49,855,790 | 99.55% | -Ekik- | 1425 | 1034&nbsp&nbsp/ 7 / 0 | 174 | 6 | 0 | HD,HR | Report |
| #18 | | 49,848,227 | 99.42% | Kaoru | 1426 | 1032&nbsp&nbsp/ 9 / 0 | 173 | 7 | 0 | HD,HR | Report |
| #19 | | 49,843,941 | 99.34% | Haynoru | 1426 | 1031&nbsp&nbsp/ 9 / 1 | 172 | 7 | 0 | HD,HR | Report |
| #20 | | 49,828,087 | 99.41% | Rucker | 1426 | 1032&nbsp&nbsp/ 8 / 1 | 174 | 5 | 0 | HD,HR | Report |
| #21 | | 49,819,000 | 99.42% | Thunderbolt235 | 1426 | 1032&nbsp&nbsp/ 9 / 0 | 173 | 7 | 0 | HD,HR | Report |
| #22 | | 49,818,569 | 99.23% | -HERO- | 1426 | 1029&nbsp&nbsp/ 12 / 0 | 169 | 11 | 0 | HD,HR | Report |
| #23 | | 49,818,082 | 99.41% | DoKito | 1426 | 1032&nbsp&nbsp/ 8 / 1 | 175 | 4 | 0 | HD,HR | Report |
| #24 | | 49,802,745 | 99.47% | ReaL motion | 1426 | 1033&nbsp&nbsp/ 7 / 1 | 174 | 5 | 0 | HD,HR | Report |
| #25 | | 49,802,178 | 99.42% | YuyuKo sama | 1424 | 1032&nbsp&nbsp/ 9 / 0 | 171 | 9 | 0 | HD,HR | Report |
| #26 | | 49,781,479 | 99.17% | Jup3KW | 1426 | 1028&nbsp&nbsp/ 13 / 0 | 173 | 7 | 0 | HD,HR | Report |
| #27 | | 49,774,063 | 99.30% | Bupper | 1426 | 1030&nbsp&nbsp/ 11 / 0 | 171 | 9 | 0 | HD,HR | Report |
| #28 | | 49,767,631 | 99.36% | Recia | 1426 | 1031&nbsp&nbsp/ 10 / 0 | 171 | 9 | 0 | HD,HR | Report |
| #29 | | 49,764,347 | 99.23% | Ayane | 1424 | 1029&nbsp&nbsp/ 12 / 0 | 171 | 9 | 0 | HD,HR | Report |
| #30 | | 49,753,974 | 99.17% | kazamabc | 1426 | 1028&nbsp&nbsp/ 13 / 0 | 169 | 11 | 0 | HD,HR | Report |
| #31 | | 49,753,250 | 98.91% | Tyguyy | 1426 | 1024&nbsp&nbsp/ 17 / 0 | 166 | 14 | 0 | HD,HR | Report |
| #32 | | 49,712,093 | 99.18% | Freezei | 1426 | 1029&nbsp&nbsp/ 9 / 3 | 169 | 8 | 0 | HD,HR | Report |
| #33 | | 49,699,804 | 99.10% | Emperorpenguin83 | 1426 | 1027&nbsp&nbsp/ 14 / 0 | 170 | 10 | 0 | HD,HR | Report |
| #34 | | 49,681,306 | 99.14% | Maffe | 1425 | 1028&nbsp&nbsp/ 12 / 0 | 170 | 9 | 1 | HD,HR | Report |
| #35 | | 49,681,025 | 99.04% | Koba | 1426 | 1026&nbsp&nbsp/ 15 / 0 | 173 | 7 | 0 | HD,HR | Report |
| #36 | | 49,674,104 | 98.78% | elchxyrlia | 1426 | 1022&nbsp&nbsp/ 19 / 0 | 165 | 15 | 0 | HD,HR | Report |
| #37 | | 49,672,659 | 98.85% | Yumeko | 1426 | 1023&nbsp&nbsp/ 18 / 0 | 170 | 10 | 0 | HD,HR | Report |
| #38 | | 49,666,193 | 99.04% | Constelletion | 1426 | 1026&nbsp&nbsp/ 15 / 0 | 171 | 9 | 0 | HD,HR | Report |
| #39 | | 49,653,294 | 99.04% | Satoruu | 1426 | 1026&nbsp&nbsp/ 15 / 0 | 165 | 15 | 0 | HD,HR | Report |
| #40 | | 49,637,904 | 98.98% | Fenrir | 1426 | 1025&nbsp&nbsp/ 16 / 0 | 166 | 14 | 0 | HD,HR | Report |
| #41 | | 49,631,769 | 98.75% | Spazza17 | 1425 | 1022&nbsp&nbsp/ 17 / 2 | 164 | 14 | 0 | HD,HR | Report |
| #42 | | 49,625,592 | 98.91% | 21_sucks | 1426 | 1024&nbsp&nbsp/ 17 / 0 | 166 | 14 | 0 | HD,HR | Report |
| #43 | | 49,620,601 | 98.83% | Firstus | 1426 | 1023&nbsp&nbsp/ 17 / 1 | 169 | 10 | 0 | HD,HR | Report |
| #44 | | 49,603,751 | 99.14% | GHAngeloid | 1424 | 1028&nbsp&nbsp/ 12 / 0 | 170 | 9 | 1 | HD,HR | Report |
| #45 | | 49,602,312 | 98.91% | shortpotato | 1426 | 1024&nbsp&nbsp/ 17 / 0 | 168 | 12 | 0 | HD,HR | Report |
| #46 | | 49,584,747 | 98.98% | 1E308 | 1426 | 1025&nbsp&nbsp/ 16 / 0 | 169 | 11 | 0 | HD,HR | Report |
| #47 | | 49,539,186 | 98.91% | muchy | 1426 | 1024&nbsp&nbsp/ 17 / 0 | 169 | 11 | 0 | HD,HR | Report |
| #48 | | 49,531,227 | 99.04% | xasuma | 1426 | 1026&nbsp&nbsp/ 15 / 0 | 170 | 10 | 0 | HD,HR | Report |
| #49 | | 49,521,129 | 98.46% | Zodiaack | 1425 | 1017&nbsp&nbsp/ 24 / 0 | 164 | 16 | 0 | HD,HR | Report |
| #50 | | 49,481,151 | 98.88% | [ DANIEZ ] | 1425 | 1024&nbsp&nbsp/ 16 / 0 | 167 | 12 | 1 | HD,HR | Report |