Beatmap Listing » Demetori - Plastic Mind ~ Alice in Underground
Artist:
Demetori
Circle Size:

Approach Rate:

Title:
Plastic Mind ~ Alice in Underground
HP Drain:

Star Difficulty:

(5.64)
Creator:
GoldenWolf
Accuracy:

Length:
6:16 (6:15 drain)
Source:
東方怪綺談 ~ Mystic Square
Genre:
Video Game (Instrumental)
BPM:
130
Tags:
alice margatroid begierde des zauberer progressive metal c81 zun woof
User Rating:
Success Rate:
Points of Failure:


(graph is accumulative, based on % at fail/retry)

3.1% (3697 of 119934 plays)

Submitted:
Ranked:
Jul 15, 2014
Jan 19, 2017
Rating Spread:

Favourited 104 times in total

Users that love this map: Kite, tuiI, Rayne36, Shinatose Izana, amanami, ConSeR, CalamitySKS, Napat Jung, lolimelon, Hihara_Kazuki, Jakesoly, bluxen, Aen Elle, Nanael-sama, chainpullz, Fizim, n9011, roju, aqua16651, Rabb and many more!
Options:
Modding / Discussion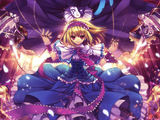 ☆DE★ME☆TO★RI☆
Contains lots of 1/6s and some

1/8s

, the latter are red colored, so don't ignore combo colors if you have trouble reading them, as it might help you.
Since the bpm is 130, 1/6s are the equivalent of 195bpm streams, and 1/8s 260bpm streams.
There is a mildly long 1/8 stream at the end (2x 5 circles), you've been warned.
Cookiezi is in the lead! ()
Score
195,422,687 (98.69%)
Max Combo
2984
300 / 100 / 50
2050 / 41 / 0
Misses
0
Geki (Elite Beat!)
269
Katu (Beat!)
20
Mods
HD
Top 50 Scoreboard
| | Rank | Score | Accuracy | Player | Max Combo | 300 / 100 / 50 | Geki | Katu | Misses | Mods | |
| --- | --- | --- | --- | --- | --- | --- | --- | --- | --- | --- | --- |
| #1 | | 195,422,687 | 98.69% | Cookiezi | 2984 | 2050&nbsp&nbsp/ 41 / 0 | 269 | 20 | 0 | HD | Report |
| #2 | | 191,814,330 | 97.38% | pyon | 2983 | 2010&nbsp&nbsp/ 77 / 3 | 254 | 33 | 1 | HD | Report |
| #3 | | 183,214,930 | 96.62% | -GN | 2928 | 1987&nbsp&nbsp/ 100 / 0 | 233 | 53 | 4 | HD | Report |
| #4 | | 182,063,770 | 97.93% | Toy | 2983 | 2026&nbsp&nbsp/ 65 / 0 | 260 | 29 | 0 | None | Report |
| #5 | | 182,020,020 | 97.90% | Pring | 2984 | 2025&nbsp&nbsp/ 66 / 0 | 259 | 30 | 0 | None | Report |
| #6 | | 181,553,030 | 97.70% | -Trigger | 2983 | 2019&nbsp&nbsp/ 72 / 0 | 252 | 37 | 0 | None | Report |
| #7 | | 179,706,130 | 96.47% | NeoAxel | 2983 | 1981&nbsp&nbsp/ 107 / 3 | 242 | 45 | 0 | None | Report |
| #8 | | 178,817,920 | 96.07% | Doomsday | 2979 | 1968&nbsp&nbsp/ 122 / 1 | 222 | 66 | 0 | None | Report |
| #9 | | 174,400,700 | 93.54% | Pray | 2977 | 1889&nbsp&nbsp/ 200 / 2 | 198 | 89 | 0 | None | Report |
| #10 | | 174,287,040 | 96.70% | Markden | 2929 | 1989&nbsp&nbsp/ 97 / 4 | 233 | 53 | 1 | None | Report |
| #11 | | 172,766,140 | 91.95% | Tank A13 | 2981 | 1840&nbsp&nbsp/ 245 / 6 | 182 | 101 | 0 | None | Report |
| #12 | | 168,780,020 | 98.60% | Jameslike | 2867 | 2047&nbsp&nbsp/ 44 / 0 | 264 | 25 | 0 | None | Report |
| #13 | | 166,417,000 | 97.42% | Sheba | 2864 | 2010&nbsp&nbsp/ 81 / 0 | 241 | 48 | 0 | None | Report |
| #14 | | 163,053,810 | 96.08% | Tetla | 2861 | 1968&nbsp&nbsp/ 123 / 0 | 240 | 49 | 0 | None | Report |
| #15 | | 157,686,240 | 96.59% | follon | 2789 | 1984&nbsp&nbsp/ 107 / 0 | 233 | 56 | 0 | None | Report |
| #16 | | 155,234,850 | 97.47% | ima | 2755 | 2014&nbsp&nbsp/ 70 / 5 | 255 | 29 | 2 | None | Report |
| #17 | | 150,237,908 | 96.73% | Rohulk | 2553 | 1990&nbsp&nbsp/ 98 / 0 | 231 | 56 | 3 | HD,HR | Report |
| #18 | | 141,417,000 | 95.98% | Gomo Pslvarh | 2634 | 1966&nbsp&nbsp/ 121 / 4 | 244 | 42 | 0 | None | Report |
| #19 | | 138,662,790 | 96.42% | Maiaz | 2608 | 1981&nbsp&nbsp/ 103 / 5 | 233 | 51 | 2 | None | Report |
| #20 | | 137,088,290 | 95.66% | Cappy | 2613 | 1956&nbsp&nbsp/ 132 / 2 | 219 | 67 | 1 | None | Report |
| #21 | | 135,817,200 | 95.13% | Josh123uaJ | 2594 | 1942&nbsp&nbsp/ 140 / 3 | 210 | 73 | 6 | None | Report |
| #22 | | 130,384,600 | 96.86% | iok144 | 2516 | 1994&nbsp&nbsp/ 94 / 0 | 234 | 52 | 3 | None | Report |
| #23 | | 130,326,770 | 92.32% | WWWWWWWWWWWWOWO | 2584 | 1857&nbsp&nbsp/ 209 / 22 | 194 | 81 | 3 | None | Report |
| #24 | | 126,794,700 | 96.51% | a12456 | 2488 | 1983&nbsp&nbsp/ 104 / 2 | 230 | 55 | 2 | None | Report |
| #25 | | 123,928,430 | 94.24% | Ceptin | 2449 | 1913&nbsp&nbsp/ 170 / 5 | 213 | 70 | 3 | None | Report |
| #26 | | 123,248,110 | 94.79% | NerO | 2439 | 1933&nbsp&nbsp/ 139 / 16 | 216 | 61 | 3 | None | Report |
| #27 | | 118,106,030 | 90.41% | Prophet | 2480 | 1795&nbsp&nbsp/ 279 / 15 | 160 | 115 | 2 | None | Report |
| #28 | | 116,816,890 | 97.62% | Sadness | 2335 | 2018&nbsp&nbsp/ 69 / 1 | 242 | 43 | 3 | None | Report |
| #29 | | 114,622,494 | 94.91% | Adamqs | 2103 | 1935&nbsp&nbsp/ 144 / 9 | 227 | 57 | 3 | HD,HR | Report |
| #30 | | 110,235,340 | 96.10% | AAA | 2218 | 1972&nbsp&nbsp/ 108 / 9 | 227 | 55 | 2 | None | Report |
| #31 | | 106,544,690 | 94.08% | Chiu | 2304 | 1908&nbsp&nbsp/ 176 / 3 | 217 | 67 | 4 | None | Report |
| #32 | | 103,551,780 | 94.65% | DJ BJ | 2247 | 1927&nbsp&nbsp/ 156 / 1 | 199 | 82 | 7 | None | Report |
| #33 | | 102,633,910 | 98.13% | Bubbleman | 2014 | 2033&nbsp&nbsp/ 57 / 0 | 264 | 24 | 1 | None | Report |
| #34 | | 101,233,903 | 95.23% | Cappu | 2159 | 1949&nbsp&nbsp/ 121 / 12 | 221 | 54 | 9 | HD | Report |
| #35 | | 92,502,320 | 94.63% | Aden | 1981 | 1925&nbsp&nbsp/ 161 / 0 | 222 | 63 | 5 | None | Report |
| #36 | | 90,997,940 | 96.58% | waywern2012 | 1784 | 1985&nbsp&nbsp/ 103 / 1 | 243 | 43 | 2 | None | Report |
| #37 | | 88,302,780 | 98.72% | Ekoro | 2919 | 2053&nbsp&nbsp/ 33 / 1 | 266 | 21 | 4 | EZ | Report |
| #38 | | 86,921,100 | 95.82% | GiraffekNuL | 1976 | 1964&nbsp&nbsp/ 118 / 1 | 224 | 58 | 8 | None | Report |
| #39 | | 86,608,040 | 96.51% | Mu_ | 1991 | 1987&nbsp&nbsp/ 89 / 8 | 231 | 53 | 7 | None | Report |
| #40 | | 85,712,710 | 96.90% | TheKid217 | 1993 | 1996&nbsp&nbsp/ 89 / 3 | 237 | 46 | 3 | None | Report |
| #41 | | 84,717,570 | 97.10% | Yazone | 1716 | 2001&nbsp&nbsp/ 87 / 2 | 243 | 43 | 1 | None | Report |
| #42 | | 84,213,310 | 96.29% | DuNai | 1928 | 1978&nbsp&nbsp/ 103 / 6 | 242 | 42 | 4 | None | Report |
| #43 | | 83,531,580 | 93.43% | Rexeez | 1969 | 1889&nbsp&nbsp/ 193 / 2 | 209 | 74 | 7 | None | Report |
| #44 | | 82,521,870 | 95.35% | Ted | 1865 | 1949&nbsp&nbsp/ 132 / 5 | 218 | 64 | 5 | None | Report |
| #45 | | 82,313,850 | 86.82% | SpellZZZ | 2103 | 1687&nbsp&nbsp/ 376 / 18 | 127 | 138 | 10 | None | Report |
| #46 | | 82,008,860 | 94.15% | Hellotomlol225 | 1843 | 1914&nbsp&nbsp/ 159 / 10 | 205 | 76 | 8 | HD | Report |
| #47 | | 81,810,900 | 92.49% | Kaori Nakaseko | 1903 | 1860&nbsp&nbsp/ 216 / 12 | 221 | 56 | 3 | None | Report |
| #48 | | 80,983,250 | 93.57% | Kulezi | 1956 | 1897&nbsp&nbsp/ 170 / 17 | 230 | 51 | 7 | None | Report |
| #49 | | 80,359,381 | 95.42% | he rack | 1822 | 1951&nbsp&nbsp/ 129 / 7 | 220 | 61 | 4 | HD | Report |
| #50 | | 79,515,843 | 92.19% | Tiny Hippo | 1819 | 1851&nbsp&nbsp/ 228 / 4 | 185 | 96 | 8 | HD | Report |