Beatmap Listing » Nico Nico Douga - U.N. Owen Was Her?
Artist:
Nico Nico Douga
Circle Size:

Approach Rate:

Title:
U.N. Owen Was Her?
HP Drain:

Star Difficulty:

(4.94)
Creator:
Reikin
Accuracy:

Length:
5:14 (4:46 drain)
Source:
Genre:
Novelty (Japanese)
BPM:
155
Tags:
Ronald McDonald McRoll
User Rating:
Success Rate:
Points of Failure:


(graph is accumulative, based on % at fail/retry)

11.5% (695958 of 6049055 plays)

Submitted:
Ranked:
Jun 23, 2008
Oct 29, 2008
Rating Spread:

Favourited 1727 times in total

Users that love this map: ShokuMasterLord, outerlimit10, Elec, Gamesrock22, wwftherocksp, joe1256joe, himhim2000, matusiek3, MennyRuS, kailan121, amicalman, axel1456, q373406626, fadingxXxshadow, alitoxic, backtomush, assignatura, menardi, bheforlife, ChivasRegal and many more!
Options:
Modding / Discussion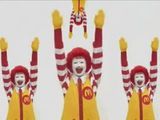 A Touhou song, placed over the Japanese Ronald McDonald, and you get what is seen and heard here.
This was already mapped by Lolginer, but I didn't like the way he mapped it, so I decided to take a shot at it. It seems buraimaster1234 has tried as well (haven't seen it yet though). Cheers to Lolginer for the video and mp3.
Video fixed!
ExGon is in the lead! ()
Score
58,504,655 (98.76%)
Max Combo
1632
300 / 100 / 50
1211 / 23 / 0
Misses
0
Geki (Elite Beat!)
229
Katu (Beat!)
15
Mods
HD,FL
Top 50 Scoreboard
| | Rank | Score | Accuracy | Player | Max Combo | 300 / 100 / 50 | Geki | Katu | Misses | Mods | |
| --- | --- | --- | --- | --- | --- | --- | --- | --- | --- | --- | --- |
| #1 | | 58,504,655 | 98.76% | ExGon | 1632 | 1211&nbsp&nbsp/ 23 / 0 | 229 | 15 | 0 | HD,FL | Report |
| #2 | | 56,340,101 | 95.61% | BinJip | 1633 | 1153&nbsp&nbsp/ 80 / 1 | 208 | 36 | 0 | HD,FL | Report |
| #3 | | 55,596,431 | 97.72% | WubWoofWolf | 1633 | 1192&nbsp&nbsp/ 41 / 1 | 213 | 30 | 0 | HD,HR | Report |
| #4 | | 55,155,428 | 97.23% | Niz | 1632 | 1183&nbsp&nbsp/ 50 / 1 | 207 | 36 | 0 | FL | Report |
| #5 | | 53,798,237 | 94.10% | Kumagai Eri | 1629 | 1125&nbsp&nbsp/ 108 / 1 | 187 | 56 | 0 | HD,HR | Report |
| #6 | | 52,506,744 | 92.03% | Rucker | 1629 | 1087&nbsp&nbsp/ 145 / 2 | 171 | 72 | 0 | HD,HR | Report |
| #7 | | 52,432,625 | 98.60% | Woey | 1633 | 1208&nbsp&nbsp/ 26 / 0 | 223 | 21 | 0 | HD | Report |
| #8 | | 52,363,664 | 97.72% | ShaggoN | 1632 | 1192&nbsp&nbsp/ 41 / 1 | 222 | 22 | 0 | HD | Report |
| #9 | | 52,228,660 | 97.58% | pyon | 1632 | 1190&nbsp&nbsp/ 41 / 3 | 222 | 20 | 0 | HD | Report |
| #10 | | 52,179,563 | 97.68% | little Agile | 1632 | 1191&nbsp&nbsp/ 43 / 0 | 215 | 29 | 0 | HD | Report |
| #11 | | 52,113,420 | 92.71% | [Ryu] | 1631 | 1100&nbsp&nbsp/ 130 / 4 | 172 | 69 | 0 | FL | Report |
| #12 | | 52,027,533 | 97.99% | rustbell | 1633 | 1197&nbsp&nbsp/ 36 / 1 | 216 | 28 | 0 | HD | Report |
| #13 | | 52,020,302 | 97.62% | Restia | 1633 | 1190&nbsp&nbsp/ 44 / 0 | 213 | 31 | 0 | HD | Report |
| #14 | | 51,961,039 | 96.37% | thinking | 1633 | 1167&nbsp&nbsp/ 66 / 1 | 212 | 31 | 0 | HD | Report |
| #15 | | 51,856,390 | 96.31% | Aikyuu-Chan | 1631 | 1166&nbsp&nbsp/ 67 / 1 | 214 | 29 | 0 | HD | Report |
| #16 | | 51,834,602 | 94.79% | Forseen | 1627 | 1142&nbsp&nbsp/ 76 / 14 | 196 | 40 | 2 | FL | Report |
| #17 | | 51,668,005 | 97.12% | Juno450 | 1633 | 1181&nbsp&nbsp/ 52 / 1 | 212 | 31 | 0 | HD | Report |
| #18 | | 51,472,273 | 96.06% | wobeinimacao | 1633 | 1161&nbsp&nbsp/ 73 / 0 | 195 | 50 | 0 | HR | Report |
| #19 | | 51,027,614 | 96.04% | 5231_Kinoko | 1632 | 1161&nbsp&nbsp/ 72 / 1 | 206 | 38 | 0 | HD,SD | Report |
| #20 | | 50,593,981 | 96.30% | Mismagius | 1632 | 1167&nbsp&nbsp/ 61 / 6 | 198 | 40 | 0 | HD | Report |
| #21 | | 49,761,160 | 98.37% | crippletoytl | 1632 | 1204&nbsp&nbsp/ 29 / 1 | 226 | 17 | 0 | None | Report |
| #22 | | 49,614,644 | 98.27% | Sora | 1633 | 1202&nbsp&nbsp/ 32 / 0 | 224 | 21 | 0 | None | Report |
| #23 | | 49,593,348 | 98.11% | Shimox | 1633 | 1199&nbsp&nbsp/ 35 / 0 | 221 | 23 | 0 | None | Report |
| #24 | | 49,593,044 | 98.24% | Okinotori | 1633 | 1202&nbsp&nbsp/ 30 / 2 | 226 | 17 | 0 | None | Report |
| #25 | | 49,588,940 | 98.11% | Serena | 1633 | 1199&nbsp&nbsp/ 35 / 0 | 230 | 14 | 0 | None | Report |
| #26 | | 49,550,692 | 99.11% | serea | 1627 | 1218&nbsp&nbsp/ 15 / 0 | 232 | 12 | 1 | None | Report |
| #27 | | 49,544,458 | 98.54% | Remilia-Scarlet | 1630 | 1207&nbsp&nbsp/ 27 / 0 | 224 | 21 | 0 | None | Report |
| #28 | | 49,524,260 | 98.65% | himuy3 | 1633 | 1209&nbsp&nbsp/ 25 / 0 | 226 | 18 | 0 | None | Report |
| #29 | | 49,501,332 | 93.21% | iPhong1999 | 1633 | 1110&nbsp&nbsp/ 117 / 7 | 182 | 56 | 0 | HD | Report |
| #30 | | 49,479,308 | 96.92% | YuyuKo sama | 1633 | 1177&nbsp&nbsp/ 57 / 0 | 216 | 29 | 0 | None | Report |
| #31 | | 49,341,618 | 97.14% | Gomo Pslvarh | 1632 | 1182&nbsp&nbsp/ 48 / 4 | 223 | 18 | 0 | None | Report |
| #32 | | 49,334,790 | 98.72% | [ Lukita ] | 1631 | 1211&nbsp&nbsp/ 20 / 3 | 226 | 15 | 0 | None | Report |
| #33 | | 49,228,468 | 96.92% | K i w i | 1633 | 1177&nbsp&nbsp/ 57 / 0 | 219 | 25 | 0 | None | Report |
| #34 | | 49,203,946 | 97.23% | B e N i | 1633 | 1183&nbsp&nbsp/ 50 / 1 | 213 | 30 | 0 | None | Report |
| #35 | | 49,186,764 | 96.97% | Mijn Aim Zuigt | 1633 | 1178&nbsp&nbsp/ 56 / 0 | 220 | 24 | 0 | None | Report |
| #36 | | 49,120,774 | 96.53% | geckogates | 1633 | 1170&nbsp&nbsp/ 63 / 1 | 205 | 38 | 0 | None | Report |
| #37 | | 49,110,634 | 97.49% | GGBY | 1632 | 1188&nbsp&nbsp/ 44 / 2 | 214 | 29 | 0 | None | Report |
| #38 | | 49,107,786 | 97.68% | MatsumotoRise | 1630 | 1192&nbsp&nbsp/ 38 / 4 | 219 | 23 | 0 | None | Report |
| #39 | | 49,100,880 | 96.64% | bytysek | 1632 | 1172&nbsp&nbsp/ 61 / 1 | 214 | 29 | 0 | None | Report |
| #40 | | 49,085,686 | 97.45% | Black Sheep | 1633 | 1187&nbsp&nbsp/ 46 / 1 | 213 | 30 | 0 | None | Report |
| #41 | | 49,065,116 | 97.14% | N a n o | 1629 | 1181&nbsp&nbsp/ 53 / 0 | 214 | 31 | 0 | None | Report |
| #42 | | 49,014,720 | 97.51% | Emik | 1633 | 1188&nbsp&nbsp/ 46 / 0 | 210 | 34 | 0 | None | Report |
| #43 | | 49,009,814 | 92.37% | TemaZpro | 1631 | 1093&nbsp&nbsp/ 140 / 1 | 175 | 68 | 0 | HR | Report |
| #44 | | 49,003,192 | 96.92% | Yuleiyu | 1633 | 1177&nbsp&nbsp/ 57 / 0 | 209 | 36 | 0 | None | Report |
| #45 | | 48,991,672 | 95.58% | 0203okaT | 1632 | 1153&nbsp&nbsp/ 78 / 3 | 209 | 32 | 0 | None | Report |
| #46 | | 48,991,186 | 96.14% | Reclude | 1632 | 1164&nbsp&nbsp/ 64 / 6 | 212 | 30 | 0 | None | Report |
| #47 | | 48,977,568 | 96.49% | DrakRainbow | 1633 | 1169&nbsp&nbsp/ 65 / 0 | 204 | 40 | 0 | None | Report |
| #48 | | 48,902,608 | 97.08% | mayosiiiiii | 1633 | 1180&nbsp&nbsp/ 54 / 0 | 211 | 34 | 0 | None | Report |
| #49 | | 48,879,132 | 97.78% | FunOrange | 1633 | 1193&nbsp&nbsp/ 41 / 0 | 216 | 28 | 0 | None | Report |
| #50 | | 48,875,416 | 95.87% | Derekku | 1633 | 1158&nbsp&nbsp/ 74 / 2 | 206 | 36 | 0 | None | Report |