Native Construct
Made from the collaborative experimentation of a bunch of freshmen from the Berklee College of Music in Boston, Massachusetts during 2011, Native Construct burst onto the scene with explosive popularity in 2015 with their debut album, Quiet World via Metal Blade Records. Since then, they have toured across North America, making appearances at ProgPower USA XVI and numerous other US and Canada oriented tours. They have since settled into an indefinite hiatus, but the legacy of their work and sound remains enduring among the prog metal scene.
Their sole work and release Quiet World encompasses a conceptual narrative involving a world built upon rejection and silence, interweaving storytelling elements from other mediums into an theatrical experience rarely encountered in modern music, a distinct feature that the band came to be renowned for during the blaze of their fame.
Drawing crowds with their unique blend of a multitude of musical styles and instrumentation, Native Construct's sound is a mosaic medley of interwoven influences, drawing inspiration from countless genres to create something wholly new and engaging. Mappers interested in traversing a broad range of genres within a single track with more longform creations will find no shortage of conceptual tracks to set their creativity loose within.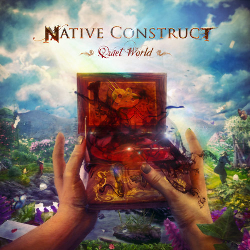 Quiet World