Beatmap Listing » Silver Forest - Marisa Spark
Artist:
Silver Forest
Circle Size:

Approach Rate:

Title:
Marisa Spark
HP Drain:

Star Difficulty:

(1.29)
Creator:
Alice Margatroid
Accuracy:

Length:
0:22 (0:20 drain)
Source:
Touhou Soutenka
Genre:
Video Game (Japanese)
BPM:
168
Tags:
imperishable night kirisame nyo
User Rating:
Success Rate:
Points of Failure:


(graph is accumulative, based on % at fail/retry)

64.4% (134046 of 208062 plays)

Submitted:
Ranked:
Aug 1, 2009
Oct 19, 2009
Rating Spread:

Favourited 103 times in total

Users that love this map: Danton, DarkCenobyte, Akiya, Verdgilion, Khsellhu, kija16, Ghkwkdtlf, Tonoko, alsrl7503, Silvertoad99, xHigurashiSophieChix, Guilletop, nodata, mogolloelectronics, newzion, Alightning-Fire, Solidsk13, darky_ivy, meidcho, JesseFair and many more!
Options:
Modding / Discussion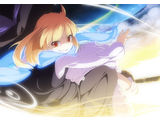 Hi.
Here's a lovely but (very) short song by Silver Forest. Hope you'll like it.
09/11 : Added storyboarded translated lyrics, thanks a lot to
Inozuma
who storyboarded them <33!
Update list
(thanks A LOT to people who took a look, modded or/and starred this map!)
collapsed text
07/31 Followed James2250's advices
08/01 Followed tieff's advices
08/16 Followed Mafiamaster's advices.
08/17 Followed minyeob's advices
08/18 Followed Breeze's advices
08/20 Followed Yes' advices
08/21 Followed bmin11's advices
08/21 Followed Inozuma's advices
08/22 Followed Mystearica's advices
08/24 Followed Inozuma's advices again
08/28 Followed SteRRuM's advices
08/29 Followed Alace's advices
08/29 Changed Hard's name. (thanks tieff)
09/03 Followed whymeman's advices.
09/04 Followed roxkyuubiforever's advices.
09/04 Added hard. Set previous harder diff to [Lunatic].
09/08 Fixed/changed somethings in normal, hard and lunatic. (own decisions)
09/08 Followed Bassmaster's spacing fixes on [Hard]
09/09 (lolwut) Followed xxheroxx's suggestions (slider shape, [Normal])
09/22 Followed Gabi's advice
09/22 Followed Larto's advices
09/26 Followed peppy's advices
09/28 Thanks to kino77 let me see there was a small spacing error on normal.
10/2 Modified Lunatic.
10/11 Followed Sushi971's advices on easy&normal. <3
10/16 Followed jamesleao's advice on normal.
10/17 Changed normal to get it way easier (under lots of people's request, principally under Gens's advice.)
10/17 Followed JarJarJacob's advices on normal's new combo.
BeMoNcHiK is in the lead! ()
Score
67,730 (100.00%)
Max Combo
71
300 / 100 / 50
23 / 0 / 0
Misses
0
Geki (Elite Beat!)
8
Katu (Beat!)
0
Mods
HD,NC,FL
Top 50 Scoreboard
| | Rank | Score | Accuracy | Player | Max Combo | 300 / 100 / 50 | Geki | Katu | Misses | Mods | |
| --- | --- | --- | --- | --- | --- | --- | --- | --- | --- | --- | --- |
| #1 | | 67,730 | 100.00% | BeMoNcHiK | 71 | 23&nbsp&nbsp/ 0 / 0 | 8 | 0 | 0 | HD,NC,FL | Report |
| #2 | | 67,730 | 100.00% | ExGon | 71 | 23&nbsp&nbsp/ 0 / 0 | 8 | 0 | 0 | HD,NC,FL | Report |
| #3 | | 67,730 | 100.00% | ZaVx03 | 71 | 23&nbsp&nbsp/ 0 / 0 | 8 | 0 | 0 | HD,NC,FL | Report |
| #4 | | 67,630 | 100.00% | Pinkie Pi | 71 | 23&nbsp&nbsp/ 0 / 0 | 8 | 0 | 0 | HD,DT,FL | Report |
| #5 | | 67,630 | 100.00% | [-Griffin-] | 71 | 23&nbsp&nbsp/ 0 / 0 | 8 | 0 | 0 | HD,NC,FL | Report |
| #6 | | 67,530 | 100.00% | lncognito | 71 | 23&nbsp&nbsp/ 0 / 0 | 8 | 0 | 0 | HD,DT,FL | Report |
| #7 | | 67,530 | 100.00% | Kadae | 71 | 23&nbsp&nbsp/ 0 / 0 | 8 | 0 | 0 | HD,NC,FL | Report |
| #8 | | 67,530 | 100.00% | [Ash] | 71 | 23&nbsp&nbsp/ 0 / 0 | 8 | 0 | 0 | HD,DT,FL | Report |
| #9 | | 67,530 | 100.00% | Furizu | 71 | 23&nbsp&nbsp/ 0 / 0 | 8 | 0 | 0 | HD,DT,FL | Report |
| #10 | | 67,530 | 100.00% | TGR_94 | 71 | 23&nbsp&nbsp/ 0 / 0 | 8 | 0 | 0 | HD,NC,FL,PF | Report |
| #11 | | 66,430 | 100.00% | Snowy Dream | 71 | 23&nbsp&nbsp/ 0 / 0 | 8 | 0 | 0 | HD,DT,FL,PF | Report |
| #12 | | 66,430 | 100.00% | Maikeru-kun | 71 | 23&nbsp&nbsp/ 0 / 0 | 8 | 0 | 0 | HD,DT,FL | Report |
| #13 | | 66,430 | 100.00% | Jatie | 71 | 23&nbsp&nbsp/ 0 / 0 | 8 | 0 | 0 | HD,DT,FL | Report |
| #14 | | 66,330 | 100.00% | chicken_10 | 71 | 23&nbsp&nbsp/ 0 / 0 | 8 | 0 | 0 | HD,NC,FL | Report |
| #15 | | 66,330 | 100.00% | eralfehT | 71 | 23&nbsp&nbsp/ 0 / 0 | 8 | 0 | 0 | HD,DT,FL | Report |
| #16 | | 66,119 | 100.00% | khs0828 | 71 | 23&nbsp&nbsp/ 0 / 0 | 8 | 0 | 0 | DT,FL | Report |
| #17 | | 65,964 | 100.00% | wsp456123789 | 71 | 23&nbsp&nbsp/ 0 / 0 | 8 | 0 | 0 | HD,FL | Report |
| #18 | | 65,639 | 100.00% | zelda_lin_k | 71 | 23&nbsp&nbsp/ 0 / 0 | 8 | 0 | 0 | HD,HR,DT,FL,SD | Report |
| #19 | | 65,230 | 100.00% | Wilken-nyan | 71 | 23&nbsp&nbsp/ 0 / 0 | 8 | 0 | 0 | HD,DT,FL | Report |
| #20 | | 65,230 | 100.00% | Dovydas | 71 | 23&nbsp&nbsp/ 0 / 0 | 8 | 0 | 0 | HD,NC,FL | Report |
| #21 | | 65,230 | 100.00% | TheShadowOfDark | 71 | 23&nbsp&nbsp/ 0 / 0 | 8 | 0 | 0 | HD,DT,FL | Report |
| #22 | | 65,186 | 97.10% | nub | 71 | 22&nbsp&nbsp/ 1 / 0 | 7 | 1 | 0 | HD,HR,DT,FL | Report |
| #23 | | 65,130 | 100.00% | K-2 | 71 | 23&nbsp&nbsp/ 0 / 0 | 8 | 0 | 0 | HD,DT,FL | Report |
| #24 | | 65,130 | 100.00% | Dagresha | 71 | 23&nbsp&nbsp/ 0 / 0 | 8 | 0 | 0 | HD,DT,FL | Report |
| #25 | | 65,130 | 100.00% | Rickolo | 71 | 23&nbsp&nbsp/ 0 / 0 | 8 | 0 | 0 | HD,DT,FL | Report |
| #26 | | 64,954 | 97.10% | MatsuoKaito | 71 | 22&nbsp&nbsp/ 1 / 0 | 7 | 1 | 0 | HD,DT,FL | Report |
| #27 | | 64,819 | 100.00% | Kensei Akio | 71 | 23&nbsp&nbsp/ 0 / 0 | 8 | 0 | 0 | DT,FL | Report |
| #28 | | 64,539 | 100.00% | BreakerAlphani | 71 | 23&nbsp&nbsp/ 0 / 0 | 8 | 0 | 0 | HD,HR,DT,FL | Report |
| #29 | | 64,539 | 100.00% | Cayman | 71 | 23&nbsp&nbsp/ 0 / 0 | 8 | 0 | 0 | HD,HR,DT,FL | Report |
| #30 | | 64,130 | 100.00% | Accuse | 71 | 23&nbsp&nbsp/ 0 / 0 | 8 | 0 | 0 | HD,NC,FL | Report |
| #31 | | 64,030 | 100.00% | SASADUKA | 71 | 23&nbsp&nbsp/ 0 / 0 | 8 | 0 | 0 | HD,DT,FL | Report |
| #32 | | 64,030 | 100.00% | -[ Chiya ]- | 71 | 23&nbsp&nbsp/ 0 / 0 | 8 | 0 | 0 | HD,DT,FL | Report |
| #33 | | 64,030 | 100.00% | hent2222 | 71 | 23&nbsp&nbsp/ 0 / 0 | 8 | 0 | 0 | HD,DT,FL | Report |
| #34 | | 64,030 | 100.00% | joker820 | 71 | 23&nbsp&nbsp/ 0 / 0 | 8 | 0 | 0 | HD,DT,FL | Report |
| #35 | | 63,930 | 100.00% | RtUiShKa | 71 | 23&nbsp&nbsp/ 0 / 0 | 8 | 0 | 0 | HD,NC,FL | Report |
| #36 | | 63,747 | 96.38% | Frustrated Nips | 71 | 22&nbsp&nbsp/ 0 / 1 | 7 | 0 | 0 | HD,DT,FL | Report |
| #37 | | 63,698 | 100.00% | glen0130 | 71 | 23&nbsp&nbsp/ 0 / 0 | 8 | 0 | 0 | HD,HR,DT,PF | Report |
| #38 | | 63,439 | 100.00% | oPOTATOo | 71 | 23&nbsp&nbsp/ 0 / 0 | 8 | 0 | 0 | HD,HR,DT,FL,SD | Report |
| #39 | | 63,126 | 97.10% | kampfer77 | 71 | 22&nbsp&nbsp/ 1 / 0 | 7 | 1 | 0 | HD,HR,DT,FL | Report |
| #40 | | 62,930 | 100.00% | lost man | 71 | 23&nbsp&nbsp/ 0 / 0 | 8 | 0 | 0 | HD,DT,FL | Report |
| #41 | | 62,930 | 100.00% | necoolapower | 71 | 23&nbsp&nbsp/ 0 / 0 | 8 | 0 | 0 | HR,DT,FL | Report |
| #42 | | 62,830 | 100.00% | Ichigo93 | 71 | 23&nbsp&nbsp/ 0 / 0 | 8 | 0 | 0 | HD,DT,FL | Report |
| #43 | | 62,830 | 100.00% | Sushimuffin | 71 | 23&nbsp&nbsp/ 0 / 0 | 8 | 0 | 0 | HD,DT,FL | Report |
| #44 | | 62,830 | 100.00% | - Accuracy | 71 | 23&nbsp&nbsp/ 0 / 0 | 8 | 0 | 0 | HD,DT,FL | Report |
| #45 | | 62,830 | 100.00% | snyviper | 71 | 23&nbsp&nbsp/ 0 / 0 | 8 | 0 | 0 | HD,DT,FL | Report |
| #46 | | 62,619 | 100.00% | Starbreeze | 71 | 23&nbsp&nbsp/ 0 / 0 | 8 | 0 | 0 | DT,FL | Report |
| #47 | | 62,419 | 100.00% | tommyufo88 | 71 | 23&nbsp&nbsp/ 0 / 0 | 8 | 0 | 0 | DT,FL | Report |
| #48 | | 62,419 | 100.00% | Skyzo | 71 | 23&nbsp&nbsp/ 0 / 0 | 8 | 0 | 0 | DT,FL | Report |
| #49 | | 62,339 | 100.00% | Miku_Hatsune16 | 71 | 23&nbsp&nbsp/ 0 / 0 | 8 | 0 | 0 | HD,HR,DT,FL | Report |
| #50 | | 62,339 | 100.00% | -Seena- | 71 | 23&nbsp&nbsp/ 0 / 0 | 8 | 0 | 0 | HD,HR,DT,FL | Report |