Artist:
Hyadain
Circle Size:

Approach Rate:

Title:
Chocobo
HP Drain:

Star Difficulty:

(4.73)
Creator:
mtmcl
Accuracy:

Length:
2:17 (1:40 drain)
Source:
Genre:
Video Game (Japanese)
BPM:
170
Tags:
Collab Collaboration buraimaster1234 buraimaster burai kingcobra kingcobra52 James awp Mifune Mifune24 Rolled
User Rating:
Success Rate:
Points of Failure:


(graph is accumulative, based on % at fail/retry)

9.0% (36006 of 401471 plays)

Submitted:
Ranked:
Dec 21, 2008
Dec 24, 2008
Rating Spread:

Favourited 154 times in total

Users that love this map: reiciel, SNEEUWxWITJE, Serperior, Fumiko, verylunatic, yosiyosi, birdmanthomas, joshisfriend, hoshinokana, ghang2, purplepizza, qwertyu777, RobertDL, jstrike, durgasyn, moripi, Nova_neko, Phantom Ghost, ChrisPL, iveriad and many more!
Options:
Modding / Discussion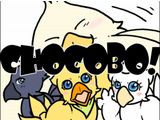 EDIT: Mogsy fixes!
EDIT: Fixed combo colors at end of Gold, added some hit sounds for Mifune's parts, added background image for novid.
EDIT: Changed video offset.
EDIT: Luigi fixed the storyboard names! To check them out, redownload the map or download
http://www.mtmcl.org/ChocoboNames.rar
and replace the images in the map's directory!
This is the fourth collab map, featuring the mappers chosen in the collab map poll: Mifune, awp, and Rolled.
If you're just going to complain about the storyboarded names, provide something better or say nothing. I'm not going to fix it myself because I have NO talents in that regard. If you want to offer your help, please do, but I don't need another person reminding me how much they suck. Thanks in advance.
I was originally going to introduce this map in a mini-tournament of sorts, but fuck that. However, there still may be a collab map tournament. I just figured it would be better to let people know the maps and give the tournament more thought before I commence it.
Play all the difficulties for the special surprise and a great challenge!
Toy is in the lead! ()
Score
6,700,911 (100.00%)
Max Combo
610
300 / 100 / 50
356 / 0 / 0
Misses
0
Geki (Elite Beat!)
67
Katu (Beat!)
0
Mods
HD,HR
Top 50 Scoreboard
| | Rank | Score | Accuracy | Player | Max Combo | 300 / 100 / 50 | Geki | Katu | Misses | Mods | |
| --- | --- | --- | --- | --- | --- | --- | --- | --- | --- | --- | --- |
| #1 | | 6,700,911 | 100.00% | Toy | 610 | 356&nbsp&nbsp/ 0 / 0 | 67 | 0 | 0 | HD,HR | Report |
| #2 | | 6,576,129 | 98.88% | jackylam5 | 610 | 350&nbsp&nbsp/ 6 / 0 | 63 | 4 | 0 | FL | Report |
| #3 | | 6,330,368 | 100.00% | Mafham | 610 | 356&nbsp&nbsp/ 0 / 0 | 67 | 0 | 0 | HD | Report |
| #4 | | 6,325,668 | 100.00% | MillhioreF | 610 | 356&nbsp&nbsp/ 0 / 0 | 67 | 0 | 0 | HD | Report |
| #5 | | 6,321,754 | 99.81% | onlyforyou | 610 | 355&nbsp&nbsp/ 1 / 0 | 66 | 1 | 0 | HD | Report |
| #6 | | 6,318,314 | 99.81% | -GN | 610 | 355&nbsp&nbsp/ 1 / 0 | 66 | 1 | 0 | HD | Report |
| #7 | | 6,302,782 | 99.25% | YokesPai | 610 | 352&nbsp&nbsp/ 4 / 0 | 65 | 2 | 0 | HD | Report |
| #8 | | 6,294,689 | 99.63% | mmi- | 609 | 354&nbsp&nbsp/ 2 / 0 | 65 | 2 | 0 | HD | Report |
| #9 | | 5,985,960 | 100.00% | ExGon | 610 | 356&nbsp&nbsp/ 0 / 0 | 67 | 0 | 0 | None | Report |
| #10 | | 5,981,560 | 100.00% | mugio3 | 610 | 356&nbsp&nbsp/ 0 / 0 | 67 | 0 | 0 | None | Report |
| #11 | | 5,980,360 | 100.00% | Axarious | 610 | 356&nbsp&nbsp/ 0 / 0 | 67 | 0 | 0 | None | Report |
| #12 | | 5,980,260 | 100.00% | imagaK | 610 | 356&nbsp&nbsp/ 0 / 0 | 67 | 0 | 0 | None | Report |
| #13 | | 5,980,260 | 100.00% | fabriciorby | 610 | 356&nbsp&nbsp/ 0 / 0 | 67 | 0 | 0 | None | Report |
| #14 | | 5,979,160 | 100.00% | Wilchq | 610 | 356&nbsp&nbsp/ 0 / 0 | 67 | 0 | 0 | None | Report |
| #15 | | 5,978,160 | 100.00% | Rizzo | 610 | 356&nbsp&nbsp/ 0 / 0 | 67 | 0 | 0 | None | Report |
| #16 | | 5,978,060 | 100.00% | ShaggoN | 610 | 356&nbsp&nbsp/ 0 / 0 | 67 | 0 | 0 | None | Report |
| #17 | | 5,978,060 | 100.00% | -BM | 610 | 356&nbsp&nbsp/ 0 / 0 | 67 | 0 | 0 | None | Report |
| #18 | | 5,978,060 | 100.00% | Mooha | 610 | 356&nbsp&nbsp/ 0 / 0 | 67 | 0 | 0 | None | Report |
| #19 | | 5,978,060 | 100.00% | peng | 610 | 356&nbsp&nbsp/ 0 / 0 | 67 | 0 | 0 | None | Report |
| #20 | | 5,977,060 | 100.00% | HeoJeanYeong | 610 | 356&nbsp&nbsp/ 0 / 0 | 67 | 0 | 0 | None | Report |
| #21 | | 5,976,960 | 100.00% | Maxe191 | 610 | 356&nbsp&nbsp/ 0 / 0 | 67 | 0 | 0 | None | Report |
| #22 | | 5,976,960 | 100.00% | fanzhen0019 | 610 | 356&nbsp&nbsp/ 0 / 0 | 67 | 0 | 0 | None | Report |
| #23 | | 5,976,860 | 100.00% | GensokyoAkuma | 610 | 356&nbsp&nbsp/ 0 / 0 | 67 | 0 | 0 | None | Report |
| #24 | | 5,975,860 | 100.00% | Delis | 610 | 356&nbsp&nbsp/ 0 / 0 | 67 | 0 | 0 | None | Report |
| #25 | | 5,975,760 | 100.00% | kiyumi | 610 | 356&nbsp&nbsp/ 0 / 0 | 67 | 0 | 0 | None | Report |
| #26 | | 5,975,760 | 100.00% | Hino | 610 | 356&nbsp&nbsp/ 0 / 0 | 67 | 0 | 0 | None | Report |
| #27 | | 5,974,660 | 100.00% | zuge | 610 | 356&nbsp&nbsp/ 0 / 0 | 67 | 0 | 0 | None | Report |
| #28 | | 5,974,660 | 100.00% | bandofponies | 610 | 356&nbsp&nbsp/ 0 / 0 | 67 | 0 | 0 | None | Report |
| #29 | | 5,974,660 | 100.00% | AltMirrorBell | 610 | 356&nbsp&nbsp/ 0 / 0 | 67 | 0 | 0 | None | Report |
| #30 | | 5,974,560 | 100.00% | Cerkie | 610 | 356&nbsp&nbsp/ 0 / 0 | 67 | 0 | 0 | None | Report |
| #31 | | 5,973,152 | 99.81% | CXu | 610 | 355&nbsp&nbsp/ 1 / 0 | 66 | 1 | 0 | None | Report |
| #32 | | 5,971,000 | 99.81% | Snase | 610 | 355&nbsp&nbsp/ 1 / 0 | 66 | 1 | 0 | None | Report |
| #33 | | 5,970,360 | 99.81% | Rorry | 610 | 355&nbsp&nbsp/ 1 / 0 | 66 | 1 | 0 | None | Report |
| #34 | | 5,969,128 | 99.81% | M O O N | 610 | 355&nbsp&nbsp/ 1 / 0 | 66 | 1 | 0 | None | Report |
| #35 | | 5,967,620 | 99.81% | Arnold24x24 | 610 | 355&nbsp&nbsp/ 1 / 0 | 66 | 1 | 0 | None | Report |
| #36 | | 5,965,712 | 99.81% | pekolove | 610 | 355&nbsp&nbsp/ 1 / 0 | 66 | 1 | 0 | None | Report |
| #37 | | 5,965,404 | 99.81% | Ayakura Mei | 610 | 355&nbsp&nbsp/ 1 / 0 | 66 | 1 | 0 | None | Report |
| #38 | | 5,962,376 | 99.81% | VanillaSandvich | 610 | 355&nbsp&nbsp/ 1 / 0 | 66 | 1 | 0 | None | Report |
| #39 | | 5,960,664 | 99.81% | SakiZ | 610 | 355&nbsp&nbsp/ 1 / 0 | 66 | 1 | 0 | None | Report |
| #40 | | 5,959,856 | 99.81% | rrtyui | 610 | 355&nbsp&nbsp/ 1 / 0 | 66 | 1 | 0 | None | Report |
| #41 | | 5,959,212 | 99.81% | Brunolt101 | 610 | 355&nbsp&nbsp/ 1 / 0 | 66 | 1 | 0 | None | Report |
| #42 | | 5,956,938 | 99.81% | Gaejugi | 609 | 355&nbsp&nbsp/ 1 / 0 | 66 | 1 | 0 | None | Report |
| #43 | | 5,956,444 | 99.81% | Jameslike | 610 | 355&nbsp&nbsp/ 1 / 0 | 66 | 1 | 0 | None | Report |
| #44 | | 5,955,934 | 99.81% | Rost94 | 609 | 355&nbsp&nbsp/ 1 / 0 | 66 | 1 | 0 | None | Report |
| #45 | | 5,955,514 | 99.81% | Doomsday | 609 | 355&nbsp&nbsp/ 1 / 0 | 66 | 1 | 0 | None | Report |
| #46 | | 5,951,372 | 99.63% | Crystal- | 610 | 354&nbsp&nbsp/ 2 / 0 | 65 | 2 | 0 | None | Report |
| #47 | | 5,949,760 | 99.25% | rustbell | 610 | 352&nbsp&nbsp/ 4 / 0 | 63 | 4 | 0 | None | Report |
| #48 | | 5,947,056 | 99.63% | Miu Matsuoka | 610 | 354&nbsp&nbsp/ 2 / 0 | 65 | 2 | 0 | None | Report |
| #49 | | 5,946,048 | 99.25% | Metro | 610 | 352&nbsp&nbsp/ 4 / 0 | 63 | 4 | 0 | None | Report |
| #50 | | 5,938,108 | 99.63% | shigurin | 608 | 354&nbsp&nbsp/ 2 / 0 | 65 | 2 | 0 | None | Report |