Artist:
Yoko Ishida
Circle Size:

Approach Rate:

Title:
paraparaMAX I
HP Drain:

Star Difficulty:

(2.85)
Creator:
chan
Accuracy:

Length:
36:18 (29:57 drain)
Source:
Genre:
Anime (Japanese)
BPM:
312
Tags:
marathon para parapara
User Rating:
Success Rate:
Points of Failure:


(graph is accumulative, based on % at fail/retry)

6.5% (61586 of 941772 plays)

Submitted:
Ranked:
Mar 23, 2008
Jul 31, 2008
Rating Spread:

Favourited 603 times in total

Users that love this map: BiLLyRavEN, EkD, kingcobra52, xerious, Bianco, [Youmu], cheungkkj, macy2007, xierbaliti, alexcp999, DarkShinigami1, pabloklao, Seikima, Chaos Anime X, Dragon555, Draconk, gobo118, Akiya, Aeless, Pula and many more!
Options:
Modding / Discussion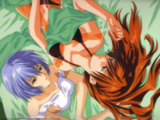 My big work in progress (more or less completed). It's ~35mb but the song is also around 36 minutes. I don't expect this to get ranked, but possibly used in competition. Comments/feedback welcome!
Thanks to everyone who tried this beatmap~
Special thanks to Saturos for his feedback/comments/help/enthusiasm
.

If you already have the mp3 from previously downloading, avoid the full download and get the storyboard only pack :P
==Song List==
01
Zankoku na Tenshi no Teze
- Shinseiki Evangelion
02
You Get To Burning
- Kidosenkan Nadesico
03
Stand Up To the Victory
- Kidosenshi V Gundam
04
Shourisha-tachi no Banka
- Kidobutouden G Gundam
05
Just Communication
- Shin Kidosenki Gundam W
06
Pegasus Fantasy
- Saint Seiya
07
Samurai Heart
- Yoroiden Samurai Troopers
08
I'll Come
- Shinseiki GPX Cyber Formula
09
Hohoemi no Bakudan
- Yu Yu Hakusho
10
Velvet Underworld
- Weiss Kreuz
11
Rinbu-Revolution
- Shoujo Kakumei Utena
12
Otome no Policy
- Bishoujo Senshi Sailormoon R
13
Ririka SOS
- Nurse Angel Ririka SOS
14
Yuzurenai Negai
- Magic Knight Rayearth
15
Catch You Catch Me
- Card Captor Sakura
16
Cha Cha ni Omakase
- Akazukin Cha Cha
17
Tasogare Lonely
- Creamlemon Lemon Angel
18
Mezase! Ichiban!!
- NG Knight Lamune & 40
19
Yume Mireba Yume Mo Yume Janai
- Mahoshoujo Pretty Samy
20
Ren'ai no Jikuu
- Tenchimuyo!
============================================
Changelog
[update 25/03/08]
Updated with all the timing points done, most beats are timed. Need to rework the majority of the sliders in the song though. That and beat placement :(
[update 06/04/08]
Little progress made, only 01
A Cruel Angel's Thesis
is properly reworked. Sorry Saturos, but I had to get some monte carlo biscuits.
[update 07/04/08]
Re-finished 01 Cruel Angel's Thesis after accidentally deleting it. Going on a mod spree tonight, so probably won't get any more of this done
[update 09/04/08]
Finished 02
You Get To Burning
, might knock off the next song while I'm still in the mood. Took out the spirally slider but might put it back in later.
Added song list and finished 03
Stand Up To the Victory
:) Might try to get song 4 out of the way if I can.
Fixed 04
Shourisha-tachi no Banka
[update 10/04/08]
Fixed 05
Just Communication
Fixed 06
Pegasus Fantasy
. Can someone confirm the song list? I don't know whether the next song is Samurai Heart or not, only know that I'm @ 12:53 ish of the way through Parapara. Might shoot for one more song :)
Added 07
Samurai Heart
and 08
I'll Come
XD Halfway through 09 atm, might get a chance to finish that off.
[update 11/04/08]
Hax, fixed 09
Hohoemi no Bakudan
& 10
Velvet Underworld
! Increased framerate helps :P
Re-fixed 10 (had beat spacing of 1.2 instead of 1.0). Worked some sliders of 11
Did someone say 11
Rinbu-Revolution
? Fixed! Planning on knocking off a few more.
3/4 done Otome no Policy, at least all the sliders are fixed. Running low on motivation now after some bad modding
[update 12/04/08]
Finished 12
Otome no Policy
, might redo some parts later, but done for now. 60% of Parapara done!
[update 14/04/08]
Don't know how, but somehow mapped 13
Ririka SOS
and 14
Yuzurenai Negai
. Will probably go over them again in future, but they're playable for the time being. Finally made it to CCS opening!
Mapped half of CCS and tested up til there (from start to there), very tired now so will rest a bit before any more mapping. Got ~9million with heaps of misses, due to lag and fatigue.
[update 15/04/08]
15
Catch You Catch Me
is mapped, though maybe that got done yesterday?
[update 16/04/08]
16
Cha Cha ni Omakase
is mapped. Doing some sliders addage for 17 Tasogare Lonely
Finished 17
Tasogare Lonely
and 18
Mezase! Ichiban!!
Kind of finished the second last song, but there's a lot of copypasta towards the end. I'll fix that up before I map the last of the Parapara songs (!!!)
Somehow made it to the end of Parapara, mapping 19
Yume Mireba Yume Mo Yume Janai
with just 20 Ren'ai no Jikuu to go. Could be a while seeming it's duration is relatively long :(
[update 17/04/08]
Part way through 20 Ren'ai no Jikuu. It's pretty long, with some chunky instrumental sections. There are quite a few spinners, but it's not exactly spinner spamalot. Added sliders and timed all the beats, about two thirds through mapping all the beats. A bit of copypasta action in there as well (with minor adjustments), may look at trying to map all the choruses differently.
Cleaned up all notes after spinners (either omitted notes or the spinners). Bear in mind that there are no quick spinners in Parapara, I don't want players go crazy with the spinner bonuses. You should be able to comfortably clear the spinners and be prepared for whatever follows, but I've been generous with having ample time between spinner finishes and following notes.
Some overlapping notes are re-arranged for better playability. Stacks are still there, but there was a section where like notes 7/8/9 overlapped 2/3/5 or something strange.
Still a lot of copypasta in song 20 which needs some originality added. Also haven't finished mapping the last few minutes, there be no spacing there for the time being.
Finished 20
Ren'ai no Jikuu
!
Got rid of some of the excessive copying and pasting, although there are still familiar patterns scattered around.
Difficulty renamed to [marathon].
Mapped the outro of Parapara as well, will test and scrutinize my own map a bit later, don't have time til after my assignment is due.
[update 18/04/08]
Minor fixes to improve playability (or increase the likelihood of Saturos S-running this song). Specific times 28:31:71 and 30:13:48. Also got rid of my [bug] difficulty :P Why was that there in the first place?
The [bug] difficulty haunts us all :(
Made changes to triple stacks in song 18? Starting at 28:55:64
Spinner made slightly longer for less surprise element. You get like 1 second less break though -_-;
Added one note with whistle to the end of one of the latter songs, forgot which song though (it's song 18 again).
[update 19/04/08]
Changed 11:47:87 (3,4,5) to a slider with reverse.
Gone through all the offsets, sounds a bit better.
Need someone to verify offsets (and possibly BPM) for each section!
[update 23/04/08]
Redone timing for Pegasus Fantasy, trying storyboarding atm with some suggestive Evangelion wallpapers ;)
[update 24/04/08]
Fully storyboarded and re-uploaded.

If you already have the mp3 from previously downloading, avoid the full download and get the storyboard only pack :P
WubWoofWolf is in the lead! ()
Score
635,080,871 (99.22%)
Max Combo
5937
300 / 100 / 50
3447 / 41 / 0
Misses
0
Geki (Elite Beat!)
573
Katu (Beat!)
31
Mods
HD,HR,DT
Top 50 Scoreboard
| | Rank | Score | Accuracy | Player | Max Combo | 300 / 100 / 50 | Geki | Katu | Misses | Mods | |
| --- | --- | --- | --- | --- | --- | --- | --- | --- | --- | --- | --- |
| #1 | | 635,080,871 | 99.22% | WubWoofWolf | 5937 | 3447&nbsp&nbsp/ 41 / 0 | 573 | 31 | 0 | HD,HR,DT | Report |
| #2 | | 574,672,262 | 96.11% | No A Rank | 5715 | 3286&nbsp&nbsp/ 199 / 0 | 484 | 117 | 3 | HD,HR,DT | Report |
| #3 | | 566,404,308 | 98.76% | PEPOTTI | 5937 | 3423&nbsp&nbsp/ 65 / 0 | 554 | 50 | 0 | HD,HR | Report |
| #4 | | 565,281,938 | 99.20% | thregium | 5937 | 3446&nbsp&nbsp/ 42 / 0 | 567 | 37 | 0 | FL | Report |
| #5 | | 564,949,186 | 98.96% | Rucker | 5937 | 3434&nbsp&nbsp/ 52 / 2 | 573 | 30 | 0 | DT | Report |
| #6 | | 564,428,869 | 98.55% | 5231_Kinoko | 5937 | 3412&nbsp&nbsp/ 76 / 0 | 547 | 57 | 0 | HD,HR | Report |
| #7 | | 560,623,139 | 98.29% | Doomsday | 5935 | 3400&nbsp&nbsp/ 82 / 6 | 543 | 57 | 0 | DT | Report |
| #8 | | 557,766,179 | 97.53% | Nitroz | 5937 | 3360&nbsp&nbsp/ 124 / 4 | 519 | 82 | 0 | HD,HR | Report |
| #9 | | 540,289,690 | 100.00% | Winshley | 5937 | 3488&nbsp&nbsp/ 0 / 0 | 604 | 0 | 0 | HD,SD | Report |
| #10 | | 539,923,756 | 99.94% | DO96CH | 5937 | 3485&nbsp&nbsp/ 3 / 0 | 601 | 3 | 0 | HR | Report |
| #11 | | 538,592,313 | 99.71% | Ana_Coppola | 5937 | 3473&nbsp&nbsp/ 15 / 0 | 591 | 13 | 0 | HR | Report |
| #12 | | 538,564,481 | 99.66% | Sonnyc | 5937 | 3470&nbsp&nbsp/ 18 / 0 | 588 | 16 | 0 | HR | Report |
| #13 | | 538,539,059 | 99.68% | Andrea | 5936 | 3471&nbsp&nbsp/ 17 / 0 | 589 | 15 | 0 | HR | Report |
| #14 | | 538,301,985 | 99.62% | p3n | 5937 | 3468&nbsp&nbsp/ 20 / 0 | 589 | 15 | 0 | HR | Report |
| #15 | | 538,041,975 | 99.54% | KaODia | 5937 | 3464&nbsp&nbsp/ 23 / 1 | 582 | 21 | 0 | HR | Report |
| #16 | | 537,731,560 | 99.46% | ShiraKai | 5937 | 3460&nbsp&nbsp/ 28 / 0 | 578 | 26 | 0 | HR | Report |
| #17 | | 537,687,666 | 94.54% | Maxe191 | 5935 | 3204&nbsp&nbsp/ 277 / 7 | 457 | 141 | 0 | DT | Report |
| #18 | | 536,831,824 | 99.36% | Kert | 5937 | 3455&nbsp&nbsp/ 32 / 1 | 578 | 25 | 0 | HR | Report |
| #19 | | 536,528,509 | 99.39% | Semi_Semi | 5937 | 3456&nbsp&nbsp/ 32 / 0 | 575 | 29 | 0 | HR | Report |
| #20 | | 536,527,797 | 99.24% | Jordan | 5937 | 3448&nbsp&nbsp/ 40 / 0 | 569 | 35 | 0 | HR | Report |
| #21 | | 536,489,049 | 99.41% | Staford | 5937 | 3457&nbsp&nbsp/ 31 / 0 | 578 | 26 | 0 | HR | Report |
| #22 | | 536,460,746 | 99.12% | kriers | 5937 | 3442&nbsp&nbsp/ 46 / 0 | 567 | 37 | 0 | HR | Report |
| #23 | | 536,255,609 | 99.37% | H1ko | 5937 | 3455&nbsp&nbsp/ 33 / 0 | 576 | 28 | 0 | HR | Report |
| #24 | | 536,251,518 | 99.31% | Sure | 5937 | 3452&nbsp&nbsp/ 36 / 0 | 573 | 31 | 0 | HR | Report |
| #25 | | 535,932,003 | 99.16% | CXu | 5937 | 3444&nbsp&nbsp/ 44 / 0 | 562 | 42 | 0 | HR | Report |
| #26 | | 535,843,641 | 99.27% | onlyforyou | 5937 | 3450&nbsp&nbsp/ 37 / 1 | 575 | 28 | 0 | HR | Report |
| #27 | | 535,772,315 | 99.02% | Just Jeff | 5937 | 3437&nbsp&nbsp/ 50 / 1 | 563 | 40 | 0 | HR | Report |
| #28 | | 535,759,256 | 98.92% | Jerrysr | 5937 | 3432&nbsp&nbsp/ 55 / 1 | 560 | 43 | 0 | HR | Report |
| #29 | | 535,753,941 | 99.27% | putigame | 5937 | 3450&nbsp&nbsp/ 38 / 0 | 576 | 28 | 0 | HR | Report |
| #30 | | 535,650,424 | 99.04% | Luv | 5937 | 3438&nbsp&nbsp/ 50 / 0 | 568 | 36 | 0 | HR | Report |
| #31 | | 535,419,084 | 99.14% | Civil oath | 5937 | 3443&nbsp&nbsp/ 45 / 0 | 568 | 36 | 0 | HR | Report |
| #32 | | 535,308,294 | 99.12% | Kroko95 | 5937 | 3442&nbsp&nbsp/ 46 / 0 | 567 | 37 | 0 | HR | Report |
| #33 | | 535,305,610 | 99.04% | Bianco | 5937 | 3438&nbsp&nbsp/ 50 / 0 | 566 | 38 | 0 | HR | Report |
| #34 | | 535,168,341 | 98.92% | Tear | 5937 | 3432&nbsp&nbsp/ 55 / 1 | 569 | 34 | 0 | HR,SD | Report |
| #35 | | 535,096,076 | 98.81% | Dinovaldo | 5935 | 3426&nbsp&nbsp/ 61 / 1 | 552 | 51 | 0 | HR | Report |
| #36 | | 534,938,833 | 98.95% | Toy | 5937 | 3433&nbsp&nbsp/ 55 / 0 | 565 | 39 | 0 | HR | Report |
| #37 | | 534,926,281 | 98.81% | geckogates | 5937 | 3426&nbsp&nbsp/ 62 / 0 | 558 | 46 | 0 | HR | Report |
| #38 | | 534,878,888 | 99.03% | - Auto - | 5937 | 3437&nbsp&nbsp/ 51 / 0 | 569 | 35 | 0 | HR | Report |
| #39 | | 534,802,246 | 98.97% | Giffen | 5937 | 3434&nbsp&nbsp/ 54 / 0 | 563 | 41 | 0 | HR | Report |
| #40 | | 534,789,343 | 99.02% | n0ah | 5935 | 3437&nbsp&nbsp/ 49 / 2 | 563 | 39 | 0 | HR | Report |
| #41 | | 534,719,966 | 98.89% | liyin1 | 5937 | 3430&nbsp&nbsp/ 57 / 1 | 562 | 41 | 0 | HR | Report |
| #42 | | 534,515,128 | 98.94% | miccoliasms | 5936 | 3433&nbsp&nbsp/ 54 / 1 | 562 | 41 | 0 | HR | Report |
| #43 | | 534,458,023 | 98.97% | ArzatoRx | 5937 | 3434&nbsp&nbsp/ 54 / 0 | 566 | 38 | 0 | HR | Report |
| #44 | | 534,147,691 | 98.94% | minyeob | 5935 | 3433&nbsp&nbsp/ 54 / 1 | 565 | 38 | 0 | HR | Report |
| #45 | | 534,119,776 | 98.60% | CptHampton | 5937 | 3415&nbsp&nbsp/ 73 / 0 | 547 | 57 | 0 | HR | Report |
| #46 | | 534,000,066 | 98.87% | 98701011 | 5937 | 3429&nbsp&nbsp/ 58 / 1 | 562 | 41 | 0 | HR | Report |
| #47 | | 533,893,771 | 98.78% | ReimuSS | 5937 | 3424&nbsp&nbsp/ 64 / 0 | 556 | 48 | 0 | HR | Report |
| #48 | | 533,774,228 | 98.66% | Spinner | 5937 | 3418&nbsp&nbsp/ 70 / 0 | 549 | 55 | 0 | HR | Report |
| #49 | | 533,710,937 | 98.62% | Exliiii | 5937 | 3416&nbsp&nbsp/ 71 / 1 | 552 | 51 | 0 | HR | Report |
| #50 | | 533,652,658 | 98.75% | Jollumi | 5937 | 3423&nbsp&nbsp/ 63 / 2 | 551 | 51 | 0 | HR | Report |