Artist:
Wiklund
Circle Size:

Approach Rate:

Title:
Billy Boogie
HP Drain:

Star Difficulty:

(4.96)
Creator:
yeahyeahyeahhh
Accuracy:

Length:
4:01 (3:47 drain)
Source:
Wing Beats
Genre:
Electronic (Instrumental)
BPM:
170
Tags:
chiptune inozuma ultimate daru
User Rating:
Success Rate:
Points of Failure:


(graph is accumulative, based on % at fail/retry)

6.3% (23629 of 375338 plays)

Submitted:
Ranked:
Sep 2, 2009
Oct 17, 2009
Rating Spread:

Favourited 212 times in total

Users that love this map: nardii, Card N'FoRcE, Inozuma, XepherX3, thekillerhjkhjk, Atmey, Bicho, Layola, taka1235, DarKeth, ciema1, zerosyn, Kytoxid, Vibty99, simplistiC, Strife212, Jonathonta, Dusty, Cifica, tierein and many more!
Options:
Modding / Discussion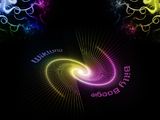 IF YOU DOWNLOADED THIS BEFORE TUESDAY, SEPTEMBER 15 PLEASE REDOWNLOAD TO GET THE STORYBOARD/SKIN
Finally! It's done! After weeks and weeks of mapping and storyboarding I'm finally proud to present you my 6th beatmap in collaboration with with Inozuma and Ultimate. This was made for my Wiklund Wing Beats album project which could be found
here
. Ideas from the storyboard were gathered from peppy's
Baby Cruising Love
and Ultimate's
Whip the Blip
, check out their awesome SB too!
Thanks for the following people:
Daru - For the hitcircle and overlay.
You can view and download the rest of Daru's AWESOME skin
HERE
Inozuma - Collab and STORYBOARD.
Ultimate - Difficulty.
Everyone else who left us positive comments while making this. We apperciate your comments!
Cookiezi is in the lead! ()
Score
40,494,524 (98.36%)
Max Combo
1160
300 / 100 / 50
949 / 24 / 0
Misses
0
Geki (Elite Beat!)
177
Katu (Beat!)
16
Mods
HD,DT
Top 50 Scoreboard
| | Rank | Score | Accuracy | Player | Max Combo | 300 / 100 / 50 | Geki | Katu | Misses | Mods | |
| --- | --- | --- | --- | --- | --- | --- | --- | --- | --- | --- | --- |
| #1 | | 40,494,524 | 98.36% | Cookiezi | 1160 | 949&nbsp&nbsp/ 24 / 0 | 177 | 16 | 0 | HD,DT | Report |
| #2 | | 38,168,585 | 98.29% | Kaoru | 1160 | 948&nbsp&nbsp/ 25 / 0 | 174 | 19 | 0 | HD,HR | Report |
| #3 | | 38,037,645 | 98.08% | Adamqs | 1160 | 945&nbsp&nbsp/ 28 / 0 | 174 | 19 | 0 | HD,HR | Report |
| #4 | | 37,881,553 | 97.46% | MrBooM | 1160 | 936&nbsp&nbsp/ 37 / 0 | 165 | 28 | 0 | HD,HR | Report |
| #5 | | 37,245,183 | 96.76% | Kibble | 1160 | 926&nbsp&nbsp/ 46 / 1 | 162 | 30 | 0 | HD,HR | Report |
| #6 | | 37,096,493 | 95.94% | yellowy246 | 1160 | 914&nbsp&nbsp/ 58 / 1 | 154 | 38 | 0 | HD,HR | Report |
| #7 | | 36,806,459 | 95.79% | Seouless | 1160 | 912&nbsp&nbsp/ 59 / 2 | 160 | 32 | 0 | HD,HR | Report |
| #8 | | 36,722,463 | 99.25% | onlyforyou | 1160 | 962&nbsp&nbsp/ 11 / 0 | 183 | 10 | 0 | HD | Report |
| #9 | | 36,688,793 | 99.52% | pyon | 1160 | 966&nbsp&nbsp/ 7 / 0 | 186 | 7 | 0 | HD | Report |
| #10 | | 36,571,749 | 99.38% | Oiso | 1160 | 964&nbsp&nbsp/ 9 / 0 | 187 | 6 | 0 | HD | Report |
| #11 | | 36,546,854 | 99.18% | SapphireGhost | 1160 | 961&nbsp&nbsp/ 12 / 0 | 182 | 11 | 0 | HD | Report |
| #12 | | 36,538,192 | 99.37% | ShadowSoul | 1160 | 964&nbsp&nbsp/ 8 / 1 | 186 | 6 | 0 | HD | Report |
| #13 | | 36,515,411 | 99.31% | NTR | 1160 | 963&nbsp&nbsp/ 10 / 0 | 185 | 8 | 0 | HD | Report |
| #14 | | 36,497,136 | 99.31% | filsdelama | 1160 | 963&nbsp&nbsp/ 10 / 0 | 184 | 9 | 0 | HR | Report |
| #15 | | 36,311,398 | 98.75% | Shimox | 1160 | 955&nbsp&nbsp/ 17 / 1 | 177 | 15 | 0 | HD | Report |
| #16 | | 36,267,026 | 98.63% | LyanPayj | 1160 | 953&nbsp&nbsp/ 20 / 0 | 175 | 18 | 0 | HD | Report |
| #17 | | 36,038,282 | 98.36% | ktgster | 1160 | 949&nbsp&nbsp/ 24 / 0 | 178 | 15 | 0 | HD | Report |
| #18 | | 35,940,809 | 98.08% | r0ck | 1160 | 945&nbsp&nbsp/ 28 / 0 | 175 | 18 | 0 | HR | Report |
| #19 | | 35,914,560 | 97.88% | Shockwave000 | 1160 | 942&nbsp&nbsp/ 31 / 0 | 171 | 22 | 0 | HR | Report |
| #20 | | 35,875,309 | 97.81% | [ Take ] | 1160 | 941&nbsp&nbsp/ 32 / 0 | 170 | 23 | 0 | HD | Report |
| #21 | | 35,811,749 | 97.81% | little Agile | 1160 | 941&nbsp&nbsp/ 32 / 0 | 172 | 21 | 0 | HD | Report |
| #22 | | 35,681,891 | 97.26% | clayton | 1160 | 933&nbsp&nbsp/ 40 / 0 | 169 | 24 | 0 | HD | Report |
| #23 | | 35,509,760 | 97.45% | Bartek22830 | 1157 | 936&nbsp&nbsp/ 36 / 1 | 169 | 23 | 0 | HD | Report |
| #24 | | 35,272,846 | 96.85% | Alumetorz | 1160 | 927&nbsp&nbsp/ 46 / 0 | 165 | 28 | 0 | HR | Report |
| #25 | | 35,253,820 | 96.83% | Tohru | 1160 | 928&nbsp&nbsp/ 40 / 5 | 168 | 21 | 0 | HD | Report |
| #26 | | 35,162,031 | 96.71% | SoraRoxas01 | 1159 | 925&nbsp&nbsp/ 48 / 0 | 161 | 32 | 0 | HR | Report |
| #27 | | 35,078,914 | 96.57% | [C u r i] | 1160 | 923&nbsp&nbsp/ 50 / 0 | 167 | 26 | 0 | HR | Report |
| #28 | | 34,823,180 | 100.00% | mugio3 | 1160 | 973&nbsp&nbsp/ 0 / 0 | 193 | 0 | 0 | None | Report |
| #29 | | 34,823,180 | 100.00% | - Auto - | 1160 | 973&nbsp&nbsp/ 0 / 0 | 193 | 0 | 0 | None | Report |
| #30 | | 34,787,860 | 99.93% | Subbie | 1160 | 972&nbsp&nbsp/ 1 / 0 | 192 | 1 | 0 | None | Report |
| #31 | | 34,785,300 | 99.86% | Maxe191 | 1160 | 971&nbsp&nbsp/ 2 / 0 | 191 | 2 | 0 | None | Report |
| #32 | | 34,714,180 | 99.79% | Sure | 1160 | 970&nbsp&nbsp/ 3 / 0 | 191 | 2 | 0 | None | Report |
| #33 | | 34,709,940 | 99.79% | Rizzo | 1160 | 970&nbsp&nbsp/ 3 / 0 | 191 | 2 | 0 | None | Report |
| #34 | | 34,684,580 | 99.73% | Spare | 1160 | 969&nbsp&nbsp/ 4 / 0 | 189 | 4 | 0 | None | Report |
| #35 | | 34,680,100 | 99.59% | WubWoofWolf | 1160 | 967&nbsp&nbsp/ 6 / 0 | 188 | 5 | 0 | None | Report |
| #36 | | 34,679,140 | 99.52% | laport | 1160 | 966&nbsp&nbsp/ 7 / 0 | 187 | 6 | 0 | None | Report |
| #37 | | 34,672,230 | 99.71% | kriers | 1160 | 969&nbsp&nbsp/ 3 / 1 | 189 | 3 | 0 | None | Report |
| #38 | | 34,651,580 | 99.66% | Xeltol | 1160 | 968&nbsp&nbsp/ 5 / 0 | 188 | 5 | 0 | None | Report |
| #39 | | 34,634,740 | 99.59% | Uan | 1160 | 967&nbsp&nbsp/ 6 / 0 | 188 | 5 | 0 | None | Report |
| #40 | | 34,605,950 | 99.38% | Andrea | 1159 | 964&nbsp&nbsp/ 9 / 0 | 184 | 9 | 0 | None | Report |
| #41 | | 34,602,070 | 99.59% | hvick225 | 1159 | 967&nbsp&nbsp/ 6 / 0 | 187 | 6 | 0 | None | Report |
| #42 | | 34,599,580 | 99.31% | CXu | 1160 | 963&nbsp&nbsp/ 10 / 0 | 184 | 9 | 0 | None | Report |
| #43 | | 34,598,380 | 99.59% | -N a n a k o- | 1160 | 967&nbsp&nbsp/ 6 / 0 | 189 | 4 | 0 | None | Report |
| #44 | | 34,577,340 | 99.45% | jesneit | 1160 | 965&nbsp&nbsp/ 8 / 0 | 185 | 8 | 0 | None | Report |
| #45 | | 34,577,100 | 99.52% | Snase | 1160 | 966&nbsp&nbsp/ 7 / 0 | 187 | 6 | 0 | None | Report |
| #46 | | 34,573,380 | 99.52% | 0203okaT | 1160 | 966&nbsp&nbsp/ 7 / 0 | 188 | 5 | 0 | None | Report |
| #47 | | 34,569,590 | 99.52% | gasanww | 1159 | 966&nbsp&nbsp/ 7 / 0 | 188 | 5 | 0 | None | Report |
| #48 | | 34,536,060 | 99.45% | scuoa | 1160 | 965&nbsp&nbsp/ 8 / 0 | 187 | 6 | 0 | None | Report |
| #49 | | 34,534,420 | 99.18% | Mismagius | 1160 | 961&nbsp&nbsp/ 12 / 0 | 184 | 9 | 0 | None | Report |
| #50 | | 34,532,470 | 99.45% | Toy | 1159 | 965&nbsp&nbsp/ 8 / 0 | 188 | 5 | 0 | None | Report |