Artist:
BLUE ENCOUNT
Circle Size:

Approach Rate:

Title:
HOPE
HP Drain:

Star Difficulty:

(7.65)
Creator:
Monstrata
Accuracy:

Length:
2:51 (2:51 drain)
Source:
Genre:
Rock (Japanese)
BPM:
214
Tags:
mobile suit gundam iron-blooded orphans 機動戦士ガンダム 鉄血のオルフェンズ mikazuki augus orga itsuka snownino_ milan- corinn akitoshi shmiklak marvollo m_a_r_v_o_l_l_o
User Rating:
Success Rate:
Points of Failure:


(graph is accumulative, based on % at fail/retry)

4.2% (864 of 20484 plays)

Submitted:
Ranked:
Oct 24, 2017
Dec 27, 2017
Rating Spread:

Favourited 71 times in total

Users that love this map: Plantifant, Putinsokawaii, B4D0U, xbigpudslimgodx, Risiing, xendernik, Monstrata, Zhalan, Kiramatic, crossfire457, JinKazuto77, Abric, Rugakot, TheOnlyLeon, CorujaBBK, Legendz, - Mikan, _NotSoFast_, Feixienayao, Vyrah and many more!
Options:
Modding / Discussion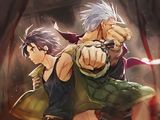 Open for GD's!!
Easy - Marvollo - Below 2 stars
Normal - 2.5 - Akitoshi
Hard - 3.7 - Milan_
Insane - 5.2 - Me
Extra - 6.5 - SnowNino_
SURVIVOR - 7.8
Wakson is in the lead! ()
Score
43,343,490 (100.00%)
Max Combo
1367
300 / 100 / 50
1066 / 0 / 0
Misses
0
Geki (Elite Beat!)
211
Katu (Beat!)
0
Mods
None
Top 50 Scoreboard
| | Rank | Score | Accuracy | Player | Max Combo | 300 / 100 / 50 | Geki | Katu | Misses | Mods | |
| --- | --- | --- | --- | --- | --- | --- | --- | --- | --- | --- | --- |
| #1 | | 43,343,490 | 100.00% | Wakson | 1367 | 1066&nbsp&nbsp/ 0 / 0 | 211 | 0 | 0 | None | Report |
| #2 | | 42,074,280 | 99.16% | MINEMINE | 1352 | 1053&nbsp&nbsp/ 12 / 0 | 200 | 10 | 1 | None | Report |
| #3 | | 34,904,190 | 99.78% | Mlaw22 | 1204 | 1063&nbsp&nbsp/ 2 / 0 | 208 | 2 | 1 | None | Report |
| #4 | | 32,117,241 | 98.45% | wuhua | 1124 | 1045&nbsp&nbsp/ 12 / 3 | 201 | 6 | 6 | HD | Report |
| #5 | | 31,917,498 | 98.62% | Art | 1117 | 1045&nbsp&nbsp/ 19 / 0 | 195 | 14 | 2 | HD | Report |
| #6 | | 31,814,598 | 98.91% | firebat92 | 1113 | 1051&nbsp&nbsp/ 10 / 0 | 200 | 6 | 5 | HR | Report |
| #7 | | 29,919,760 | 99.53% | Firstus | 1111 | 1060&nbsp&nbsp/ 3 / 0 | 205 | 3 | 3 | None | Report |
| #8 | | 29,558,940 | 98.69% | MrPotato | 1112 | 1047&nbsp&nbsp/ 15 / 0 | 198 | 9 | 4 | None | Report |
| #9 | | 29,410,840 | 99.56% | Apraxia | 1108 | 1061&nbsp&nbsp/ 1 / 0 | 206 | 1 | 4 | None | Report |
| #10 | | 28,115,030 | 97.84% | LanJay | 1088 | 1034&nbsp&nbsp/ 27 / 0 | 192 | 16 | 5 | None | Report |
| #11 | | 26,544,140 | 98.28% | Ampharos | 1055 | 1040&nbsp&nbsp/ 23 / 0 | 198 | 11 | 3 | None | Report |
| #12 | | 26,202,410 | 96.34% | Ralyks | 1045 | 1008&nbsp&nbsp/ 57 / 0 | 177 | 33 | 1 | None | Report |
| #13 | | 25,945,560 | 99.66% | Karthy | 1002 | 1061&nbsp&nbsp/ 4 / 0 | 206 | 4 | 1 | None | Report |
| #14 | | 25,417,930 | 98.97% | Astana | 999 | 1052&nbsp&nbsp/ 9 / 0 | 202 | 5 | 5 | None | Report |
| #15 | | 25,207,450 | 96.31% | Koalazy | 994 | 1008&nbsp&nbsp/ 55 / 2 | 188 | 21 | 1 | None | Report |
| #16 | | 24,621,320 | 98.31% | fieryrage | 1007 | 1040&nbsp&nbsp/ 24 / 0 | 197 | 12 | 2 | None | Report |
| #17 | | 24,149,000 | 97.31% | TheCoon324 | 1003 | 1028&nbsp&nbsp/ 27 / 2 | 196 | 8 | 9 | None | Report |
| #18 | | 24,038,080 | 98.22% | BeasttrollMC | 1004 | 1040&nbsp&nbsp/ 21 / 0 | 192 | 14 | 5 | None | Report |
| #19 | | 23,550,110 | 99.25% | Totoki | 960 | 1055&nbsp&nbsp/ 9 / 0 | 203 | 6 | 2 | None | Report |
| #20 | | 23,359,760 | 98.30% | Aden | 999 | 1041&nbsp&nbsp/ 20 / 1 | 196 | 10 | 4 | None | Report |
| #21 | | 23,042,460 | 98.58% | Sjizu | 973 | 1048&nbsp&nbsp/ 8 / 1 | 201 | 3 | 9 | None | Report |
| #22 | | 23,030,170 | 99.06% | _Shield | 988 | 1053&nbsp&nbsp/ 9 / 0 | 201 | 6 | 4 | None | Report |
| #23 | | 22,914,740 | 97.09% | he rack | 996 | 1024&nbsp&nbsp/ 33 / 0 | 185 | 19 | 9 | None | Report |
| #24 | | 22,376,520 | 99.03% | Umbre | 972 | 1054&nbsp&nbsp/ 5 / 0 | 201 | 4 | 7 | None | Report |
| #25 | | 21,831,960 | 98.17% | _RyuK | 959 | 1041&nbsp&nbsp/ 16 / 1 | 199 | 7 | 8 | None | Report |
| #26 | | 20,882,210 | 96.61% | Aireu | 894 | 1016&nbsp&nbsp/ 41 / 1 | 181 | 24 | 8 | HR | Report |
| #27 | | 20,432,040 | 87.93% | Reficul918 | 989 | 877&nbsp&nbsp/ 178 / 6 | 131 | 71 | 5 | None | Report |
| #28 | | 19,705,360 | 94.07% | Avernus | 887 | 975&nbsp&nbsp/ 82 / 3 | 179 | 26 | 6 | None | Report |
| #29 | | 19,662,410 | 98.76% | Rhythm blue | 882 | 1049&nbsp&nbsp/ 11 / 1 | 197 | 8 | 5 | None | Report |
| #30 | | 19,577,030 | 95.97% | Flask | 876 | 1009&nbsp&nbsp/ 42 / 0 | 191 | 13 | 15 | None | Report |
| #31 | | 19,322,290 | 95.89% | Legendz | 884 | 1011&nbsp&nbsp/ 30 / 7 | 186 | 14 | 18 | None | Report |
| #32 | | 19,274,030 | 97.40% | Wombraider | 881 | 1026&nbsp&nbsp/ 37 / 0 | 192 | 16 | 3 | None | Report |
| #33 | | 19,069,422 | 99.59% | bro_gamer72 | 805 | 1061&nbsp&nbsp/ 2 / 0 | 207 | 2 | 3 | HD | Report |
| #34 | | 19,041,500 | 93.70% | Garch | 884 | 972&nbsp&nbsp/ 80 / 1 | 175 | 25 | 13 | None | Report |
| #35 | | 18,458,820 | 94.72% | FlyingTuna | 864 | 987&nbsp&nbsp/ 66 / 4 | 175 | 29 | 9 | None | Report |
| #36 | | 17,754,800 | 97.80% | Nexic- | 824 | 1036&nbsp&nbsp/ 19 / 1 | 194 | 11 | 10 | None | Report |
| #37 | | 17,465,350 | 98.91% | Piggey | 823 | 1053&nbsp&nbsp/ 3 / 2 | 200 | 3 | 8 | None | Report |
| #38 | | 17,463,040 | 98.28% | Jace | 825 | 1041&nbsp&nbsp/ 20 / 0 | 195 | 12 | 5 | None | Report |
| #39 | | 17,323,010 | 95.15% | SoraRoxas01 | 825 | 995&nbsp&nbsp/ 56 / 4 | 183 | 18 | 11 | None | Report |
| #40 | | 17,306,470 | 93.70% | a_Blue | 859 | 972&nbsp&nbsp/ 79 / 3 | 162 | 37 | 12 | None | Report |
| #41 | | 17,241,630 | 98.86% | Spare | 821 | 1051&nbsp&nbsp/ 8 / 1 | 200 | 7 | 6 | None | Report |
| #42 | | 16,753,070 | 98.03% | DuNai | 800 | 1038&nbsp&nbsp/ 21 / 0 | 198 | 8 | 7 | None | Report |
| #43 | | 16,444,890 | 97.84% | - Phantasma - | 660 | 1033&nbsp&nbsp/ 30 / 0 | 194 | 15 | 3 | None | Report |
| #44 | | 16,440,050 | 96.64% | benki | 811 | 1017&nbsp&nbsp/ 38 / 3 | 188 | 17 | 8 | None | Report |
| #45 | | 16,165,990 | 98.28% | Lua | 716 | 1040&nbsp&nbsp/ 23 / 0 | 198 | 10 | 3 | None | Report |
| #46 | | 16,037,160 | 96.51% | Aldrouch | 636 | 1017&nbsp&nbsp/ 33 / 5 | 189 | 16 | 11 | None | Report |
| #47 | | 15,905,710 | 97.03% | uyghti | 775 | 1023&nbsp&nbsp/ 33 / 2 | 189 | 14 | 8 | None | Report |
| #48 | | 15,608,931 | 98.66% | Mathi | 631 | 1046&nbsp&nbsp/ 17 / 0 | 195 | 13 | 3 | HR | Report |
| #49 | | 15,437,560 | 97.81% | bules2 | 774 | 1038&nbsp&nbsp/ 12 / 4 | 197 | 6 | 12 | None | Report |
| #50 | | 14,954,670 | 97.58% | [RanYakumo] | 703 | 1032&nbsp&nbsp/ 24 / 1 | 196 | 8 | 9 | None | Report |