Beatmap Listing » UNDERVEIL ALLSTARS - UNDERVEIL IS REAL!!! ...AND WE ARE UNDERVEIL!!!
Artist:
UNDERVEIL ALLSTARS
Circle Size:

Approach Rate:

Title:
UNDERVEIL IS REAL!!! ...AND WE ARE UNDERVEIL!!!
HP Drain:

Star Difficulty:

(5.27)
Creator:
Chara
Accuracy:

Length:
5:46 (5:43 drain)
Source:
UNDERTALE
Genre:
Video Game (Instrumental)
BPM:
180
Tags:
collaboration yamajet 梅干茶漬け umeboshi chazuke orangentle puriri ぷりりー tanchiky saiph kiryu morimori atsushi モリモリあつし lime s-don hara kana コルソン koruson
User Rating:
Success Rate:
Points of Failure:


(graph is accumulative, based on % at fail/retry)

1.9% (27 of 1404 plays)

Submitted:
Ranked:
Jul 8, 2017
Nov 18, 2017
Rating Spread:

Favourited 19 times in total

Users that love this map: Spectator, KittyAdventure, Deneb, Benny-, Hareimu, minus, ohmtaku, Crowley, Zylin, JeirYagtama, AJamez, joxa12, issei2003, ZethZ161, nathebuilda, mayupanpan, mawaridasu, misszhu, vincianne
Options:
Modding / Discussion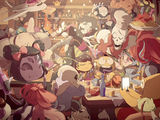 added skin august 6
started mapping: july 8, 2017
finished mapping w/o hitsounds: july 8, 2017
finished hitsounds: july 9, 2017 (all custom hitsounds combined were originally 11.3 MB, now 7 MB)
ready for bn!
download underveil the extra
here!
Artists (in order of appearance)
ああああ + Silentroom
Yamajet
梅干茶漬け
orangentle
ぷりりー
Tanchiky
Saiph
Kiryu
モリモリあつし
Lime + s-don
hara kana
コルソン
糸奇 はな
tc-taka
Taqumi
daph
seaside-métro
izna
Se-u-Ra
ryhki
こふ
MYTK
mossari
Frums
Groex is in the lead! ()
Score
111,995,060 (99.90%)
Max Combo
1994
300 / 100 / 50
1839 / 155 / 980
Misses
0
Geki (Elite Beat!)
232
Droplet misses
3
Mods
None
Top 50 Scoreboard
| | Rank | Score | Accuracy | Player | Max Combo | 300 / 100 / 50 | Geki | Droplet Miss | Misses | Mods | |
| --- | --- | --- | --- | --- | --- | --- | --- | --- | --- | --- | --- |
| #1 | | 111,995,060 | 99.90% | Groex | 1994 | 1839&nbsp&nbsp/ 155 / 980 | 232 | 3 | 0 | None | Report |
| #2 | | 111,991,790 | 100.00% | noraRcat | 1994 | 1839&nbsp&nbsp/ 155 / 983 | 232 | 0 | 0 | None | Report |
| #3 | | 94,783,500 | 99.87% | - Nippa - | 1812 | 1838&nbsp&nbsp/ 155 / 980 | 231 | 3 | 1 | None | Report |
| #4 | | 69,585,620 | 99.73% | Hareimu | 1543 | 1834&nbsp&nbsp/ 155 / 980 | 228 | 3 | 5 | None | Report |
| #5 | | 66,183,670 | 99.56% | Ascendance | 1476 | 1834&nbsp&nbsp/ 155 / 975 | 227 | 8 | 5 | None | Report |
| #6 | | 56,797,850 | 99.83% | monstratorfull | 1151 | 1838&nbsp&nbsp/ 155 / 979 | 231 | 4 | 1 | None | Report |
| #7 | | 34,676,722 | 99.19% | Zak | 859 | 1827&nbsp&nbsp/ 155 / 971 | 221 | 12 | 12 | HD | Report |
| #8 | | 27,700,010 | 99.60% | chickennando | 660 | 1829&nbsp&nbsp/ 155 / 981 | 226 | 2 | 10 | None | Report |
| #9 | | 25,476,510 | 99.46% | xElectroGH | 728 | 1830&nbsp&nbsp/ 154 / 977 | 224 | 6 | 10 | None | Report |
| #10 | | 22,775,300 | 98.39% | 4rcheR- | 631 | 1813&nbsp&nbsp/ 154 / 962 | 218 | 21 | 27 | None | Report |
| #11 | | 21,710,545 | 99.06% | Regu- | 529 | 1828&nbsp&nbsp/ 153 / 968 | 221 | 15 | 13 | HD | Report |
| #12 | | 20,274,410 | 98.89% | Nelly | 606 | 1820&nbsp&nbsp/ 153 / 971 | 219 | 12 | 21 | None | Report |
| #13 | | 17,829,234 | 98.86% | Benny- | 470 | 1820&nbsp&nbsp/ 154 / 969 | 219 | 14 | 20 | HD | Report |
| #14 | | 17,658,600 | 97.78% | iRevi | 635 | 1811&nbsp&nbsp/ 154 / 946 | 215 | 37 | 29 | None | Report |
| #15 | | 16,516,610 | 98.89% | Ryosuke | 440 | 1824&nbsp&nbsp/ 153 / 967 | 217 | 16 | 17 | None | Report |
| #16 | | 11,888,610 | 98.12% | Kitsura | 499 | 1798&nbsp&nbsp/ 154 / 969 | 204 | 14 | 42 | None | Report |
| #17 | | 9,777,580 | 98.59% | Sanami | 341 | 1812&nbsp&nbsp/ 151 / 972 | 209 | 11 | 31 | None | Report |
| #18 | | 6,703,740 | 96.54% | Sinnoh | 297 | 1772&nbsp&nbsp/ 154 / 948 | 187 | 35 | 68 | None | Report |
| #19 | | 6,594,920 | 95.80% | Inu-senpai | 325 | 1748&nbsp&nbsp/ 152 / 952 | 177 | 31 | 94 | None | Report |
| #20 | | 4,448,060 | 96.74% | v25994605 | 389 | 1774&nbsp&nbsp/ 153 / 953 | 189 | 30 | 67 | NF | Report |
| #21 | | 3,814,920 | 94.69% | Kingkevin30 | 374 | 1742&nbsp&nbsp/ 149 / 928 | 175 | 55 | 103 | NF | Report |
| #22 | | 2,285,130 | 94.49% | RedBall | 352 | 1729&nbsp&nbsp/ 149 / 935 | 162 | 48 | 116 | HT | Report |
| #23 | | 330,670 | 46.46% | prindoxx | 14 | 731&nbsp&nbsp/ 82 / 570 | 3 | 413 | 1181 | NF | Report |
| #24 | | 285,490 | 37.55% | yusukeside | 10 | 579&nbsp&nbsp/ 56 / 483 | 2 | 500 | 1359 | NF | Report |
| #25 | | 249,820 | 36.95% | Tahs0 | 6 | 530&nbsp&nbsp/ 57 / 513 | 1 | 470 | 1407 | NF | Report |
| #26 | | 175,110 | 19.11% | Cihan Okumura | 6 | 299&nbsp&nbsp/ 24 / 246 | 1 | 737 | 1671 | NF | Report |
| #27 | | 164,712 | 25.19% | Rukatotoka | 5 | 354&nbsp&nbsp/ 34 / 362 | 0 | 621 | 1606 | NF,HD,HR,DT | Report |