Beatmap Listing » UNDERVEIL ALLSTARS - UNDERVEIL IS REAL!!! ...AND WE ARE UNDERVEIL!!!
Artist:
UNDERVEIL ALLSTARS
Circle Size:

Approach Rate:

Title:
UNDERVEIL IS REAL!!! ...AND WE ARE UNDERVEIL!!!
HP Drain:

Star Difficulty:

(5.27)
Creator:
Chara
Accuracy:

Length:
5:46 (5:43 drain)
Source:
UNDERTALE
Genre:
Video Game (Instrumental)
BPM:
180
Tags:
collaboration yamajet 梅干茶漬け umeboshi chazuke orangentle puriri ぷりりー tanchiky saiph kiryu morimori atsushi モリモリあつし lime s-don hara kana コルソン koruson
User Rating:
Success Rate:
Points of Failure:


(graph is accumulative, based on % at fail/retry)

1.9% (243 of 12537 plays)

Submitted:
Ranked:
Jul 8, 2017
Nov 18, 2017
Rating Spread:

Favourited 43 times in total

Users that love this map: Deneb, miley davola, Benny-, Hareimu, minus, XYousoro, SanarMay, newgoldroger, ohmtaku, Darkric, Crowley, Arksangel101, JeirYagtama, AJamez, Thorton1903, SebaxBlitz, joxa12, negsami, Abb Teru, prindoxx and many more!
Options:
Modding / Discussion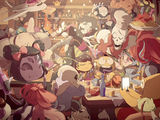 first ranked!~
download underveil the extra here!
Artists (in order of appearance)
ああああ + Silentroom
Yamajet
梅干茶漬け
orangentle
ぷりりー
Tanchiky
Saiph
Kiryu
モリモリあつし
Lime + s-don
hara kana
コルソン
糸奇 はな
tc-taka
Taqumi
daph
seaside-métro
izna
Se-u-Ra
ryhki
こふ
MYTK
mossari
Frums
Spectator is in the lead! ()
Score
118,677,196 (99.93%)
Max Combo
1994
300 / 100 / 50
1839 / 155 / 981
Misses
0
Geki (Elite Beat!)
232
Droplet misses
2
Mods
HD
Top 50 Scoreboard
| | Rank | Score | Accuracy | Player | Max Combo | 300 / 100 / 50 | Geki | Droplet Miss | Misses | Mods | |
| --- | --- | --- | --- | --- | --- | --- | --- | --- | --- | --- | --- |
| #1 | | 118,677,196 | 99.93% | Spectator | 1994 | 1839&nbsp&nbsp/ 155 / 981 | 232 | 2 | 0 | HD | Report |
| #2 | | 118,676,066 | 99.83% | alienflybot | 1994 | 1839&nbsp&nbsp/ 155 / 978 | 232 | 5 | 0 | HD | Report |
| #3 | | 118,652,976 | 99.87% | lechuguin | 1994 | 1839&nbsp&nbsp/ 155 / 979 | 232 | 4 | 0 | HD | Report |
| #4 | | 112,010,490 | 100.00% | mjj741 | 1994 | 1839&nbsp&nbsp/ 155 / 983 | 232 | 0 | 0 | None | Report |
| #5 | | 111,995,060 | 99.90% | Groex | 1994 | 1839&nbsp&nbsp/ 155 / 980 | 232 | 3 | 0 | None | Report |
| #6 | | 111,991,790 | 100.00% | noraRcat | 1994 | 1839&nbsp&nbsp/ 155 / 983 | 232 | 0 | 0 | None | Report |
| #7 | | 111,987,360 | 99.90% | qwhj1027 | 1994 | 1839&nbsp&nbsp/ 155 / 980 | 232 | 3 | 0 | None | Report |
| #8 | | 111,985,110 | 99.73% | monstratorfull | 1994 | 1839&nbsp&nbsp/ 155 / 975 | 232 | 8 | 0 | SD | Report |
| #9 | | 111,971,940 | 99.83% | Hareimu | 1994 | 1839&nbsp&nbsp/ 155 / 978 | 232 | 5 | 0 | None | Report |
| #10 | | 111,970,840 | 99.83% | -Mitsu | 1994 | 1839&nbsp&nbsp/ 155 / 978 | 232 | 5 | 0 | None | Report |
| #11 | | 100,447,270 | 99.36% | dazzulay | 1883 | 1834&nbsp&nbsp/ 155 / 969 | 229 | 14 | 5 | None | Report |
| #12 | | 98,561,320 | 99.83% | AutoLs | 1863 | 1837&nbsp&nbsp/ 155 / 980 | 231 | 3 | 2 | None | Report |
| #13 | | 94,783,500 | 99.87% | Nipah | 1812 | 1838&nbsp&nbsp/ 155 / 980 | 231 | 3 | 1 | None | Report |
| #14 | | 83,867,252 | 99.73% | Roido | 1645 | 1835&nbsp&nbsp/ 155 / 979 | 229 | 4 | 4 | HD | Report |
| #15 | | 80,868,400 | 99.73% | Olib | 1671 | 1838&nbsp&nbsp/ 153 / 978 | 230 | 5 | 3 | None | Report |
| #16 | | 79,129,470 | 99.33% | Maincrashed | 1652 | 1829&nbsp&nbsp/ 155 / 973 | 227 | 10 | 10 | None | Report |
| #17 | | 78,840,110 | 99.87% | YERTI | 1642 | 1837&nbsp&nbsp/ 155 / 981 | 230 | 2 | 2 | None | Report |
| #18 | | 69,655,440 | 99.73% | _wwwww | 1527 | 1834&nbsp&nbsp/ 155 / 980 | 229 | 3 | 5 | None | Report |
| #19 | | 66,183,670 | 99.56% | Ascendance | 1476 | 1834&nbsp&nbsp/ 155 / 975 | 227 | 8 | 5 | None | Report |
| #20 | | 62,174,550 | 99.87% | Tenshichan | 1393 | 1838&nbsp&nbsp/ 154 / 981 | 230 | 2 | 2 | None | Report |
| #21 | | 49,301,550 | 99.93% | Shyeart | 1003 | 1837&nbsp&nbsp/ 155 / 983 | 230 | 0 | 2 | None | Report |
| #22 | | 44,425,660 | 99.76% | chickennando | 889 | 1833&nbsp&nbsp/ 155 / 982 | 227 | 1 | 6 | None | Report |
| #23 | | 38,686,300 | 98.93% | syu | 885 | 1819&nbsp&nbsp/ 154 / 972 | 221 | 11 | 21 | None | Report |
| #24 | | 37,687,874 | 99.60% | Dusk | 930 | 1834&nbsp&nbsp/ 155 / 976 | 227 | 7 | 5 | HR | Report |
| #25 | | 34,676,722 | 99.19% | Zak | 859 | 1827&nbsp&nbsp/ 155 / 971 | 221 | 12 | 12 | HD | Report |
| #26 | | 31,793,970 | 99.19% | AizW | 896 | 1827&nbsp&nbsp/ 155 / 971 | 224 | 12 | 12 | None | Report |
| #27 | | 29,582,250 | 99.63% | -Electro- | 623 | 1834&nbsp&nbsp/ 155 / 977 | 228 | 6 | 5 | None | Report |
| #28 | | 27,124,680 | 99.43% | Beizer | 582 | 1834&nbsp&nbsp/ 154 / 972 | 227 | 11 | 6 | None | Report |
| #29 | | 25,093,970 | 99.16% | Deif | 763 | 1826&nbsp&nbsp/ 155 / 971 | 222 | 12 | 13 | None | Report |
| #30 | | 25,000,870 | 99.23% | Katch | 629 | 1824&nbsp&nbsp/ 155 / 975 | 223 | 8 | 15 | None | Report |
| #31 | | 23,530,260 | 98.76% | koliron | 687 | 1822&nbsp&nbsp/ 154 / 964 | 220 | 19 | 18 | None | Report |
| #32 | | 23,337,650 | 97.82% | Huasulman | 859 | 1812&nbsp&nbsp/ 155 / 945 | 211 | 38 | 27 | None | Report |
| #33 | | 22,811,710 | 98.96% | EEEHHH | 610 | 1825&nbsp&nbsp/ 154 / 967 | 220 | 16 | 15 | None | Report |
| #34 | | 22,775,300 | 98.39% | 4rcheR- | 631 | 1813&nbsp&nbsp/ 154 / 962 | 218 | 21 | 27 | None | Report |
| #35 | | 21,710,545 | 99.06% | Regu- | 529 | 1828&nbsp&nbsp/ 153 / 968 | 221 | 15 | 13 | HD | Report |
| #36 | | 21,179,640 | 98.86% | Sanami | 669 | 1820&nbsp&nbsp/ 155 / 968 | 217 | 15 | 19 | None | Report |
| #37 | | 20,387,450 | 98.49% | -Nicotine | 738 | 1820&nbsp&nbsp/ 153 / 959 | 216 | 24 | 21 | None | Report |
| #38 | | 20,274,410 | 98.89% | Nelly | 606 | 1820&nbsp&nbsp/ 153 / 971 | 219 | 12 | 21 | None | Report |
| #39 | | 19,592,230 | 99.36% | amay173 | 530 | 1827&nbsp&nbsp/ 154 / 977 | 222 | 6 | 13 | None | Report |
| #40 | | 17,829,234 | 98.86% | Benny- | 470 | 1820&nbsp&nbsp/ 154 / 969 | 219 | 14 | 20 | HD | Report |
| #41 | | 17,776,830 | 99.03% | joxa12 | 517 | 1818&nbsp&nbsp/ 155 / 975 | 217 | 8 | 21 | None | Report |
| #42 | | 17,658,600 | 97.78% | iRevi | 635 | 1811&nbsp&nbsp/ 154 / 946 | 215 | 37 | 29 | None | Report |
| #43 | | 17,093,630 | 98.52% | BlueSparklez | 563 | 1817&nbsp&nbsp/ 151 / 965 | 213 | 18 | 26 | None | Report |
| #44 | | 16,691,370 | 98.29% | Zoggoth | 560 | 1812&nbsp&nbsp/ 149 / 965 | 211 | 18 | 33 | None | Report |
| #45 | | 16,516,610 | 98.89% | Ryosuke | 440 | 1824&nbsp&nbsp/ 153 / 967 | 217 | 16 | 17 | None | Report |
| #46 | | 16,248,460 | 98.19% | Hiver Laurant | 616 | 1814&nbsp&nbsp/ 151 / 958 | 210 | 25 | 29 | None | Report |
| #47 | | 15,191,310 | 97.82% | Sanpon | 450 | 1810&nbsp&nbsp/ 151 / 951 | 210 | 32 | 33 | None | Report |
| #48 | | 14,609,157 | 96.54% | Love Lolita | 580 | 1785&nbsp&nbsp/ 151 / 938 | 204 | 45 | 58 | HD | Report |
| #49 | | 12,848,936 | 97.68% | Tyrell | 423 | 1799&nbsp&nbsp/ 152 / 957 | 203 | 26 | 43 | HD | Report |
| #50 | | 12,487,030 | 98.79% | T m e | 414 | 1813&nbsp&nbsp/ 155 / 973 | 214 | 10 | 26 | None | Report |