Artist:
2pm
Circle Size:

Approach Rate:

Title:
Tetris
HP Drain:

Star Difficulty:

(2.70)
Creator:
Bonesnake
Accuracy:

Length:
2:57 (2:24 drain)
Source:
Genre:
Video Game (Instrumental)
BPM:
140
Tags:
User Rating:
Success Rate:
Points of Failure:


(graph is accumulative, based on % at fail/retry)

26.5% (286957 of 1084065 plays)

Submitted:
Ranked:
Jan 25, 2008
Feb 3, 2008
Rating Spread:

Favourited 525 times in total

Users that love this map: homer, Sapport, GameKing15, kingcobra52, CowNoseThe50PoundCat, flix123, Chiibi, enistoja, Pepero, Yuutsu, starfox200, guillez, i am nobody, EeyoreXD, loli123, roxasdarkness, Kupo, 5544554, FrAnX, Klaw_old and many more!
Options:
This Beatmap's Thread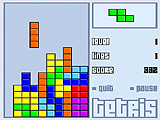 So, i've kinda been away for a while, but i felt like making a beatmap again. So here it is, some tetris remix. I tried making tetris blocks with the notes wich kinda worked.
Also there's a game of tetris playing in the background
Haxwell is in the lead! ()
Score
4,744,531 (99.27%)
Max Combo
395
300 / 100 / 50
360 / 4 / 0
Misses
0
Geki (Elite Beat!)
114
Katu (Beat!)
4
Mods
HD,DT,FL
Top 50 Scoreboard
| | Rank | Score | Accuracy | Player | Max Combo | 300 / 100 / 50 | Geki | Katu | Misses | Mods | |
| --- | --- | --- | --- | --- | --- | --- | --- | --- | --- | --- | --- |
| #1 | | 4,744,531 | 99.27% | Haxwell | 395 | 360&nbsp&nbsp/ 4 / 0 | 114 | 4 | 0 | HD,DT,FL | Report |
| #2 | | 4,667,991 | 97.62% | MillhioreF | 395 | 351&nbsp&nbsp/ 13 / 0 | 107 | 11 | 0 | HD,DT,FL | Report |
| #3 | | 4,496,451 | 99.27% | WubWoofWolf | 395 | 360&nbsp&nbsp/ 4 / 0 | 116 | 2 | 0 | HD,HR,FL | Report |
| #4 | | 4,430,453 | 98.17% | Osama | 395 | 354&nbsp&nbsp/ 10 / 0 | 108 | 10 | 0 | HD,HR,DT | Report |
| #5 | | 4,407,164 | 97.62% | Lybydose | 395 | 351&nbsp&nbsp/ 13 / 0 | 108 | 10 | 0 | HD,HR,FL | Report |
| #6 | | 4,404,313 | 97.62% | Happy New Year | 395 | 351&nbsp&nbsp/ 13 / 0 | 106 | 12 | 0 | HD,HR,DT | Report |
| #7 | | 4,392,380 | 97.07% | aitsuk | 395 | 348&nbsp&nbsp/ 16 / 0 | 105 | 13 | 0 | HD,HR,FL | Report |
| #8 | | 4,390,452 | 97.80% | Henry- | 395 | 352&nbsp&nbsp/ 12 / 0 | 110 | 8 | 0 | HD,HR,DT | Report |
| #9 | | 4,377,097 | 96.70% | RyuuBei | 395 | 346&nbsp&nbsp/ 18 / 0 | 105 | 13 | 0 | HD,HR,DT | Report |
| #10 | | 4,369,910 | 96.52% | Krokou | 395 | 345&nbsp&nbsp/ 19 / 0 | 102 | 16 | 0 | HD,HR,DT | Report |
| #11 | | 4,363,282 | 97.07% | Guminis | 395 | 348&nbsp&nbsp/ 16 / 0 | 106 | 12 | 0 | HD,HR,DT | Report |
| #12 | | 4,352,257 | 96.52% | pyon | 395 | 345&nbsp&nbsp/ 19 / 0 | 106 | 12 | 0 | HD,HR,DT | Report |
| #13 | | 4,342,082 | 95.15% | rafalbrew | 395 | 338&nbsp&nbsp/ 24 / 2 | 97 | 20 | 0 | HD,HR,DT | Report |
| #14 | | 4,337,778 | 96.66% | Mafham | 395 | 346&nbsp&nbsp/ 17 / 1 | 108 | 9 | 0 | HD,HR,DT | Report |
| #15 | | 4,312,748 | 95.24% | Gomo Psivarh | 395 | 338&nbsp&nbsp/ 26 / 0 | 99 | 19 | 0 | HD,HR,FL | Report |
| #16 | | 4,302,403 | 100.00% | ExGon | 395 | 364&nbsp&nbsp/ 0 / 0 | 118 | 0 | 0 | HD,NC | Report |
| #17 | | 4,294,662 | 95.88% | -MisterBoo- | 395 | 342&nbsp&nbsp/ 20 / 2 | 104 | 12 | 0 | HD,HR,FL | Report |
| #18 | | 4,293,303 | 100.00% | ShaggoN | 395 | 364&nbsp&nbsp/ 0 / 0 | 118 | 0 | 0 | HR,FL,SD | Report |
| #19 | | 4,292,503 | 100.00% | L y Z e | 395 | 364&nbsp&nbsp/ 0 / 0 | 118 | 0 | 0 | HD,FL | Report |
| #20 | | 4,277,041 | 99.82% | ZeroNoLouise | 395 | 363&nbsp&nbsp/ 1 / 0 | 117 | 1 | 0 | HD,FL | Report |
| #21 | | 4,276,718 | 99.63% | Camucamu | 395 | 362&nbsp&nbsp/ 2 / 0 | 116 | 2 | 0 | HD,DT | Report |
| #22 | | 4,268,024 | 94.64% | teamplayer51 | 395 | 335&nbsp&nbsp/ 28 / 1 | 96 | 21 | 0 | HD,HR,DT | Report |
| #23 | | 4,264,459 | 93.96% | dat boi waffle | 395 | 331&nbsp&nbsp/ 33 / 0 | 92 | 26 | 0 | HD,HR,DT | Report |
| #24 | | 4,255,952 | 99.27% | Zonicc | 395 | 360&nbsp&nbsp/ 4 / 0 | 114 | 4 | 0 | HD,FL | Report |
| #25 | | 4,254,489 | 99.45% | BluGalaxian | 395 | 361&nbsp&nbsp/ 3 / 0 | 115 | 3 | 0 | HR,FL | Report |
| #26 | | 4,253,289 | 98.72% | yurippelove | 395 | 357&nbsp&nbsp/ 7 / 0 | 112 | 6 | 0 | HD,DT | Report |
| #27 | | 4,250,105 | 98.81% | kaem | 395 | 358&nbsp&nbsp/ 4 / 2 | 114 | 3 | 0 | HD,DT,SD | Report |
| #28 | | 4,238,199 | 92.95% | Gayzmcgee | 395 | 326&nbsp&nbsp/ 36 / 2 | 88 | 28 | 0 | HD,HR,DT | Report |
| #29 | | 4,236,797 | 98.35% | Karubona-ra | 395 | 355&nbsp&nbsp/ 9 / 0 | 109 | 9 | 0 | HD,DT | Report |
| #30 | | 4,233,425 | 98.53% | 2333 | 395 | 356&nbsp&nbsp/ 8 / 0 | 111 | 7 | 0 | HD,DT | Report |
| #31 | | 4,227,926 | 98.53% | Kroko95 | 395 | 356&nbsp&nbsp/ 8 / 0 | 110 | 8 | 0 | HR,FL | Report |
| #32 | | 4,226,814 | 97.99% | Virrus | 395 | 353&nbsp&nbsp/ 11 / 0 | 110 | 8 | 0 | HD,DT | Report |
| #33 | | 4,225,218 | 98.53% | Sanji | 395 | 356&nbsp&nbsp/ 8 / 0 | 112 | 6 | 0 | HD,FL | Report |
| #34 | | 4,224,962 | 98.35% | Aezakmi | 395 | 355&nbsp&nbsp/ 9 / 0 | 112 | 6 | 0 | HD,DT | Report |
| #35 | | 4,222,926 | 98.44% | Henkie | 395 | 356&nbsp&nbsp/ 6 / 2 | 112 | 4 | 0 | HD,DT | Report |
| #36 | | 4,221,861 | 98.86% | IAmDeiv | 395 | 358&nbsp&nbsp/ 5 / 1 | 113 | 4 | 0 | HD,DT | Report |
| #37 | | 4,219,484 | 97.57% | - Auto - | 395 | 351&nbsp&nbsp/ 12 / 1 | 107 | 10 | 0 | HD,DT | Report |
| #38 | | 4,218,641 | 98.31% | NeXuS15 | 395 | 355&nbsp&nbsp/ 8 / 1 | 111 | 6 | 0 | HD,DT | Report |
| #39 | | 4,218,490 | 98.63% | WoodLZM | 395 | 357&nbsp&nbsp/ 5 / 2 | 115 | 2 | 0 | HD,DT,SD | Report |
| #40 | | 4,218,084 | 97.99% | crippletoytl | 395 | 353&nbsp&nbsp/ 11 / 0 | 110 | 8 | 0 | HD,DT | Report |
| #41 | | 4,216,457 | 98.35% | yans601 | 395 | 355&nbsp&nbsp/ 9 / 0 | 109 | 9 | 0 | HR,FL | Report |
| #42 | | 4,209,851 | 96.70% | Juzaa | 395 | 346&nbsp&nbsp/ 18 / 0 | 104 | 14 | 0 | HD,DT | Report |
| #43 | | 4,208,493 | 98.53% | TemaZpro | 395 | 356&nbsp&nbsp/ 8 / 0 | 112 | 6 | 0 | HD,DT | Report |
| #44 | | 4,207,417 | 97.99% | N E K O | 395 | 353&nbsp&nbsp/ 11 / 0 | 108 | 10 | 0 | HD,DT | Report |
| #45 | | 4,206,304 | 97.99% | geckogates | 395 | 353&nbsp&nbsp/ 11 / 0 | 109 | 9 | 0 | HD,DT | Report |
| #46 | | 4,206,224 | 98.53% | AmericanPenguin | 395 | 356&nbsp&nbsp/ 8 / 0 | 111 | 7 | 0 | HD,DT | Report |
| #47 | | 4,203,541 | 98.17% | creativ | 395 | 354&nbsp&nbsp/ 10 / 0 | 109 | 9 | 0 | HD,DT | Report |
| #48 | | 4,200,668 | 97.99% | [-Lucario-] | 395 | 353&nbsp&nbsp/ 11 / 0 | 110 | 8 | 0 | HD,DT | Report |
| #49 | | 4,200,511 | 98.08% | Warrock | 395 | 354&nbsp&nbsp/ 8 / 2 | 113 | 4 | 0 | HD,DT,SD | Report |
| #50 | | 4,200,454 | 98.53% | Elinia | 395 | 356&nbsp&nbsp/ 8 / 0 | 112 | 6 | 0 | HD,NC | Report |