Beatmap Listing » Hiroshi Yamaguchi - Okikurmi the Hero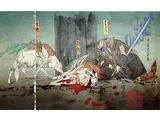 (April 7th)
Fourth map in the Okami project. This one was requested. Still working on Normal and Hard, but figured that I may as well get what I have done so far up.
Critique on sounds (no naziing though please), spacing and timing are all particularly appreciated.
Update (Apr.8,09): Finished Hard save for hitsounds.
Update (Apr.11,09): Done Hard for the most part, still need to touch up hit sounds on it though.
Update (Apr.19,09): A bit of Normal done, touched on a couple combos in Easy (thanks Nactra).
Update (Jan.13): Update to the map with more done. Mostly all that's left are some sounds and adjustments. Feedback of all kinds is appreciated.
Update (Jan.14): A few adjustments based on Dusty's feedback. More adjustments are planned to be made soon.
Update (Jan.20): Normal has seen some adjustments for the sake of simplicity and has complete sounds. Hard's had most 1/6th beats adjusted for similar reasons. I've also added a background and set the skin, however, I have not yet set colours, and the background will likely be changed assuming I can find better material.
Moved (Feb.15): Made some sound adjustments and such. I've not yet obtained a better background, so I'll stick with this until further notice. Moved to Pending.