Artist:
cYsmix
Circle Size:

Approach Rate:

Title:
Arcade Busters
HP Drain:

Star Difficulty:

(4.79)
Creator:
borborygmos
Accuracy:

Length:
1:46 (1:29 drain)
Source:
osu!
Genre:
Video Game (Instrumental)
BPM:
165
Tags:
featured artist electronic video game videogame
User Rating:
Success Rate:
Points of Failure:


(graph is accumulative, based on % at fail/retry)

8.1% (878 of 10799 plays)

Submitted:
Ranked:
Apr 19, 2017
Jun 18, 2017
Rating Spread:

Favourited 42 times in total

Users that love this map: Plantifant, vipto, tmk2323, lizthehedgehog, asd9514798, [-R1], JinKazuto77, maximaxiU, SubSide, Shiguma, Ellyu, teemo is awsome, Lancelot2299, Joe Castle, Sharkspeare, xXN3koXx, chewy1127, boilpoil, kacper6511, FarisNaufal and many more!
Options:
This Beatmap's Thread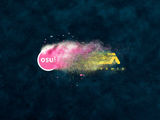 Your map must have received a couple of actual reviews already. These reviews do not have to be from a Nominator, though. Just make sure it is not the first or second mod you get overally for your beatmap.
This set was intended to be ranked easily. (Then Nao told me to make an Expert difficulty ;w;)
Toy is in the lead! ()
Score
14,926,488 (98.35%)
Max Combo
822
300 / 100 / 50
533 / 11 / 2
Misses
0
Geki (Elite Beat!)
149
Katu (Beat!)
5
Mods
HD,HR
Top 50 Scoreboard
| | Rank | Score | Accuracy | Player | Max Combo | 300 / 100 / 50 | Geki | Katu | Misses | Mods | |
| --- | --- | --- | --- | --- | --- | --- | --- | --- | --- | --- | --- |
| #1 | | 14,926,488 | 98.35% | Toy | 822 | 533&nbsp&nbsp/ 11 / 2 | 149 | 5 | 0 | HD,HR | Report |
| #2 | | 14,856,462 | 98.05% | Kabu | 822 | 530&nbsp&nbsp/ 16 / 0 | 146 | 10 | 0 | HD,HR | Report |
| #3 | | 14,490,200 | 95.21% | KonataN | 821 | 507&nbsp&nbsp/ 38 / 1 | 137 | 18 | 0 | HD,HR | Report |
| #4 | | 13,448,536 | 97.68% | RyuuBei | 780 | 529&nbsp&nbsp/ 12 / 2 | 147 | 7 | 3 | HD,HR | Report |
| #5 | | 13,444,760 | 100.00% | Rlsc | 823 | 546&nbsp&nbsp/ 0 / 0 | 156 | 0 | 0 | None | Report |
| #6 | | 13,442,300 | 99.63% | Kyoushouryuu | 823 | 543&nbsp&nbsp/ 3 / 0 | 153 | 3 | 0 | None | Report |
| #7 | | 13,433,980 | 99.39% | Garden | 823 | 541&nbsp&nbsp/ 5 / 0 | 154 | 2 | 0 | None | Report |
| #8 | | 13,425,590 | 99.24% | McKay | 823 | 540&nbsp&nbsp/ 5 / 1 | 152 | 3 | 0 | None | Report |
| #9 | | 13,387,940 | 93.86% | My Angel Chippy | 821 | 496&nbsp&nbsp/ 49 / 1 | 126 | 29 | 0 | HR | Report |
| #10 | | 13,379,760 | 99.02% | Karthy | 823 | 538&nbsp&nbsp/ 8 / 0 | 152 | 4 | 0 | None | Report |
| #11 | | 13,363,390 | 98.66% | Jukkii | 822 | 535&nbsp&nbsp/ 11 / 0 | 150 | 6 | 0 | None | Report |
| #12 | | 13,358,750 | 98.53% | panda96 | 822 | 534&nbsp&nbsp/ 12 / 0 | 150 | 6 | 0 | None | Report |
| #13 | | 13,349,820 | 98.66% | Coppola | 823 | 535&nbsp&nbsp/ 11 / 0 | 147 | 9 | 0 | None | Report |
| #14 | | 13,275,650 | 98.41% | Deramok | 822 | 533&nbsp&nbsp/ 13 / 0 | 148 | 8 | 0 | None | Report |
| #15 | | 13,177,150 | 97.44% | JiangYouli | 818 | 526&nbsp&nbsp/ 16 / 4 | 144 | 10 | 0 | None | Report |
| #16 | | 13,124,150 | 97.07% | Fixr | 820 | 522&nbsp&nbsp/ 24 / 0 | 142 | 14 | 0 | None | Report |
| #17 | | 13,077,700 | 97.01% | Rxz | 820 | 522&nbsp&nbsp/ 22 / 2 | 143 | 12 | 0 | None | Report |
| #18 | | 12,745,961 | 97.01% | qwr | 780 | 524&nbsp&nbsp/ 15 / 4 | 147 | 7 | 3 | HD | Report |
| #19 | | 12,627,761 | 96.43% | EpicAsianGamer | 779 | 518&nbsp&nbsp/ 25 / 1 | 142 | 12 | 2 | HD | Report |
| #20 | | 12,625,148 | 98.38% | emu1337 | 776 | 534&nbsp&nbsp/ 9 / 1 | 150 | 5 | 2 | HD | Report |
| #21 | | 12,420,927 | 97.10% | IceMachine | 772 | 524&nbsp&nbsp/ 16 / 5 | 146 | 8 | 1 | HD | Report |
| #22 | | 12,369,719 | 96.70% | Warrock | 751 | 519&nbsp&nbsp/ 27 / 0 | 138 | 18 | 0 | HD,HR | Report |
| #23 | | 12,297,540 | 92.46% | MellowKitsune | 805 | 485&nbsp&nbsp/ 58 / 3 | 119 | 34 | 0 | None | Report |
| #24 | | 12,136,150 | 98.02% | 3D Printer | 782 | 531&nbsp&nbsp/ 11 / 3 | 150 | 4 | 1 | None | Report |
| #25 | | 12,006,580 | 98.75% | lup | 779 | 537&nbsp&nbsp/ 6 / 1 | 149 | 4 | 2 | None | Report |
| #26 | | 11,990,700 | 97.99% | Baustein | 777 | 530&nbsp&nbsp/ 15 / 0 | 150 | 5 | 1 | None | Report |
| #27 | | 11,981,330 | 98.14% | OtakuFlame | 778 | 533&nbsp&nbsp/ 8 / 1 | 149 | 5 | 4 | None | Report |
| #28 | | 11,971,940 | 98.20% | l1mi | 777 | 533&nbsp&nbsp/ 8 / 3 | 149 | 6 | 2 | None | Report |
| #29 | | 11,951,620 | 97.65% | xasuma | 778 | 528&nbsp&nbsp/ 14 / 3 | 146 | 8 | 1 | None | Report |
| #30 | | 11,890,510 | 96.21% | Freckle | 779 | 516&nbsp&nbsp/ 27 / 2 | 141 | 13 | 1 | None | Report |
| #31 | | 11,833,440 | 96.70% | Quinten | 777 | 521&nbsp&nbsp/ 19 / 4 | 142 | 12 | 2 | None | Report |
| #32 | | 11,823,600 | 98.50% | Genjuro | 779 | 534&nbsp&nbsp/ 11 / 1 | 150 | 5 | 0 | None | Report |
| #33 | | 11,820,150 | 96.06% | Blue Wells | 780 | 515&nbsp&nbsp/ 27 / 3 | 143 | 11 | 1 | None | Report |
| #34 | | 11,478,920 | 94.66% | Akwiria | 772 | 504&nbsp&nbsp/ 37 / 3 | 133 | 21 | 2 | None | Report |
| #35 | | 11,333,850 | 93.01% | Betellgeus | 767 | 491&nbsp&nbsp/ 48 / 5 | 123 | 30 | 2 | None | Report |
| #36 | | 11,330,200 | 96.43% | fripSide | 764 | 518&nbsp&nbsp/ 24 / 3 | 141 | 13 | 1 | None | Report |
| #37 | | 11,273,064 | 96.28% | twin-nic | 737 | 516&nbsp&nbsp/ 29 / 0 | 131 | 24 | 1 | HD | Report |
| #38 | | 10,946,692 | 94.69% | -[Snitch]- | 729 | 505&nbsp&nbsp/ 35 / 2 | 132 | 21 | 4 | HD | Report |
| #39 | | 10,722,483 | 99.15% | -Machine- | 700 | 539&nbsp&nbsp/ 7 / 0 | 153 | 3 | 0 | HD | Report |
| #40 | | 10,556,440 | 97.16% | [NEX] | 723 | 523&nbsp&nbsp/ 22 / 1 | 147 | 8 | 0 | None | Report |
| #41 | | 10,538,420 | 93.38% | KinglingCS | 740 | 495&nbsp&nbsp/ 42 / 5 | 125 | 26 | 4 | None | Report |
| #42 | | 10,499,072 | 98.75% | Stoney | 701 | 537&nbsp&nbsp/ 6 / 1 | 151 | 4 | 2 | HD | Report |
| #43 | | 10,444,862 | 96.21% | S_Zizzle | 707 | 518&nbsp&nbsp/ 22 / 0 | 137 | 17 | 6 | HD | Report |
| #44 | | 10,312,090 | 97.16% | [-R1] | 724 | 525&nbsp&nbsp/ 14 / 5 | 146 | 8 | 2 | None | Report |
| #45 | | 10,265,360 | 96.89% | Seguri | 719 | 522&nbsp&nbsp/ 21 / 0 | 142 | 12 | 3 | None | Report |
| #46 | | 10,186,380 | 97.47% | UndeadCapulet | 717 | 527&nbsp&nbsp/ 14 / 3 | 144 | 9 | 2 | None | Report |
| #47 | | 10,054,320 | 96.76% | Xolerox | 708 | 521&nbsp&nbsp/ 21 / 2 | 144 | 9 | 2 | None | Report |
| #48 | | 9,945,830 | 95.45% | Shakov | 709 | 512&nbsp&nbsp/ 27 / 1 | 140 | 13 | 6 | None | Report |
| #49 | | 9,858,510 | 97.59% | D non | 700 | 528&nbsp&nbsp/ 13 / 3 | 146 | 8 | 2 | None | Report |
| #50 | | 9,685,870 | 96.28% | Rint | 697 | 518&nbsp&nbsp/ 22 / 2 | 139 | 14 | 4 | None | Report |