Artist:
USAO
Circle Size:

Approach Rate:

Title:
Extra Mode
HP Drain:

Star Difficulty:

(6.16)
Creator:
_MiaoFUuU_
Accuracy:

Length:
5:10 (5:01 drain)
Source:
Genre:
Electronic (Instrumental)
BPM:
195
Tags:
hardcore tano*c speed ball evolution kick's for liberation 5 dj noriken remix long ver.
User Rating:
Success Rate:
Points of Failure:


(graph is accumulative, based on % at fail/retry)

12.7% (281 of 2215 plays)

Submitted:
Qualified:
Feb 28, 2017
Apr 21, 2017
Rating Spread:

Favourited 35 times in total

Users that love this map: Splinter572, Fedora Goose, skintel, Snow--, Fear Kubrick, plmnbvz, Yumbtah, rasssler, Leiatic, Akasagarbha, Zelnehuln, as159915, isopaharuntikka, RevengeZ, Weyk, den0saur, jurrrgis, Sleeping yuki, xLuka, Suuchi and many more!
Options:
This Beatmap's Thread
This map is in a QUALIFIED state.
Beware that the leaderboard will be reset before it is ranked!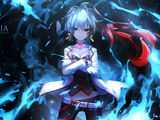 1st 6stars
Extra Mode

—

卍
You Can
AtHeoN is in the lead! ()
Score
116,680,880 (99.66%)
Max Combo
2492
300 / 100 / 50
1577 / 8 / 0
Misses
0
Geki (Elite Beat!)
618
Katu (Beat!)
8
Mods
None
Top 50 Scoreboard
| | Rank | Score | Accuracy | Player | Max Combo | 300 / 100 / 50 | Geki | Katu | Misses | Mods | |
| --- | --- | --- | --- | --- | --- | --- | --- | --- | --- | --- | --- |
| #1 | | 116,680,880 | 99.66% | AtHeoN | 2492 | 1577&nbsp&nbsp/ 8 / 0 | 618 | 8 | 0 | None | Report |
| #2 | | 70,359,720 | 98.30% | Loli_Silica | 1933 | 1545&nbsp&nbsp/ 39 / 0 | 588 | 37 | 1 | None | Report |
| #3 | | 68,050,600 | 97.90% | HappyStick | 1902 | 1535&nbsp&nbsp/ 50 / 0 | 583 | 43 | 0 | None | Report |
| #4 | | 56,341,980 | 99.14% | Tiger Claw | 1685 | 1565&nbsp&nbsp/ 19 / 0 | 606 | 19 | 1 | None | Report |
| #5 | | 49,351,560 | 98.82% | Mlaw22 | 1523 | 1558&nbsp&nbsp/ 25 / 0 | 601 | 23 | 2 | None | Report |
| #6 | | 38,006,631 | 98.45% | Fedora Goose | 1180 | 1550&nbsp&nbsp/ 31 / 1 | 596 | 26 | 3 | HD | Report |
| #7 | | 36,971,810 | 98.52% | Sinch | 972 | 1551&nbsp&nbsp/ 31 / 1 | 595 | 28 | 2 | None | Report |
| #8 | | 36,745,820 | 98.78% | Koltaylolz | 1248 | 1557&nbsp&nbsp/ 26 / 0 | 600 | 24 | 2 | HD | Report |
| #9 | | 34,942,869 | 97.54% | [ScarletFang] | 1056 | 1529&nbsp&nbsp/ 50 / 2 | 576 | 44 | 4 | HD | Report |
| #10 | | 34,579,130 | 99.10% | 404 AimNotFound | 1204 | 1565&nbsp&nbsp/ 17 / 0 | 607 | 16 | 3 | None | Report |
| #11 | | 33,819,600 | 98.80% | Piggey | 950 | 1557&nbsp&nbsp/ 27 / 0 | 601 | 24 | 1 | None | Report |
| #12 | | 31,799,210 | 96.68% | Doma Umaru | 1058 | 1510&nbsp&nbsp/ 67 / 0 | 563 | 55 | 8 | None | Report |
| #13 | | 29,987,640 | 95.68% | mcy3 | 1002 | 1485&nbsp&nbsp/ 94 / 1 | 543 | 77 | 5 | None | Report |
| #14 | | 28,601,020 | 98.04% | Meltina | 852 | 1539&nbsp&nbsp/ 45 / 0 | 589 | 36 | 1 | None | Report |
| #15 | | 28,455,720 | 99.03% | RedLeaf | 1071 | 1563&nbsp&nbsp/ 20 / 0 | 604 | 20 | 2 | None | Report |
| #16 | | 26,566,110 | 96.46% | TheRedMati | 998 | 1505&nbsp&nbsp/ 71 / 1 | 558 | 60 | 8 | None | Report |
| #17 | | 26,230,160 | 96.48% | Fear Kubrick | 1065 | 1504&nbsp&nbsp/ 75 / 1 | 563 | 57 | 5 | None | Report |
| #18 | | 24,628,880 | 98.19% | YoonA- | 732 | 1543&nbsp&nbsp/ 40 / 0 | 588 | 36 | 2 | None | Report |
| #19 | | 24,367,810 | 98.42% | hisuiironosora | 893 | 1550&nbsp&nbsp/ 27 / 6 | 596 | 27 | 2 | None | Report |
| #20 | | 23,838,355 | 96.64% | Vyteras | 933 | 1510&nbsp&nbsp/ 65 / 0 | 561 | 56 | 10 | HD | Report |
| #21 | | 23,541,780 | 96.83% | Kurogami | 951 | 1514&nbsp&nbsp/ 62 / 1 | 565 | 52 | 8 | None | Report |
| #22 | | 21,889,902 | 90.49% | GalaxyFox | 973 | 1364&nbsp&nbsp/ 209 / 4 | 453 | 161 | 8 | HD | Report |
| #23 | | 21,834,770 | 97.69% | Doomsday | 741 | 1531&nbsp&nbsp/ 52 / 0 | 572 | 52 | 2 | None | Report |
| #24 | | 21,517,500 | 95.50% | Arctini | 947 | 1482&nbsp&nbsp/ 94 / 2 | 542 | 76 | 7 | None | Report |
| #25 | | 21,189,080 | 95.92% | Cuckweezy | 957 | 1493&nbsp&nbsp/ 82 / 0 | 552 | 64 | 10 | None | Report |
| #26 | | 21,002,170 | 95.32% | Legestrophe | 940 | 1480&nbsp&nbsp/ 92 / 1 | 549 | 66 | 12 | None | Report |
| #27 | | 20,208,820 | 96.32% | WhiteOnion | 563 | 1500&nbsp&nbsp/ 80 / 0 | 562 | 59 | 5 | None | Report |
| #28 | | 20,130,750 | 92.75% | waaiiru | 770 | 1416&nbsp&nbsp/ 161 / 3 | 502 | 116 | 5 | HD,HR | Report |
| #29 | | 20,045,680 | 97.68% | xoho | 918 | 1534&nbsp&nbsp/ 42 / 1 | 579 | 38 | 8 | None | Report |
| #30 | | 19,555,910 | 96.86% | Miucs | 754 | 1515&nbsp&nbsp/ 60 / 1 | 563 | 53 | 9 | None | Report |
| #31 | | 18,642,750 | 96.73% | Soy Sauce | 685 | 1513&nbsp&nbsp/ 60 / 1 | 563 | 52 | 11 | None | Report |
| #32 | | 17,901,770 | 97.52% | benki | 728 | 1529&nbsp&nbsp/ 50 / 0 | 581 | 39 | 6 | None | Report |
| #33 | | 17,366,781 | 97.06% | Elysion | 739 | 1520&nbsp&nbsp/ 55 / 0 | 568 | 48 | 10 | HD | Report |
| #34 | | 16,160,052 | 95.51% | MrSergio | 756 | 1488&nbsp&nbsp/ 76 / 3 | 543 | 65 | 18 | HD | Report |
| #35 | | 16,099,180 | 97.21% | Panshow | 672 | 1523&nbsp&nbsp/ 53 / 1 | 570 | 48 | 8 | None | Report |
| #36 | | 16,021,690 | 96.74% | Zelnehuln | 652 | 1509&nbsp&nbsp/ 73 / 0 | 560 | 63 | 3 | None | Report |
| #37 | | 15,825,513 | 94.56% | Feyyy | 543 | 1465&nbsp&nbsp/ 101 / 1 | 535 | 74 | 18 | HD | Report |
| #38 | | 15,657,640 | 98.34% | ThePro365 | 454 | 1547&nbsp&nbsp/ 35 / 0 | 590 | 33 | 3 | None | Report |
| #39 | | 15,400,405 | 93.84% | gusrua123 | 627 | 1450&nbsp&nbsp/ 111 / 2 | 520 | 88 | 22 | HD | Report |
| #40 | | 15,391,020 | 89.71% | Amai Chocolate | 595 | 1347&nbsp&nbsp/ 217 / 15 | 464 | 145 | 6 | None | Report |
| #41 | | 15,261,041 | 96.26% | Noobsicle | 632 | 1503&nbsp&nbsp/ 66 / 4 | 565 | 50 | 12 | HD | Report |
| #42 | | 15,125,250 | 96.96% | Chiu | 584 | 1515&nbsp&nbsp/ 64 / 3 | 571 | 50 | 3 | None | Report |
| #43 | | 14,617,860 | 98.02% | Mirtrax | 467 | 1543&nbsp&nbsp/ 32 / 0 | 586 | 31 | 10 | None | Report |
| #44 | | 14,558,416 | 94.84% | [ TAY ] | 632 | 1469&nbsp&nbsp/ 101 / 3 | 532 | 81 | 12 | HD | Report |
| #45 | | 14,540,710 | 95.64% | andrejus77 | 664 | 1487&nbsp&nbsp/ 86 / 1 | 545 | 69 | 11 | None | Report |
| #46 | | 14,259,620 | 95.50% | GunOfGaming | 666 | 1482&nbsp&nbsp/ 94 / 2 | 532 | 86 | 7 | None | Report |
| #47 | | 14,212,890 | 93.32% | Oddyse | 668 | 1438&nbsp&nbsp/ 123 / 1 | 515 | 91 | 23 | None | Report |
| #48 | | 14,141,470 | 96.00% | moppi_osaru | 501 | 1492&nbsp&nbsp/ 89 / 0 | 552 | 70 | 4 | None | Report |
| #49 | | 14,010,568 | 96.11% | - Eucliwood - | 563 | 1500&nbsp&nbsp/ 70 / 0 | 553 | 60 | 15 | HD | Report |
| #50 | | 13,796,181 | 93.07% | Trivium | 489 | 1426&nbsp&nbsp/ 147 / 1 | 495 | 119 | 11 | HD | Report |