Beatmap Listing » HoneyWorks - Boku ga Namae o Yobu Hi feat.Mochizuki Souta (CV:Kaji Yuki)
Artist:
HoneyWorks
Circle Size:

Approach Rate:

Title:
Boku ga Namae o Yobu Hi feat.Mochizuki Souta (CV:Kaji Yuki)
HP Drain:

Star Difficulty:

(5.37)
Creator:
Haruto
Accuracy:

Length:
5:03 (5:02 drain)
Source:
Genre:
Novelty (Japanese)
BPM:
178
Tags:
haruto_aizawa sytarno kalibe megpoid gumi cover shito gom hayasaka akari 早坂あかり kana asumi 阿澄佳奈 the day when i called your
User Rating:
Success Rate:
Points of Failure:


(graph is accumulative, based on % at fail/retry)

13.4% (33380 of 248928 plays)

Submitted:
Ranked:
Feb 14, 2017
Apr 16, 2017
Rating Spread:

Favourited 270 times in total

Users that love this map: X-Flash, zz414113713, mishuvond, stuwn222, 0toshigami, Cloudchaser, - Lloyd -, Nyanami, Gear, cheyse, Sylux6, Fenrir, Gohan9, TpSlimigt, Sah-Murai, nequil, Ikuto-Kun, CuVee, Ipas, Frooveh and many more!
Options:
Modding / Discussion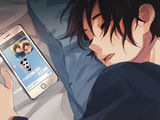 ✧

Dedicated to Sytarno

✧
From Haruto,
❄ Hey buddy ❄
Thanks for being my Best friend in osu! and for being an open guy when i want to vent out my problems. We got a pretty same case about love in real life.
Thanks for everything. Without your support and your gift toward this map. I couldnt have done it or finish the map. As a Payback, here. I give this map from my deepest feeling just for you and your relationship with your girl. My Wish for you is that i wish both of you will be a very good couple and will be together in the future. Beside that, i hope you'll be more open in real life and have a lot of friends to play with.

Thanks for being so nice once again. I couldnt have done this without you and people's supports towards this map.

Your best,
Haruto.
-♪- Click the Banner for Amatsuki and 96Neko's ver~! -♪-
✧

#31st Beatmap

✧
❄ #1st Approval ❄
Collab with
Sytarno
and
Kalibe
(I Did the Map, Sytarno did the SB and Kalibe did the Hitsounding, Spot the hidden similiarities between first chorus and second chorus!)
PLEASE WATCH THE STORYBOARD AT LEAST ONCE
Happy Valentine!
Special Thanks
Thank you so much to Sytarno for introducing this song to me! (+ Giving me the audio file holy) Also for the Storyboard once again <3 It keeps making me motivated to map this until the song's end.
To Kalibe that wants to hitsounding the map ❤

To Monstrata for the mp3 edit after changing to the new version of the mp3 <3<3, you helped so much that i couldnt even repay it ;-;

Thanks as well to Battle and Bonsai for Checking the Song's Timing, really appreciate it!
And Lastly, to everyone who have testplayed this even while its still WIP, especially to appleeaterx, toybot and Monstrata for being cool. Thank you for the help, the inspire and the maps you have made/did for the community ❤
Metadata
IamKwaN wrote:
Thank you to KwaN for Checking the Map's Metadata as well :D.
Testplayers
Yukiyo
appleeaterx
toybot
Monstrata
Sytarno
Logic Agent
Ameth Rianno
Ipas
10nya
Nerova Riuz GX (also modded some stuff in #modhelp)
Spork Lover
Doyak
Chaoslitz
handsome
Linada
Rinzler
Meg
Modders
appleeaterx
Monstrata
a_point
lit120
Sotarks
Irohas
Logic Agent
Log Off Now
Anxient
Ipas
Arutsuki
Ponoyoshi
William K
Monstrata

(Bubble #1)

Naotoshi

(Bubble #2)

Yuii-

Qualify
Idea behind the similiarity. !!!WARNING!!. SPOILER.
<!>

You'll notice the similiar flow, placement and slider design when you have played the map.

<!>

The Reason behind it is just as how Monstrata makes his ZZZ set. Well, that one is completely a copy paste. Mine is also copy paste but i changed few flow and slider designs so people will hardly notice it lol. Its to represent how the music goes and how the music's story describes. Mochizuki, is a shy guy who loves Akari, but he doesnt have the ability to confess his feelings to her. While akari is an 'Introvert person' when it goes to love. She cant tell to everyone who is the guy she loves or who is the guy who loved her. Akari's part is on 2nd Kiai, where i made the sliders very straight and edgy. Just like how Akari is.
While the 1st Kiai are represented for Mochizuki. Where i made the sliders very curvative which is like how Mochizuki is.

Edgy and Straight means, Introvert when it goes to Love.
Curvative and Jumpy means, a Very Shy feeling when it goes to love and Bright, spirited when it confessed or done something.
❤
The Day When I Called Your Name
● The Day When I Knew Love ❤
A Solution for Jealousy
● A Solution for Jealousy -another story.-
ReaL motion is in the lead! ()
Score
58,389,744 (99.73%)
Max Combo
1748
300 / 100 / 50
1214 / 5 / 0
Misses
0
Geki (Elite Beat!)
253
Katu (Beat!)
5
Mods
HD,HR
Top 50 Scoreboard
| | Rank | Score | Accuracy | Player | Max Combo | 300 / 100 / 50 | Geki | Katu | Misses | Mods | |
| --- | --- | --- | --- | --- | --- | --- | --- | --- | --- | --- | --- |
| #1 | | 58,389,744 | 99.73% | ReaL motion | 1748 | 1214&nbsp&nbsp/ 5 / 0 | 253 | 5 | 0 | HD,HR | Report |
| #2 | | 58,388,129 | 99.84% | Rohulk | 1748 | 1216&nbsp&nbsp/ 3 / 0 | 255 | 3 | 0 | HD,HR | Report |
| #3 | | 58,380,703 | 99.78% | Fenrir | 1748 | 1215&nbsp&nbsp/ 4 / 0 | 254 | 4 | 0 | HD,HR | Report |
| #4 | | 58,331,037 | 99.73% | Firebool | 1748 | 1214&nbsp&nbsp/ 5 / 0 | 254 | 4 | 0 | HD,HR | Report |
| #5 | | 58,308,957 | 99.77% | howlwatcher | 1748 | 1215&nbsp&nbsp/ 3 / 1 | 254 | 3 | 0 | HD,HR | Report |
| #6 | | 58,301,478 | 99.45% | Rizer | 1748 | 1209&nbsp&nbsp/ 10 / 0 | 248 | 10 | 0 | HD,HR | Report |
| #7 | | 58,280,998 | 99.62% | -Dylson- | 1747 | 1212&nbsp&nbsp/ 7 / 0 | 251 | 7 | 0 | HD,HR | Report |
| #8 | | 58,276,100 | 99.56% | Shield | 1748 | 1211&nbsp&nbsp/ 8 / 0 | 250 | 8 | 0 | HD,HR | Report |
| #9 | | 58,262,828 | 99.40% | Super | 1748 | 1208&nbsp&nbsp/ 11 / 0 | 249 | 9 | 0 | HD,HR | Report |
| #10 | | 58,249,581 | 99.51% | 6974892 | 1748 | 1210&nbsp&nbsp/ 9 / 0 | 251 | 7 | 0 | HD,HR | Report |
| #11 | | 58,235,702 | 99.51% | Sp0rk | 1748 | 1210&nbsp&nbsp/ 9 / 0 | 250 | 8 | 0 | HD,HR | Report |
| #12 | | 58,234,214 | 99.56% | Sablestars | 1748 | 1211&nbsp&nbsp/ 8 / 0 | 250 | 8 | 0 | HD,HR | Report |
| #13 | | 58,225,915 | 99.56% | Vyshus | 1748 | 1211&nbsp&nbsp/ 8 / 0 | 251 | 7 | 0 | HD,HR | Report |
| #14 | | 58,218,749 | 99.45% | Constelletion | 1747 | 1209&nbsp&nbsp/ 10 / 0 | 250 | 8 | 0 | HD,HR | Report |
| #15 | | 58,174,170 | 99.62% | kodama | 1745 | 1212&nbsp&nbsp/ 7 / 0 | 251 | 7 | 0 | HD,HR | Report |
| #16 | | 58,173,319 | 99.29% | Emula | 1748 | 1206&nbsp&nbsp/ 13 / 0 | 245 | 13 | 0 | HD,HR | Report |
| #17 | | 58,116,527 | 99.40% | [C u r i] | 1748 | 1208&nbsp&nbsp/ 11 / 0 | 247 | 11 | 0 | HD,HR | Report |
| #18 | | 58,062,925 | 99.18% | Haynoru | 1748 | 1204&nbsp&nbsp/ 15 / 0 | 246 | 12 | 0 | HD,HR | Report |
| #19 | | 58,032,066 | 98.96% | SoraRoxas01 | 1748 | 1200&nbsp&nbsp/ 19 / 0 | 243 | 15 | 0 | HD,HR | Report |
| #20 | | 58,025,312 | 99.11% | helix | 1748 | 1203&nbsp&nbsp/ 15 / 1 | 243 | 14 | 0 | HD,HR | Report |
| #21 | | 57,993,750 | 99.29% | stalkyh | 1747 | 1206&nbsp&nbsp/ 13 / 0 | 249 | 9 | 0 | HD,HR | Report |
| #22 | | 57,990,030 | 99.12% | Luskor | 1748 | 1203&nbsp&nbsp/ 16 / 0 | 242 | 16 | 0 | HD,HR | Report |
| #23 | | 57,988,131 | 98.91% | Boy_314 | 1748 | 1199&nbsp&nbsp/ 20 / 0 | 241 | 17 | 0 | HD,HR | Report |
| #24 | | 57,987,926 | 99.23% | _Kumiko-chan_ | 1748 | 1205&nbsp&nbsp/ 14 / 0 | 246 | 12 | 0 | HD,HR | Report |
| #25 | | 57,934,059 | 98.69% | 001thefish | 1748 | 1195&nbsp&nbsp/ 24 / 0 | 240 | 18 | 0 | HD,HR | Report |
| #26 | | 57,906,813 | 98.91% | RyuuBei | 1747 | 1199&nbsp&nbsp/ 20 / 0 | 242 | 16 | 0 | HD,HR | Report |
| #27 | | 57,901,933 | 99.12% | Tyguyy | 1748 | 1203&nbsp&nbsp/ 16 / 0 | 243 | 15 | 0 | HD,HR | Report |
| #28 | | 57,897,319 | 99.17% | - Bastian - | 1747 | 1204&nbsp&nbsp/ 14 / 1 | 247 | 10 | 0 | HD,HR | Report |
| #29 | | 57,896,008 | 98.56% | Karthy | 1748 | 1193&nbsp&nbsp/ 25 / 1 | 236 | 21 | 0 | HD,HR | Report |
| #30 | | 57,892,463 | 98.80% | Pikachu7822osu | 1748 | 1197&nbsp&nbsp/ 22 / 0 | 241 | 17 | 0 | HD,HR | Report |
| #31 | | 57,877,200 | 98.85% | Haii | 1748 | 1198&nbsp&nbsp/ 21 / 0 | 242 | 16 | 0 | HD,HR | Report |
| #32 | | 57,837,355 | 98.96% | Where is honey | 1748 | 1200&nbsp&nbsp/ 19 / 0 | 244 | 14 | 0 | HD,HR | Report |
| #33 | | 57,834,579 | 98.91% | froon | 1748 | 1199&nbsp&nbsp/ 20 / 0 | 241 | 17 | 0 | HD,HR | Report |
| #34 | | 57,802,024 | 98.50% | [Xenon] | 1748 | 1192&nbsp&nbsp/ 25 / 2 | 239 | 17 | 0 | HD,HR | Report |
| #35 | | 57,800,552 | 99.07% | aegishield3 | 1748 | 1202&nbsp&nbsp/ 17 / 0 | 243 | 15 | 0 | HD,HR | Report |
| #36 | | 57,776,424 | 98.67% | xFluffyo | 1747 | 1195&nbsp&nbsp/ 23 / 1 | 240 | 17 | 0 | HD,HR | Report |
| #37 | | 57,775,546 | 98.56% | Doomsday fanboy | 1748 | 1193&nbsp&nbsp/ 25 / 1 | 240 | 17 | 0 | HD,HR | Report |
| #38 | | 57,753,281 | 98.73% | Fl0nka | 1747 | 1196&nbsp&nbsp/ 22 / 1 | 242 | 15 | 0 | HD,HR | Report |
| #39 | | 57,721,576 | 98.84% | Vandabe | 1748 | 1198&nbsp&nbsp/ 20 / 1 | 238 | 19 | 0 | HD,HR | Report |
| #40 | | 57,718,861 | 98.96% | gusrua123 | 1746 | 1200&nbsp&nbsp/ 19 / 0 | 243 | 15 | 0 | HD,HR | Report |
| #41 | | 57,709,201 | 98.69% | Mihi | 1748 | 1195&nbsp&nbsp/ 24 / 0 | 238 | 20 | 0 | HD,HR | Report |
| #42 | | 57,706,477 | 98.78% | Criss | 1747 | 1197&nbsp&nbsp/ 21 / 1 | 240 | 17 | 0 | HD,HR | Report |
| #43 | | 57,693,025 | 98.84% | Chinese_Yazi | 1748 | 1198&nbsp&nbsp/ 20 / 1 | 238 | 19 | 0 | HD,HR | Report |
| #44 | | 57,689,548 | 98.67% | TeePee | 1748 | 1195&nbsp&nbsp/ 23 / 1 | 235 | 22 | 0 | HD,HR | Report |
| #45 | | 57,688,270 | 98.69% | Mortal | 1747 | 1195&nbsp&nbsp/ 24 / 0 | 239 | 19 | 0 | HD,HR | Report |
| #46 | | 57,671,067 | 98.89% | s3552515 | 1748 | 1199&nbsp&nbsp/ 19 / 1 | 242 | 15 | 0 | HD,HR | Report |
| #47 | | 57,670,965 | 98.52% | - 2301 - | 1747 | 1192&nbsp&nbsp/ 27 / 0 | 237 | 21 | 0 | HD,HR | Report |
| #48 | | 57,651,020 | 98.63% | _Degenerate | 1746 | 1194&nbsp&nbsp/ 25 / 0 | 235 | 23 | 0 | HD,HR | Report |
| #49 | | 57,648,097 | 98.74% | Reazen | 1748 | 1196&nbsp&nbsp/ 23 / 0 | 237 | 21 | 0 | HD,HR | Report |
| #50 | | 57,639,533 | 98.69% | SeeL | 1748 | 1195&nbsp&nbsp/ 24 / 0 | 238 | 20 | 0 | HD,HR | Report |