Artist:
Hiroyuki Sawano
Circle Size:

Approach Rate:

Title:
BLOWIN'
HP Drain:

Star Difficulty:

(4.91)
Creator:
ktgster
Accuracy:

Length:
3:46 (3:37 drain)
Source:
タイヨウのうた
Genre:
Other (Instrumental)
BPM:
98
Tags:
orchestra-j ascendance taiyou no uta a song to the sun
User Rating:
Success Rate:
Points of Failure:


(graph is accumulative, based on % at fail/retry)

6.0% (1139 of 18914 plays)

Submitted:
Ranked:
Jan 19, 2017
Jul 28, 2017
Rating Spread:

Favourited 62 times in total

Users that love this map: kwk, Zeugziumy, Gemu-, SweetMangoGrill, SakaSak, GesamtKunstWerk, psh3023, rain1214, Smokeman, fnx4, Weed, CSGA-DarkArchon, Airem, Doraemon, artkas, Zilus, Villdjack, Nyanaro, EmousE100, orbstar - byron and many more!
Options:
Modding / Discussion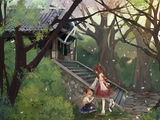 Habits are great to abuse.
Collab with Ascendance, I map first half, he maps second half.
Assets are "stolen" from this
set
.
Rucker is in the lead! ()
Score
24,884,296 (99.91%)
Max Combo
1038
300 / 100 / 50
742 / 1 / 0
Misses
0
Geki (Elite Beat!)
136
Katu (Beat!)
1
Mods
HD
Top 50 Scoreboard
| | Rank | Score | Accuracy | Player | Max Combo | 300 / 100 / 50 | Geki | Katu | Misses | Mods | |
| --- | --- | --- | --- | --- | --- | --- | --- | --- | --- | --- | --- |
| #1 | | 24,884,296 | 99.91% | Rucker | 1038 | 742&nbsp&nbsp/ 1 / 0 | 136 | 1 | 0 | HD | Report |
| #2 | | 24,693,010 | 99.10% | mniminwoo | 1038 | 733&nbsp&nbsp/ 10 / 0 | 128 | 9 | 0 | HD | Report |
| #3 | | 24,641,672 | 98.92% | Enns | 1037 | 731&nbsp&nbsp/ 12 / 0 | 127 | 10 | 0 | HD | Report |
| #4 | | 24,118,037 | 97.22% | Neta | 1034 | 712&nbsp&nbsp/ 31 / 0 | 112 | 25 | 0 | HR | Report |
| #5 | | 23,514,330 | 100.00% | Ayakura Mei | 1038 | 743&nbsp&nbsp/ 0 / 0 | 137 | 0 | 0 | None | Report |
| #6 | | 23,443,210 | 99.73% | Yaong | 1038 | 740&nbsp&nbsp/ 3 / 0 | 134 | 3 | 0 | None | Report |
| #7 | | 23,387,730 | 99.46% | Toy | 1038 | 737&nbsp&nbsp/ 6 / 0 | 132 | 5 | 0 | None | Report |
| #8 | | 23,329,383 | 96.59% | _RyuK | 992 | 705&nbsp&nbsp/ 38 / 0 | 107 | 30 | 0 | HD,HR | Report |
| #9 | | 23,235,980 | 98.83% | Smilevie | 1037 | 730&nbsp&nbsp/ 13 / 0 | 128 | 9 | 0 | None | Report |
| #10 | | 23,047,190 | 97.94% | Elegant Loli | 1034 | 720&nbsp&nbsp/ 23 / 0 | 118 | 19 | 0 | None | Report |
| #11 | | 22,745,160 | 97.58% | Aswababa | 1037 | 716&nbsp&nbsp/ 27 / 0 | 116 | 21 | 0 | None | Report |
| #12 | | 22,109,580 | 99.69% | 4ikos | 1011 | 740&nbsp&nbsp/ 2 / 0 | 134 | 2 | 1 | None | Report |
| #13 | | 20,944,505 | 97.80% | Skidayo | 960 | 719&nbsp&nbsp/ 23 / 0 | 120 | 16 | 1 | HD | Report |
| #14 | | 18,727,943 | 95.47% | likejaxirl | 921 | 694&nbsp&nbsp/ 46 / 0 | 101 | 33 | 3 | HD | Report |
| #15 | | 17,353,335 | 98.61% | ffstar | 851 | 728&nbsp&nbsp/ 14 / 0 | 122 | 14 | 1 | HD | Report |
| #16 | | 16,537,670 | 98.97% | Legestrophe | 860 | 733&nbsp&nbsp/ 7 / 0 | 129 | 5 | 3 | None | Report |
| #17 | | 16,461,026 | 97.13% | koreru | 831 | 711&nbsp&nbsp/ 32 / 0 | 117 | 20 | 0 | HD | Report |
| #18 | | 15,913,902 | 97.17% | Fedora Goose | 803 | 713&nbsp&nbsp/ 27 / 0 | 114 | 20 | 3 | HD,HR | Report |
| #19 | | 15,628,510 | 99.78% | ReaL motion | 819 | 741&nbsp&nbsp/ 1 / 0 | 135 | 1 | 1 | None | Report |
| #20 | | 15,578,432 | 95.47% | CSGA-DarkArchon | 821 | 695&nbsp&nbsp/ 43 / 0 | 109 | 24 | 5 | HD | Report |
| #21 | | 15,476,800 | 99.42% | Moegi | 817 | 737&nbsp&nbsp/ 5 / 0 | 131 | 5 | 1 | None | Report |
| #22 | | 14,509,390 | 97.78% | Lolzep | 799 | 719&nbsp&nbsp/ 22 / 1 | 117 | 18 | 1 | None | Report |
| #23 | | 14,247,270 | 97.98% | Sawagi | 804 | 724&nbsp&nbsp/ 12 / 0 | 120 | 10 | 7 | None | Report |
| #24 | | 14,220,990 | 98.43% | Brook | 792 | 726&nbsp&nbsp/ 16 / 0 | 120 | 16 | 1 | None | Report |
| #25 | | 13,674,180 | 96.72% | [Shaiden] | 755 | 708&nbsp&nbsp/ 31 / 2 | 113 | 21 | 2 | None | Report |
| #26 | | 13,561,190 | 98.41% | Smiljko | 782 | 727&nbsp&nbsp/ 12 / 1 | 121 | 12 | 3 | None | Report |
| #27 | | 13,395,040 | 98.70% | l1mi | 761 | 731&nbsp&nbsp/ 7 / 0 | 128 | 6 | 5 | None | Report |
| #28 | | 13,362,551 | 97.76% | seegii | 754 | 723&nbsp&nbsp/ 10 / 0 | 119 | 10 | 10 | HD | Report |
| #29 | | 13,102,640 | 96.72% | HaHaBear | 766 | 710&nbsp&nbsp/ 26 / 0 | 114 | 19 | 7 | None | Report |
| #30 | | 13,006,040 | 97.98% | fuji | 753 | 722&nbsp&nbsp/ 18 / 0 | 120 | 14 | 3 | None | Report |
| #31 | | 12,985,598 | 98.23% | RyuuBei | 682 | 725&nbsp&nbsp/ 14 / 1 | 119 | 14 | 3 | HD,HR | Report |
| #32 | | 12,878,550 | 99.42% | kiyumi | 754 | 738&nbsp&nbsp/ 2 / 0 | 132 | 2 | 3 | None | Report |
| #33 | | 12,659,840 | 98.34% | Jeffrey | 753 | 726&nbsp&nbsp/ 14 / 0 | 124 | 10 | 3 | None | Report |
| #34 | | 12,623,882 | 98.36% | Zavarka | 717 | 725&nbsp&nbsp/ 17 / 1 | 122 | 14 | 0 | HD | Report |
| #35 | | 12,403,278 | 97.89% | suwako moriya- | 728 | 722&nbsp&nbsp/ 16 / 0 | 121 | 12 | 5 | HD | Report |
| #36 | | 12,341,837 | 97.53% | AxewB | 683 | 718&nbsp&nbsp/ 20 / 0 | 119 | 13 | 5 | HD,HR | Report |
| #37 | | 12,105,308 | 96.64% | RastaGecko | 541 | 706&nbsp&nbsp/ 36 / 0 | 117 | 19 | 1 | HD | Report |
| #38 | | 11,974,790 | 97.53% | kwk | 711 | 716&nbsp&nbsp/ 26 / 0 | 113 | 23 | 1 | None | Report |
| #39 | | 11,919,853 | 98.34% | GesamtKunstWerk | 566 | 725&nbsp&nbsp/ 17 / 0 | 121 | 15 | 1 | HD | Report |
| #40 | | 11,799,740 | 99.46% | Aoiyuuki- | 597 | 737&nbsp&nbsp/ 6 / 0 | 131 | 6 | 0 | None | Report |
| #41 | | 11,788,950 | 99.10% | Fenikzz | 691 | 733&nbsp&nbsp/ 10 / 0 | 127 | 10 | 0 | None | Report |
| #42 | | 11,720,710 | 96.48% | Godiht | 730 | 707&nbsp&nbsp/ 29 / 1 | 115 | 16 | 6 | None | Report |
| #43 | | 10,973,490 | 97.87% | Valsora | 547 | 720&nbsp&nbsp/ 21 / 1 | 117 | 18 | 1 | None | Report |
| #44 | | 10,791,710 | 97.94% | Skyme | 672 | 721&nbsp&nbsp/ 20 / 0 | 120 | 15 | 2 | None | Report |
| #45 | | 10,769,780 | 94.95% | Mahmood1 | 699 | 692&nbsp&nbsp/ 40 / 1 | 108 | 24 | 10 | None | Report |
| #46 | | 10,674,060 | 98.38% | mx10000 | 653 | 727&nbsp&nbsp/ 12 / 0 | 123 | 12 | 4 | None | Report |
| #47 | | 10,417,420 | 96.55% | Kuma Sun | 652 | 706&nbsp&nbsp/ 34 / 0 | 112 | 22 | 3 | None | Report |
| #48 | | 10,258,930 | 97.89% | kug1 | 491 | 721&nbsp&nbsp/ 19 / 0 | 120 | 15 | 3 | None | Report |
| #49 | | 10,256,560 | 96.68% | Xanzure | 671 | 709&nbsp&nbsp/ 28 / 0 | 111 | 21 | 6 | None | Report |
| #50 | | 10,212,040 | 99.24% | xasuma | 613 | 735&nbsp&nbsp/ 7 / 0 | 130 | 6 | 1 | None | Report |