Artist:
Machico
Circle Size:

Approach Rate:

Title:
TOMORROW
HP Drain:

Star Difficulty:

(5.54)
Creator:
Little
Accuracy:

Length:
1:29 (1:29 drain)
Source:
この素晴らしい世界に祝福を!2
Genre:
Anime (Japanese)
BPM:
134
Tags:
kono subarashii sekai ni syukufuku wo! 2 shukufuku o! konosuba -god's blessing on this wonderful world! anime opening tv size
User Rating:
Success Rate:
Points of Failure:


(graph is accumulative, based on % at fail/retry)

16.0% (557 of 3488 plays)

Submitted:
Qualified:
Dec 25, 2016
Apr 18, 2017
Rating Spread:

Favourited 185 times in total

Users that love this map: N M R, RAVR, chunkybean, blacktea989, bryx, rietas, Goodbish, Tyistiana, Borokuzu, NeruNeru, cspopo1231, lpp3950, RepL4y, vitortakii, AlfrixPL, Atheneon, Chimibot89, KiriyaNozomi, Chai Bot, Osu_XD_lol and many more!
Options:
This Beatmap's Thread
This map is in a QUALIFIED state.
Beware that the leaderboard will be reset before it is ranked!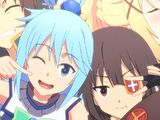 Season 1 | Opening by Little | Ending by xxdeathx | Full opening by Rizia
Season 2 | Opening by Little
TVアニメ『

この

素

晴

らしい

世

界

に

祝

福

を

!

2

』
オープニング・テーマ


「TOMORROW」
VINXIS is in the lead! ()
Score
7,474,802 (99.51%)
Max Combo
685
300 / 100 / 50
443 / 2 / 1
Misses
0
Geki (Elite Beat!)
101
Katu (Beat!)
2
Mods
None
Top 50 Scoreboard
| | Rank | Score | Accuracy | Player | Max Combo | 300 / 100 / 50 | Geki | Katu | Misses | Mods | |
| --- | --- | --- | --- | --- | --- | --- | --- | --- | --- | --- | --- |
| #1 | | 7,474,802 | 99.51% | VINXIS | 685 | 443&nbsp&nbsp/ 2 / 1 | 101 | 2 | 0 | None | Report |
| #2 | | 7,471,852 | 99.25% | qaw02468 | 685 | 441&nbsp&nbsp/ 5 / 0 | 100 | 4 | 0 | None | Report |
| #3 | | 6,987,502 | 99.25% | cchihying | 661 | 441&nbsp&nbsp/ 5 / 0 | 99 | 5 | 0 | None | Report |
| #4 | | 6,818,880 | 98.13% | AAA | 633 | 436&nbsp&nbsp/ 5 / 0 | 98 | 4 | 5 | HD | Report |
| #5 | | 6,323,156 | 95.96% | NeruNeru | 634 | 420&nbsp&nbsp/ 24 / 0 | 86 | 16 | 2 | None | Report |
| #6 | | 6,322,138 | 97.31% | kwk | 631 | 430&nbsp&nbsp/ 12 / 0 | 94 | 9 | 4 | None | Report |
| #7 | | 6,121,326 | 98.36% | Cerkie | 620 | 437&nbsp&nbsp/ 5 / 0 | 96 | 5 | 4 | None | Report |
| #8 | | 5,946,492 | 97.83% | Happy New Year | 573 | 432&nbsp&nbsp/ 13 / 0 | 92 | 11 | 1 | HD,HR | Report |
| #9 | | 5,613,261 | 97.01% | [ ZhengS ] | 561 | 427&nbsp&nbsp/ 17 / 0 | 87 | 15 | 2 | HD,HR | Report |
| #10 | | 5,478,944 | 99.63% | eLy | 554 | 444&nbsp&nbsp/ 1 / 0 | 102 | 1 | 1 | HD | Report |
| #11 | | 5,066,784 | 93.91% | GSBlank | 570 | 409&nbsp&nbsp/ 29 / 1 | 81 | 17 | 7 | None | Report |
| #12 | | 4,659,230 | 99.85% | Mayoler | 508 | 445&nbsp&nbsp/ 1 / 0 | 103 | 1 | 0 | None | Report |
| #13 | | 4,542,501 | 98.43% | Silver_Cr0w | 505 | 437&nbsp&nbsp/ 6 / 0 | 97 | 4 | 3 | HD | Report |
| #14 | | 4,419,050 | 98.58% | Kurogami | 512 | 438&nbsp&nbsp/ 5 / 0 | 100 | 2 | 3 | None | Report |
| #15 | | 4,361,800 | 95.67% | VicoTeen | 513 | 421&nbsp&nbsp/ 17 / 0 | 89 | 12 | 8 | None | Report |
| #16 | | 4,318,714 | 97.27% | WakaiYuki | 490 | 430&nbsp&nbsp/ 11 / 1 | 93 | 6 | 4 | HD | Report |
| #17 | | 4,294,562 | 95.67% | SSaturday | 511 | 420&nbsp&nbsp/ 20 / 0 | 91 | 11 | 6 | None | Report |
| #18 | | 4,203,564 | 97.98% | Unknown | 489 | 434&nbsp&nbsp/ 9 / 0 | 92 | 9 | 3 | None | Report |
| #19 | | 4,138,530 | 95.55% | Weyk | 504 | 418&nbsp&nbsp/ 24 / 1 | 84 | 17 | 3 | None | Report |
| #20 | | 3,965,376 | 95.74% | -PrivateGarden- | 493 | 420&nbsp&nbsp/ 21 / 0 | 86 | 15 | 5 | None | Report |
| #21 | | 3,935,842 | 94.25% | chouorton | 494 | 410&nbsp&nbsp/ 31 / 0 | 78 | 22 | 5 | None | Report |
| #22 | | 3,928,322 | 93.42% | VodkaApproved | 493 | 408&nbsp&nbsp/ 26 / 0 | 81 | 17 | 12 | None | Report |
| #23 | | 3,886,520 | 98.13% | Schill Cyrene | 477 | 434&nbsp&nbsp/ 11 / 0 | 96 | 7 | 1 | None | Report |
| #24 | | 3,883,778 | 93.95% | SkyzWai- | 478 | 407&nbsp&nbsp/ 36 / 0 | 75 | 28 | 3 | None | Report |
| #25 | | 3,873,152 | 94.25% | daifukufesu | 489 | 413&nbsp&nbsp/ 22 / 0 | 81 | 16 | 11 | None | Report |
| #26 | | 3,474,398 | 97.61% | cmnk | 437 | 432&nbsp&nbsp/ 10 / 0 | 94 | 7 | 4 | None | Report |
| #27 | | 3,432,768 | 95.63% | CatBagasm | 437 | 419&nbsp&nbsp/ 22 / 1 | 85 | 16 | 4 | None | Report |
| #28 | | 3,382,374 | 94.69% | RaZn | 449 | 416&nbsp&nbsp/ 19 / 0 | 80 | 17 | 11 | None | Report |
| #29 | | 3,368,314 | 93.87% | RndGuy | 433 | 411&nbsp&nbsp/ 23 / 0 | 79 | 17 | 12 | HD | Report |
| #30 | | 3,246,912 | 94.99% | scps940205 | 414 | 415&nbsp&nbsp/ 26 / 0 | 83 | 19 | 5 | None | Report |
| #31 | | 3,213,988 | 97.46% | drugkeeper | 328 | 431&nbsp&nbsp/ 11 / 0 | 93 | 8 | 4 | None | Report |
| #32 | | 3,182,512 | 94.32% | YukiZura- | 427 | 413&nbsp&nbsp/ 23 / 0 | 81 | 17 | 10 | HD | Report |
| #33 | | 2,964,940 | 97.68% | XbFTB | 357 | 432&nbsp&nbsp/ 11 / 0 | 93 | 9 | 3 | None | Report |
| #34 | | 2,890,399 | 95.22% | Davyroo | 367 | 416&nbsp&nbsp/ 26 / 0 | 79 | 21 | 4 | HD,HR | Report |
| #35 | | 2,882,638 | 95.18% | Wiz Khalifa | 410 | 419&nbsp&nbsp/ 16 / 1 | 86 | 11 | 10 | None | Report |
| #36 | | 2,833,214 | 95.74% | Dinkles | 371 | 418&nbsp&nbsp/ 27 / 0 | 82 | 21 | 1 | None | Report |
| #37 | | 2,774,104 | 95.70% | Narupo | 364 | 421&nbsp&nbsp/ 17 / 1 | 88 | 13 | 7 | None | Report |
| #38 | | 2,761,602 | 97.76% | 5EX | 361 | 432&nbsp&nbsp/ 12 / 0 | 93 | 9 | 2 | None | Report |
| #39 | | 2,643,056 | 96.79% | gissirianko | 283 | 427&nbsp&nbsp/ 14 / 0 | 92 | 10 | 5 | None | Report |
| #40 | | 2,628,462 | 98.21% | N a s y a | 380 | 435&nbsp&nbsp/ 9 / 0 | 94 | 8 | 2 | None | Report |
| #41 | | 2,560,286 | 93.87% | MicMck101 | 389 | 410&nbsp&nbsp/ 26 / 0 | 75 | 22 | 10 | None | Report |
| #42 | | 2,462,872 | 95.81% | Landegre- | 353 | 422&nbsp&nbsp/ 15 / 2 | 85 | 13 | 7 | None | Report |
| #43 | | 2,422,296 | 96.94% | Koalazy | 327 | 427&nbsp&nbsp/ 16 / 0 | 88 | 13 | 3 | None | Report |
| #44 | | 2,405,527 | 95.55% | zDevor | 267 | 421&nbsp&nbsp/ 15 / 1 | 85 | 11 | 9 | HD | Report |
| #45 | | 2,384,216 | 90.36% | SoleUce | 352 | 387&nbsp&nbsp/ 48 / 0 | 63 | 33 | 11 | None | Report |
| #46 | | 2,366,418 | 98.69% | bobwada | 298 | 438&nbsp&nbsp/ 6 / 1 | 97 | 5 | 1 | None | Report |
| #47 | | 2,366,388 | 96.04% | Legestrophe | 325 | 422&nbsp&nbsp/ 19 / 0 | 86 | 13 | 5 | None | Report |
| #48 | | 2,347,762 | 95.81% | Espaduh | 279 | 421&nbsp&nbsp/ 19 / 0 | 88 | 13 | 6 | None | Report |
| #49 | | 2,330,594 | 94.54% | GudSushii | 363 | 415&nbsp&nbsp/ 20 / 0 | 81 | 15 | 11 | None | Report |
| #50 | | 2,326,833 | 97.76% | Umbra | 685 | 431&nbsp&nbsp/ 15 / 0 | 93 | 11 | 0 | HT | Report |