Beatmap Listing » Hashimoto Yukari - Hakanaki Yume
This map is in a QUALIFIED state.
Beware that the leaderboard will be reset before it is ranked!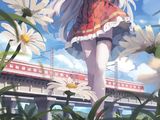 Mapset (Overview)
osu!
Easy:

done by me

Dreams:

done by me
Mania
Relaxing:

done by me

Feru's Challening:

done by Feerum
Note:
I'm pretty new in mania mapping.
edgerrdz is in the lead! ()
Score
447,500 (100.00%)
Max Combo
203
300 / 100 / 50
112 / 0 / 0
Misses
0
Geki (Elite Beat!)
27
Katu (Beat!)
0
Mods
HD,HR,DT,FL
Top 50 Scoreboard
| | Rank | Score | Accuracy | Player | Max Combo | 300 / 100 / 50 | Geki | Katu | Misses | Mods | |
| --- | --- | --- | --- | --- | --- | --- | --- | --- | --- | --- | --- |
| #1 | | 447,500 | 100.00% | edgerrdz | 203 | 112&nbsp&nbsp/ 0 / 0 | 27 | 0 | 0 | HD,HR,DT,FL | Report |
| #2 | | 443,100 | 100.00% | Umi | 203 | 112&nbsp&nbsp/ 0 / 0 | 27 | 0 | 0 | HD,HR,NC,FL | Report |
| #3 | | 440,199 | 99.40% | inahokaizuka16 | 203 | 111&nbsp&nbsp/ 1 / 0 | 26 | 1 | 0 | HD,HR,DT,FL | Report |
| #4 | | 419,821 | 98.21% | Senpai Ken | 203 | 109&nbsp&nbsp/ 3 / 0 | 24 | 3 | 0 | HR,DT,FL,SD | Report |
| #5 | | 409,622 | 100.00% | Zetera | 203 | 112&nbsp&nbsp/ 0 / 0 | 27 | 0 | 0 | HD,HR,DT | Report |
| #6 | | 405,222 | 100.00% | Indexmusic | 203 | 112&nbsp&nbsp/ 0 / 0 | 27 | 0 | 0 | HD,HR,DT | Report |
| #7 | | 404,122 | 100.00% | Kurai | 203 | 112&nbsp&nbsp/ 0 / 0 | 27 | 0 | 0 | HD,HR,DT | Report |
| #8 | | 403,592 | 99.40% | Kafziel | 203 | 111&nbsp&nbsp/ 1 / 0 | 26 | 1 | 0 | HD,HR,DT | Report |
| #9 | | 401,922 | 100.00% | TsukinoseTillot | 203 | 112&nbsp&nbsp/ 0 / 0 | 27 | 0 | 0 | HD,HR,NC | Report |
| #10 | | 400,708 | 99.40% | Fetal | 203 | 111&nbsp&nbsp/ 1 / 0 | 26 | 1 | 0 | HD,HR,NC | Report |
| #11 | | 399,267 | 97.62% | Gabrielsim | 203 | 108&nbsp&nbsp/ 4 / 0 | 24 | 3 | 0 | HD,HR,DT | Report |
| #12 | | 397,937 | 97.47% | Sentarla | 199 | 108&nbsp&nbsp/ 3 / 1 | 24 | 2 | 0 | HR,NC,FL | Report |
| #13 | | 396,422 | 100.00% | savrtuthd | 203 | 112&nbsp&nbsp/ 0 / 0 | 27 | 0 | 0 | HD,HR,NC | Report |
| #14 | | 394,128 | 99.40% | centurion199 | 203 | 111&nbsp&nbsp/ 1 / 0 | 26 | 1 | 0 | HD,HR,NC,SD | Report |
| #15 | | 391,084 | 98.81% | Nozhomo | 203 | 110&nbsp&nbsp/ 2 / 0 | 25 | 2 | 0 | HD,HR,NC | Report |
| #16 | | 382,399 | 100.00% | Lyawi | 203 | 112&nbsp&nbsp/ 0 / 0 | 27 | 0 | 0 | HD,NC | Report |
| #17 | | 378,099 | 100.00% | p_sey | 203 | 112&nbsp&nbsp/ 0 / 0 | 27 | 0 | 0 | HR,NC,PF | Report |
| #18 | | 377,752 | 98.81% | ArgonDosXy | 203 | 110&nbsp&nbsp/ 2 / 0 | 26 | 1 | 0 | HR,DT | Report |
| #19 | | 361,880 | 100.00% | Lindow | 203 | 112&nbsp&nbsp/ 0 / 0 | 27 | 0 | 0 | NC | Report |
| #20 | | 361,703 | 99.40% | Skylish | 202 | 111&nbsp&nbsp/ 1 / 0 | 26 | 1 | 0 | HD,HR | Report |
| #21 | | 355,257 | 100.00% | theou10 | 203 | 112&nbsp&nbsp/ 0 / 0 | 27 | 0 | 0 | HD,HR | Report |
| #22 | | 352,120 | 100.00% | Bonsai | 203 | 112&nbsp&nbsp/ 0 / 0 | 27 | 0 | 0 | HD | Report |
| #23 | | 349,780 | 100.00% | Dwichan | 203 | 112&nbsp&nbsp/ 0 / 0 | 27 | 0 | 0 | NC | Report |
| #24 | | 349,749 | 93.45% | ProRaiin | 203 | 101&nbsp&nbsp/ 11 / 0 | 17 | 10 | 0 | HR,DT | Report |
| #25 | | 337,030 | 99.40% | dashbowrain | 203 | 111&nbsp&nbsp/ 1 / 0 | 26 | 1 | 0 | None | Report |
| #26 | | 336,844 | 98.21% | KuhakuNeko | 202 | 109&nbsp&nbsp/ 3 / 0 | 24 | 3 | 0 | HR | Report |
| #27 | | 334,620 | 100.00% | Diableex | 203 | 112&nbsp&nbsp/ 0 / 0 | 27 | 0 | 0 | HR | Report |
| #28 | | 333,614 | 100.00% | LauncheRka | 203 | 112&nbsp&nbsp/ 0 / 0 | 27 | 0 | 0 | None | Report |
| #29 | | 330,551 | 95.09% | Cup Da Noodle | 201 | 104&nbsp&nbsp/ 7 / 1 | 23 | 3 | 0 | DT | Report |
| #30 | | 328,114 | 100.00% | pepi99 | 203 | 112&nbsp&nbsp/ 0 / 0 | 27 | 0 | 0 | None | Report |
| #31 | | 328,114 | 100.00% | abicrash24 | 203 | 112&nbsp&nbsp/ 0 / 0 | 27 | 0 | 0 | None | Report |
| #32 | | 327,994 | 98.21% | Killingkiller89 | 203 | 109&nbsp&nbsp/ 3 / 0 | 24 | 3 | 0 | None | Report |
| #33 | | 327,538 | 99.40% | Ripper4466 | 203 | 111&nbsp&nbsp/ 1 / 0 | 26 | 1 | 0 | None | Report |
| #34 | | 325,914 | 100.00% | Gumi_Nyaa | 203 | 112&nbsp&nbsp/ 0 / 0 | 27 | 0 | 0 | None | Report |
| #35 | | 324,814 | 100.00% | Arrival | 203 | 112&nbsp&nbsp/ 0 / 0 | 27 | 0 | 0 | None | Report |
| #36 | | 323,313 | 94.05% | EdgeM | 203 | 102&nbsp&nbsp/ 10 / 0 | 18 | 9 | 0 | HR,SD | Report |
| #37 | | 315,654 | 99.40% | kurosaki-sama | 203 | 111&nbsp&nbsp/ 1 / 0 | 26 | 1 | 0 | None | Report |
| #38 | | 313,738 | 98.21% | Laffy_Taffy | 201 | 109&nbsp&nbsp/ 3 / 0 | 25 | 2 | 0 | None | Report |
| #39 | | 297,656 | 95.24% | Willisthegamer | 200 | 104&nbsp&nbsp/ 8 / 0 | 21 | 6 | 0 | None | Report |
| #40 | | 277,083 | 96.58% | DeluxeMirror19 | 166 | 107&nbsp&nbsp/ 3 / 1 | 23 | 2 | 1 | HD,HR,DT | Report |
| #41 | | 234,102 | 98.21% | KrzysiekKurisu | 167 | 109&nbsp&nbsp/ 3 / 0 | 24 | 3 | 0 | None | Report |
| #42 | | 220,252 | 97.92% | VezRog | 149 | 109&nbsp&nbsp/ 2 / 0 | 24 | 2 | 1 | None | Report |
| #43 | | 218,334 | 95.24% | assasin_cross_8 | 132 | 105&nbsp&nbsp/ 5 / 0 | 21 | 4 | 2 | HD,HR,DT | Report |
| #44 | | 191,002 | 95.24% | A r M i N | 105 | 106&nbsp&nbsp/ 2 / 0 | 23 | 1 | 4 | HD,HR,DT,FL | Report |
| #45 | | 186,658 | 100.00% | Chupa_Choops | 203 | 112&nbsp&nbsp/ 0 / 0 | 27 | 0 | 0 | NF,HR,SO | Report |
| #46 | | 184,808 | 96.88% | duma4ew337 | 201 | 107&nbsp&nbsp/ 4 / 1 | 24 | 2 | 0 | NF | Report |
| #47 | | 175,204 | 85.12% | Nonikuu | 142 | 88&nbsp&nbsp/ 20 / 4 | 11 | 13 | 0 | None | Report |
| #48 | | 156,730 | 97.32% | HypeMz | 107 | 108&nbsp&nbsp/ 3 / 0 | 24 | 2 | 1 | None | Report |
| #49 | | 147,755 | 91.96% | TY O | 105 | 99&nbsp&nbsp/ 11 / 2 | 18 | 7 | 0 | HR | Report |
| #50 | | 147,464 | 91.22% | Yanniqq | 111 | 99&nbsp&nbsp/ 8 / 3 | 19 | 4 | 2 | None | Report |