Artist:
Mizuki Nana
Circle Size:

Approach Rate:

Title:
STARTING NOW!
HP Drain:

Star Difficulty:

(5.17)
Creator:
ShogunMoon
Accuracy:

Length:
1:28 (1:27 drain)
Source:
この美術部には問題がある!
Genre:
Unspecified (Other)
BPM:
161.5
Tags:
kono bijutsubu ni wa mondai ga aru! opening anime tv size op dtm9_nowa kagetsu shirakai kacha icontrol world_fraction [-yuno-] このび
User Rating:
Success Rate:
Points of Failure:


(graph is accumulative, based on % at fail/retry)

19.0% (3941 of 20786 plays)

Submitted:
Loved:
Jul 14, 2016
May 26, 2017
Rating Spread:

Favourited 198 times in total

Users that love this map: [-Yuno-], as49478, Green NPC, dmlxkawjd530, chugleader, NaCoIa, gzeug, HaruzimuZi, kinjacky, r061oy, slashstyle10, last_daniel, damarjati98, Sheis2, -Stella man, Yuigahama, titaniun24, NickyW093, - Genesis -, Giteryman and many more!
Options:
This Beatmap's Thread
This map is in a LOVED state.
As such, it will not award any pp and leaderboards may be reset by the beatmap creator.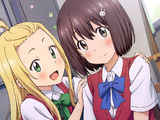 Beautiful banner by Janpai
Easy by me
: Done
Normal by me
: Done
Hard by me
: Done
Hyper by DTM9 Nowa
: Done
Insane by Kagetsu
: Done
Extra by ShiraKai
: Done
Muzukashii by IControl
: Done
Oni by World Fraction
: Done
Inner Oni by [-Yuno-]
: Done
Metadata
Umbre is in the lead! ()
Score
5,593,091 (99.82%)
Max Combo
528
300 / 100 / 50
370 / 1 / 0
Misses
0
Geki (Elite Beat!)
83
Katu (Beat!)
1
Mods
HD,HR
Top 50 Scoreboard
| | Rank | Score | Accuracy | Player | Max Combo | 300 / 100 / 50 | Geki | Katu | Misses | Mods | |
| --- | --- | --- | --- | --- | --- | --- | --- | --- | --- | --- | --- |
| #1 | | 5,593,091 | 99.82% | Umbre | 528 | 370&nbsp&nbsp/ 1 / 0 | 83 | 1 | 0 | HD,HR | Report |
| #2 | | 5,579,479 | 99.64% | Jup3KW | 528 | 369&nbsp&nbsp/ 2 / 0 | 82 | 2 | 0 | HD,HR | Report |
| #3 | | 5,555,980 | 99.46% | Yaong | 528 | 368&nbsp&nbsp/ 3 / 0 | 81 | 3 | 0 | HD,HR | Report |
| #4 | | 5,546,288 | 99.28% | Beenrz | 528 | 367&nbsp&nbsp/ 4 / 0 | 81 | 3 | 0 | HD,HR | Report |
| #5 | | 5,518,203 | 98.56% | Tem | 527 | 363&nbsp&nbsp/ 8 / 0 | 77 | 7 | 0 | HD,HR | Report |
| #6 | | 5,508,815 | 98.56% | DigiDrake | 528 | 363&nbsp&nbsp/ 8 / 0 | 77 | 7 | 0 | HD,HR | Report |
| #7 | | 5,508,325 | 98.38% | harti5 | 528 | 362&nbsp&nbsp/ 9 / 0 | 79 | 5 | 0 | HD,HR | Report |
| #8 | | 5,507,501 | 98.70% | gilmat | 528 | 364&nbsp&nbsp/ 6 / 1 | 79 | 4 | 0 | HD,HR | Report |
| #9 | | 5,501,278 | 98.70% | Veth | 528 | 364&nbsp&nbsp/ 6 / 1 | 79 | 4 | 0 | HD,HR | Report |
| #10 | | 5,473,553 | 98.56% | HDHRPF | 526 | 364&nbsp&nbsp/ 4 / 2 | 79 | 3 | 1 | HD,HR | Report |
| #11 | | 5,467,597 | 97.57% | [ Mystic ] | 528 | 358&nbsp&nbsp/ 11 / 2 | 75 | 8 | 0 | HD,HR | Report |
| #12 | | 5,467,591 | 98.38% | wuhua | 528 | 362&nbsp&nbsp/ 9 / 0 | 77 | 7 | 0 | HD,HR | Report |
| #13 | | 5,467,404 | 97.98% | xasuma | 527 | 360&nbsp&nbsp/ 10 / 1 | 76 | 7 | 0 | HD,HR | Report |
| #14 | | 5,459,582 | 97.84% | Toumei Dragon | 528 | 359&nbsp&nbsp/ 12 / 0 | 74 | 10 | 0 | HD,HR | Report |
| #15 | | 5,431,462 | 97.48% | bubbagumperson | 528 | 357&nbsp&nbsp/ 14 / 0 | 72 | 12 | 0 | HD,HR | Report |
| #16 | | 5,402,618 | 97.12% | froon | 528 | 355&nbsp&nbsp/ 16 / 0 | 74 | 10 | 0 | HD,HR | Report |
| #17 | | 5,398,673 | 97.44% | Idealism | 528 | 357&nbsp&nbsp/ 13 / 1 | 75 | 8 | 0 | HD,HR | Report |
| #18 | | 5,380,270 | 96.77% | SebastianIgn | 526 | 354&nbsp&nbsp/ 15 / 0 | 71 | 12 | 2 | HD,HR | Report |
| #19 | | 5,370,762 | 96.77% | Haynoru | 528 | 353&nbsp&nbsp/ 18 / 0 | 75 | 9 | 0 | HD,HR | Report |
| #20 | | 5,365,614 | 96.72% | SoyAuro | 528 | 353&nbsp&nbsp/ 17 / 1 | 71 | 12 | 0 | HD,HR | Report |
| #21 | | 5,336,943 | 96.36% | qwe0570 | 528 | 351&nbsp&nbsp/ 19 / 1 | 72 | 11 | 0 | HD,HR | Report |
| #22 | | 5,320,146 | 95.87% | imoo | 527 | 348&nbsp&nbsp/ 23 / 0 | 67 | 17 | 0 | HD,HR | Report |
| #23 | | 5,290,213 | 100.00% | Shirasaka Koume | 528 | 371&nbsp&nbsp/ 0 / 0 | 84 | 0 | 0 | HD | Report |
| #24 | | 5,290,213 | 100.00% | 0203okaT | 528 | 371&nbsp&nbsp/ 0 / 0 | 84 | 0 | 0 | HD | Report |
| #25 | | 5,290,213 | 100.00% | Chi ki | 528 | 371&nbsp&nbsp/ 0 / 0 | 84 | 0 | 0 | HD | Report |
| #26 | | 5,290,213 | 100.00% | _kotachi_ | 528 | 371&nbsp&nbsp/ 0 / 0 | 84 | 0 | 0 | HD | Report |
| #27 | | 5,290,213 | 100.00% | dresch2 | 528 | 371&nbsp&nbsp/ 0 / 0 | 84 | 0 | 0 | HD | Report |
| #28 | | 5,283,843 | 99.64% | Mistrzux | 528 | 369&nbsp&nbsp/ 2 / 0 | 82 | 2 | 0 | HD | Report |
| #29 | | 5,280,957 | 95.42% | muyachan | 527 | 346&nbsp&nbsp/ 24 / 0 | 67 | 16 | 1 | HD,HR | Report |
| #30 | | 5,280,485 | 99.64% | I Saitama I | 528 | 369&nbsp&nbsp/ 2 / 0 | 82 | 2 | 0 | HD | Report |
| #31 | | 5,279,928 | 95.01% | SmartMove3150 | 528 | 344&nbsp&nbsp/ 24 / 3 | 65 | 18 | 0 | HD,HR | Report |
| #32 | | 5,279,640 | 99.46% | zayakuchan | 528 | 368&nbsp&nbsp/ 3 / 0 | 81 | 3 | 0 | HD | Report |
| #33 | | 5,275,970 | 99.82% | Soly | 528 | 370&nbsp&nbsp/ 1 / 0 | 83 | 1 | 0 | HD | Report |
| #34 | | 5,274,105 | 99.82% | Palace | 528 | 370&nbsp&nbsp/ 1 / 0 | 83 | 1 | 0 | HD | Report |
| #35 | | 5,273,769 | 99.64% | F O R C E S | 528 | 369&nbsp&nbsp/ 2 / 0 | 83 | 1 | 0 | HD | Report |
| #36 | | 5,270,818 | 99.64% | _Eternity | 528 | 369&nbsp&nbsp/ 2 / 0 | 82 | 2 | 0 | HD | Report |
| #37 | | 5,268,036 | 99.64% | Aka12 | 528 | 369&nbsp&nbsp/ 2 / 0 | 82 | 2 | 0 | HD | Report |
| #38 | | 5,266,578 | 99.64% | ginrou0803 | 528 | 369&nbsp&nbsp/ 2 / 0 | 82 | 2 | 0 | HD | Report |
| #39 | | 5,263,383 | 94.34% | Qebq | 528 | 340&nbsp&nbsp/ 29 / 2 | 67 | 15 | 0 | HD,HR | Report |
| #40 | | 5,261,663 | 99.46% | WagnerWarrior | 528 | 368&nbsp&nbsp/ 3 / 0 | 81 | 3 | 0 | HD | Report |
| #41 | | 5,259,929 | 99.64% | ChinaNo1 | 528 | 369&nbsp&nbsp/ 2 / 0 | 83 | 1 | 0 | HD | Report |
| #42 | | 5,256,202 | 99.46% | zuchima | 528 | 368&nbsp&nbsp/ 3 / 0 | 81 | 3 | 0 | HD | Report |
| #43 | | 5,255,930 | 99.46% | Alleros | 528 | 368&nbsp&nbsp/ 3 / 0 | 81 | 3 | 0 | HD | Report |
| #44 | | 5,251,938 | 98.92% | Tateyama Ayano | 528 | 365&nbsp&nbsp/ 6 / 0 | 79 | 5 | 0 | HD | Report |
| #45 | | 5,246,742 | 99.28% | Cla | 528 | 367&nbsp&nbsp/ 4 / 0 | 80 | 4 | 0 | HD | Report |
| #46 | | 5,243,692 | 99.10% | GitahMuttan | 528 | 366&nbsp&nbsp/ 5 / 0 | 79 | 5 | 0 | HD | Report |
| #47 | | 5,242,162 | 99.28% | namewithnumber9 | 528 | 367&nbsp&nbsp/ 4 / 0 | 80 | 4 | 0 | HD | Report |
| #48 | | 5,237,418 | 99.10% | Ulquiorra | 528 | 366&nbsp&nbsp/ 5 / 0 | 80 | 4 | 0 | HD | Report |
| #49 | | 5,237,009 | 99.10% | Epixia | 528 | 366&nbsp&nbsp/ 5 / 0 | 79 | 5 | 0 | HD | Report |
| #50 | | 5,233,488 | 99.10% | JuanDiaz | 527 | 366&nbsp&nbsp/ 5 / 0 | 79 | 5 | 0 | HD | Report |