Artist:
Shawn Wasabi
Key Amount:

Approach Rate:

Title:
Marble Soda
HP Drain:

Star Difficulty:

(4.47)
Creator:
Hydria
Accuracy:

Length:
2:39 (2:39 drain)
Source:
Genre:
Unspecified (Other)
BPM:
168
Tags:
chill trap mashup pope gadget
User Rating:
Success Rate:
Points of Failure:


(graph is accumulative, based on % at fail/retry)

26.4% (2341 of 8873 plays)

Submitted:
Loved:
May 3, 2016
Apr 1, 2017
Rating Spread:

Favourited 109 times in total

Users that love this map: Asthmatic Magic, Hydria, Nivrad00, Nerokg, Kyousuke-, GiantManBearPig, Kanzema, MKSA, Necrodd, Rednax141, hawkshadow125, sciekspoleczny, Adiopulse, Alche-Mi, jmanrocks152, Vane Mew, Ceyda-chan, Vortex-, dhsidqi, -LetsGo- and many more!
Options:
Modding / Discussion
This map is in a LOVED state.
As such, it will not award any pp and leaderboards may be reset by the beatmap creator.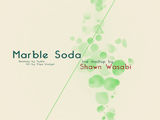 For all the people that helped me with this mapset, I will remain forever grateful, and whilst we didn't hit the goal we aimed for, I hope you'll accept this replacement as a token of my gratitude.
Pope Gadget
: Guest diff
Chronocide
: Both the background and the banner design.
Julie
: For putting up with me for like 12 hours with this and helping me with hitsounding.
FLint[FX]
:
His mapset
which inspired
my original mapset.
Dozens of other people: For keeping up the support towards this mapset, giving me the spirit to carry on until the end.
------------------------------------------------------------------------------------------------------------------------------------------
Thanks to Kamikaze & Shoegazer for the MWC'16 RO16 pick (Pope's Insane)
Top diff just a bit too easy/hard? Try the + and - difficulties in
this mapset!
[Modders]
Adiopulse
Chronocide
Abraxos
KcHecKa
doykyoto
Protastic101
cikra
Firstofall
Julie
Nivrad00
Feerum
Harbyter
[Update Log]
03/05 - Fixed hitsounds and volume, added "Pope Gadget" to tags.
10/05 - Uploaded Pope's diff for Adiopulse's mod. Still need to apply my own fixes.
17/05 - Applied Adiopulse's Mod, added SVs to "Sarble Moda", new hardest diff name.
23/05 - Applied Han Solo's Mod, renamed top diff to "Tap And Chill".
24/05 - Added more SVs, dropped HP down from 8.9 -> 8.8.
03/06 - Applied Abraxos' mod, dropped HP down from 8.8 -> 8.6, renamed top diff to "Please Enjoy~", another fix for Pope's Insane.
09/06 - Applied KcHecKa's mod, no name change this time.
10/06 - Applied doykyoto's mod, still no name change, fixed hard diff up a bit.
14/06 - Applied Protastic101's and cikra's mod, still no name change (because no hard diff mod www).
16/06 - Applied Firstofall's mod, Pope Self Mod+1, Hydria Self Mod.
22/06 - Consistency check complete for all of my diffs.
06/07 - Applied Julie's mod + 2nd consistency check.
11/07 - Julie's Bubble.
13/07 - Hitsound Update pre-heart.
13/07 - Nivrad part 1 / Hitsound Update pt 2.
14/07 - What actually is hitsounding though?
14/07 - Final updates + Fixes after DQ.
17/07 - Patch 1.03
19/07 - Patch 1.04
29/07 - Patch 1.04.1
14/08 - For some reason half the changes I was supposed to apply didn't apply and so are now applied
10/02 - Revival Update. No changes made.
Asrielly is in the lead! ()
Score
996,275 (99.91%)
Max Combo
1948
MAX / 300 / 200
1709 / 141 / 5
100 / 50 / Misses
0 / 0 / 0
Mods
None
Top 50 Scoreboard
Rank
Score
Accuracy
Player
Max Combo
MAX
300
200
100
50
Miss
Mods
#1
996,275
99.91%
Asrielly
1948
1709
141
5
0
0
0
None
Report
#2
994,218
99.84%
WindyS
1948
1654
192
9
0
0
0
None
Report
#3
993,034
99.78%
SitekX
1950
1622
221
12
0
0
0
None
Report
#4
992,533
99.80%
Pope Gadget
1949
1618
227
9
1
0
0
None
Report
#5
991,485
99.69%
SDMseven
1948
1615
223
17
0
0
0
None
Report
#6
991,153
99.67%
Dawt
1947
1680
158
16
0
1
0
None
Report
#7
991,085
99.70%
dudekf454
1948
1683
159
10
2
1
0
None
Report
#8
990,301
99.68%
Razzy
1947
1589
248
18
0
0
0
None
Report
#9
989,576
99.66%
Rek
1947
1526
310
19
0
0
0
None
Report
#10
989,279
99.69%
Rell
1951
1533
306
15
0
1
0
None
Report
#11
987,007
99.71%
-Electro-
1694
1610
233
9
2
0
1
None
Report
#12
986,742
99.53%
Minisora
1950
1614
218
20
3
0
0
None
Report
#13
983,891
99.39%
Phil
1948
1564
260
28
3
0
0
None
Report
#14
983,788
99.48%
Panshow
1946
1506
325
19
5
0
0
None
Report
#15
983,412
99.44%
[Crz]Zetsfy
1948
1478
348
27
2
0
0
None
Report
#16
983,300
99.44%
Genarou
1951
1434
392
27
2
0
0
None
Report
#17
983,024
99.49%
Cribob
1521
1493
338
20
3
1
0
None
Report
#18
982,214
99.38%
_Mytros_
1948
1547
279
24
4
1
0
None
Report
#19
979,915
99.44%
Zei-
1003
1465
362
26
1
0
1
None
Report
#20
978,997
99.23%
Venyan
1952
1379
435
39
2
0
0
None
Report
#21
978,792
99.35%
Mr_ZenlIfeJa
1421
1470
357
21
6
0
1
None
Report
#22
977,557
99.14%
itsdarious555
1947
1344
465
44
2
0
0
None
Report
#23
976,978
99.35%
kaypooma
983
1481
341
31
1
0
1
None
Report
#24
976,736
99.47%
reyss
1445
1547
283
22
1
1
1
None
Report
#25
976,463
99.32%
HolstDrengen
1158
1425
395
33
1
0
1
None
Report
#26
976,167
99.14%
BloowXv2
1951
1339
470
44
2
0
0
None
Report
#27
975,700
99.16%
XXX_champ_XX_TH
1949
1381
429
43
2
0
0
None
Report
#28
974,973
99.14%
miny530
1949
1483
330
36
6
0
0
None
Report
#29
974,570
99.27%
Couil
1948
1454
368
26
6
1
0
None
Report
#30
974,440
99.05%
UltimaticCatz
1947
1281
522
51
1
0
0
None
Report
#31
974,361
99.18%
- Hibiki
1831
1460
358
30
5
1
1
None
Report
#32
973,176
99.14%
MSB Zenith
1947
1469
339
46
1
0
0
None
Report
#33
972,662
99.16%
Xonica
986
1497
320
32
2
2
2
None
Report
#34
972,204
99.02%
F K S
1951
1316
490
44
4
1
0
None
Report
#35
972,072
99.40%
[ Vento ]
981
1566
264
19
3
1
2
None
Report
#36
971,691
99.21%
Evening
1946
1340
477
33
3
2
0
None
Report
#37
971,274
99.23%
chlwldnd248
1706
1497
320
34
3
0
1
None
Report
#38
970,326
99.29%
greatvictory
1250
1414
408
28
3
1
1
None
Report
#39
969,879
98.87%
[Xiiao]Ray
980
1438
365
43
5
4
0
None
Report
#40
968,888
99.17%
otub
989
1495
326
25
6
0
3
None
Report
#41
968,477
99.04%
SleepyDarkrai
991
1594
221
28
10
1
1
None
Report
#42
968,209
98.85%
Mage
1951
1309
485
58
3
0
0
None
Report
#43
968,067
99.06%
Jinjin
1474
1409
402
38
2
3
1
None
Report
#44
967,992
99.04%
Nyarlahothep
1799
1489
321
38
5
1
1
None
Report
#45
967,800
98.98%
1217
1427
1337
473
36
5
2
2
None
Report
#46
967,799
99.15%
andykaakmald
967
1445
369
36
3
1
1
None
Report
#47
967,261
99.03%
w a
988
1471
341
34
6
2
1
None
Report
#48
965,774
99.21%
Jumphand
1416
1409
409
32
3
0
2
None
Report
#49
964,662
98.92%
Suu is my waifu
1950
1358
447
41
7
2
0
None
Report
#50
963,546
98.70%
Userbacker
1952
1256
533
60
5
1
0
None
Report