Beatmap Listing » PILI Music Team - Hu Lei Po Meng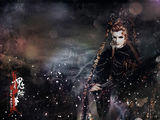 忽雷破夢-槐破夢武戲曲
作編曲:孫敬凡 琵琶:徐瑩燕
遠風兮,飄搖故土,一年聲,三年破夢。定目兮,撥弦夭夭,數裂帛,吁嘆命薄。
It's a battle theme of a character named "Huai Pomeng" in PILI Series.
This song has a bit Japanese style.Taiko is used in the music,sounds cool.
hard diff done
normal diff done
special thanks to
Hsiao-Chai
's perfact timing check and easy guest diff(
cym_52carol
gave some rhythm help),also thanks to
Mapper 31
's taiko guest diff
Added outstanding skins from
Megurine Luka
,thanks a lot~
Thanks for 泡沫隔離 providing background pic.
Special thanks for Sakurahaohao providing Taiko BG from Baidu post bar