Beatmap Listing » cosMo@Bousou-P - Denpa Shoujo to Kuusou Teien
Artist:
cosMo@Bousou-P
Circle Size:

Approach Rate:

Title:
Denpa Shoujo to Kuusou Teien
HP Drain:

Star Difficulty:

(7.38)
Creator:
BarkingMadDog
Accuracy:

Length:
4:15 (4:09 drain)
Source:
Genre:
Unspecified (Other)
BPM:
201
Tags:
syuri22 vocaloid hatsune miku 初音ミク camui gackpo 星ノ少女ト幻奏楽土 hoshi no shoujo to gensou rakudo star girl and the illusion paradise
User Rating:
Success Rate:
Points of Failure:


(graph is accumulative, based on % at fail/retry)

6.0% (1359 of 22725 plays)

Submitted:
Loved:
Dec 24, 2015
Dec 6, 2017
Rating Spread:

Favourited 74 times in total

Users that love this map: Tsunyan, oohily, Spyke-, respektive, Asahi, Telten, Saezury, Angeljim, -Zelos-, Melenium, Corompus, Snow--, -Deity-, shakug4n, Stithos, nikonyan, Constelletion, Yldirys, derpoyashi, Flore and many more!
Options:
Modding / Discussion
This map is in a LOVED state.
As such, it will not award any pp and leaderboards may be reset by the beatmap creator.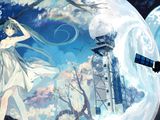 Denpa Shoujo to Kuusou Teien
Living inside the Fantastic Garden was Denpa Shoujo, a girl who hated the fearsome world called "Reality". One day, monsters from Reality began an invasion; but with her magical pen, Denpa Shoujo drew her comrades to protect her home. After blowing all the stages, they finally arrived at the last boss, which is Dr. Realist. He asked if Denpa Shoujo has the motivation to return to "Reality" knowing this world is just a "Fiction". She refused and with her comrades, she launched an all-out attack on Dr. Realist, defeating "Reality" and returning peace to the world. Denpa Shoujo still continues to protect this world.
Chronology
Series
Hoshi no Shoujo to Gensou Rakudo
Bouken Shoujo to Haknoiwa Yuugi
Denpa Shoujo to Kuusou Teien
Tensei Shoujo to Tensei Shounen
oh shit wtf loved? thanks guys <3
firebat92 is in the lead! ()
Score
89,069,300 (99.91%)
Max Combo
1997
300 / 100 / 50
1542 / 2 / 0
Misses
0
Geki (Elite Beat!)
322
Katu (Beat!)
2
Mods
None
Top 50 Scoreboard
| | Rank | Score | Accuracy | Player | Max Combo | 300 / 100 / 50 | Geki | Katu | Misses | Mods | |
| --- | --- | --- | --- | --- | --- | --- | --- | --- | --- | --- | --- |
| #1 | | 89,069,300 | 99.91% | firebat92 | 1997 | 1542&nbsp&nbsp/ 2 / 0 | 322 | 2 | 0 | None | Report |
| #2 | | 88,746,700 | 99.61% | Rhythm blue | 1995 | 1535&nbsp&nbsp/ 9 / 0 | 316 | 8 | 0 | None | Report |
| #3 | | 87,789,260 | 99.42% | Alumetri | 1990 | 1531&nbsp&nbsp/ 12 / 0 | 313 | 10 | 1 | None | Report |
| #4 | | 87,462,940 | 99.29% | waaiiru | 1990 | 1528&nbsp&nbsp/ 15 / 0 | 310 | 13 | 1 | None | Report |
| #5 | | 86,899,390 | 99.61% | Mlaw22 | 1981 | 1536&nbsp&nbsp/ 5 / 2 | 317 | 5 | 1 | None | Report |
| #6 | | 83,829,920 | 99.11% | jot_bab | 1957 | 1524&nbsp&nbsp/ 19 / 0 | 310 | 13 | 1 | None | Report |
| #7 | | 83,399,000 | 99.31% | LanJay | 1952 | 1529&nbsp&nbsp/ 13 / 0 | 313 | 10 | 2 | None | Report |
| #8 | | 82,750,930 | 98.75% | sayonara-bye | 1946 | 1517&nbsp&nbsp/ 22 / 2 | 301 | 19 | 3 | None | Report |
| #9 | | 82,667,470 | 99.18% | Harpy | 1946 | 1526&nbsp&nbsp/ 16 / 0 | 307 | 15 | 2 | None | Report |
| #10 | | 81,712,500 | 98.08% | Loli_Schwi | 1945 | 1500&nbsp&nbsp/ 43 / 0 | 298 | 25 | 1 | None | Report |
| #11 | | 80,855,380 | 98.88% | okinamo | 1881 | 1520&nbsp&nbsp/ 20 / 0 | 309 | 12 | 4 | HD | Report |
| #12 | | 79,965,530 | 98.62% | DanyL | 1925 | 1514&nbsp&nbsp/ 26 / 0 | 303 | 18 | 4 | None | Report |
| #13 | | 77,738,910 | 99.75% | Monko2k | 1886 | 1539&nbsp&nbsp/ 3 / 1 | 320 | 3 | 1 | None | Report |
| #14 | | 77,471,040 | 98.34% | Astana | 1875 | 1506&nbsp&nbsp/ 37 / 0 | 301 | 22 | 1 | None | Report |
| #15 | | 77,431,880 | 99.48% | Spare | 1884 | 1534&nbsp&nbsp/ 5 / 2 | 317 | 4 | 3 | None | Report |
| #16 | | 76,518,630 | 99.33% | [RanYakumo] | 1877 | 1529&nbsp&nbsp/ 14 / 0 | 312 | 11 | 1 | None | Report |
| #17 | | 76,291,820 | 99.42% | talala | 1874 | 1531&nbsp&nbsp/ 12 / 0 | 312 | 11 | 1 | None | Report |
| #18 | | 76,267,150 | 99.18% | Shigure chan | 1876 | 1527&nbsp&nbsp/ 13 / 0 | 309 | 11 | 4 | None | Report |
| #19 | | 76,120,470 | 99.57% | filsdelama | 1872 | 1537&nbsp&nbsp/ 1 / 0 | 317 | 1 | 6 | None | Report |
| #20 | | 75,730,750 | 98.96% | Idealism | 1873 | 1521&nbsp&nbsp/ 21 / 0 | 309 | 13 | 2 | None | Report |
| #21 | | 75,706,260 | 99.53% | MINEMINE | 1871 | 1534&nbsp&nbsp/ 8 / 0 | 316 | 6 | 2 | None | Report |
| #22 | | 75,636,410 | 97.99% | DT-sama | 1884 | 1502&nbsp&nbsp/ 29 / 8 | 301 | 16 | 5 | None | Report |
| #23 | | 75,538,290 | 98.86% | Vettel | 1873 | 1521&nbsp&nbsp/ 16 / 0 | 309 | 10 | 7 | None | Report |
| #24 | | 75,331,310 | 98.60% | WWWWWWWWWWWWOWO | 1872 | 1514&nbsp&nbsp/ 25 / 0 | 308 | 13 | 5 | None | Report |
| #25 | | 73,294,690 | 78.90% | Pring | 1996 | 1057&nbsp&nbsp/ 480 / 7 | 157 | 161 | 0 | None | Report |
| #26 | | 73,186,332 | 99.76% | Abyssal | 1738 | 1539&nbsp&nbsp/ 3 / 2 | 320 | 3 | 0 | HD | Report |
| #27 | | 68,806,330 | 99.48% | GiraffekNuL | 1738 | 1533&nbsp&nbsp/ 9 / 0 | 314 | 8 | 2 | None | Report |
| #28 | | 68,031,320 | 99.27% | gasanww | 1724 | 1529&nbsp&nbsp/ 11 / 0 | 311 | 9 | 4 | None | Report |
| #29 | | 66,211,300 | 97.15% | Shii | 1737 | 1481&nbsp&nbsp/ 57 / 0 | 287 | 33 | 6 | None | Report |
| #30 | | 63,772,224 | 99.28% | SkyArrow | 1582 | 1530&nbsp&nbsp/ 8 / 1 | 313 | 6 | 5 | HD | Report |
| #31 | | 59,246,750 | 98.68% | Yuiteru | 1548 | 1515&nbsp&nbsp/ 26 / 0 | 303 | 18 | 3 | None | Report |
| #32 | | 57,429,610 | 98.12% | cezgru | 1505 | 1502&nbsp&nbsp/ 39 / 0 | 300 | 22 | 3 | None | Report |
| #33 | | 57,142,480 | 97.93% | -raizen- | 1511 | 1498&nbsp&nbsp/ 41 / 2 | 299 | 22 | 3 | None | Report |
| #34 | | 56,446,550 | 98.23% | heikneuter | 1539 | 1506&nbsp&nbsp/ 32 / 0 | 292 | 29 | 6 | None | Report |
| #35 | | 56,420,560 | 97.75% | Iliekwaffles | 1508 | 1495&nbsp&nbsp/ 43 / 0 | 292 | 28 | 6 | None | Report |
| #36 | | 56,232,350 | 99.16% | Rampax | 1514 | 1527&nbsp&nbsp/ 11 / 2 | 313 | 6 | 4 | None | Report |
| #37 | | 55,784,300 | 99.03% | Villdjack | 1507 | 1524&nbsp&nbsp/ 15 / 0 | 310 | 10 | 5 | None | Report |
| #38 | | 55,474,910 | 98.34% | Doomsday fanboy | 1507 | 1510&nbsp&nbsp/ 25 / 0 | 298 | 21 | 9 | None | Report |
| #39 | | 55,281,810 | 98.60% | vitail | 1514 | 1513&nbsp&nbsp/ 28 / 0 | 298 | 23 | 3 | None | Report |
| #40 | | 54,485,380 | 98.79% | ftg | 1495 | 1518&nbsp&nbsp/ 21 / 2 | 306 | 14 | 3 | None | Report |
| #41 | | 54,026,390 | 98.06% | Topoi | 1478 | 1503&nbsp&nbsp/ 32 / 2 | 300 | 20 | 7 | None | Report |
| #42 | | 53,410,730 | 98.32% | Reegi | 1482 | 1508&nbsp&nbsp/ 29 / 2 | 303 | 16 | 5 | None | Report |
| #43 | | 53,215,460 | 98.37% | SoraRoxas01 | 1464 | 1508&nbsp&nbsp/ 32 / 1 | 301 | 20 | 3 | None | Report |
| #44 | | 51,678,930 | 94.88% | Electrovoid | 1503 | 1429&nbsp&nbsp/ 108 / 0 | 267 | 51 | 7 | None | Report |
| #45 | | 49,860,250 | 97.56% | Totoki | 1333 | 1489&nbsp&nbsp/ 51 / 2 | 290 | 31 | 2 | None | Report |
| #46 | | 49,134,820 | 99.57% | Elegant Loli | 1293 | 1534&nbsp&nbsp/ 10 / 0 | 316 | 8 | 0 | None | Report |
| #47 | | 48,592,963 | 99.16% | OPJames | 1277 | 1526&nbsp&nbsp/ 15 / 0 | 310 | 11 | 3 | HD | Report |
| #48 | | 43,821,150 | 98.92% | nr_pm | 1202 | 1522&nbsp&nbsp/ 16 / 0 | 305 | 15 | 6 | None | Report |
| #49 | | 43,537,676 | 98.81% | Yuuki-chan | 1126 | 1518&nbsp&nbsp/ 23 / 0 | 304 | 17 | 3 | HD | Report |
| #50 | | 40,954,830 | 98.74% | mithew | 1144 | 1518&nbsp&nbsp/ 18 / 3 | 303 | 14 | 5 | None | Report |