Artist:
Masa
Circle Size:

Approach Rate:

Title:
Kitsune no Yomeiri
HP Drain:

Star Difficulty:

(6.05)
Creator:
asuasu_yura
Accuracy:

Length:
2:33 (2:31 drain)
Source:
Vocaloid
Genre:
Unspecified (Other)
BPM:
240
Tags:
User Rating:
Success Rate:
Points of Failure:


(graph is accumulative, based on % at fail/retry)

12.6% (1344 of 10704 plays)

Submitted:
Loved:
Jul 18, 2015
Jan 11, 2017
Rating Spread:

Favourited 44 times in total

Users that love this map: MMzz, lolcubes, Luna, [ Kagami-San ], Ikkun, whosthebox, Ni-Sokkususu, CreepyDuck, sed234rrr, FEZ_Icese, misaki_tk, [ TaiDex ], Warwick, Shirai-, Ellyu, Runa, ayomikasa, iloveyou4ever, 0x306e, [ Erika ] and many more!
Options:
Modding / Discussion
This map is in a LOVED state.
As such, it will not award any pp and leaderboards may be reset by the beatmap creator.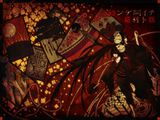 enable beatmap hitsounds Cx
初star6↑譜面+初Loved譜面<3 付属ヒットサウンドの無効化のチェックを外してプレイしてください~ :3
remtiw is in the lead! ()
Score
1,977,528 (100.00%)
Max Combo
1621
300 / 100 / 50
1621 / 0 / 0
Misses
0
Geki (Elite Beat!)
0
Katu (Beat!)
0
Mods
HD,PF
Top 50 Scoreboard
| | Rank | Score | Accuracy | Player | Max Combo | 300 / 100 / 50 | Geki | Katu | Misses | Mods | |
| --- | --- | --- | --- | --- | --- | --- | --- | --- | --- | --- | --- |
| #1 | | 1,977,528 | 100.00% | remtiw | 1621 | 1621&nbsp&nbsp/ 0 / 0 | 0 | 0 | 0 | HD,PF | Report |
| #2 | | 1,977,528 | 100.00% | Mew104 | 1621 | 1621&nbsp&nbsp/ 0 / 0 | 0 | 0 | 0 | HD | Report |
| #3 | | 1,977,528 | 100.00% | 1RoHa_ | 1621 | 1621&nbsp&nbsp/ 0 / 0 | 0 | 0 | 0 | HD | Report |
| #4 | | 1,977,528 | 100.00% | asuasu_yura | 1621 | 1621&nbsp&nbsp/ 0 / 0 | 0 | 0 | 0 | HD,SD | Report |
| #5 | | 1,977,528 | 100.00% | XK2238 | 1621 | 1621&nbsp&nbsp/ 0 / 0 | 2 | 0 | 0 | HD,SD | Report |
| #6 | | 1,976,958 | 99.97% | TimmyAkmed | 1621 | 1620&nbsp&nbsp/ 1 / 0 | 0 | 0 | 0 | HR | Report |
| #7 | | 1,976,844 | 99.97% | Maitroxsk | 1621 | 1620&nbsp&nbsp/ 1 / 0 | 0 | 0 | 0 | HD | Report |
| #8 | | 1,976,388 | 99.94% | Runa | 1621 | 1619&nbsp&nbsp/ 2 / 0 | 1 | 0 | 0 | HR | Report |
| #9 | | 1,975,248 | 99.88% | Ulqui | 1621 | 1617&nbsp&nbsp/ 4 / 0 | 1 | 0 | 0 | HD | Report |
| #10 | | 1,973,994 | 99.81% | Garpo | 1621 | 1615&nbsp&nbsp/ 6 / 0 | 0 | 0 | 0 | HR | Report |
| #11 | | 1,970,460 | 99.66% | --Madara uchiha | 1621 | 1610&nbsp&nbsp/ 11 / 0 | 0 | 0 | 0 | HD | Report |
| #12 | | 1,969,890 | 99.60% | Katdon_donKat | 1621 | 1608&nbsp&nbsp/ 13 / 0 | 0 | 0 | 0 | HD | Report |
| #13 | | 1,969,548 | 99.60% | Shyguy | 1621 | 1608&nbsp&nbsp/ 13 / 0 | 1 | 0 | 0 | HD | Report |
| #14 | | 1,958,148 | 99.04% | 167 | 1621 | 1590&nbsp&nbsp/ 31 / 0 | 0 | 0 | 0 | HD | Report |
| #15 | | 1,949,454 | 98.58% | Jonah | 1621 | 1575&nbsp&nbsp/ 46 / 0 | 0 | 0 | 0 | HD | Report |
| #16 | | 1,943,172 | 98.18% | AlvaroYL | 1621 | 1562&nbsp&nbsp/ 59 / 0 | 2 | 0 | 0 | HD | Report |
| #17 | | 1,920,852 | 99.51% | hoku-4625 | 1272 | 1607&nbsp&nbsp/ 12 / 0 | 0 | 0 | 2 | HD | Report |
| #18 | | 1,918,770 | 98.70% | Majorca | 1565 | 1585&nbsp&nbsp/ 30 / 0 | 2 | 0 | 6 | HD | Report |
| #19 | | 1,908,720 | 100.00% | uone | 1621 | 1621&nbsp&nbsp/ 0 / 0 | 2 | 0 | 0 | PF | Report |
| #20 | | 1,908,720 | 100.00% | Yos393 | 1621 | 1621&nbsp&nbsp/ 0 / 0 | 0 | 0 | 0 | None | Report |
| #21 | | 1,908,720 | 100.00% | vladyushko | 1621 | 1621&nbsp&nbsp/ 0 / 0 | 0 | 0 | 0 | None | Report |
| #22 | | 1,908,720 | 100.00% | taiko_ryuki | 1621 | 1621&nbsp&nbsp/ 0 / 0 | 0 | 0 | 0 | None | Report |
| #23 | | 1,908,720 | 100.00% | frostia_ | 1621 | 1621&nbsp&nbsp/ 0 / 0 | 0 | 0 | 0 | None | Report |
| #24 | | 1,908,720 | 100.00% | Pochacco | 1621 | 1621&nbsp&nbsp/ 0 / 0 | 0 | 0 | 0 | None | Report |
| #25 | | 1,908,720 | 100.00% | _yu68 | 1621 | 1621&nbsp&nbsp/ 0 / 0 | 1 | 0 | 0 | None | Report |
| #26 | | 1,908,522 | 98.74% | miki308 | 890 | 1581&nbsp&nbsp/ 39 / 0 | 0 | 0 | 1 | HD | Report |
| #27 | | 1,908,170 | 99.97% | yassu- | 1621 | 1620&nbsp&nbsp/ 1 / 0 | 0 | 0 | 0 | None | Report |
| #28 | | 1,908,170 | 99.97% | Lze | 1621 | 1620&nbsp&nbsp/ 1 / 0 | 1 | 0 | 0 | None | Report |
| #29 | | 1,908,170 | 99.97% | soloist | 1621 | 1620&nbsp&nbsp/ 1 / 0 | 2 | 0 | 0 | None | Report |
| #30 | | 1,908,170 | 99.97% | Remiriahshs | 1621 | 1620&nbsp&nbsp/ 1 / 0 | 0 | 0 | 0 | None | Report |
| #31 | | 1,908,170 | 99.97% | Storm0077 | 1621 | 1620&nbsp&nbsp/ 1 / 0 | 1 | 0 | 0 | None | Report |
| #32 | | 1,908,060 | 99.97% | Labyr | 1621 | 1620&nbsp&nbsp/ 1 / 0 | 1 | 0 | 0 | None | Report |
| #33 | | 1,907,620 | 99.94% | ztrike | 1621 | 1619&nbsp&nbsp/ 2 / 0 | 1 | 0 | 0 | None | Report |
| #34 | | 1,907,620 | 99.94% | H1gumo | 1621 | 1619&nbsp&nbsp/ 2 / 0 | 1 | 0 | 0 | None | Report |
| #35 | | 1,907,620 | 99.94% | Fahrenheit7 | 1621 | 1619&nbsp&nbsp/ 2 / 0 | 1 | 0 | 0 | None | Report |
| #36 | | 1,907,510 | 99.94% | KitajimaYN | 1621 | 1619&nbsp&nbsp/ 2 / 0 | 0 | 0 | 0 | None | Report |
| #37 | | 1,907,510 | 99.94% | ikanoosusi321 | 1621 | 1619&nbsp&nbsp/ 2 / 0 | 2 | 0 | 0 | None | Report |
| #38 | | 1,907,510 | 99.94% | isobe | 1621 | 1619&nbsp&nbsp/ 2 / 0 | 2 | 0 | 0 | None | Report |
| #39 | | 1,907,400 | 99.94% | thomas1195 | 1621 | 1619&nbsp&nbsp/ 2 / 0 | 0 | 0 | 0 | None | Report |
| #40 | | 1,906,850 | 99.91% | cacao | 1621 | 1618&nbsp&nbsp/ 3 / 0 | 1 | 0 | 0 | None | Report |
| #41 | | 1,906,840 | 99.88% | seiichiz | 1621 | 1617&nbsp&nbsp/ 4 / 0 | 0 | 0 | 0 | None | Report |
| #42 | | 1,906,520 | 99.88% | sed234rrr | 1621 | 1617&nbsp&nbsp/ 4 / 0 | 0 | 0 | 0 | None | Report |
| #43 | | 1,906,520 | 99.88% | nitori0 | 1621 | 1617&nbsp&nbsp/ 4 / 0 | 0 | 0 | 0 | None | Report |
| #44 | | 1,906,410 | 99.88% | rango | 1621 | 1617&nbsp&nbsp/ 4 / 0 | 2 | 0 | 0 | None | Report |
| #45 | | 1,906,300 | 99.88% | JDrago14 | 1621 | 1617&nbsp&nbsp/ 4 / 0 | 2 | 0 | 0 | SD | Report |
| #46 | | 1,906,300 | 99.88% | bobson860412 | 1621 | 1617&nbsp&nbsp/ 4 / 0 | 0 | 0 | 0 | None | Report |
| #47 | | 1,905,860 | 99.85% | Rabar0209 | 1621 | 1616&nbsp&nbsp/ 5 / 0 | 0 | 0 | 0 | None | Report |
| #48 | | 1,905,750 | 99.85% | ganjas62 | 1621 | 1616&nbsp&nbsp/ 5 / 0 | 0 | 0 | 0 | None | Report |
| #49 | | 1,905,750 | 99.85% | kamasun710 | 1621 | 1616&nbsp&nbsp/ 5 / 0 | 2 | 0 | 0 | None | Report |
| #50 | | 1,905,530 | 99.85% | ayimuf | 1621 | 1616&nbsp&nbsp/ 5 / 0 | 0 | 0 | 0 | None | Report |