Beatmap Listing » Chroma - Hoshi ga Furanai Machi
Artist:
Chroma
Circle Size:

Approach Rate:

Title:
Hoshi ga Furanai Machi
HP Drain:

Star Difficulty:

(6.64)
Creator:
LeiN-
Accuracy:

Length:
5:39 (5:26 drain)
Source:
Genre:
Unspecified (Other)
BPM:
165
Tags:
happynation #2 electronic chiptune fullerene- notevendoommusic nedm clsw spectator ascendance
User Rating:
Success Rate:
Points of Failure:


(graph is accumulative, based on % at fail/retry)

6.5% (63 of 963 plays)

Submitted:
Loved:
Dec 25, 2014
Jan 2, 2018
Rating Spread:

Favourited 169 times in total

Users that love this map: SweetBloodyLove, kane K hiku, - LoliRuli -, Grayswandir, kuso2519, LovinYou, Ken Doll, Minato Yukina, Badis, Gilochan, aaasssqqqz, FuZ, Asthmatic Magic, DungRen, Paralit, realpacasso, Blackcurrant, PouletFurtif, Danilo, Kyptoric and many more!
Options:
Modding / Discussion
This map is in a LOVED state.
As such, it will not award any pp and leaderboards may be reset by the beatmap creator.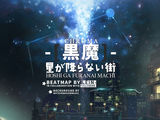 Mania diff complete! Thank you
Fullerene-
for collaboration~
CtB Collab by
Spectator
,
CLSW
and
Ascendance
! Thanks again
Also appreciate
NotEvenDoomMusic
making amazing BG and Banner :)
(BG editted a bit by Manwon a.k.a.

10Dollar Presents

since Ascendance joined to collab)
Ready for Bubble.
mania HS 100% done
CtB HS 100% done
Mania Partition
Start ~ 00:52:154 - LeiN-
00:52:154 ~ 01:33:972 - Fullerene-
01:33:972 ~ 02:26:700 - LeiN-
02:26:700 ~ 03:08:518 - Fullerene-
03:08:518 ~ 03:55:427 - LeiN-
03:55:427 ~ 04:33:245 - Fullerene-
04:33:245 ~ 05:21:245 - LeiN-
05:21:245 ~ End - Fulleren-
CtB Partition
Start ~ 00:52:154 - CLSW
00:52:154 ~ 01:34:336 - Ascendance
01:34:336 ~ 01:57:609 - CLSW
01:57:609 ~ 03:08:518 - Spectator
03:08:518 ~ 03:32:245 - CLSW
03:32:245 ~ 04:18:609 - Spectator
04:18:609 ~ End - CLSW
Past BG
FABninja is in the lead! ()
Score
256,162,648 (99.97%)
Max Combo
2835
300 / 100 / 50
2833 / 2 / 325
Misses
0
Geki (Elite Beat!)
361
Droplet misses
1
Mods
HD
Top 50 Scoreboard
| | Rank | Score | Accuracy | Player | Max Combo | 300 / 100 / 50 | Geki | Droplet Miss | Misses | Mods | |
| --- | --- | --- | --- | --- | --- | --- | --- | --- | --- | --- | --- |
| #1 | | 256,162,648 | 99.97% | FABninja | 2835 | 2833&nbsp&nbsp/ 2 / 325 | 361 | 1 | 0 | HD | Report |
| #2 | | 256,159,358 | 100.00% | Fli | 2835 | 2833&nbsp&nbsp/ 2 / 326 | 361 | 0 | 0 | HD | Report |
| #3 | | 255,972,240 | 99.84% | Vinci007 | 2834 | 2832&nbsp&nbsp/ 2 / 322 | 361 | 4 | 1 | HD | Report |
| #4 | | 242,277,988 | 99.72% | lechuguin | 2756 | 2828&nbsp&nbsp/ 2 / 322 | 359 | 4 | 5 | HD | Report |
| #5 | | 241,725,000 | 100.00% | Guillotine | 2835 | 2833&nbsp&nbsp/ 2 / 326 | 361 | 0 | 0 | None | Report |
| #6 | | 241,717,300 | 100.00% | - S a k u r a - | 2835 | 2833&nbsp&nbsp/ 2 / 326 | 361 | 0 | 0 | None | Report |
| #7 | | 241,712,880 | 99.94% | lineqtxz | 2835 | 2833&nbsp&nbsp/ 2 / 324 | 361 | 2 | 0 | None | Report |
| #8 | | 241,711,790 | 99.97% | AutoLs | 2835 | 2833&nbsp&nbsp/ 2 / 325 | 361 | 1 | 0 | None | Report |
| #9 | | 241,709,580 | 99.94% | _Asriel | 2835 | 2833&nbsp&nbsp/ 2 / 324 | 361 | 2 | 0 | None | Report |
| #10 | | 241,706,280 | 99.94% | Orinoshi | 2835 | 2833&nbsp&nbsp/ 2 / 324 | 361 | 2 | 0 | None | Report |
| #11 | | 241,534,900 | 99.91% | KagamineRin02 | 2834 | 2832&nbsp&nbsp/ 2 / 324 | 361 | 2 | 1 | None | Report |
| #12 | | 229,757,390 | 99.84% | Groex | 2763 | 2829&nbsp&nbsp/ 2 / 325 | 360 | 1 | 4 | None | Report |
| #13 | | 225,148,040 | 99.59% | Crystallize | 2735 | 2828&nbsp&nbsp/ 2 / 318 | 357 | 8 | 5 | None | Report |
| #14 | | 152,690,810 | 99.43% | FulgurentKille | 2225 | 2820&nbsp&nbsp/ 2 / 321 | 352 | 5 | 13 | None | Report |
| #15 | | 130,626,480 | 99.43% | L3gEnDaRy97 | 1986 | 2821&nbsp&nbsp/ 2 / 320 | 353 | 6 | 12 | None | Report |
| #16 | | 129,126,390 | 99.72% | Attenox | 1903 | 2825&nbsp&nbsp/ 2 / 325 | 357 | 1 | 8 | None | Report |
| #17 | | 126,716,360 | 99.68% | [Nico] | 1871 | 2827&nbsp&nbsp/ 2 / 322 | 358 | 4 | 6 | None | Report |
| #18 | | 96,573,590 | 99.56% | Maincrashed | 1518 | 2824&nbsp&nbsp/ 2 / 321 | 358 | 5 | 9 | None | Report |
| #19 | | 86,550,440 | 99.81% | Hareimu | 1172 | 2829&nbsp&nbsp/ 2 / 324 | 358 | 2 | 4 | None | Report |
| #20 | | 83,892,841 | 99.84% | [224]Hyperw7 | 1158 | 2830&nbsp&nbsp/ 2 / 324 | 358 | 2 | 3 | HR | Report |
| #21 | | 70,273,524 | 99.15% | Latifah-sama | 1337 | 2816&nbsp&nbsp/ 2 / 316 | 350 | 10 | 17 | HD | Report |
| #22 | | 69,700,950 | 99.40% | Tenshichan | 1354 | 2817&nbsp&nbsp/ 2 / 323 | 352 | 3 | 16 | None | Report |
| #23 | | 69,617,430 | 99.78% | _wwwww | 1063 | 2827&nbsp&nbsp/ 2 / 325 | 356 | 1 | 6 | None | Report |
| #24 | | 63,580,810 | 99.46% | [Aless50] | 971 | 2825&nbsp&nbsp/ 2 / 317 | 353 | 9 | 8 | None | Report |
| #25 | | 62,057,940 | 99.24% | Ascendance | 1218 | 2817&nbsp&nbsp/ 2 / 318 | 352 | 8 | 16 | None | Report |
| #26 | | 54,924,900 | 99.53% | Re1ax7 | 1108 | 2820&nbsp&nbsp/ 2 / 324 | 350 | 2 | 13 | None | Report |
| #27 | | 48,706,820 | 98.64% | Karma | 1027 | 2794&nbsp&nbsp/ 2 / 322 | 340 | 4 | 39 | None | Report |
| #28 | | 32,339,295 | 99.53% | qwhj1027 | 551 | 2820&nbsp&nbsp/ 2 / 324 | 349 | 2 | 13 | HR | Report |
| #29 | | 29,862,900 | 98.92% | CrashTheButton | 629 | 2801&nbsp&nbsp/ 2 / 324 | 341 | 2 | 32 | None | Report |
| #30 | | 22,281,680 | 97.82% | Tasta_kuro | 547 | 2774&nbsp&nbsp/ 2 / 316 | 331 | 10 | 59 | None | Report |
| #31 | | 22,257,660 | 98.45% | M0ja | 490 | 2790&nbsp&nbsp/ 2 / 320 | 336 | 6 | 43 | None | Report |
| #32 | | 21,530,702 | 98.01% | Love Lolita | 465 | 2789&nbsp&nbsp/ 2 / 307 | 334 | 19 | 44 | HD | Report |
| #33 | | 21,205,940 | 96.24% | Gumbatic | 1064 | 2730&nbsp&nbsp/ 2 / 310 | 320 | 16 | 103 | NF | Report |
| #34 | | 16,471,760 | 98.07% | YamiSora | 647 | 2775&nbsp&nbsp/ 2 / 323 | 335 | 3 | 58 | NF | Report |
| #35 | | 14,509,460 | 96.90% | Kurimu | 592 | 2750&nbsp&nbsp/ 2 / 311 | 328 | 15 | 83 | NF | Report |
| #36 | | 14,056,220 | 98.48% | Yamu | 511 | 2795&nbsp&nbsp/ 2 / 316 | 336 | 10 | 38 | NF | Report |
| #37 | | 6,389,790 | 95.32% | Arcar | 410 | 2704&nbsp&nbsp/ 2 / 307 | 296 | 19 | 129 | NF | Report |
| #38 | | 5,334,300 | 94.27% | [-Leonix-] | 257 | 2677&nbsp&nbsp/ 2 / 301 | 292 | 25 | 156 | NF | Report |
| #39 | | 3,584,300 | 91.05% | Luciel | 197 | 2577&nbsp&nbsp/ 2 / 299 | 246 | 27 | 256 | NF | Report |
| #40 | | 533,320 | 49.19% | TakeshiGear | 18 | 1377&nbsp&nbsp/ 2 / 176 | 11 | 150 | 1456 | NF | Report |